Courtesy of Amita Swadhin
True
In 2016, Amita Swadhin, a child of two immigrant parents from India, founded Mirror Memoirs to help combat rape culture. The national storytelling and organizing project is dedicated to sharing the stories of LGBTQIA+ Black, indigenous people, and people of color who survived child sexual abuse.
"Whether or not you are a survivor, 100% of us are raised in rape culture. It's the water that we're swimming in. But just as fish don't know they are in water, because it's just the world around them that they've always been in, people (and especially those who aren't survivors) may need some help actually seeing it," they add.
"Mirror Memoirs attempts to be the dye that helps everyone understand the reality of rape culture."
Amita built the idea for Mirror Memoirs from a theater project called "Undesirable Elements: Secret Survivors" that featured their story and those of four other survivors in New York City, as well as a documentary film and educational toolkit based on the project.
"Secret Survivors had a cast that was gender, race, and age-diverse in many ways, but we had neglected to include transgender women," Amita explains. "Our goal was to help all people who want to co-create a world without child sexual abuse understand that the systems historically meant to help survivors find 'healing' and 'justice' — namely the child welfare system, policing, and prisons — are actually systems that facilitate the rape of children in oppressed communities," Amita continues. "We all have to explore tools of healing and accountability outside of these systems if we truly want to end all forms of sexual violence and rape culture."
Amita also wants Mirror Memoirs to be a place of healing for survivors that have historically been ignored or underserved by anti-violence organizations due to transphobia, homophobia, racism, xenophobia, and white supremacy.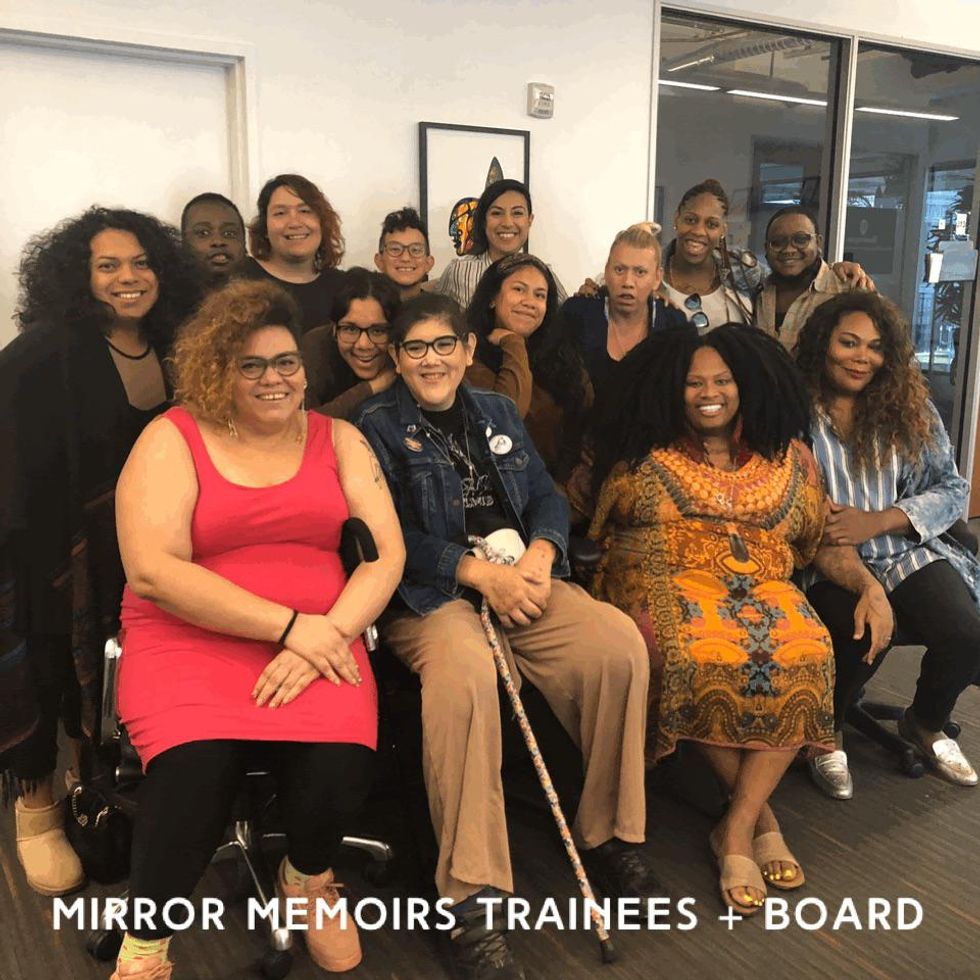 Amita Swadhin
"Hearing survivors' stories is absolutely healing for other survivors, since child sexual abuse is a global pandemic that few people know how to talk about, let alone treat and prevent."
"Since sexual violence is an isolating event, girded by shame and stigma, understanding that you're not alone and connecting with other survivors is alchemy, transmuting isolation into intimacy and connection."
This is something that Amita knows and understands well as a survivor herself.
"My childhood included a lot of violence from my father, including rape and other forms of domestic violence," says Amita. "Mandated reporting was imposed on me when I was 13 and it was largely unhelpful since the prosecutors threatened to incarcerate my mother for 'being complicit' in the violence I experienced, even though she was also abused by my father for years."
What helped them during this time was having the support of others.
"I'm grateful to have had a loving younger sister and a few really close friends, some of whom were also surviving child sexual abuse, though we didn't know how to talk about it at the time," Amita says.
"I'm also a queer, non-binary femme person living with complex post-traumatic stress disorder, and those identities have shaped a lot of my life experiences," they continue. "I'm really lucky to have an incredible partner and network of friends and family who love me."
"These realizations put me on the path of my life's work to end this violence quite early in life," they said.
Amita wants Mirror Memoirs to help build awareness of just how pervasive rape culture is. "One in four girls and one in six boys will be raped or sexually assaulted by the age of 18," Amita explains, "and the rates are even higher for vulnerable populations, such as gender non-conforming, disabled, deaf, unhoused, and institutionalized children." By sharing their stories, they're hoping to create change.
"Listening to stories is also a powerful way to build empathy, due to the mirror neurons in people's brains. This is, in part, why the project is called Mirror Memoirs."
So far, Mirror Memoirs has created an audio archive of BIPOC LGBTQI+ child sexual abuse survivors sharing their stories of survival and resilience that includes stories from 60 survivors across 50 states. This year, they plan to record another 15 stories, specifically of transgender and nonbinary people who survived child sexual abuse in a sport-related setting, with their partner organization, Athlete Ally.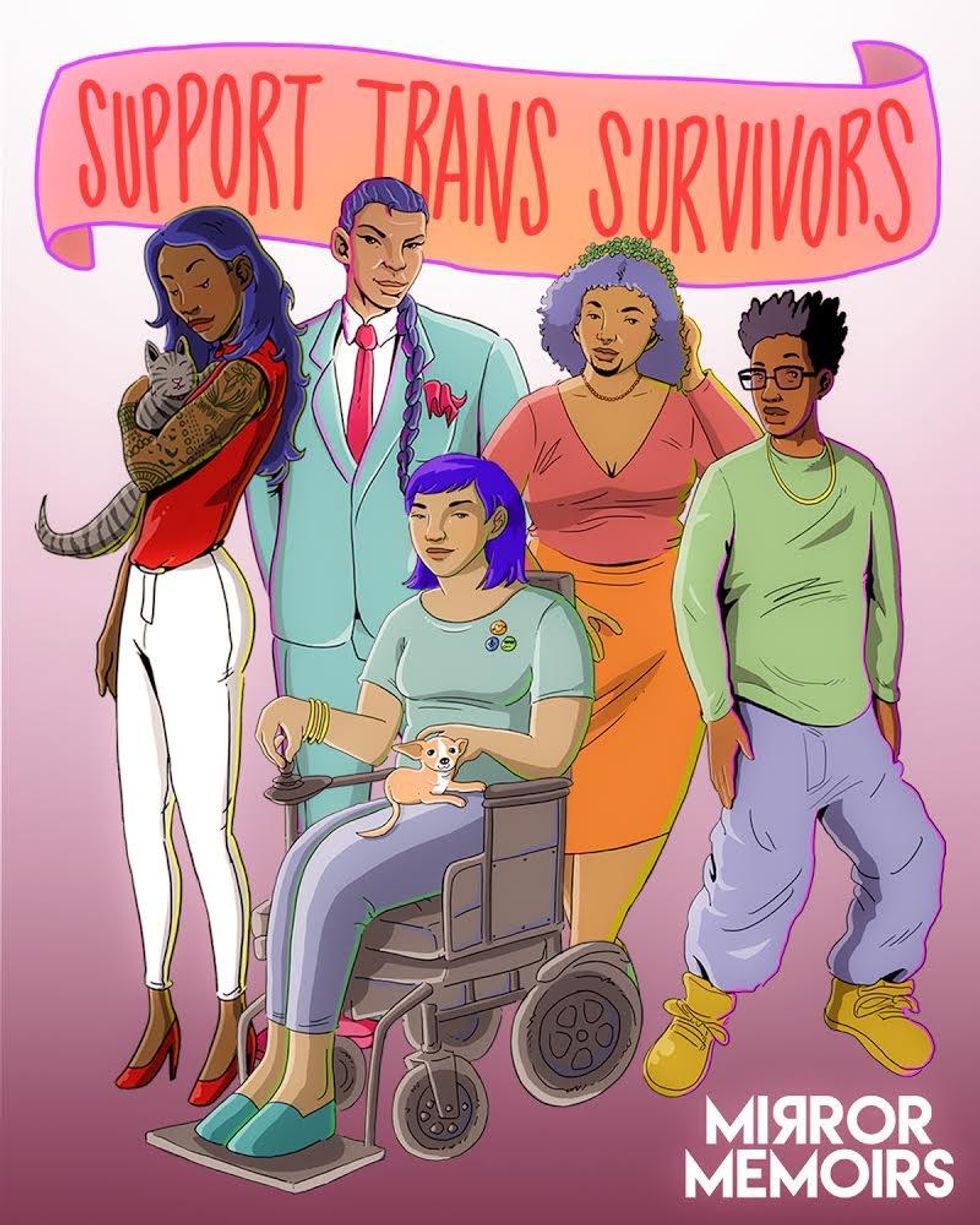 "This endeavor is in response to the more than 100 bills that have been proposed across at least 36 states in 2021 seeking to limit the rights of transgender and non-binary children to play sports and to receive gender-affirming medical care with the support of their parents and doctors," Amita says.
In 2017, Mirror Memoirs held its first gathering, which was attended by 31 people. Today, the organization is a fiscally sponsored, national nonprofit with two staff members, a board of 10 people, a leadership council of seven people, and 500 members nationally.
When the pandemic hit in 2020, they created a mutual aid fund for the LGBTQIA+ community of color and were able to raise a quarter-million dollars. They received 2,509 applications for assistance, and in the end, they decided to split the money evenly between each applicant.
While they're still using storytelling as the building block of their work, they're also engaging in policy and advocacy work, leadership development, and hosting monthly member meetings online.
For their work, Amita is one of Tory's Burch's Empowered Women. Their donation will go to Mirror Memoirs to help fund production costs for their new theater project, "Transmutation: A Ceremony," featuring four Black transgender, intersex, and non-binary women and femmes who live in California.
"I'm grateful to every single child sexual survivor who has ever disclosed their truth to me," Amita says. "I know another world is possible, and I know survivors will build it, together with all the people who love us."
To learn more about Tory Burch and Upworthy's Empowered Women program visit https://www.toryburch.com/empoweredwomen/. Nominate an inspiring woman in your community today!

This article originally appeared on 06.28.21

After Ahmaud Arbery, an unarmed Black man, was pursued and shot by three white residents while jogging through a Georgia suburb, Ellen and Patrick Miller* of San Diego hung a Black Lives Matter flag in front of their house. It was a small gesture, but something tangible they could do.
Like many people, they wanted to both support the BLM movement and bring awareness about racism to members of their community. Despite residing in a part of the county notoriously rumored to be marred by white supremacists and their beliefs, their neighbors didn't say much about it—at first.
Recently, though, during a short window when both Ellen and Patrick were out of the house, someone sliced the flag in two and left the remains in their yard.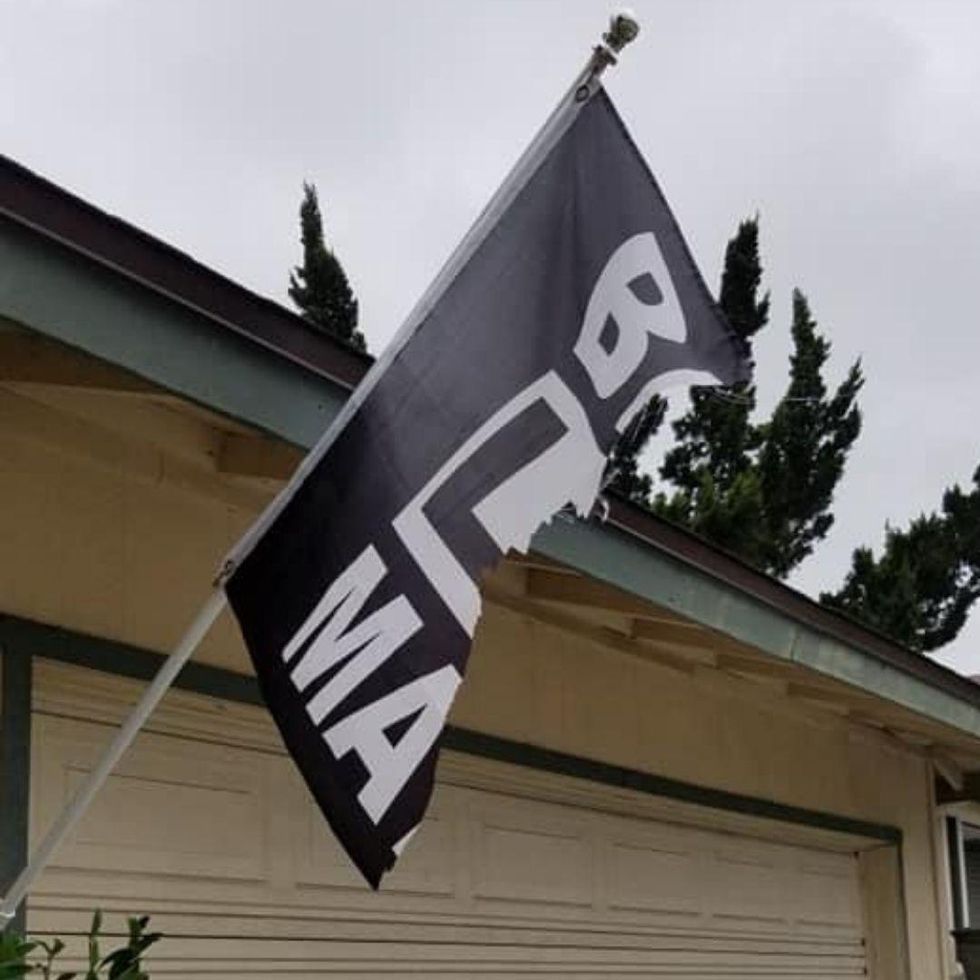 via Paula Fitzgibbons
They were upset, but not surprised.

"Nobody prior to May of 2020 said a word about our BLM flag," Ellen explains. "After George Floyd and the protesting started, we had about 50% positive interactions with our neighbors, quietly offering solidarity as they passed by on their morning and evening walks. Then 25% of interactions were a lot of older busybodies 'pearl clutching' and hoping that 'nobody takes this the wrong way and commits vandalism' against us." Then there were the men who would drive past and scream obscenities at Ellen while she unpacked groceries with her young child.

Instead of backing down, Ellen and Patrick grew more involved. They worked to educate themselves about racism. They attended and planned local BLM rallies—including a particularly turbulent one in the middle of their intolerant suburb where members of extremist groups suddenly appeared across the street to counter-protest. They donated to BLM and joined a leadership club that Ellen says "helps students of color with special needs navigate current society."
By the time Ellen and Patrick's flag was vandalized, they had already collected some back-ups. Undeterred, they replaced the flag with one that supports a broader mix of voices including the LGBTQ+ community, which they'd planned to hang for Pride Month in June.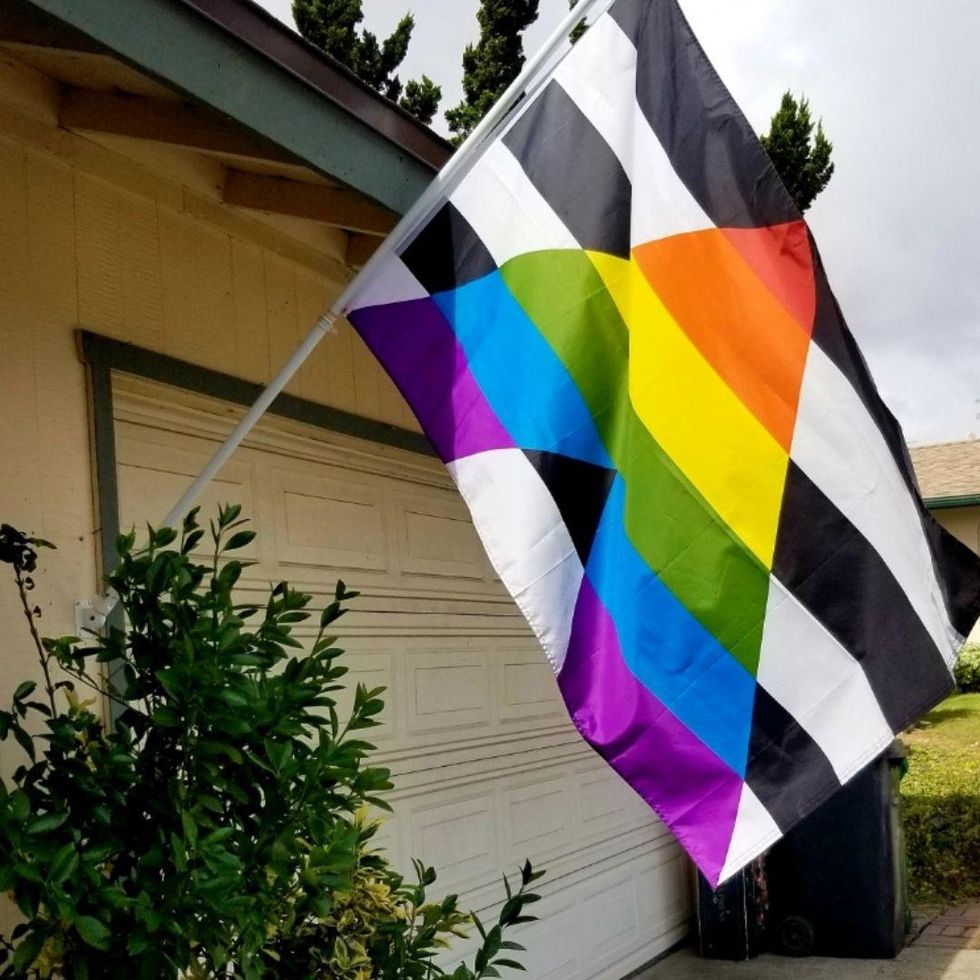 via Paula Fitzgibbons
Though they felt the sting of violation, they understood there was no comparison to the indignities Black people in their area experience. As Ellen shares, it was mostly "a sad confirmation of the reputation of our town."

If the simple act of hanging a flag propelled Ellen and Patrick to lend greater support to the BLM movement, what happened next confirmed the need to continue working hard toward effective allyship.

Ellen explains that a couple of days after their BLM flag was vandalized, Patrick rushed into the house with tears in his eyes and handed her the typed note that was left at their front door along with two wrapped packages.
"I busted into an ugly cry as well," Ellen adds.
The note read:
"I saw your ripped BLM flag on Tuesday morning. I realize it could've been 'just the wind' but there are a fair number of other flags I see flying high in this neighborhood without tattering so suddenly…
So, just in case somebody vandalized it on purpose, I went ahead and made a $ donation to BLM on your behalf!
I also wanted to order you a replacement BLM flag in case you still wanted to fly it, then in a fit of passion I ordered two, so that there's another back-up, or a gift for another good person with a flag pole.
Also quick sidenote, I love your LGBTQ+ Ally flag too! As a "B," it gives me a sense of camaradery [sic]!
Do with these new flags as you will. It was simply my wish to 'fix' the torn flags the same way I wish to 'fix' some of the unkind acts against our fellow human beings. I saw it as a chance to remind you, remind myself, remind vandals and kind people alike that you can't tear away someone's humanity, you can't tear away their pride, you can't tear up love and compassion and good hearts the way you can tear up the fabric.
We'll continue to fly high!"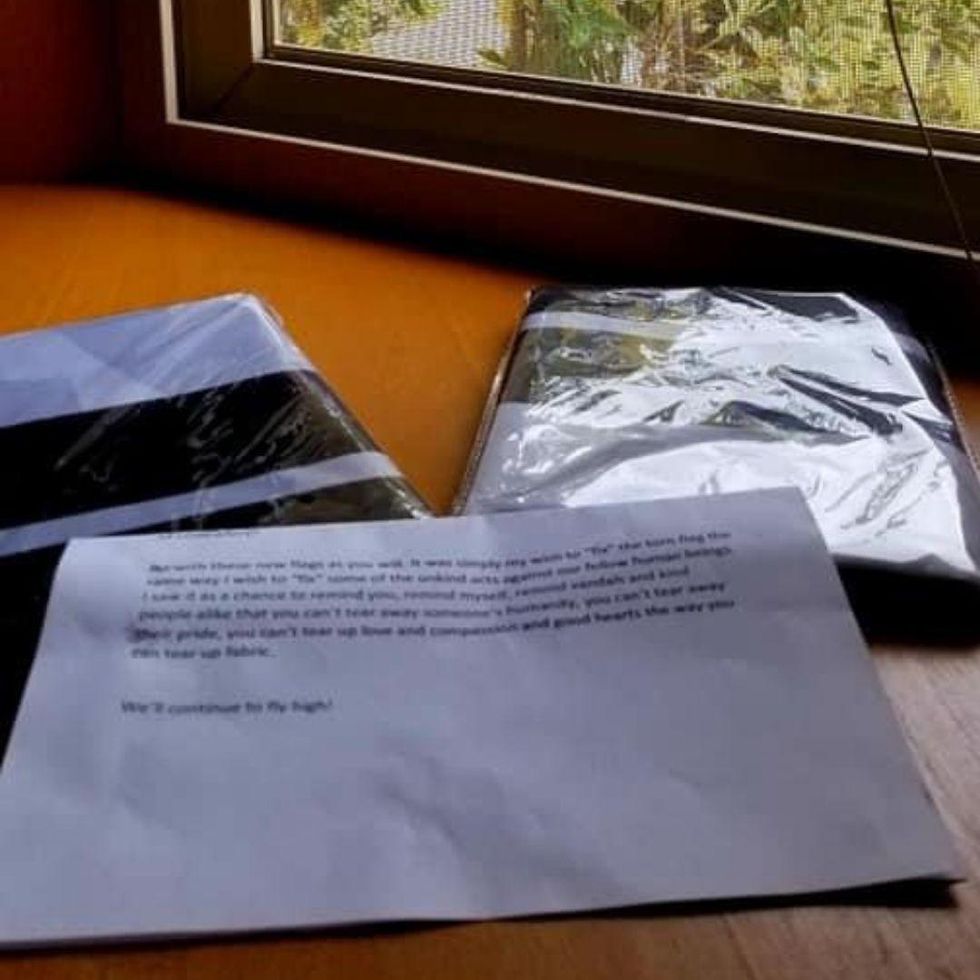 via Paula Fitzgibbons
The note confirmed Ellen and Patrick's hope that flying a simple flag might help people feel more welcome in their neighborhood.

"We no longer felt indignant, but happy that our flag symbol made another neighbor feel safe," Ellen says.
Flying a BLM flag in a neighborhood with ties to white supremacy allowed the Millers to make a statement against the prevailing racist attitudes in their town. It also moved them to act intentionally in support of BLM. They never imagined the vandalism of that same flag might someday invite more neighbors into solidarity as well.
As another resident of their town commented, "It's nice to know you aren't an island when it comes to compassion in your neighborhood."
*Names have been changed at their request.
True
When a pet is admitted to a shelter it can be a traumatizing experience. Many are afraid of their new surroundings and are far from comfortable showing off their unique personalities. The problem is that's when many of them have their photos taken to appear in online searches.
Chewy, the pet retailer who has dedicated themselves to supporting shelters and rescues throughout the country, recognized the important work of a couple in Tampa, FL who have been taking professional photos of shelter pets to help get them adopted.

"If it's a photo of a scared animal, most people, subconsciously or even consciously, are going to skip over it," pet photographer Adam Goldberg says. "They can't visualize that dog in their home."
Adam realized the importance of quality shelter photos while working as a social media specialist for the Humane Society of Broward County in Fort Lauderdale, Florida.
"The photos were taken top-down so you couldn't see the size of the pet, and the flash would create these red eyes," he recalls. "Sometimes [volunteers] would shoot the photos through the chain-link fences."

That's why Adam and his wife, Mary, have spent much of their free time over the past five years photographing over 1,200 shelter animals to show off their unique personalities to potential adoptive families. The Goldbergs' wonderful work was recently profiled by Chewy in the video above entitled, "A Day in the Life of a Shelter Pet Photographer."
Get stories worth sharing delivered to your inbox