The funny thing about love is that the person we fall in love with, more often than not, we run into by accident. Another strange twist is that the love of our life is likely to show up when we least expect it.
The following story, which feels like the promise of a hit rom-com, comes courtesy of a twist of fate created by the World Cup and an Airbnb.
In 2013, after six years of battling an illness, Ana was living in Rio de Janeiro, Brazil. Having been financially drained by years of being sick, she invested the last of her money to buy two bunk beds and convert one of her bedrooms into an Airbnb for small groups of friends.
The Airbnb was a last-ditch effort to pay her rent and medical bills. A year later, the modest investment grew into a success, Ana's health began to return, and the World Cup, one of the largest sporting events in the world, was coming to Rio.
To take advantage of the soccer fanatics flocking to the Cidade Maravilhosa (Marvelous City), Ana and her roommate, Fabio, turned a half room in their apartment into an Airbnb rental to give tired soccer fans a place to sleep.
"Though it was a small (pantry!) room, we added a bunk bed and listed two beds on Airbnb. One day after the listing went live, we had tons of requests for 'Fabio's Pantry,'" she shared. "It was fully booked for the entire World Cup period except for one week in July."
Around this time, Ana was feeling well enough to go on her first vacation in years and took a quick trip to Uruguay. Just before she left, Ana received a reservation from a man named "Darko B." for the only unbooked days in July.
"I have always been a big fan of the movie 'Donnie Darko' and thought it was a strange coincidence, but didn't think anything of it," Ana wrote. "I accepted the request, let him know I would not be there for check-in and Fabio would care for him until I was back the following week."
When Ana returned after her trip, she had no idea that her life would change forever. Upon opening the door to her apartment, there stood Darko, who was so taken by her that he nearly fell over. "I was sure he stumbled because he had sand on his feet and didn't wash it downstairs as the rules of the building say, and I caught him, lol (everybody does that!). But it wasn't sand, it was just love at first sight... for him, I was still mad about the imaginary sand," she joked.
As Ana worked on her business classes and workshops in her apartment, Darko lay around watching TV, barely venturing outside to see the marvels of Rio. Even though Ana told him all the great spots to visit, he was just as happy to hang around and talk to her when she took breaks.
It seemed that all Darko really needed was right there in the Airbnb.
"We chatted about everything in life during my breaks and got more and more connected," Ana remembers. "We were still keeping a respectful distance because, from my perspective, he was my guest and I wanted him to feel safe." As the temporary tenant, Darko was in a strange position, too. He was a "strange man" in Ana's home and didn't want to be too forward.
Ana believes that because the two kept a safe distance, their feelings had more time to grow. "That distance was the key for our friendship and connection to develop organically," Ana said.
As Darko's week-long stay neared its end, the duo decided to catch a sunset at the Arpoador Rocks. It was a mesmerizing evening with a dual spectacle: a breathtaking sunset on one side and the grandest supermoon in three decades on the other. Moved by the magic of Rio and his growing bond with Ana, Darko extended his stay by three months, sidelining his plans to travel across Brazil to watch soccer.
"We had 3 awesome months together exploring Rio," Ana wrote. "We did not go to the stadium to watch the games live, but we went to 'watch events' with friends, traveled to small places around Rio, and stayed in an Airbnb in Ilha Grande."
Sadly, after 3 months, Darko had to return to Canada for work, and it seemed their blossoming relationship had come to an end. "I thought our journey would be over and we would remain as friends, but we kept in contact every day until he came back 3 months later for another 3 months in Rio together," Ana wrote.
Three years after Darko fell, or at least stumbled, in love at first sight, the couple was married and recently celebrated their 6th anniversary. All because of a chance Airbnb booking in "Fabio's Pantry."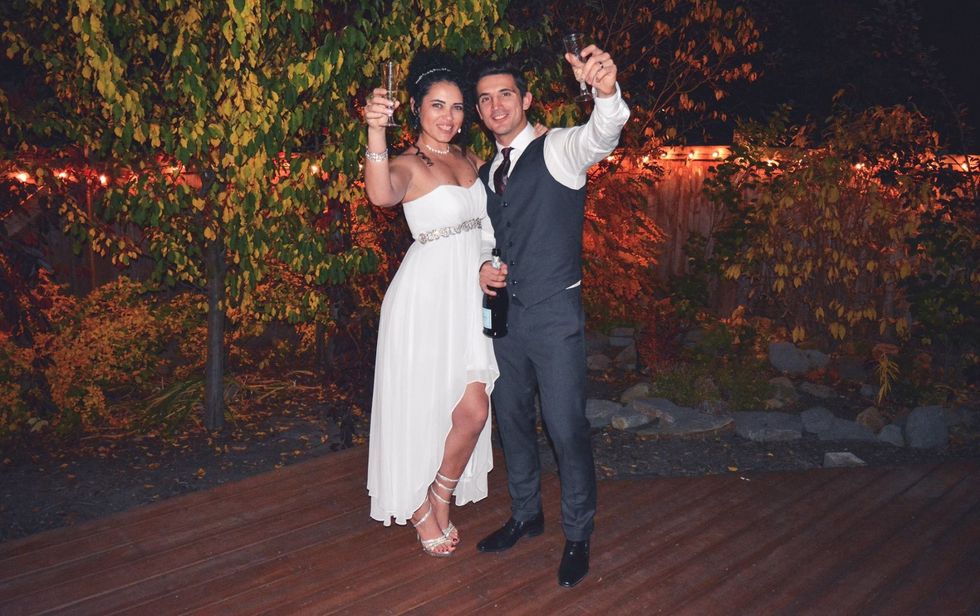 Airbnb brought Ana and Darko together and continues to be a big part of their lives. "We went on a big trip together in 2016/2017 to Southeast Asia, and we stayed in tons of Airbnbs in Thailand, Laos, Vietnam, and Cambodia," Ana wrote. Her relationship with Airbnb, which started in Rio and moved on to Asia, has now gone worldwide.
"By 2017, I was recovered and traveling the world as a program manager for entrepreneurship programs. I had projects (and Airbnbs!) in Brazil, Guatemala, Panama, USA and East Canada (New Brunswick) and luggage all over the world," Ana wrote.
In 2018, Darko took Ana to his birthplace, the former Yugoslavia, which is now Bosnia, and they visited Rovinj by the sea, a place Darko fondly regards as paradise. Naturally, they used Airbnb during their trip, extending their stay across various Croatian cities.
Darko and Ana's story is a beautiful example of serendipity's role in people's lives. The right people found each other in the perfect place and had all the time in the world. Nice job, Airbnb. If any aspiring screenwriters read this, "Fabio's Pantry" is a great name for the film adaptation.