Most Shared
Someone plastered The Louvre with 2,000 sheets of paper and it looks cool AF.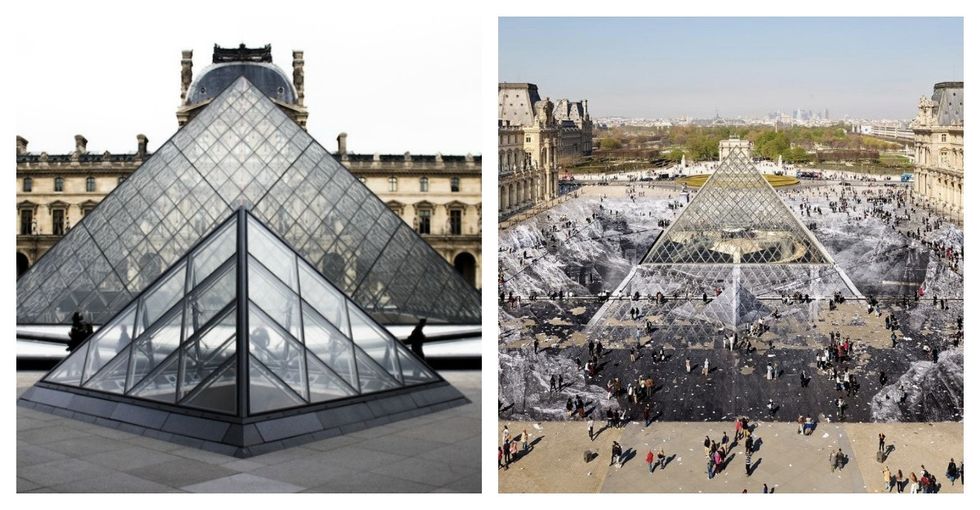 If you and I (in this fantasy we are best friends fulfilling our lifelong dream of visiting Paris) decided to see what The Louvre's glass pyramid looked like covered in paper, we would likely spend the majority of our trip becoming intimately acquainted with France's legal system.
I know it sounds unfair but the reality is that you (best friend) and I are not famous artists. And while the french government may not trust us to cover one of its most famous landmarks in paper, I have some excellent news: We can still see what it looks like.
---
Spoiler alert: It is very, very cool.
Here's one pic of the thing to tempt you before we get into the backstory:
The illusion, which makes it look like The Louvre's pyramid belongs in Winterfell (or whichever Game of Thrones location where the rocks and ice are the most dangerous) was created by street artist JR for the pyramid's 30th anniversary.
This isn't JR's first living exhibit for the museum. Three years ago, the artist made it appear as if the pyramid had faded into the facade of the main building itself. Like magic!
For the current project, JR enlisted the help of 400 volunteers who, under the cover of night (an assumption on my part because it just sounds cooler) pasted 2,000 specially-designed strips of paper on and around the pyramid to give it that "wow, I'm going to fall right through the ground and die, get my pic for the gram" look.
Needless to say, people were loving it:
Even if they were maybe a little apprehensive about going too far in lest the illusion be an actual trap.
Here's what it looks like all lit up and waiting for couples to propose to each other:
If the installation has inspired you to book your own tickets to Paris (and, hopefully, one for me, because, for the purposes of this story we are still best friends), it's important to note that the installation only lasted one day. Its temporary nature was meant to stir up reflections on how fleeting life is.
From JR's description of the piece:
The images, like life, are ephemeral. Once pasted, the art piece lives on its own. The sun dries the light glue and with every step, people tear pieces of the fragile paper. The process is all about participation of volunteers, visitors, and souvenir catchers. This project is also about presence and absence, about reality and memories, about impermanence.
Oh, well. At least we'll always have these beautiful photos (that we can shop ourselves into). However, this is also a friendly reminder that the entire Louvre is full of art. So maybe plan your trip anyway!