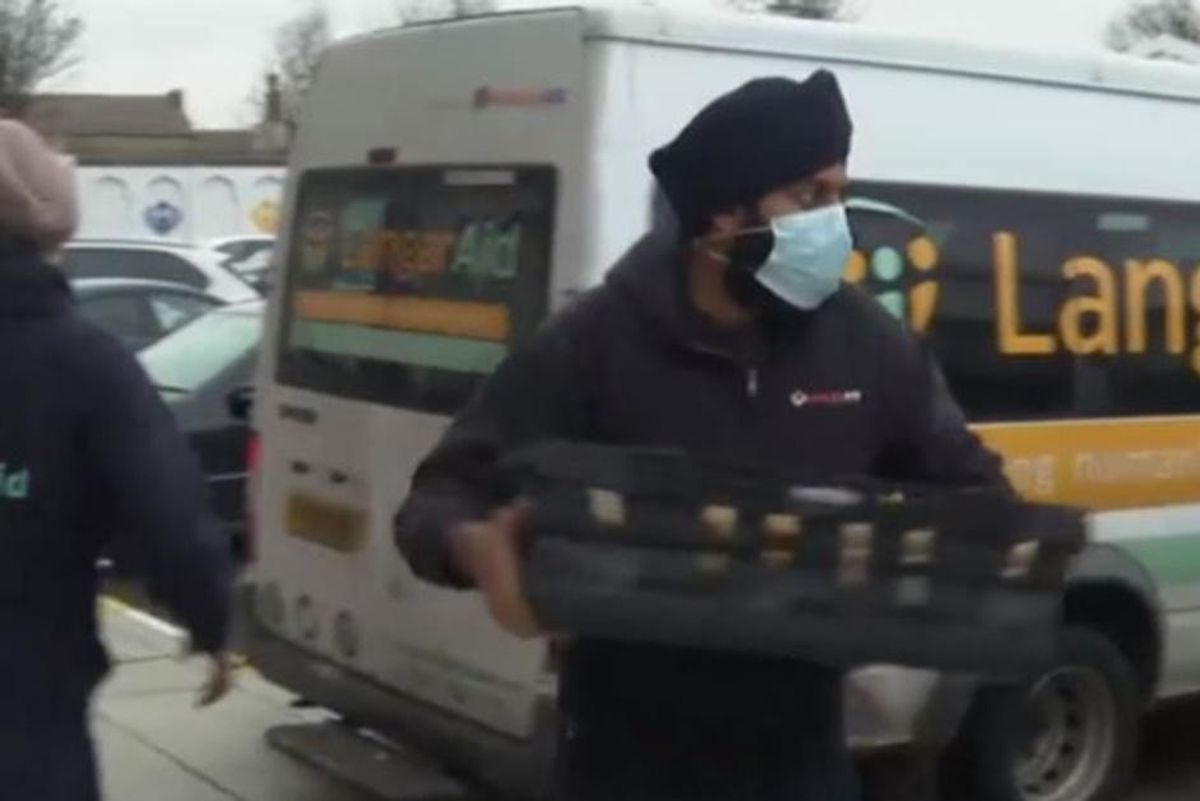 via SikhNet
News of a mutated version of COVID-19 in Britain and South Africa is causing alarm across the world. It's believed the new version is twice as infectious as previous strains.

News of the new strain caused France to ban travelers and freight from the UK earlier this week unless they could provide results of a negative COVID-19 test conducted in the previous 72 hours.
This resulted in a massive backup of trucks at the crossing between Dover and the French city of Calais while drivers waited for their tests to come back. The UK deployed 170 military officials to test the truckers as they waited at the port.
---
UK: More than 2,800 trucks stranded in Kent amid COVID border chaos https://t.co/rmHzbHNVig

— Norbert Elekes (@Norbert Elekes) 1608663231.0
"We see no tests coming, no water, no food, (and) we are crammed on top of each other," Vanessa Ibarlucea, spokeswoman for the French National Road Haulage Federation, told CNN.

"We are expecting some drivers to be stuck on the other side for the holidays," she said.
The unexpected back up caused many truckers to blow through their provisions in an area where there are no easily accessible grocery stores or restaurants. So two groups of Sikhs, the Sikh community at the Guru Nanak Darbar temple in Gravesend, Kent, and NGO Khalsa Aid, jumped into action to feed the hungry truckers.
800 Hot meals ready for the truckers stranded in #Kent due to #OperationStack ! Our thx to the #Kent Sikh commun… https://t.co/UaOZjaFo6E

— Khalsa Aid (@Khalsa Aid) 1608648087.0
"It's horrible for [the drivers], there's nothing here - no food, no shops - it's like a prison for them. We can't sit back and do nothing," Ravinder Singh, founder of Khalsa Aid, which helped coordinate the deliveries, told the BBC.

The response was an expression of the second golden rule of Sikhism, "sharing one's things with everyone including the less fortunate." Sikh's have a long-standing tradition of feeding the hungry regardless of their caste, creed, race, or religion.
"We in Sikhism, we have the concept of langar, which means community kitchen," Singh told Reuters. "We are British Sikhs and the least we can do is to practice our seasonal goodwill: two days from Christmas we have people on our soil who are homeward bound and do not know what is happening."
"How did the UK's Sikh community respond after hundreds of transport trucks were stranded on the roadway due to bor… https://t.co/osC8nIgrpN

— SikhNet (@SikhNet) 1608711660.0
"To see a solitary truck driver in his cabin on a horrible wet evening on the side of the motorway, it drives you to do more for them," Singh said. "They were very appreciative but you could see they were down as they were unsure if they would get home for Christmas."

All in all, the communities delivered 500 chickpea curries and 300 mushroom and pasta dishes to the hungry drivers on Tuesday.
Late Tuesday night, France and the UK struck a deal to allow truck drivers and French citizens to cross the border. The move comes after the border chaos sparked panic over food and medicine shortages in the UK.
The new coronavirus variant has caused British Prime minister Boris Johnson to announce stricter lockdowns in the country starting December 26. London and the south-eastern part of the country will enter "Tier 4" lockdown in which non-essential shops, hairdressers, and entertainment venues will be temporarily closed.