Internet
People are losing their minds over this circle-filled optical illusion
Yes, there really are circles there.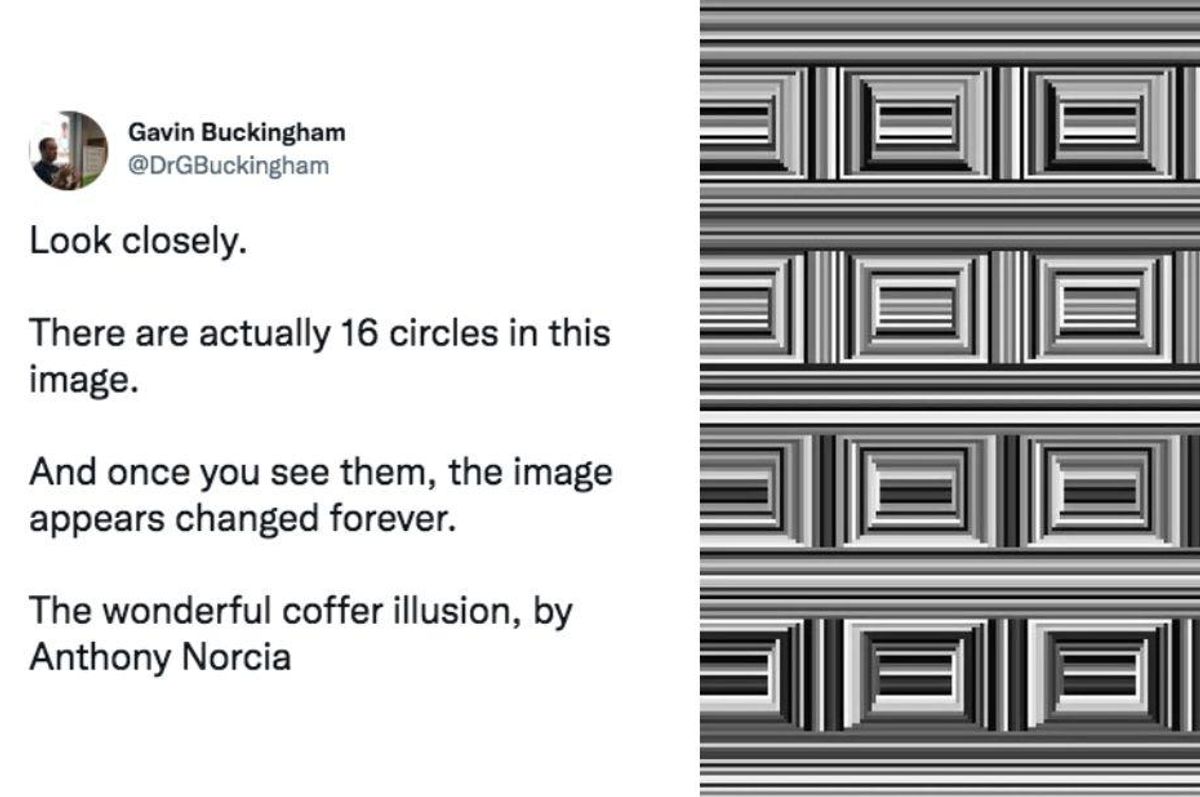 Optical illusions are always fun to play with, but some can be particularly challenging on the old eyes and brain. It's fascinating to see how different people process them and how quickly or slowly—or sometimes not at all—people see things that aren't really there or see images hidden within other images.
Not to brag, but I'm kind of an optical illusion savant. It usually doesn't take me longer than a few seconds to see whatever it is people say they are seeing. But occasionally an illusion comes along that stumps me to the point where I wonder if people are actually lying about what they are seeing.
This rectangle/circle illusion is one of those.
---
It's called the coffer illusion and was created by Stanford University psychologist and vision scientist Anthony Norcia. The image is made up of a pattern of black, white and gray lines of various shades that create the illusion of rectangles. It's easy enough to see the rectangles.
What's not so easy to see are the 16 circles in the image. Yes, they really are there.
Take a look:
\u201cLook closely.\n\nThere are actually 16 circles in this image.\n\nAnd once you see them, the image appears changed forever. \n\nThe wonderful coffer illusion, by Anthony Norcia\u201d

— Gavin Buckingham (@Gavin Buckingham) 1657479098
Seriously, at first my brain said, "Nope." How could there be circles? All I see are straight lines. Straight lines horizontally. Straight lines vertically. Not a single curved line anywhere in sight. How can there be circles if there are nothing but right angles in the image?
So I did what any self-respecting social-media-savvy person would do and started scrolling the comments to see if anyone explained how they saw circles.
(Warning: Spoilers ahead if you're still trying to see the circles on your own.)
One way to see the circles is to focus on the vertical bars between the rectangles. For some, that makes the circles suddenly pop off the screen.
\u201c@DeVore @adamgreatkind @DrGBuckingham Thanks, I was staring and staring, following your advice, nothing, still just rectangles, and then I blinked and the circles were there. Magic!\u201d

— Gavin Buckingham (@Gavin Buckingham) 1657479098
For people who need more of a visual clue, someone broke it down with colored shapes, literally circling one of the circles.
\u201c@nathangs20 @DrGBuckingham THANK YOU. \n\nSo weird, my brain actually jolted when I saw them.\u201d

— Gavin Buckingham (@Gavin Buckingham) 1657479098
Once you see them, it's pretty easy to switch back and forth, but hoo boy, does it take a while to actually see them the first time.
Why is that?
According to an explanation from a professor and student from the University of Sydney, the reason we have a hard time seeing the circles at first is because of our brain's strong tendency to identify objects in what we're seeing. The lines come together to form edges, contours and shapes, and our brains fill in the objects.
"For most people, the grouping into rectangles initially dominates," the authors write. "This may be because rectangles (including the ones we see in door panels) are often more common than circles in our daily environment, and so the brain favours the grouping that delivers rectangular shapes."
I figure it's also likely due to the rectangles looking more 3D (therefore like a real object) while the circles appear as 2D.
Aren't our brains amazing?