Family
Mom and stepmom become best friends and hope to inspire more togetherness
The "Moms of Tampa" are officially besties and loving it.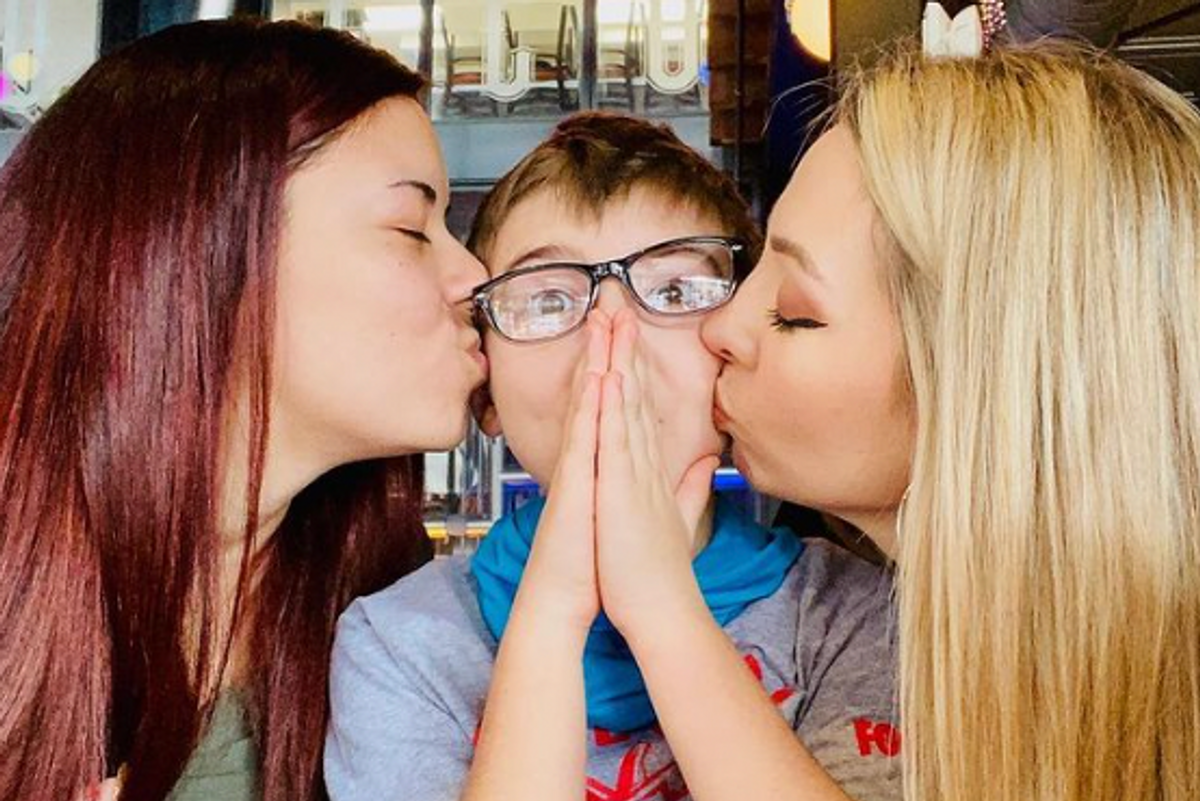 Tiffany Paskas and Megan Stortz, aka the Moms of Tampa, weren't always the best friends that they are now. The unique story of how they became that way is catching a lot of positive attention and shining a light on how we might rethink co-parenting dynamics after divorce.
Stortz and her ex-husband Mike (married now to Paskas) share custody of their 11-year old son, Michael. At first, like many moms and stepmoms, Stortz and Paskas never spoke to one another.
Paskas explained to local
NBC affiliate WFLA
, "We just didn't know it was okay to talk. We were under the impression, being children of divorce, that the ex and the new never intermingle, so it was like, best to stay away. So that's kind of how we dealt with the first four years."
---
The blended-yet-divided family lifestyle started to take its toll on young Michael. Stortz told Good Morning America that "he didn't want to express that he was having a good time at each household because he was just worried about upsetting the other house."
Finally, Stortz decided to reach out to Paskas in the friendliest way possible—by sending gifts. It is one of the five love languages, after all.
"I sent her a bottle of champagne and a card. On the inside of the card it said, 'thank you for being such a positive influence on my son's life. He loves you,' you know, just 'thank you,'" she told
WFLS
.
Stortz and Paskas began "testing the waters" by sending gifts back and forth. It wasn't until the pandemic, however, that their relationship would fully blossom. When both of their husbands got COVID-19 at the same time, the women ended up quarantining together. It was then that they discovered their shared love of makeup. Paskas, who had created her own beauty channel on TikTok, invited Megan to create videos together. Because, as we know, nothing says "friendship" quite like a TikTok duet.
Paskas' followers took notice. And when she revealed that her TikTok buddy was her husband's ex-wife, people were eager to learn more. Inspired, Paskas and Stortz put the Moms of Tampa on social media and it quickly went viral. They even created a podcast, "From Blended to Besties," available on Spotify, where they discuss their life together as co-parents.
If I had to guess, I'd say it was the genuine love and respect these women have for one another that helped make their channel so contagious. Just take a look at this beautiful "open letter to my son's other mom" that Stortz posted to Instagram on Mother's Day. It's the sweetest.
Stortz often gives Paskas the nickname "bonus mom" rather than stepmom.
The Moms of Tampa give audiences much more than co-parenting advice and wholesome content. Above all, they offer a refreshing take on what life can look like as a healthy blended family.
While their relationship isn't necessarily realistic for everyone, it's certainly possible if you want it to be. And the benefits might far outweigh the initial discomfort, particularly for children.
But how does someone even begin to make this happen? Fostering healthy relationships isn't exactly part of the typical curriculum, least of all nontraditional ones. The Australian parenting website Raising Children advises that a functional blended family dynamic, much like any relationship, boils down to two elements: communication and respect. Both of these qualities are evident in Stortz and Paskas' relationship.
It's amazing how much stronger we can become simply by coming together. Co-parenting isn't always easy, but, as the Moms of Tampa would argue, it can be oh so rewarding.