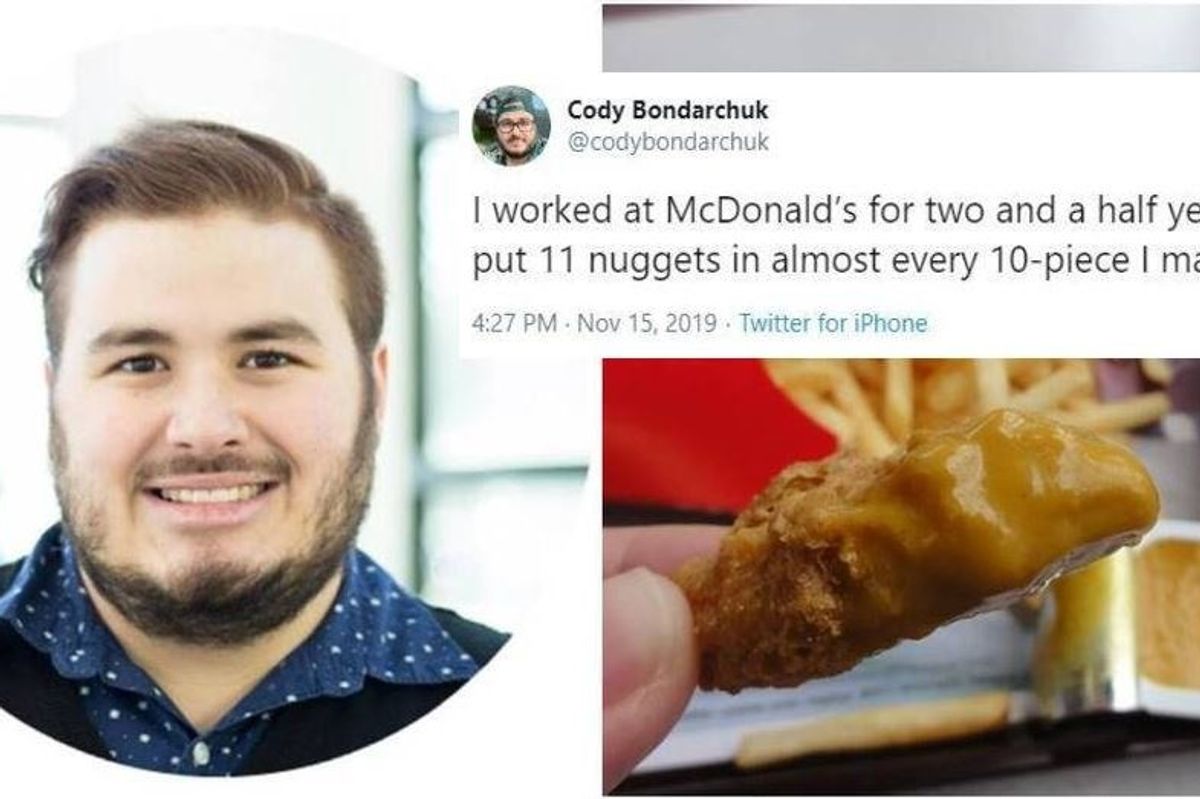 Sometimes the smallest gesture can turn your entire day around. You find a $5 bill in the pockets of your jeans. There's no traffic on the way home from work. Or by some divine intervention, you get 11 chicken McNuggets in your 10-piece box.

Of course, if you've ever had such a blessing, you know your first thought is, "Must be some sort of mistake."
But do you return the extra McNugget? Nope. You don't even feel an ounce of guilt for it. You dunk it in barbecue sauce and relish it like a gift from the gods.
A former McDonald's employee in Edmonton, Canada let the world know that sometimes an extra McNugget is not a mistake and he's become a viral hero.
---
Cody Bondarchuk is being hailed as the "Robin Hood of McNuggets" after admitting in a tweet on November 15 that he intentionally gave thousands of customers an extra McNuggets in the two-and-a-half years he worked for the burger giant.
I worked at McDonald's for two and a half years and I put 11 nuggets in almost every 10-piece I made
— Cody Bondarchuk (@codybondarchuk) November 16, 2019
His admission invoked a passionate response on Twitter.
Not all heroes wear capes, just name tags
— ♠️Yumiko Jamommy♥️🔞 (@MakotoGoinNuts) November 17, 2019
You sir are a true angel 😿😫 pic.twitter.com/GjmTrnuL2T
— Kim 🥒 (@KeepinUpWithKim) November 16, 2019
Are you working at a bank now and if so which branch?
— DESIGNmike 🇨🇦 (@designmike1) November 16, 2019
I got 12 in my 10-pc last week. It's amazing how much of a gift that feels like. It honestly never occurred to me that this might be intentional 💙
— Neera Tanden Blocked Me 😄 🌹 (@of_obvious) November 17, 2019
The location was mostly drive-thru so not that I can remember, but I'd like to imagine they went home, saw the extra nug, and smiled a little
— Cody Bondarchuk (@codybondarchuk) November 16, 2019
But Bondarchuk doesn't want to be called a hero. You deserved that extra McNugget, dammit.
I'm seeing a lot of comments about y'all not deserving a hero but I just wanted to say that EACH AND EVERY ONE OF YOU DESERVES THOSE BONUS NUGGETS ⭐️
— Cody Bondarchuk (@codybondarchuk) November 18, 2019
Bondachuk says he's not the only McDonald's employee who had zero issue with stealing from the multi-billion dollar company and giving it to his hungry customers.
"It was something that a lot of my coworkers did as well," he told CTV News. "It was really easy to overfill them without it looking weird when it was on the delivery line, and of course there are no cameras on the kitchen line."
So he never got caught.
He admits that he must have given away around $1,600 worth of free chicken.
I hope so because I calculated it and I would owe Ronald about $1,600
— Cody Bondarchuk (@codybondarchuk) November 16, 2019
In just six days, his tweet received 900,000 favorites and 80,000 retweets. It's even attracted the attention of a billionaire businessman.
"I saw that Elon Musk liked it, which is very cool," he said.
Bondarchuk hopes that his new reputation as a champion of the working man helps him with his political ambitions, to run for Edmonton City Council in the next municipal election.
"Certainly I don't want a platform just based on nuggets," he said. "But anything that gets my name out there, I'm very happy about, because a lot of those things rooted in working-class support is where the platform will go."