Culture
Woman has Sugar Ray's Mark McGrath break up with her boyfriend, and it might just be the best breakup ever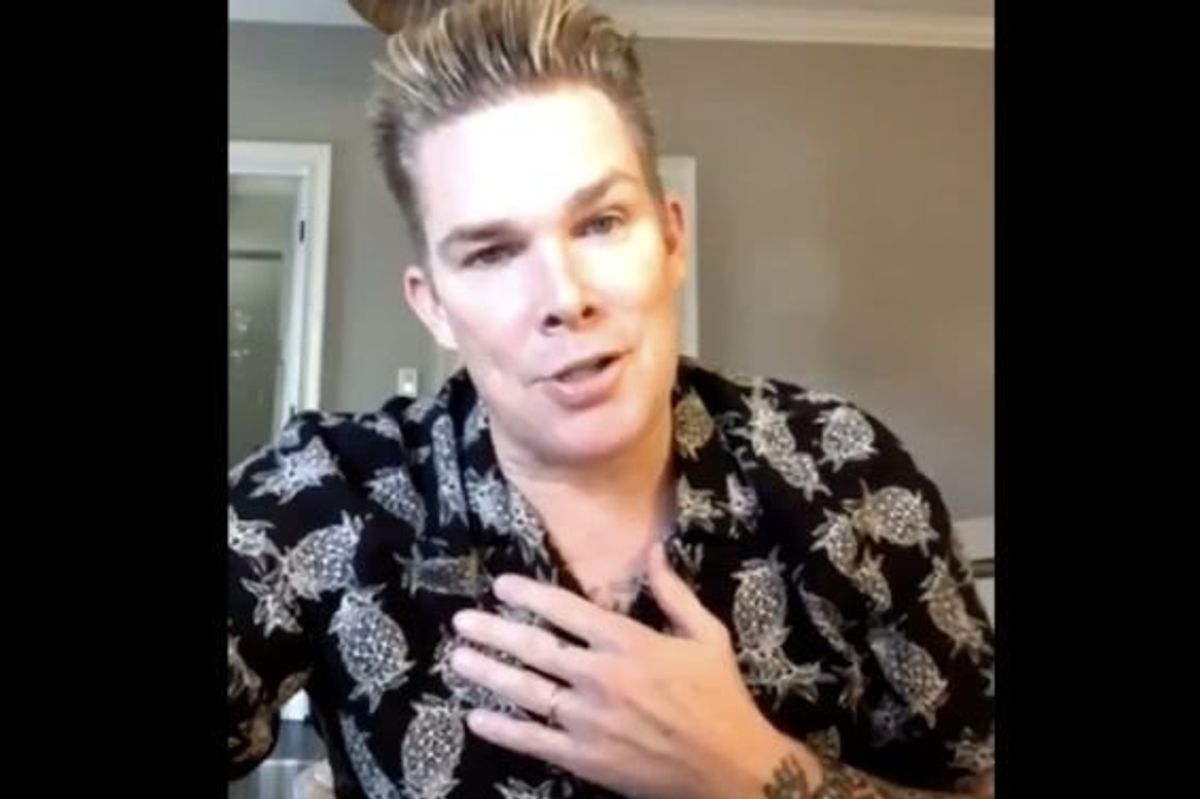 A two-minute video of Sugar Ray singer Mark McGrath breaking up with a woman's boyfriend for her has gone viral. The video was made using an app called Cameo, which allows regular schmoes to pay celebrities to record video messages in exchange for a small sum. Cheyanne, the woman who the video is "from" payed McGrath $100 to deliver the devastating news to her boyfriend, Bradyn.
"This is a little difficult for me to say cause it's the first one of these I've done but [Cheyanne] wants you to know that you mean a lot to her — you mean the world to her — but she's having difficulty staying in this long-distance relationship," McGrath says in the video.
---
McGrath tried to give advice from his own life. "It's tough. I've been on the road for years, and I've been with my wife a long time, and the biggest arguments, the biggest obstacles in our relationship is the distance between us," he explained. "It makes it very difficult when we're on the road and it's hard."
McGrath tried to let Bradyn down easy. "She still wants to be friends with you, and she wants you to know, good luck on your thesis coming up — probably not the best timing, Cheyenne, when he's doing his thesis, but I understand!" he continued.
You gotta watch this video PLEASE https://t.co/GNFf70iDwa

— Vincent Bec (@Vincent Bec) 1574608919.0
Twitter was all about it.
After this, I'm gonna hire him to have all of my difficult conversations for me.... And now, @mark_mcgrath of… https://t.co/qc4W4Bh7Fu

— A.D. (@A.D.) 1574718614.0
a video from mark mcgrath is the only way I want to be broken up with https://t.co/QxWusspirs

— Gus Kenworthy (@Gus Kenworthy) 1574720470.0
Me: How horrible is it that some woman paid Mark McGrath to break up with her boyfriend for her?! Also, me: I woul… https://t.co/uIwAVZF1f5

— Carol Roth (@Carol Roth) 1574719970.0
Can you tell my husband our kid really isn't his? Mark McGrath : I got you fam https://t.co/YFBdpKYqhN

— alan (@alan) 1574725511.0
@Ad_Inifinitum @slasherdaysaint if a girl hired mark mcgrath to break up with me I couldn't even be mad at her, it's too funny

— ryanonymous (@ryanonymous) 1574722087.0
There's more to the story. Apparently, Cheyanne and Bradyn got back together… only to break up again. This time via former White House Communications Director Anthony Scaramucci was the bearer of bad news. "Life goes on. There will be another door opening," says Scaramucci in the Cameo video. Scaramucci said that Bradyn can think "about me getting my ass shot up at the White House and blown to pieces in my life" whenever he has a rough day.

"Yeah, my wife basically threatened for divorce, which took a while for me to repair that as well. So, truth of the matter is, take one day at a time," he continued.
Bradyns girlfriend got back together with him and then broke up with him again using anthony scaramucci https://t.co/utnhUytF1o

— hunter malik shabazz (@hunter malik shabazz) 1573939398.0
The videos seem almost too funny to be true, and it turns out they're not. The videos were a prank from Hunter Shabazz. "I just thought the idea of using celebrities to break really sensitive news is pretty funny. The names were Bradyn and Cheyanne (spelled as such) because I thought these names really reflected people who would break up over cameo and also still be really into Sugar Ray," Shabazz explained to the Huffington Post.
as viral as my joke is going I don't think i gained a single follower over this. I shoulda hired criss angel. https://t.co/Jg6NcqFSuX

— hunter malik shabazz (@hunter malik shabazz) 1574722776.0
McGrath said he knew it was a joke, but decided to play along.
@sarahmorgan @BookCameo You're very sweet Sarah, but I just decided to roll with what I thought was a pretty obvious joke!

— Mark McGrath (@Mark McGrath) 1574719551.0
Also doing real ones for the holidays my brother! 😉 @BookCameo https://t.co/JJ1Vw5HX3a

— Mark McGrath (@Mark McGrath) 1574719027.0
Hopefully, they both still got their hundos for the videos.

These videos are hilarious, but ultimately serve as a reminder that the viral video everyone is sharing might not always be true, no matter how much we want Mark McGrath to actually go around doing people's dirty work.