Culture
Remember the viral video of someone with a Delta flight to themselves? There's more to the story.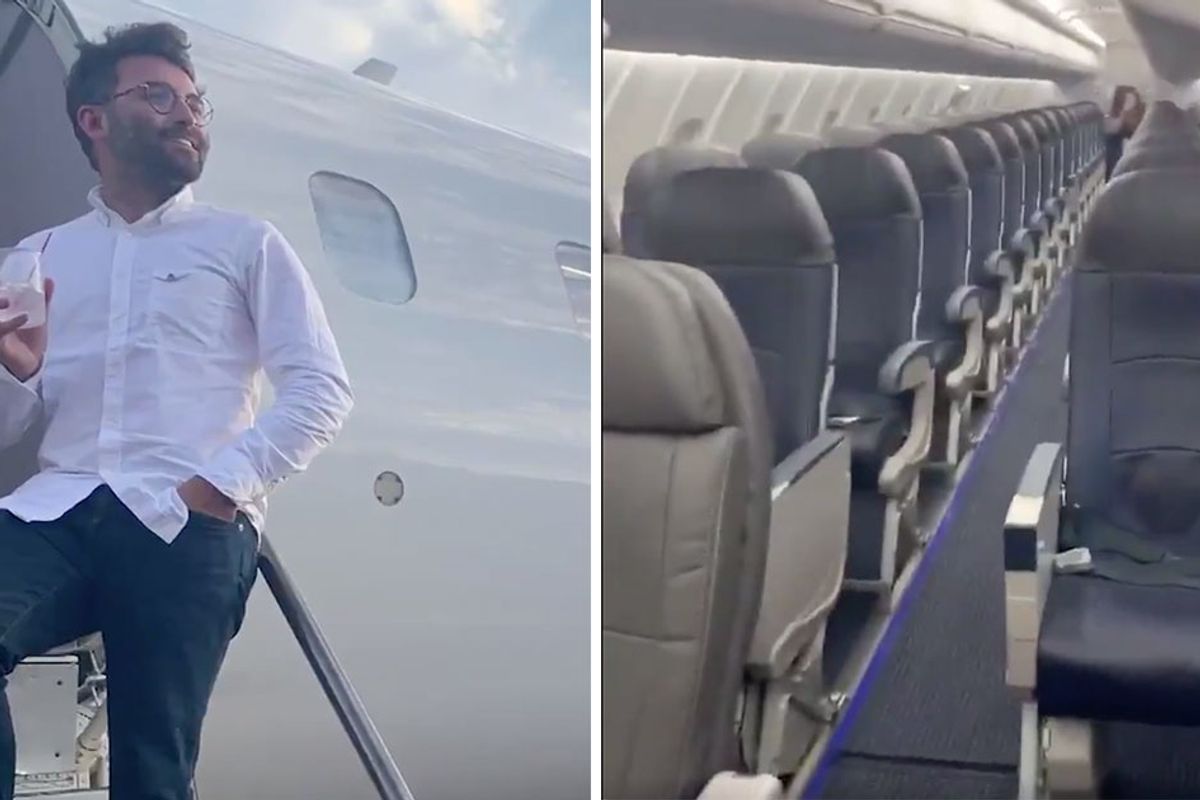 Twitter / Vincent Peone
When it comes to social media, things aren't always as they seem. Every now and then, we're reminded that sometimes an incredible viral video is just the result of movie magic.
Writer and director Vincent Peone posted a video on Twitter documenting his experience on a "private jet." Peone was the only passenger on a Delta flight from Aspen, Colorado to Salt Lake City, Utah. In the video, Perone is greeted by name, meets the pilots, and gets to sit wherever he wants on a completely empty plane. It seems like a pretty sweet experience, especially because flying commercial can be such a nightmare. When the video ends, it's presumably because the flight was taking off. The video went viral, getting millions of views on Twitter.
---
Last week @Delta gave me my own private jet...kind of. https://t.co/p14OGLw1jv

— vincent peone (@vincent peone) 1565633569.0
Delta even responded to Peone's initial Tweet, which seemed confirm the flight actually happened. "That looks like an awesome experience! Thank you for the shoutout, and we truly appreciate you for choosing Delta!" said the airline.
@vincentpeone Hi Vincent! That looks like an awesome experience! Thank you for the shoutout, and we truly appreciat… https://t.co/XPwpkr84O1

— Delta (@Delta) 1565634090.0
Peone ended the viral video with, "Up, Up and Away," but in reality, the flight stayed, stayed where it was. Delta admitted that Peone did get on the empty plane, but the flight never took off. "Delta Connection Flight 3652 last week pushed back but shortly returned to the gate due to a maintenance issue. The aircraft departed a short time later without any customers onboard," Delta spokesperson Anthony Black told The Washington Post.

Peone himself confirmed that this was true. "My video was 100% true...and then I stopped filming. After the private jet broke down again with mechanical problems, I took a normal one the following morning," the filmmaker wrote on Twitter. "The story took off fast, but the plane didn't."
https://t.co/hdK7TvXDOF

— vincent peone (@vincent peone) 1565910266.0
"It reminded me of an experience you'd have flying in the '50s or something. It was very positive, and [the flight crew] thought it was funny. But I was like: Why would they even do this? Why even fly the plane? Delay me or cancel or something!" Peone said in an interview with the Post.

It turns out, it's actually not weird for a flight to fly without passengers. Instead of cancelling an empty flight, the airplane will still travel to the next destination if it's needed to operate later flights.