Heroes
Edgar the Lyft driver showed how to perfectly respond to an unhinged, racist customer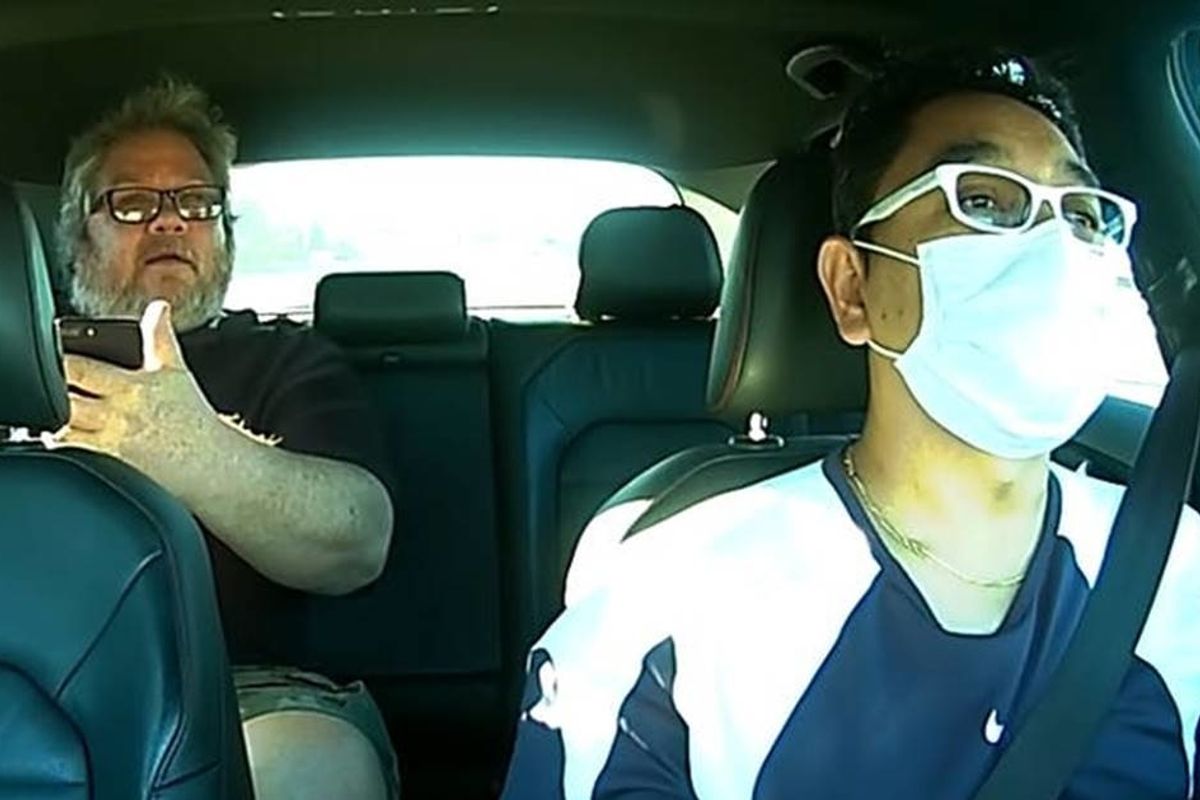 via YouTube
A Lyft driver in Reno, Nevada is the perfect example of staying calm in a heated situation with a racist.

The trouble started the minute that Edgar, the driver, picked up Richard who requested a four-mile ride to his home. After Richard got in the car, Edgar asked him to wear a mask, explaining that members of his family had been infected with COVID-19.
The passenger replied saying he didn't believe the government about the coronavirus. Edgar asked him to please cover his mouth with his hand, which he did.
Richard then questioned Edgar about the route he was taking and things escalated.
---
"You want to get out?" Edgar asked, calmly.
"No, I want you to take my ass home and I'll give you a shitty review," the passenger responded.
Hispanic driver's skull and hurls racial slurs at him after he asked him to wear a maskwww.youtube.com
The two then argued over where Edgar was able to drop him off and whether the car was Edgar's or Lyft's. The answer is easy. It's Edgar's car so he can do whatever he likes, especially if he feels threatened by a passenger.

Richard then called Edgar a "candy ass faggot with white glasses" and muses that he could crush his "fucking skull right now."

Edgar let him know that the interaction was being recorded on video and he quickly backpedaled.
The violent threat was the last straw for Edgar who stopped his car and asked Richard to get out. But Richard continued to squabble over whether the ride was canceled or not.
He then began poking fun at Edgar's accent.
"Where are you from, boy?" he asked with a condescending tone.
"I'm from here."
"No, you're not," the passenger responded.
"Yes I am," Edgar said confidently.
The passenger responded: "You're a fucking wetback."
Eventually, he got out of the car.
Lyft responded to the incident by banning Richard from using the service. "The behavior shown by the rider in this video is despicable and has no place on the Lyft platform," the company said in a statement.
"Lyft is committed to maintaining an inclusive and welcoming community, and discrimination is not tolerated."
Edgar should be commended for handling the situation calmly and confidently. He didn't feel compelled to drive the racist passenger home, he just dropped him off and went about his day.
What's insane about the entire incident was that Richard knew he was being recorded, but it still didn't stop him from going off on a racist, homophobic rant. That's probably because anyone who is a racist probably doesn't have much sense to begin with. Hopefully this video will serve as yet another reminder that people are paying attention and acts of bigotry and willful ignorance like this will not longer be accepted by decent people.