popular
Minnesota kindergarten teacher explains why she's refusing to take time off during chemotherapy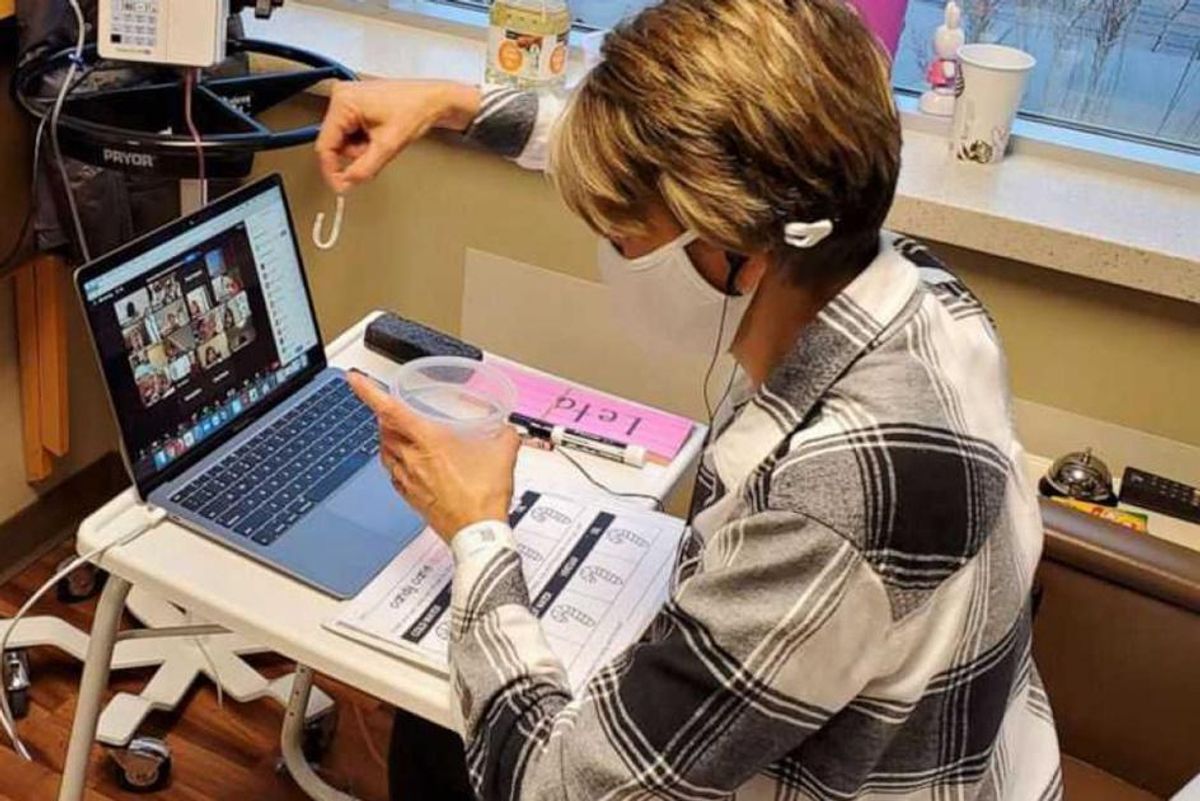 via Good Morning America
Anyone who's an educator knows that teaching is about a lot more than a paycheck. "Teaching is not a job, but a way of life, a lens by which I see the world, and I can't imagine a life that did not include the ups and downs of changing and being changed by other people," Amber Chandler writes in Education Week.

So it's no surprise that Kelly Klein, 54, who's taught at Falcon Heights Elementary in Falcon Heights, Minnesota, for the past 32 years still teaches her kindergarten class even as she is being treated for stage-3 ovarian cancer.
Her class is learning remotely due to the COIVD-19 pandemic, so she is able to continue doing what she loves from her computer at M Health Fairview Lakes Medical Center in Wyoming, Minnesota, even while undergoing chemotherapy.
---
"I'm going to make the most of my time," Klein told "Good Morning America." "I don't take anything for granted."
Klein battled cancer five years ago and had to take off about six months due to treatments. But this time, she swore she wouldn't let that happen again. For Klein, teaching gives her the ability to keep her spirits up in a depressing situation.

"Teaching 5-year-olds I always say is like going to Disney World. Everything is exciting and they're so excited about everything that it gets me excited," said Klein. "When you're at chemo and you're around a lot of sick people, it's kind of a depressing place to be. For me, to be around 5-year-olds during that time, it's like a slice of normalcy in an abnormal environment."
Klein told CBS News that her students give her strength. "It's real easy to go down the 'Why me?' — and I think if I didn't have five-year-olds to teach every day, I would spend a lot of time thinking about that," Klein said.
She also hopes that by continuing to teach she can show her students and their families that even with cancer, people can continue to live.
As elementary school teacher Kelly Klein undergoes cancer treatment for a second time, she's finding strength from… https://t.co/pQUxfbAx8T

— NBC Nightly News with Lester Holt (@NBC Nightly News with Lester Holt) 1611522016.0
After the mother of two learned she had cancer last summer, she pleaded with her principal Beth Behnke to stay on the job. "Please don't make me take a leave," she told Behnke who was "not surprised because of who she is as a person and what teaching means to her. It's her tapestry."

"She's a very beloved teacher and she deserves it because she's the type of teacher who shows up every year," Behnke said of Klein. "And what she's doing is part of living in our world, just helping kids manage through lots of situational things that don't have to define us but are part of our lived experience."
Receiving a cancer diagnosis has to be completely devastating. But two doctors from Stanford have noticed that one of the most important factors in recovery is maintaining the desire to continue living. "Patients with positive attitudes are better able to cope with disease-related problems and may respond better to therapy," Ernest H. Rosenbaum, M.D. and Isadora R. Rosenbaum, M.A. writes.
Klein's decision to continue teaching may mean a lot more than finding fulfillment in a tough situation, it could prolong her life.