Heroes
Incredible footage shows an ex-college football star disarming a student gunman with hugs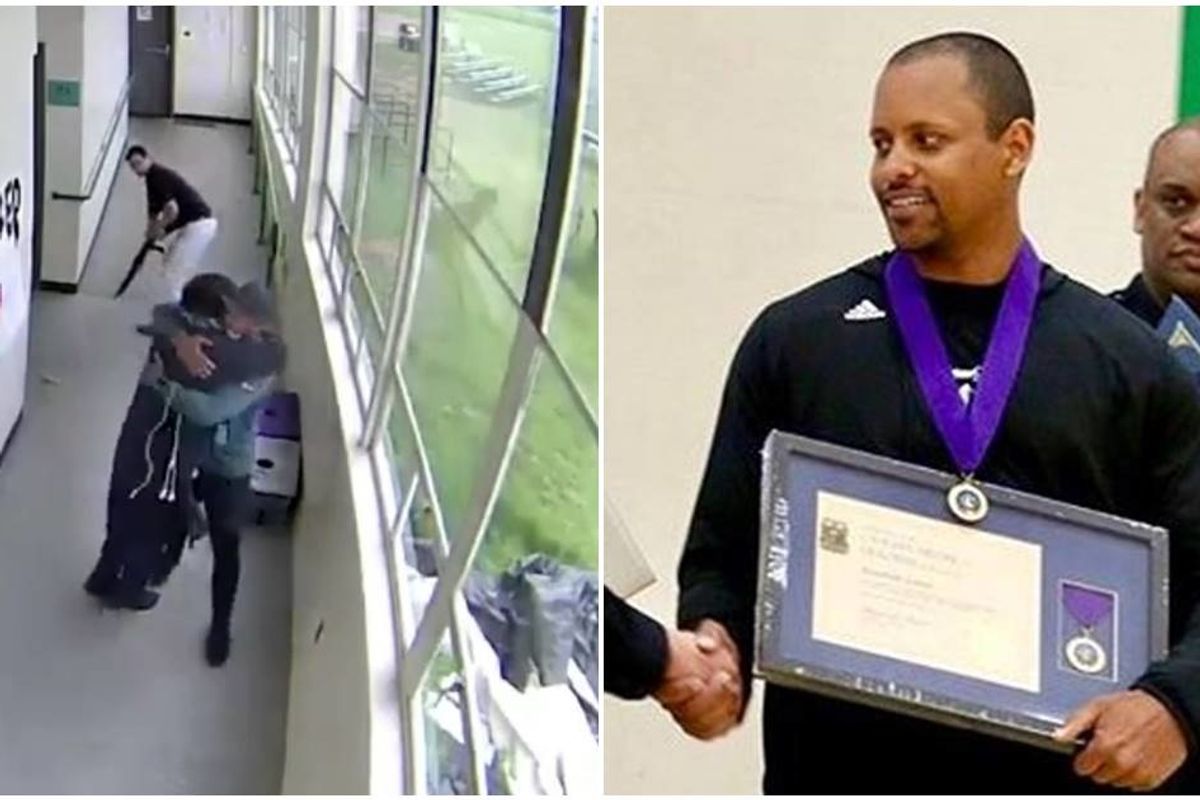 Five months ago, Keanon Lowe, a former star wide receiver at the University of Oregon, was hailed as a hero for tackling and disarming a gunman at Parkrose High School in Portland where he coaches football and track.

Surveillance video of the horrifying moment was recently released after a public records request and it shows Lowe not only putting on a stunning display of bravery in a life-or-death situation, but showing his incredible humanity as well.
---
Lowe was visiting a classroom to send a message to a student when then-18-year-old Angel Granados-Diaz barged into the classroom with a shotgun. Lowe was standing near the door and made a split-second decision that saved countless lives.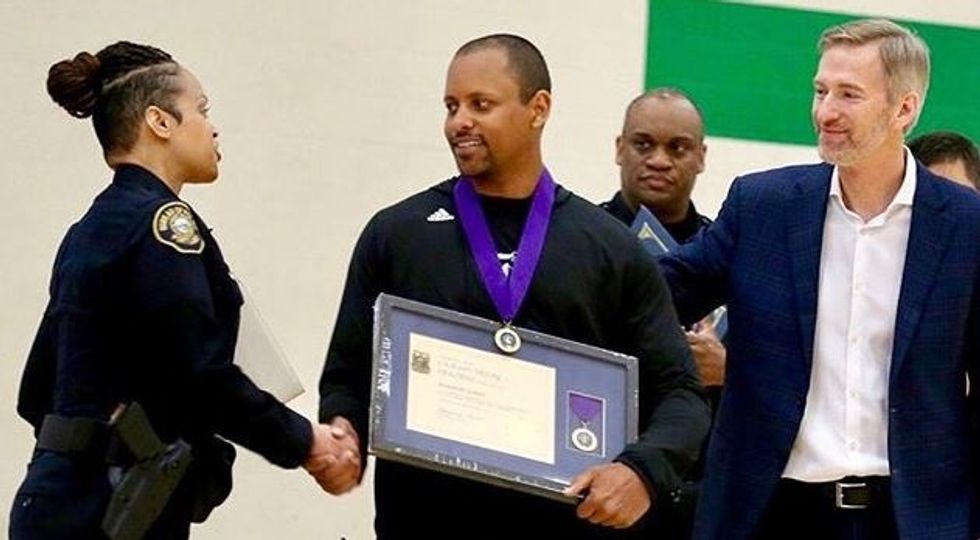 Lowe receiving the Portland Police Bureau's Civilian Medal--Heroismvia Portland Police
"Pretty crazy situation, in a fraction of a second, I analyzed everything really fast I saw the look in his face, in his eyes, looked at the gun, realized it was a real gun and then my instincts took over," he told KGW News.

Lowe grabbed the barrel of the shotgun with two hands and wrestled with Granados-Diaz for control of the weapon, making sure to aim it away from any students.
"I was able to wrestle it away and kinda save the day," he said.
Lowe saw the tense situation like he would a play on the football field.
"Everything lined up for me to be in that room on that day and make that play," Lowe told ESPN. "It was like 'All right Keaeanon, you say you want to change lives. You say you want to do all this. You say you want to be here for the kids. Well, prove it,' right there in that instant."
Dramatic security camera footage shows that after Lowe disarmed Granados-Diaz, he handed the gun off to another adult and then consoled the gunman with a hug. It was an amazing display of compassion in a heated situation where things could have easily continued to be violent.
"I saw a scared young man," Lowe told Pac-12 Networks. "That's the first thing I saw. I saw his eyes and they were kinda swelled up."
"I saw him as a young man who didn't really realize what he was doing," he continued. "After I disarmed him and got rid of the weapon, it made it really easy for me to kinda sit him down and just talk to him about life for a little bit 'til the police came there."
Earlier this month, Granados-Diaz, now 19, pleaded guilty to felony charges of possessing a firearm in a public building and a misdemeanor charge of possession of a loaded firearm in a public place.

He will spend 36 months probation while receiving treatment for substance abuse and mental health issues. He is no longer allowed to step foot on the Parkrose campus without permission and must complete 64 hours of community service.
There's an old saying that "hurt people, hurt people." In an incredibly tense situation, Lowe was able to see Granados-Diaz not just as a would-be murderer but as a human in distress crying out for help.
Lowe is a fantastic example of the type of compassion we need to help stop the school shooting epidemic. The better we can identify these people before they resort to violence, the greater the chance we all have to stop these tragedies before the begin.