Democracy
Why you're not seeing Biden today: how his personal losses can help America navigate its own grief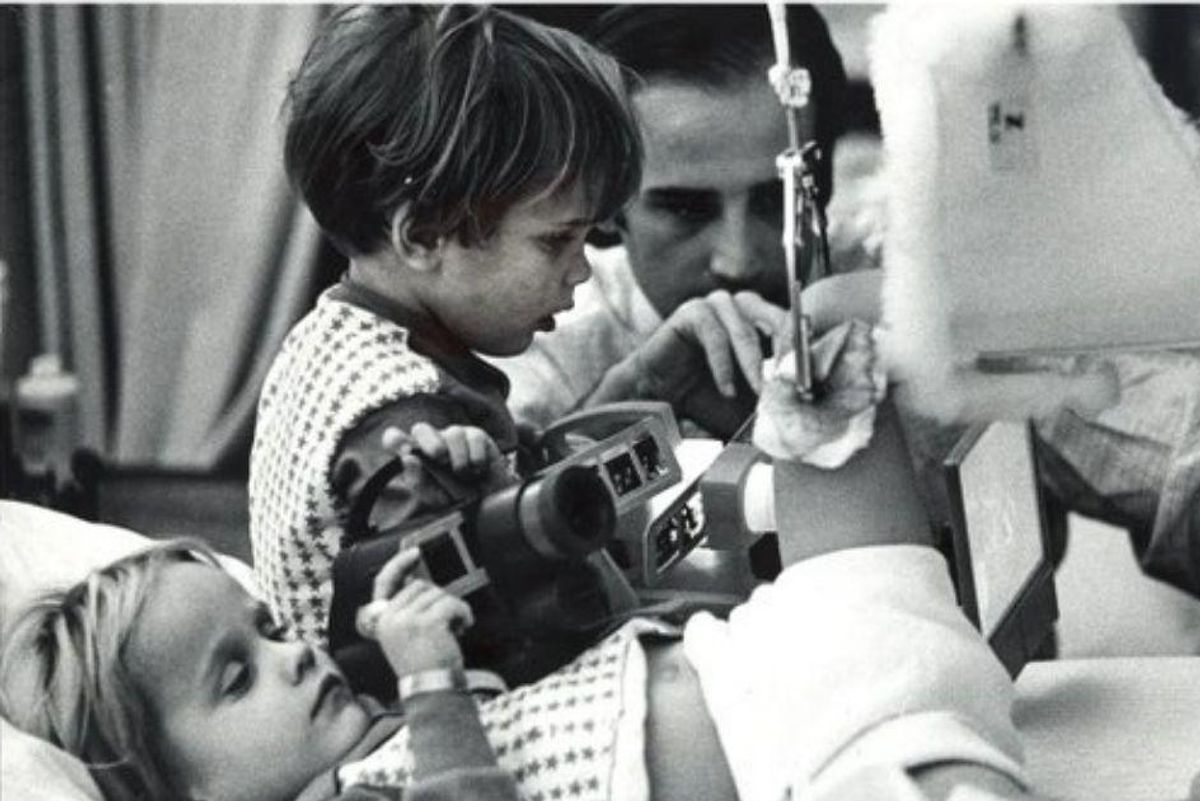 In a time of widespread pain, loss, and grief, a country needs compassionate leadership. Partisan prejudices aside, Joe Biden is probably the most personally qualified to lead the nation through our most painful period of the pandemic.
What you see in the photo above is 30-year-old Joe Biden sitting by a hospital bed with his two young sons a week before Christmas in 1972. His wife Neilia had been driving the boys and their baby sister to get a Christmas tree when their car was struck by a tractor-trailer. The boys—almost 4-year-old Beau and almost 3-year-old Hunter—were seriously injured. Neilia and Naomi, the 13-month-old baby, were pronounced dead on arrival.
So here was a man who just lost his wife and baby girl, looking at his two young sons, trying to cope with the overwhelming grief and shock of it all. The loss itself is hard to fathom. The whole new reality of immediately becoming a single father of two young sons had to have been daunting.
It's extra tragic when we add that Biden had been elected to the U.S. Senate just six weeks before. This was supposed to be a holiday of extra celebration for the Bidens as they embarked on a whole new journey as a family.
---
His inauguration took place two weeks after the accident, in the hospital room where Beau and Hunter were still being treated for their injuries.
@jeneps @TGalore2 The boys were just babies then. The photos are heartbreaking. https://t.co/ugCdbwA0c4

— VoteBlue2Win2020 (@VoteBlue2Win2020) 1608248577.0
The whole story is just unbelievably tragic. Losing a spouse, losing a child, and starting a new job are each humongous life stressors individually. Dealing with all three at once is truly hard to imagine, especially while also parenting two preschool-aged children.
Today marks the 48th anniversary of Neilia and Naomi's deaths. Biden and his wife Jill, who he married five years after the accident, spent the morning at mass. There are no public events scheduled for the president-elect today, which is pretty unusual for him during the transition period but honestly good to see on this day. Anyone who has experienced the pain of such a loss knows that grief changes over the years, but it never goes away. He will never be a man who didn't lose a wife and child. That loss will be with him forever, and that pain should be acknowledged and honored.
Why does all of this matter?
We have lost more than 300,000 Americans to the coronavirus pandemic. We are currently losing more than 3000 a day, and we may see double that daily death toll in the coming weeks or months. There's a good chance that we're all going to lose someone to COVID-19 before this is over, and many Americans will lose multiple close loved ones. Some already have.
The losses of the pandemic are real, and the denial of so many only adds to the pain. We lost nearly 3000 Americans on 9/11 nearly 20 years ago, and we still grapple with that emotional loss on the anniversary each year. How much greater will the grieving process be when we're losing more than that number of people every single day?
As a nation, we have not been led through the grief that inevitably comes with such loss. We need compassionate leadership as America grapples with the pain of this period in our history, and who better to help us through it than someone with compassion that comes from experience? Biden's personal tragedies are nothing to celebrate, but having worked his way through them, he's especially suited to offer what the country needs—hope.
As Joe Biden honors the loss of his wife and daughter on this day, he also stands as a living example of resilience. His long and storied life shows how someone can feel all of the feelings and experience all of the pain of intense tragedy, continue to honor that loss, and yet also move forward. One does not negate the other.
We even saw Joe Biden go through another terrible loss when his son Beau died of brain cancer at age 46 in 2015. Losing a child is the worst kind of pain, no matter what their age. Our children are supposed to outlive us—that's the natural order of things—and it throws everything into disarray when they don't.
Having a leader who has dealt with that kind of grief more than once, who has worked through multiple tragedies at the same time, who has done so while working in the highest levels of government seems—and who still somehow manages to stay positive and forward-thinking—should give us all a sense of hope as our country makes its way through this crisis. In fact, we've already seen him put that hope into action for families affected by the pandemic.
Compassion and resilience born from experiencing intense hardship make for a unique kind of strength—just the kind of strength we need to see from our leadership right now.