Family
'It's a miracle': Cat that a family thought they cremated turns back up at their home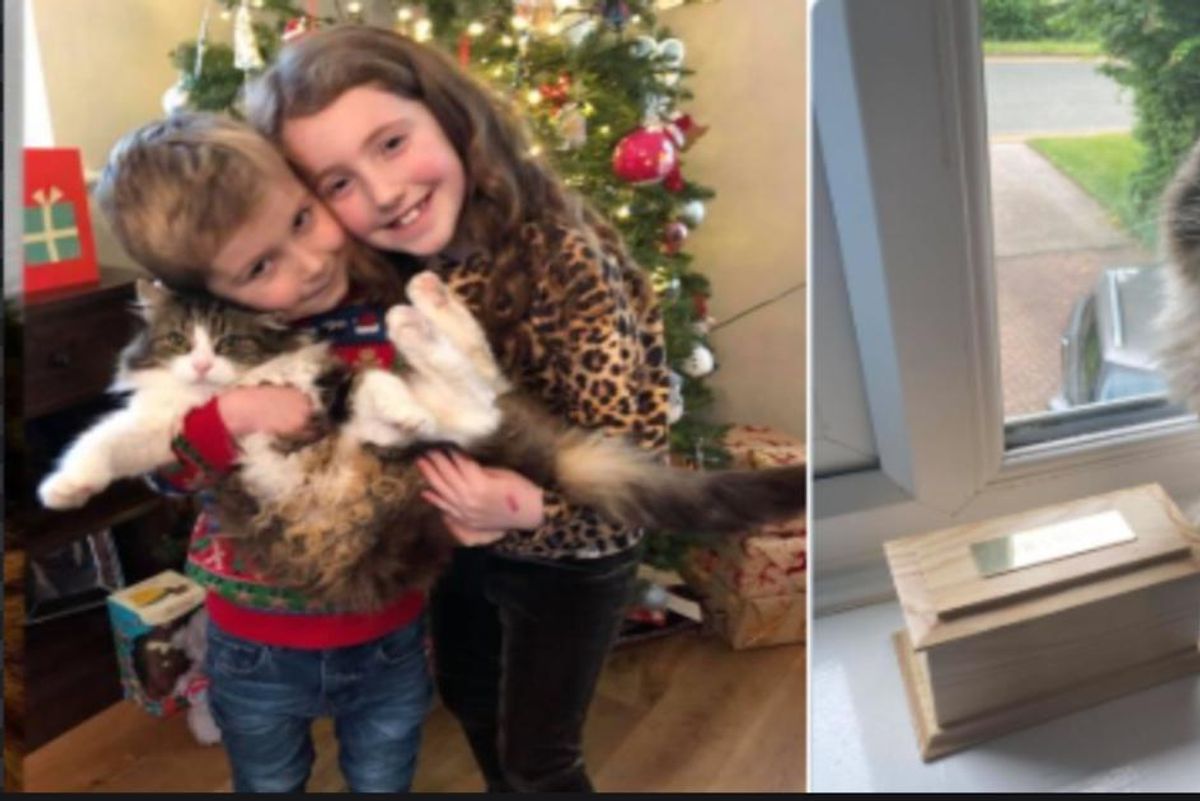 Frankie, a 16-year-old tabby cat in Cheshire, England, didn't come home on May 19 and his family was devastated. Rachel Fitzsimons, her husband John, and their children Thea, 10, and Remy 7, launched a search party to find their missing pet.

The news was especially distressing to young Remy who slept with Frankie every night. "He cried and cried," Rachel told Manchester Evening News.
A few days later, the family was driving on the highway near their home and saw a dead cat on the side of the road that appeared to be Frankie. The cat was badly mangled and they didn't want to get too close a look, in case the decapitated feline was their beloved pet.
---
Rachel reached out to local authorities to pick up the cat's remains.
"We called the Highways agency who were very helpful and went out several times to look for the body. I gave them a description of Frankie; a fluffy tabby with a white tummy, and the dead cat matched that," Rachel said.
Frankie went missing in May. His family thought they found his body and had him cremated - and were shocked when he… https://t.co/8jYaiLQtXw

— FOX26Houston (@FOX26Houston) 1624386609.0
The Highways England staff said the cat matched the markings described by Rachel. They collected what was left of the cat and handed it over in a box to the family. They didn't look at the cat because it was in such terrible shape.

The family decided to have the cat cremated and when its ashes were returned, Remy slept with them in his bed for a few days. "We were all in tears for days afterwards," Rachel said.
On June 10, three weeks after Frankie went missing, John heard a familiar meow at the door.
''My husband heard a meow outside and then I heard him shouting," Rachel said. We all ran out and there was Frankie! Remy was crying and asking: 'Is he real?' It was an amazing moment."
The family had to have been in complete shock after they had already accepted his death.
"It's a miracle," Remy declared according to the BBC. "We thought he had died."
"He was bedraggled and very thin," Rachel remarked. But after a few good meals and a checkup at the vet, Frankie was his old self again. "We've no idea where he's been but just feel so lucky to have him back," she said.
"My two children are thrilled to have him home, they are making a big fuss of him, and he's back on Remy's bed each night," Rachel said.
Still can't stop laughing at the story I saw on @thismorning this week where a family cremated their cat only for i… https://t.co/TxoLdxitT7

— Ben L Maden (@Ben L Maden) 1624113079.0
Now that all of the sadness has turned to joy, Rachel has found some humor in the story. "We cremated someone else's cat," she said.

If there's a bright side for the poor cat that was hit by a car on the highway and its family, at least its remains were treated with respect. It would be wonderful if somehow they found out that their cat was treated respectfully after meeting such a terrible demise. It would also give them some closure after losing their pet.