Well Being
Everyone should know this international hand signal for 'Help Me'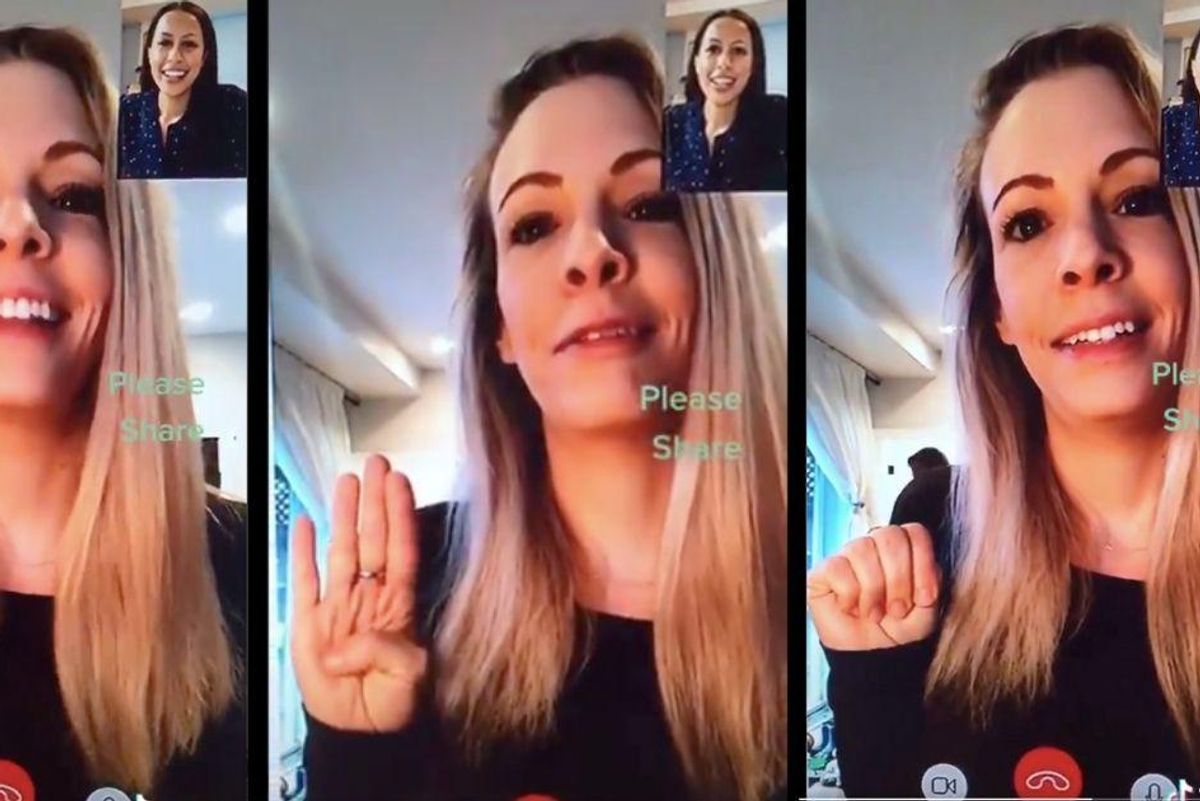 One of the scariest things about being trapped in a situation with a dangerous person is how many people don't notice. Abusers, kidnappers, traffickers, and the like often monitor and control a person so tightly that asking for help seems impossible.
There are countless stories of people managing to slip someone a note saying they need help or signaling in some other way that they're in an unsafe situation. Wouldn't it be great if there was a way that they could quickly, yet discreetly, alert people that they were in trouble without flagging the person putting them in danger?
There is. It's the international signal for help, and it's going viral for all the right reasons.
---
A video shared by Indian restauranter Harjinder Singh Kukreja shows several scenarios in which a person needs help and signals with a simple hand gesture we all need to learn to recognize—or if necessary, use ourselves.
In the video, a woman on a balcony, a man at the door during a delivery, and a girl walking down a hallway with a man all give the signal without their abuser knowing.
Everyone should know the international sign for Help me. Let's make this famous #HelpMe https://t.co/RF5aOq8jCY

— Harjinder Singh Kukreja (@Harjinder Singh Kukreja) 1615383011.0
The Signal for Help campaign was launchedby the Canadian Women's Foundation last April, and has gained traction around the world thanks to the reach of partners such as the Women's Funding Network, the world's largest philanthropic network for girls and women. With the coronavirus pandemic getting into full swing, it was clear that people were going to be spending a lot more time on video calls and people in abusive situations were going to be spending a lot more time with their abusers. The Signal for Help initiative was a way to discreetly communicate via video call that you were in a dangerous situation without having to say a word.
@MeridithGetty1 @SinghLions Yes, it's very real https://t.co/05E3W5E6xm

— Trinity (@Trinity) 1615431899.0
As we saw in the first video, the signal is useful for more than just Zoom calls. The only issue is that this signal only works if people recognize it and know what it means. That's why people are sharing the video and encouraging others to do the same.
What's great about the signal is that it can be done discreetly. Since it only requires one hand, it's more convenient than the American Sign Language sign for "help," which requires two hands. It's simple, subtle, and swift enough to be easy to use in lots of different circumstances (as we see in the videos) but also distinct enough that those who know it will recognize it instantly. It's even something we can teach young children.
We know that domestic violence is a going concern, especially during the pandemic when people are trapped at home with their abusers. We also know that human trafficking is a billion-dollar global industry and that victims are sometimes being transported in broad daylight. The more tools we have for getting people help the better, but first we need to know when someone actually needs help.
Learning and sharing this hand sign far and wide will help spread awareness, enable more victims of violence to ask for help in a safe way, and hopefully even save lives.