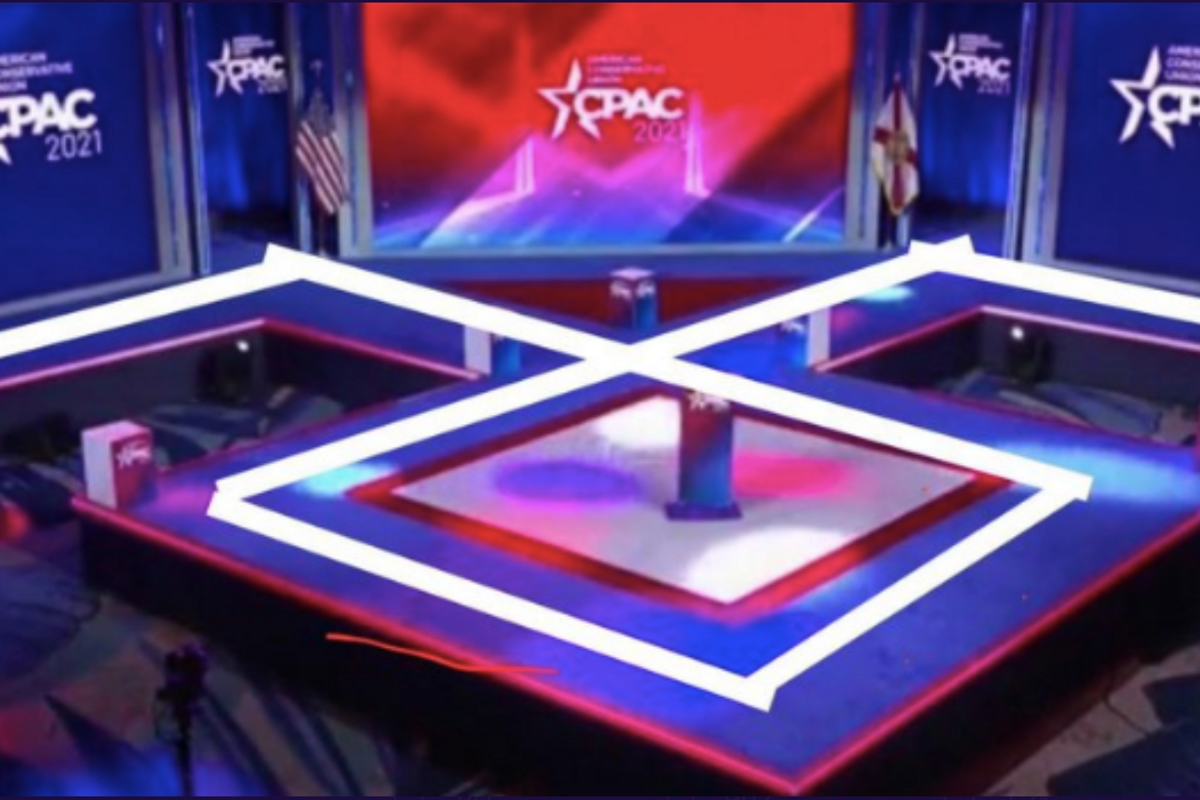 When your party and its leader are plagued by accusations that they support white supremacists, it's probably best to avoid staging large events with symbols reminiscent of those used by the Third Reich.

The Republican Party failed to do that at the Conservative Political Action Conference (CPAC) last weekend. Instead, the main stage at the event was in the shape of the othala rune, a symbol used interchangeably with the swastika in Nazi Germany.
The conference was held at the Hyatt Regency in Orlando, Florida.
---
Dear @Hyatt Are you okay with Nazi symbols being used on your properties? Because if you fail to speak out & do… https://t.co/TqDlx3bVgc

— Sari Beth Rosenberg (@Sari Beth Rosenberg) 1614446560.0
"In the 20th century, Nazis in Germany adopted the othala rune, among many other similar symbols, as part of their attempt to reconstruct a mythic 'Aryan' past," the Anti-Defamation League says on its website.

"Following World War II, white supremacists in Europe, North America, and elsewhere began using the othala rune," the site continues.
The symbol was present during the infamous 2017 Unite the Right rally in Charlottesville, Virginia where white supremacists clashed with counter-protesters, resulting in one death.
Neo-Nazis have been using the Odal Rune sign in place of the swastika for several years. CPAC's stage is the same… https://t.co/Xxg3IQbAuZ

— Kimberley Johnson (@Kimberley Johnson) 1614446687.0
The symbol was used on the stage and it also appeared on the ceiling of the conference room as a lighting display.

With just about any other event it'd be fair to chalk up the stage's resemblance to a Nazi symbol as mere coincidence. However, the specter of the January 6 capital uprising — perpetrated by a slew of white supremacists — hung over the event like a gray cloud.
Senator Josh Hawley, who spoke at the event, wore his involvement in the insurrection as a badge of honor. "I was called a traitor, I was called a seditionist, the radical left said I should [resign], and if I wouldn't resign, I should be expelled from the United States Senate," Hawley, said. "I'm not going anywhere."
Matt Schlapp, chairman of the American Conservative Union and organizer of the conference, rejected the comparison.
"Stage design conspiracies are outrageous and slanderous," he tweeted on Saturday. "We have a long-standing commitment to the Jewish community. Cancel culture extremists must address antisemitism within their own ranks. CPAC proudly stands with our Jewish allies, including those speaking from this stage."
Stage design conspiracies are outrageous and slanderous. We have a long standing commitment to the Jewish community… https://t.co/cupHpMKVje

— Matt Schlapp (@Matt Schlapp) 1614458864.0
The Hyatt Regency in Orlando has "deep concerns" about the shape of the stage.

We take the concern raised about the prospect of symbols of hate being included in the stage design at CPAC 2021 very seriously as all such symbols are abhorrent and unequivocally counter to our values as a company. The CPAC 2021 event is hosted and managed by the American Conservative Union that manages all aspects of event logistics, including the stage design and aesthetics. We discussed directly with ACU leadership who told us that any resemblance to a symbol of hate is unintentional. We will continue to stay in dialogue with event organizers regarding our deep concerns. Any further questions can be directed to CPAC.
"With CPAC's denial of any intentional connection to hate symbols and our concerns over the safety of guests and colleagues in what could have been a disruptive situation, we allowed the event to continue," a Hyatt spokesperson told Reuters.
So, what could Hyatt and other places like it to avoid situations like this in the future? We think addressing the controversy and making their views on hate is a great start. Next, when choosing to book political conventions or events from anywhere on the ideological spectrum, it might make sense to have a consultant on hand. Someone who can be trusted to evaluate, analyze and raise flags of concern. People of differing views deserve the same freedoms and opportunities to gather and discuss their views. It's a quintessential American idea. But hate has no place in America. And until that ideal is shared by everyone, it's something we all have to work extra hard to address.
From Your Site Articles
Related Articles Around the Web