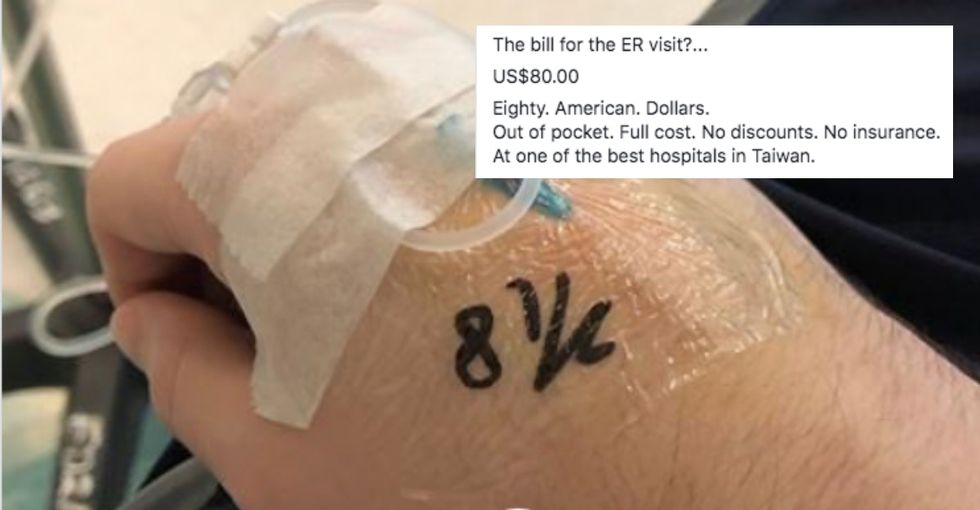 We all know that Americans pay more for healthcare than every other country in the world. But how much more?
According an American expatriate who shared the story of his ER visit in a Taiwanese hospital, Americans are being taken to the cleaners when we go to the doctor. We live in a country that claims to be the greatest in the world, but where an emergency trip to the hospital can easily bankrupt someone.
Kevin Bozeat had that fact in mind when he fell ill while living in Taiwan and needed to go to the hospital. He didn't have insurance and he had no idea how much it was going to cost him. He shared the experience in a now-viral Facebook post he called "The Horrors of Socialized Medicine: A first hand experience."
---
Bozeat started vomiting one evening and couldn't stop, unable to even keep water down. "My symptoms showed no signs of abating," he wrote. "At this point I had to seek medical treatment, I knew I had to go to the hospital."
"I wanted to avoid it," he added. "I had no idea how different Taiwanese hospitals would be, whether I would be able to find an English speaking doctor, or what it would cost me (my US health insurance has lapsed and I don't qualify for Taiwanese NHI)."
Taiwan's National Health Insurance (NHI) is a single-payer system that covers all residents of Taiwan. Foreigners can take part in the system immediately upon obtaining a work permit, or after six months of living in the country. Bozeat was a student and hadn't lived there long enough to be eligible yet.
But he needn't have worried.
Bozeat's bill for his entire hospital stay was a fraction of many insured American's copays for emergency services.
And it's not like he received substandard service for what he paid.
"My Taiwanese roommate called a taxi and took me to the ER at NTU Hospital," Bozeat wrote. "I was immediately checked-in by an English speaking nurse. Within 20 minutes I was given IV fluids and anti-emetics. They took blood tests and did an ultrasound to ensure it wasn't gall stones or appendicitis. From there I was given a diagnosis: a particularly severe case of Acute Viral Gastroenteritis (aka the stomach flu). After about 3 hours on an IV, I began to feel slightly better, my nausea disappeared and my stomach began to calm down."
Bozeat was discharged with a prescription for anti-emetics and pain medication, and after a few days he was back to normal. This is when most of us would start panicking as we wait for the hospital bills to start arriving. But Bozeat was pleasantly surprised:
"The bill for the ER visit?...US $80.00. Eighty. American. Dollars. Out of pocket. Full cost. No discounts. No insurance. At one of the best hospitals in Taiwan. And if I had NHI, it would have been a fraction of that. This could have easily cost me hundreds or even thousands in the US without insurance. But here in Taiwan I was able to receive speedy, quality care comparable to what I would have gotten in a US hospital for relatively small amount of money."
"America, it's time to stop making excuses," Bozeat concluded. Indeed.
Yes, Taiwan's cost of living is much lower than the U.S. But no, it's not that much lower.
Bozeat posted a follow up to his viral post, sharing some of the responses he's gotten to it and clarifying some points about the cost differences.
"Some were skeptical about the price," he wrote, "one person thought this was in Thailand, a few made excuses to bash Taiwan's health system despite them knowing nothing about it. So I thought I would clarify a few things:

1: Yes, Taiwan has a noticeably cheaper cost of living than the US, healthcare included. However, Taiwan isn't /that/ cheap. There are places in Southeast Asia, Latin America, Africa and Eastern Europe that are significantly cheaper than Taiwan.

2: Taiwan is not a poor country by any measure. It's GDP per capita is higher than Denmark, Austria and Canada.

3: Yes, doctors make less here, but it's still considered a respected middle class profession. And there seems to be no shortage of them.
4: Some people argued that exchange rates mean US$80 is a fortune for a Taiwanese person. No, you just have a poor understanding of numismatics. The exchange rate has nothing to do with the overall cost. Just because $1 Taiwan dollar is US 3¢ doesn't mean I can live large here. $50 Taiwan dollars won't even buy you a Big Mac."
I did some research, and the cost of living overall in Taiwan is about half what it is here. There is not a hospital that I know of in the U.S. where you can be admitted and discharged for anything close to $160, even for something as simple as a bee sting. (Seriously, an ER visit for a bee sting can set you back $12,000 in the U.S.)
Bozeat also pointed out that the taxes that pay for Taiwan's health system are not that high.
Responding to the common complaint that we'd have to raise taxes to pay for universal healthcare, Bozeat continued his list:
"5: Yes, taxes pay for the healthcare here. No, they are not high. Try for yourself: The formula for the NHI monthly premium contribution for a single employed adult is: [your monthly income] x 0.0469 (4.69%) x 0.3 (30%) = Your monthly out-of-pocket healthcare premium."
I did the math for a $60,000 per year income—it comes to $70.53/month. [Sigh.]
But Bozeat wasn't done:
"6: It's not perfect. Not everything is 100% covered. I had a good experience, but Im sure many people have had [non-financial] medical horror stories here.
7: This system exists because the Taiwanese government believes that healthcare is a right for all of its citizens, rather than a privilege for those who can afford it. Those aren't my words, thats what the Ministry of Health said in its English language brochure. Every Taiwanese citizen and foreign permanent resident is entitled to, and required to enroll in the National Health Insurance Program (NHI). Everyone is covered, regardless of employment status, no one is uninsured, no one ever goes bankrupt due to medical bills."

And the quality of care does not appear to be compromised in this system, either.
"I have yet to meet a Taiwanese person who wasn't satisfied with, or even outright proud of their healthcare system," Bozeat wrote. "My expat friends praise it, even those from countries with universal healthcare systems of their own.
"
Just FYI, the U.S. spends almost 18% of our GDP on healthcare. Taiwan spends less than 7%.
"Taiwan is less wealthy than the US, yet it spends less and gets more out of its healthcare system," Bozeat explained. "We see the same story repeat itself in every other developed nation. This debate is all so tiresome, because there is no debate. Universal healthcare works, it can be done here, it can be done in any country with sufficient resources. All we need is political will and an implementation plan.
Pardon my French but, America, get your head out of your ass, and stop making excuses."
Yup. Thanks for the reminder that the U.S. is woefully and embarrassingly behind the rest of the world when it comes to how we handle the healthcare of our citizens. How do we even handle all this winning?