Heroes
NFL lineman and fellow good samaritan saved a retired schoolteacher from sexual assault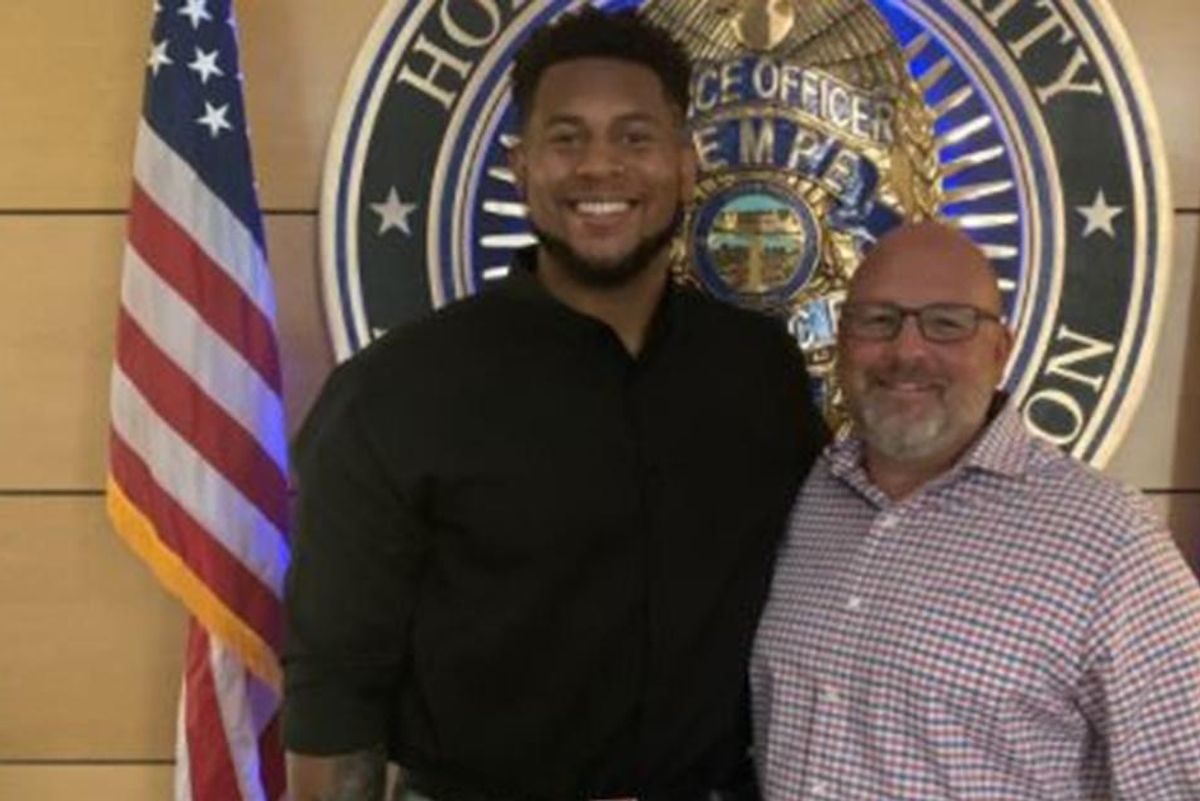 via Tempe Police Department
New England Patriots offensive lineman Justin Herron was enjoying a walk and a light workout at Kiwanis Park in Tempe Arizona on Saturday, March 20.

However, his beautiful day was thrown into chaos when he heard the screams of a 71-year-old woman. The retired school teacher was being accosted by a 30-year-old man who attempted to sexually assault her.
Herron was shocked to see such a horrifying act happening in an open field in broad daylight. Without thinking, the athlete jumped into action, by running over to the victim and screaming for help.
---
"I'm a football player, so I'm kind of a big," he said according to CBS News. "I try not to be too aggressive knowing that I could hurt somebody. I do have a loud voice. I yelled, told him to get off of her, and then yanked him off and I told him to sit down and I told him to wait until the cops come."
"All I could do was thrust myself over there and help the victim, make sure that I could comfort her and be the best person I could be to her around her," he said.
Patriots OT Justin Herron Gets Honored for Saving a Woman from a Rape Attempt https://t.co/VqimtNYiQT https://t.co/bO6qLzs86K

— Barstool Sports (@Barstool Sports) 1616682903.0
Herron was assisted by Murry Rogers who was scouting locations at the park for his 15-year-old daughter's birthday. He helped to detain the suspect, Kevin Caballero, while Herron got the victim to safety.

The two men forced Caballero to wait at the scene of the crime until police arrived. It's safe to assume that Caballero didn't try anything funny or attempt to run away. Who would mess with a 6'5" 300-pound NFL lineman?
Herron moved the victim away from the scene of the crime so she could collect herself and begin to heal.
On Wednesday, the two men were presented with Outstanding Service Awards by the Tempe Police Department. "You see it in movies and TV all the time, but you never think it's going to happen in real life until it does. In that moment, I was in shock," Herron said at a press conference.

"It was terrifying to witness," Rogers added.
"If not for the swift actions of Mr. Justin Herron and Mr. Murry Rogers, this vicious attack could've been much worse," Tempe Police Detective Natalie Barela said.
The two Good Samaritans were briefly reunited with the victim before the press conference.
"It was heartwarming to see her, but also gut-wrenching to see how she responded to the trauma and how she's dealing with it," Herron said according to CNN. "No one should go through that."
"She thanked us. She called us her angels," said Rogers. "I'm a little bit of a crier, so it was very emotional."
Caballero was charged with kidnapping and attempt to commit sexual assault, police said.

Herron played 12 games for the Patriots last season after being sidelined with an ankle injury. He was a sixth-round pick in the 2020 NFL draft out of Wake Forest College.