popular
Fox News asked Gen X to 'stop cancel culture' and the responses are simply hilarious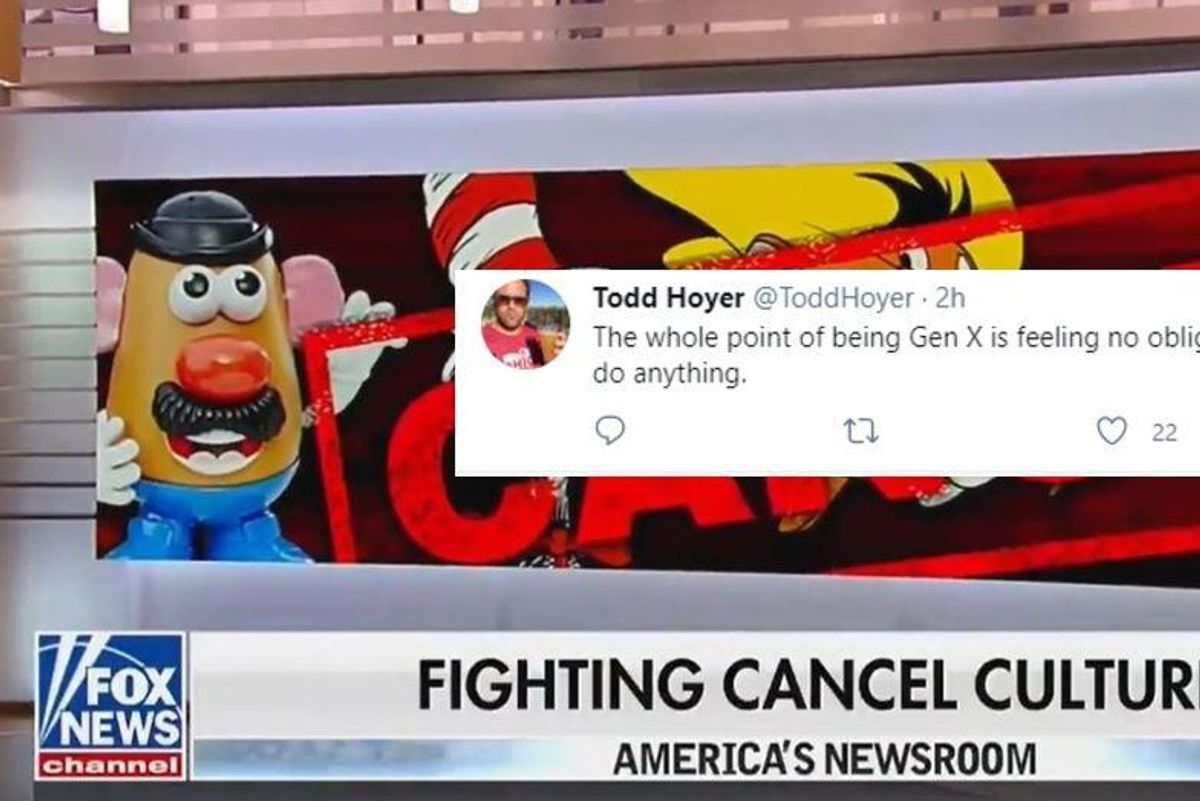 via Fox News and Todd Hoyer / Twitter
Fox News poked the sleeping tiger known as Gen X and got the generation known for slacking and sarcasm to muster, a collective "whatever."

The news network aired a segment on "cancel culture" where it urged "Generation X to lead the charge to save America from the social media mob. Can they do it?" Short answer: Who knows, but they aren't interested either way.
Right-wing media has been apoplectic recently over a rash of incidents where iconic pieces of pop culture from The Washington Redskins to "Gone with the Wind" to Dr. Seuss have been reevaluated by younger "woke" progressives.

While there is value in a movement that holds people accountable for propagating racist and sexist ideas, the Fox News crowd dismisses it simply as "cancel culture."
---
The Fox News target demographic is firmly in camp Baby Boomer, with the average viewer being around 65-years-old. According to Kasasa, "If you go by raw numbers, of the 3.3 million households taking in Sean Hannity's show on a nightly basis in 2018, just south of 2 million would have been senior citizens."
Baby Boomers were born between 1946 and 1964 and are currently between 57-75 years old.
So as Boomer authority over the nation's youth wanes by the day, Fox News made an appeal to Gen X to protect older, conservative people from the ravages of cancel culture. But according to reactions on Twitter, Gen X, aka "The Coolest Generation," couldn't care less.
The generation that's currently between the ages of 41 to 56 remembers a time when their Baby Boomer and Greatest Generation parents tried to cancel everything in their childhood.

But these calls weren't from liberals in the '80s, they were from pearl-clutching conservatives (and even some high-profile Democrats like Tipper Gore and Joe Lieberman), evangelical Christians, and paranoid suburbanites.
Whether it was the "Satanic Panic" surrounding heavy metal and "Dungeons and Dragons," the Parents Music Resource Center labeling hip-hop music, or the endless crusade against video games, the Boomer version of cancel culture was aimed squarely at Gen X.
In fact, Gen Xers lost one of their greatest childhood heroes in Pee-Wee Herman who got canceled for falling short of Bush 1-era moral norms.
Fox's appeal resulted in a slew of hilarious tweets from Gen Xers who could care less about the Boomer obsession with cancel culture. But, to be fair, it's not like Gen X was known for giving an F about much in the first place.
First of all, they just don't have the time.
They reminded Fox News of everything the Boomers tried to cancel back in the '80s.

Another huge reason not to get involved: "Whatever."
Gen X, the forgotten generation stuck beneath two of the most populous, was canceled long ago. It's almost like the parents of latchkey kids just realized they had children and now they want them to come to their rescue.
Like, we totally care. Seriously.
Could it be that they're harping on cancel culture because they have nothing else to complain about?

We have a winner.