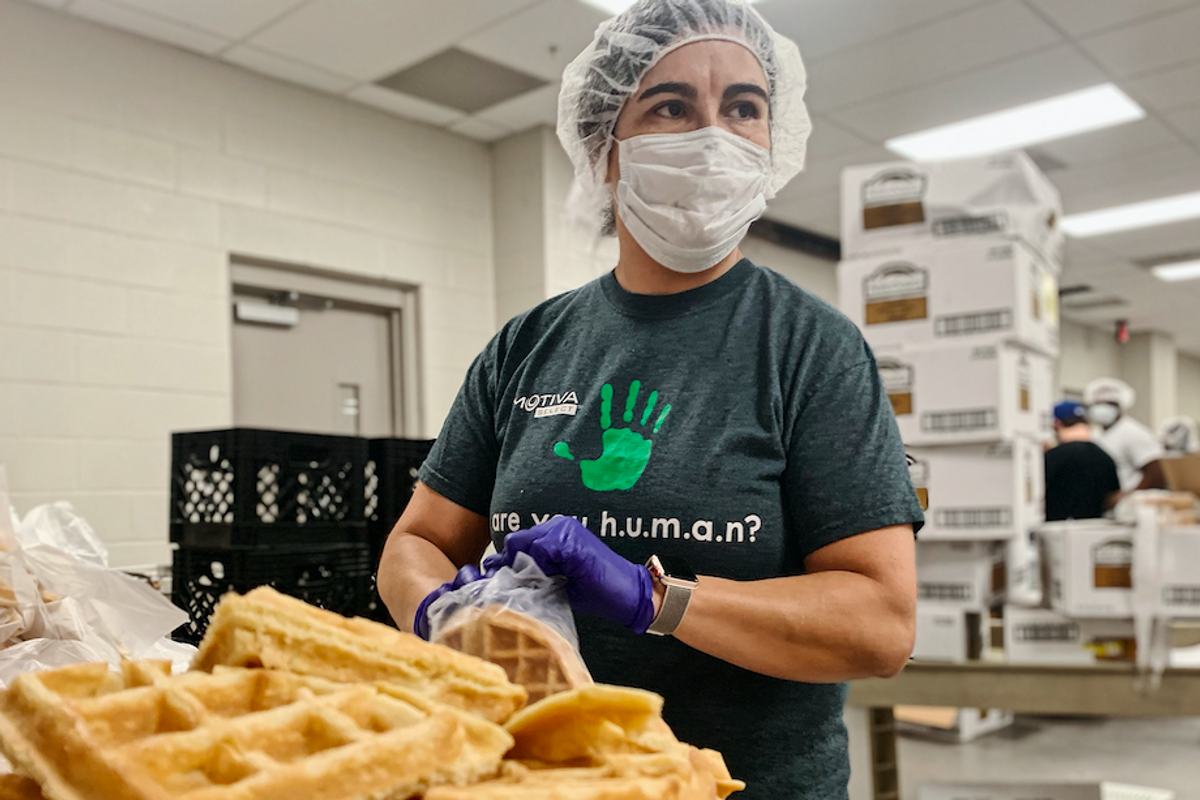 Get Shift Done
True
Shkoryah Carthen has spent half of her life working in the service industry. While the 32-year old restaurant worker quickly sensed that Covid-19 would bring real change to her daily life, Carthen hardly knew just how strongly it would impact her livelihood.
"The biggest challenge for me during this time, honestly is just to stay afloat," Carthen said.
Upon learning the Dallas restaurant she worked for would close indefinitely, Carthen feared its doors may never reopen.
Soon after, Carthen learned that The Wilkinson Center was desperately looking for workers to create and distribute meals for those in need in their community. The next day, Carthen was at the food pantry restocking shelves and creating relief boxes filled with essentials like canned foods, baby formula and cleaning products. In addition to feeding families throughout the area, this work ensured Carthen the opportunity to provide food for her own.
---
"The food banks also offer to help the workers out with food if we need it, and a lot of us do," Carthen said.
Her new job was created by Get Shift Done, an initiative launched by Dallas business and community leaders Anurag Jain and Patrick Brandt with the support of their respective companies, community leaders, restaurant owners and nonprofit organizations. Get Shift Done provides food and service industry workers in need of supplemental income with jobs at food banks and other nonprofits.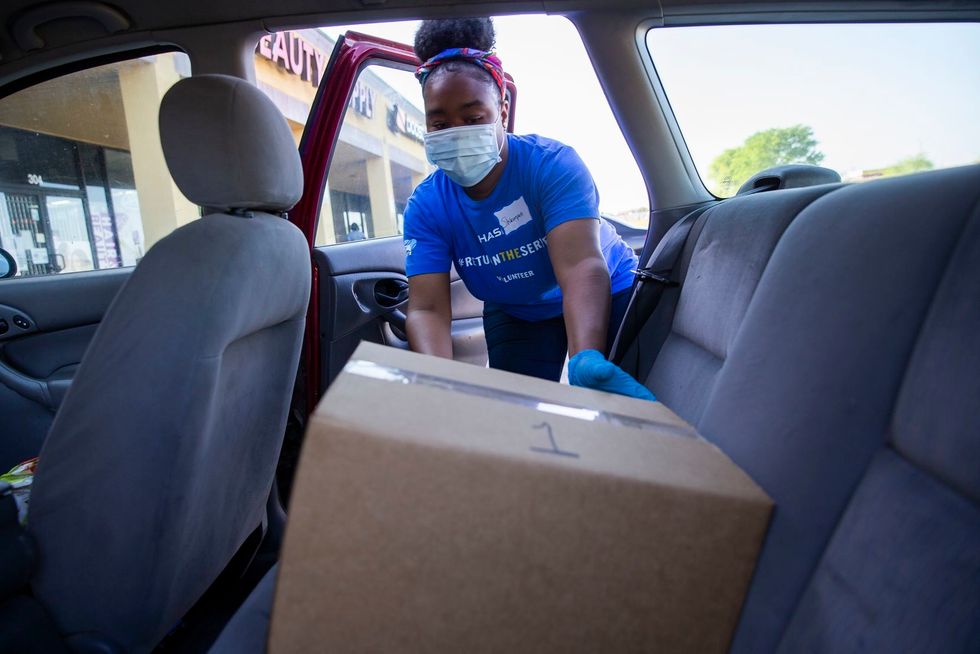 Courtesy of Get Shift Done
Even before many restaurants were mandated to shut down, Jain and Brandt considered the imminent impact of diminished work opportunities for hospitality workers. This uncertainty in the industry prompted them to fill the gap and connect those in the service industry to non-profits that need help — especially as a growing demand for services moved against a shrinking pool of available volunteers.

While the pandemic hit the livelihoods of hospitality workers especially hard, they quickly became essential workers — assisting the food banks, pantries and schools in need."60% of Americans have less than two weeks' worth of savings," Brandt said. "So if you think about somebody that's lost their job in this environment, there's a likelihood that losing their job could put themselves into food insecurity. Pre-Covid, one in six Americans were already facing food insecurity. We're working to mitigate that rise."

While Brandt initially expected the company to provide temporary relief for 10 to 12 weeks, Get Shift Done has grown from a North Texas startup to national relief organization — assisting 11 cities with more than 11,000 workers registered.
"We've provided over 18 million meals," Brandt said. "I've never been a part of something that's scaled quite like this."
This rapid growth has brought far-reaching assistance with funding from partners like Capital One. The financial institution has committed 50 million dollars to support communities during the pandemic and as part of its investment, Capital One has equipped Get Shift Done with the funding and social capital needed to turn a startup into an organization feeding communities throughout America. Support for the work started in North Texas, but Capital One's partnership quickly expanded this initiative nationally into 10 additional markets including Washington, D.C., New Orleans, Austin and beyond.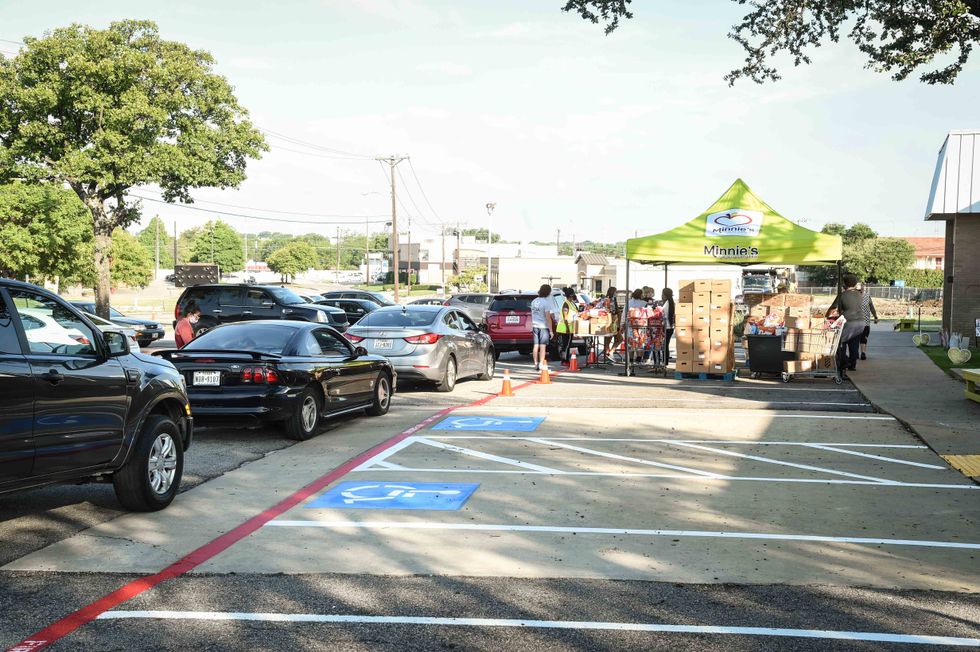 Courtesy of Get Shift Done
"Capital One has been an incredible partner in providing not only financial support but insight and connections to markets across the country, allowing us to grow nationally and offer a critical service for communities who desperately need it," said Brandt.

Jain added, "It is a beautiful model of partners coming together to create something bigger and more impactful than we would have dreamed possible."
This assistance will help Get Shift Done continue to impact communities on a large scale even as life during the pandemic becomes the new normal.
"At Capital One, we are focused on swiftly addressing the evolving needs of our communities and supporting those impacted by COVID-19," Andy Navarrete, head of external affairs at Capital One, said. "As a national partner of Get Shift Done, we see power in their workforce development model, and believe harnessing such ingenuity will be what gets us through our collective recovery."
For Shkoryah Carthen, all that matters is that she's helping her community adjust as she helps herself. "I've been told by several different food banks that we have been a blessing," Carthen said.