More
Kicked out of a tournament for her short hair, this girl got some major support.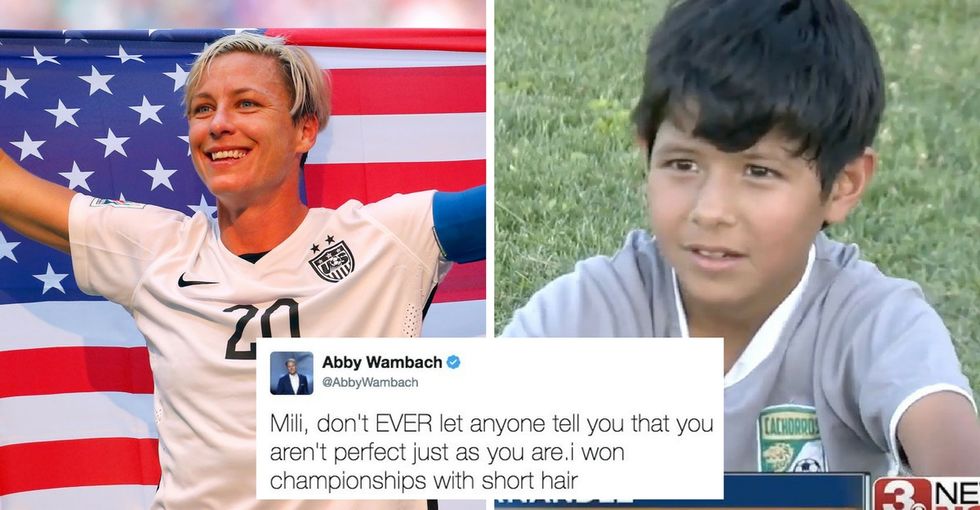 8-year-old Mili Hernandez loves soccer — and keeping her hair cut short.
You wouldn't think those things would be at odds with one another, but bizarrely, they are.
In June, 2017, Mili and her team advanced to the finals of a local tournament in Nebraska. Before they were able to take the field, however, the team was disqualified.
---
The reason: Organizers believed Mili was a boy because of her short hair. Seriously. Even worse, no amount of proof could convince organizers otherwise, and the tournament has since ended.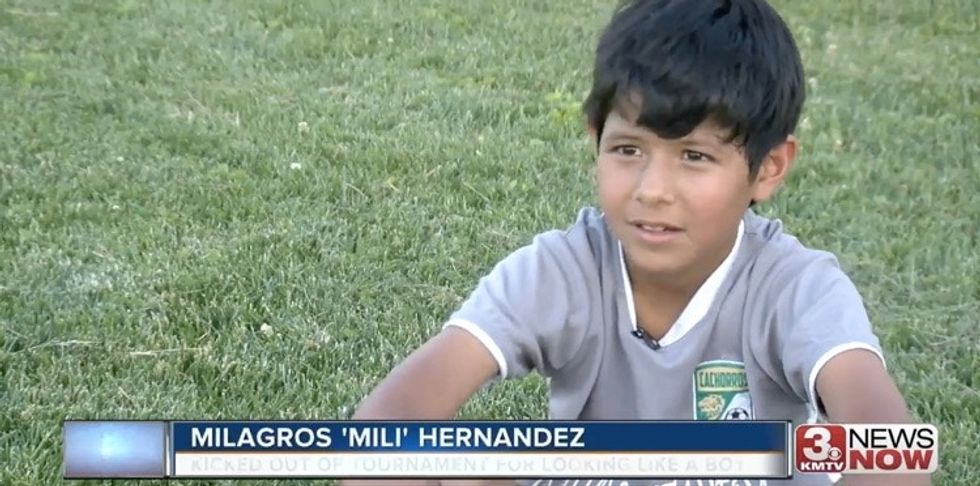 Mili Hernandez explains, "When they look at me, they think I'm a boy but I'm really not." Image via 3 News Now/YouTube.
As Mili's story began circulating, some of the biggest stars in women's soccer stepped in with messages of support.
Abby Wambach, one of the greatest (if not the greatest) players in U.S. soccer history, posted messages of support on Twitter and Instagram calling Mili "inspiring" and a "natural-born leader."
Mili, don't EVER let anyone tell you that you aren't perfect just as you are.i won championships with short hair https://t.co/WlfL3EIPic

— Abby Wambach (@Abby Wambach)1496702204.0
"You can do anything you want to do and you can be anything you want to be," says Wambach in an Instagram video. "And guess what? You can look like whatever you need to look like to do it."
Two-time World Cup champion Mia Hamm invited Mili to come visit her at one of her Team First Soccer Academy camps.
@DiCiccoMethod @NEBStateSoccer @WOWT6News Hey Mili, we would love to host you at one of our camps @TeamFirstSA . Be you!

— Mia Hamm (@Mia Hamm)1496698990.0
From there, support began pouring in from professional soccer stars around the world.
"Guess I should've been disqualified too," wrote Australia's Lydia Williams, who shared a photo of herself with short hair.
@SInow @SInow @AbbyWambach Guess I should've been disqualified too....🤷🏽‍♀️Keep doing you Mili #shorthairdontcare https://t.co/2yPzC4OBUy

— Lydia Williams (@Lydia Williams)1496707024.0
"I'll second that" wrote Orlando's Maddy Evans.
@lydsaussie @SInow @AbbyWambach I'll second that #shorthairdontcare ⚽️ https://t.co/Ayi1bjl9l4

— Maddy Evans (@Maddy Evans)1496709481.0
England's Rachel Daly added a photo of herself with short hair to Williams response.
@lydsaussie @moeebrian @SInow @AbbyWambach And me... #suitelifeofzacandcody 😂 I'm with Mili 👦🏼👱🏼‍♀️ https://t.co/tEEdEC1H5O

— Rachel Daly (@Rachel Daly)1496708100.0
As did former American player, Haley Carter, who added the hashtag: #BecauseShortHairStillDoesntCare.
"Keep going Mili," added South African player Janine Van Wyk.
@HalesBells99 @RachelDaly3 @lydsaussie @moeebrian @SInow @AbbyWambach Guess I should've been disqualified too.. Kee… https://t.co/f1kNmIkbth

— Janine Van Wyk (@Janine Van Wyk)1496726452.0
In response to the backlash, tournament organizers have claimed that their decision was actually the result of a misprint on the team's roster and not the result of Mili's haircut.
Regardless of the reason behind the decision, the end result is the same — Mili and her team were banned from playing in the finals of a tournament that is now over. There is no fix here; there is no time to convince the tournament to still let her team play.
It's really unfortunate situation — this is kids soccer we're talking about! — especially since it resulted in so much sadness over something as small as a haircut or a typo.
On the bright side, it brought out some of the world's greatest athletes in support of one very special 8-year-old girl and her very short hair. That's a lesson Mili — and hopefully the tournament organizers — will never forget.