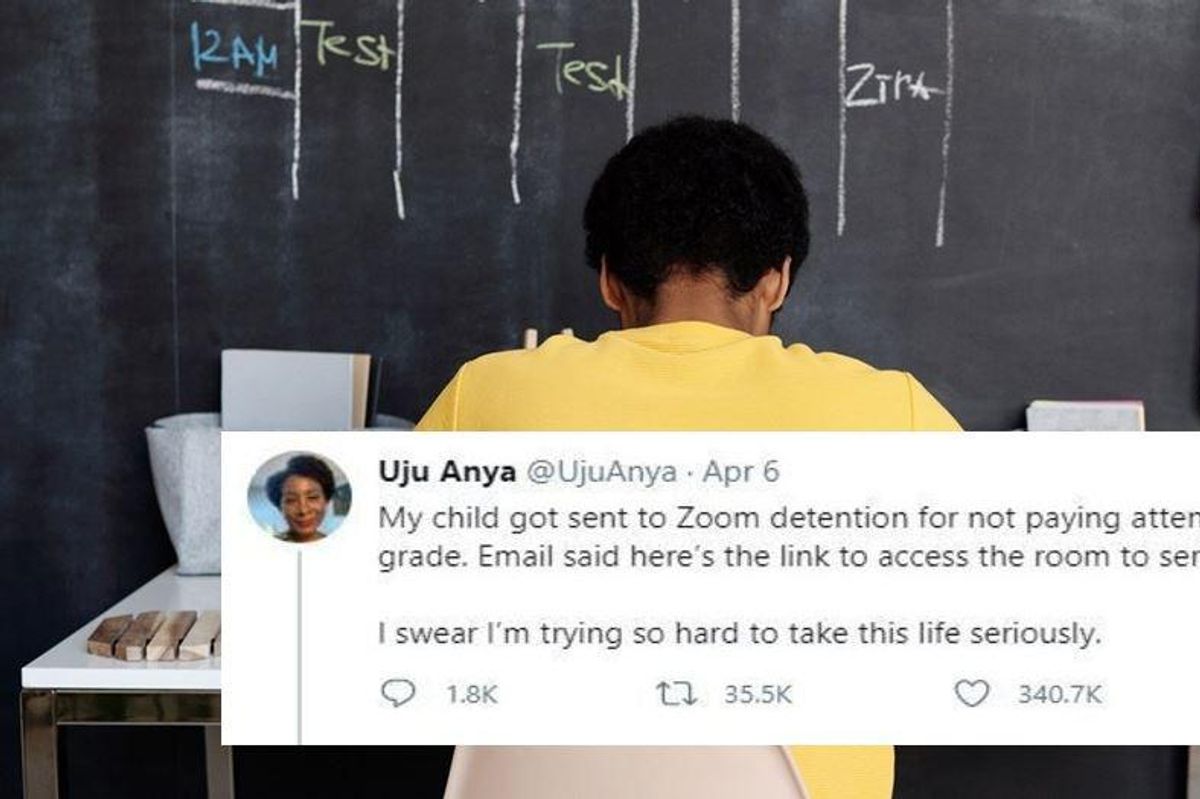 via Pexels
There are certain things in the real world that just can be duplicated virtually. No matter how hard we try, a virtual happy hour isn't as fun as a regular happy hour. It's difficult to find chemistry on a Zoom date, and virtual dance parties will all be something we make fun of when this pandemic is over.

My heart goes out to all of the students and teachers across the country who have had to make do with virtual learning over the past year. It's a frustrating thing for all involved, but it's the best we can do at a time when we have to be apart.
Distance learning can be an effective way for kids to learn, but a mother on Twitter just told the world about a thing called Zoom Detention and nobody's here for it.
---
Evidently, schools have created virtual rooms that kids who've misbehaved have to log in to be disciplined by an interventionist. Most of the time, kids are sent there for logging off their classes or playing video games when they should be paying attention to their teachers.
Sure it's important for children to be well-behaved, even in a virtual classroom, but these kids have had a really hard year, and sending them to the Zoom principal's office feels like a bridge too far.
Uju Anya, a linguistics professor, went viral on Twitter Tuesday for her tweet thread about her child's invitation to a Zoom Detention Room and it sparked a lot of opinions.
My child is struggling to keep it together during this pandemic like all of us. I chose remote learning to keep her… https://t.co/cFj7zvbUcB

— Uju Anya (@Uju Anya) 1617727869.0
Thanks, everyone, for your thoughtfulness and support. I can't possibly address all the replies and quotes, but I appreciate everyone. I have to go teach my own class now, but for those asking, yes, "virtual detention" were their exact words, and, no, I'm not sending my child.
— Uju Anya (@UjuAnya) April 6, 2021
Why punish someone for not looking at a screen by forcing them to look at another screen?
Other parents chimed in to share their exasperation with distance learning.
@UjuAnya As a person who had his daughter start kindergarten in the middle of this, I completely understand. We fin… https://t.co/P8JpNLr0fy

— Ned Canada (@Ned Canada) 1617748151.0
This retired teacher had a great way to fix the situation that doesn't involve virtual punishment.
@UjuAnya Oh, for the love of humankind!🙄 And I'm a retired music teacher for K-4. #ZoomDetention will fix NOthing.… https://t.co/Mz0K7DgjXa

— ilovemylife5 (@ilovemylife5) 1617742771.0
Some disagreed about how Anya should approach the situation, but both responses seem totally reasonable.
@alexfreidus @UjuAnya At this point, a year in, no time for polite. Go straight to "why are you prioritizing punish… https://t.co/sYGqpfSBYc

— unclewalter (@unclewalter) 1617758422.0
A lot of folks said they should avoid Zoom detention. But doesn't that send a bad signal to the child? Should a parent tell a child to disobey their teacher?
@ballewal @smalletravel @UjuAnya I would. What are they going to do? Show up at the house and aim his eyeballs at the screen?

— actually afraid of state bars, tbh (@actually afraid of state bars, tbh) 1617731117.0
Let's not forget that we are in the middle of a deadly pandemic and attending school in some areas is a scary proposition.
@RandyEischer @UjuAnya Wow!!! I'm scared everyday now!! 1st week back, just staff, we get email that a colleague te… https://t.co/zIHTiJERmh

— NoMattertheChallenge (@NoMattertheChallenge) 1617757463.0
While distance learning surely comes with its frustrations a recent study found that most parents (57%) believe that their child's remote schooling worked better than they expected, and 60% of parents believed their schools prepared their children well for remote learning.
Thank goodness we have the technology in place that allows students to learn safely at a time when it's dangerous for large groups of children to come together. Imagine what would have happened if we had a pandemic pre-Internet? Would kids just sit at home watching TV all day?
All signs point to an eventual reopening of the country by the summer, let's hope that means that the schools will be open in the fall.