Culture
Eric Stonestreet cleverly silenced critics who said he was too old for his fiancée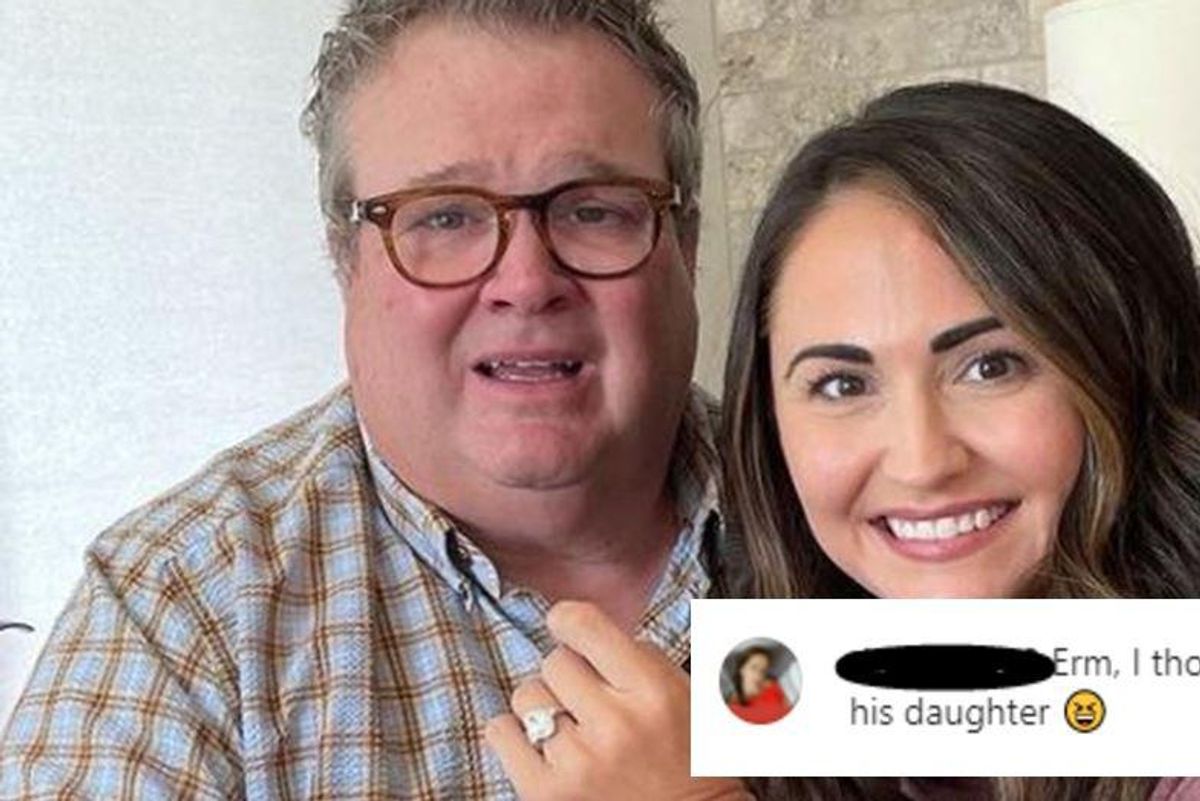 Eric Stonestreet/Instagram
Critics called out "Modern Family" actor Eric Stonestreet for being a Hollywood stereotype on Sunday and he cleverly proved they had him all wrong.

Stonestreet celebrated his engagement with his longtime girlfriend, Lindsay Schweitzer, on Sunday by sharing a series of photos of the two posing with her engagement ring on Instagram.
"She said, 'She'd have her people call my people,'" Stonestreet joked in the caption.
---
Stonestreet and Schweitzer, a pediatric nurse, met at the Big Slick charity weekend in Kansas City in 2016. In 2017, Stonestreet told Ellen Degeneres that his new fiancée is a calming force in his life.
"Your girlfriend is lovely — I met her backstage," said DeGeneres. "She's a nurse. That's a good thing for you, because you're a hypochondriac."
"I'm a big baby, too. She calms me — she calms my nerves. I'm a very high-strung person," confessed Stonestreet.
Most of the responses to his engagement were extremely positive.

"Congrats you beautiful couple you," singer Michael Buble wrote. "Yes!!!!" responded sportscaster Rich Eisen.
One fan was confused by his post. "Wait.....so you're not gay?" Stonestreet is best known for his "Modern Family" role as Cam, a gay man with a husband named Mitchell.
However, there were some who accused Stonestreet of being just another Hollywood guy who can't seem to marry someone his own age.
More than a few fans thought that Schweizter was his daughter or called her that to criticize him for not marrying someone his own age. "I don't get it? Is his daughter getting married? What is the event?" one wrote.

via Eric Stonestreet / Instagram

via Eric Stonestreet / Instagram

via Eric Stonestreet / Instagram

via Eric Stonestreet / Instagram
Stonestreet responded to the critics on Wednesday night with a set of heavily-edited pics that made Schweitzer appear to be older than her husband-to-be. He also made note that he is only seven years older than her. He just appears to be a lot older.

"Apparently a lot of people think I look too old, as a 49 year old man, to be engaged to my almost 42 year old fiancé," he wrote in the caption. "Look, she can't help that she looks so great at 42 and I can't help that I apparently look like her grandad so, I fixed it for everyone."
He then referenced his show which features a May-December romance between Ed O'Neill, 75, and Sophia Vergara, 49. "I assume these are the same people who love Jay & Gloria's relationship," he wrote.
Stonestreet had two options for his humorous response. He could have either made himself look younger or make his fiancée appear to be older. By showing her as older it appears as though he was making a bold point about his relationship: It doesn't matter how old she appears, he loves her all the same.

If that's the case then they are going to have a long and happy marriage, because that's what true love is all about.