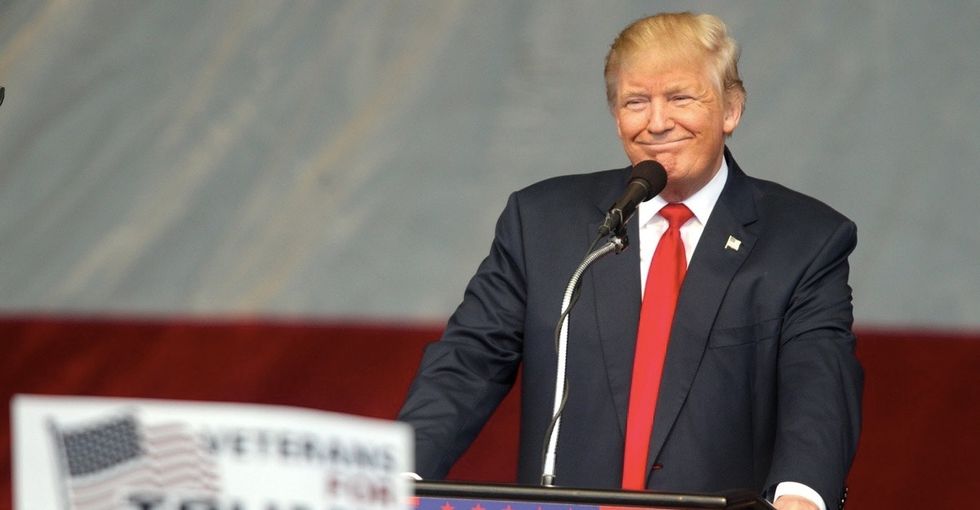 The tape is horrifying.
On Friday, the Washington Post shared shocking footage of Republican presidential nominee Donald Trump caught with a hot mic during a 2005 taping of "Access Hollywood." The Post called it an "extremely lewd conversation," but that's putting it kindly.
In part, the audio reveals Trump discussing failed sexual advances made on a married woman. "I moved on her like a bitch," he says.
---
"I'm automatically attracted to beautiful — I just start kissing them," he later says, speaking to then-host of "Access Hollywood," Billy Bush. "It's like a magnet. Just kiss. I don't even wait. And when you're a star, they let you do it. You can do anything. ... Grab 'em by the pussy. You can do anything."
In the hours since the tape's release, a handful of Republicans have called on Trump to drop out of the presidential race, with the election now just a month away.
The tape isn't just horrifying because Donald Trump made "lewd remarks." It's horrifying because he bragged about committing sexual assault.
Some of the early responses from Trump's supporters center around the use of words like "fuck," "bitch," "tits," and "pussy" — but that's missing the point. Is it unseemly and unpresidential to use that kind of language? Probably. Is it misogynistic to talk about women like that? Sure. But that's not what has people in an uproar over this tape — no matter how hard those who still support him will try to make it out to be.
Who knew it just took a Trump to make the left turn so conservative about sex!

— Mollie (@Mollie)1475877248.0
Even if you ignore the words Donald Trump is using, there's still the matter of the action he says he takes when he sees a beautiful woman:
"It's like a magnet. Just kiss. I don't even wait. And when you're a star, they let you do it. You can do anything. ... Grab 'em by the pussy. You can do anything."
What he's describing is sexual assault. This isn't about prudishness or being "conservative about sex." This is about a presidential candidate openly admitting that he sexually assaults women, and he uses his position of power to do so. Even more damning, women have gone on record claiming that, yes, Donald Trump actually did these things to them. Meaning what he says on that tape is not just talk.
First, there's the story of Jill Harth, reported earlier this year by The Guardian's Lucia Graves.
"He had his hands all over me and tried to get up my dress again ..." - @jillharth tells me of @realDonaldTrump https://t.co/foOhKqWHUh

— Lucia Graves (@Lucia Graves)1475873312.0
Not to mention the story of Temple Taggart, a former Miss Utah, which was reported earlier this year by the New York Times' Michael Barbaro and Megan Twohey.
This passage, from @mikiebarb @mega2e in May, seems relevant in light of "I just start kissing them" https://t.co/CXGbCRJxpQ

— David W. Chen (@David W. Chen)1475877900.0
Last night, during a live broadcast, CNN's Erin Burnett told the story about a time Trump tried to kiss one of her friends.
WATCH: CNN anchor tells story on air of Trump trying to kiss her friend https://t.co/4dl3kmRDJu https://t.co/sSoeRUZDvC

— The Hill (@The Hill)1475891703.0
The married woman being described at the beginning of the leaked tape is reported to be former "Access Hollywood" co-anchor Nancy O'Dell. It's now being reported that Trump tried to fire O'Dell from her job hosting the Miss USA pageant in 2007 because she was pregnant.
So, no, the uproar over this take is not just about what Trump said. It's about what Trump did.
The tape isn't just horrifying because Trump is running for president. It's horrifying because men do the things he described on the tape all the time.
After the tape was made public, writer Kelly Oxford asked her followers to share their stories of being sexually assaulted. In a powerful string of tweets, she shared the stories of five times men groped her when she was between the ages of 12 and 16.
"Grab them by the p---y," Trump says. "You can do anything." And Billy Bush is like, OK! -This is rape culture. This is what we hear & live

— kelly oxford (@kelly oxford)1475873720.0
This isn't something that can be dismissed as "locker room banter." This is something that really happens, that women experience at the hands of men like Trump, and we're being asked to elect a man president who condones this? We, as a nation, are better than that.
#NotOkay: @KellyOxford recalled the first time she was sexually assaulted & others shared their painful experiences. https://t.co/VBGrCnVexY

— Twitter Moments (@Twitter Moments)1475942455.0
The tape isn't just horrifying because women are "our daughters, our sisters, our mothers, and our wives." It's horrifying because women are people who deserve respect.
It's heartening to see there are so many people willing to condemn Donald Trump's words and the actions he described. It's less heartening to see that the reason given by many of them only seems to position women in the context of their relationship to men.
Hitting on married women? Condoning assault? Such vile degradations demean our wives and daughters and corrupt America's face to the world.

— Mitt Romney (@Mitt Romney)1475885406.0
As the grandfather of two precious girls, I find that no apology can excuse away Donald Trump's reprehensible comments degrading women.

— Jeb Bush (@Jeb Bush)1475881555.0
It's something that many well-meaning people have said over the years (in 2013, President Obama even mentioned women as "wives, mothers, and daughters" during his State of the Union address).
The fact remains that women should be treated with respect for the same reason men are treated with respect; they should be treated with respect for the same reason people of different genders, races, sexual orientations, national origins, and religions should be treated with respect.
They should be treated with respect because they are human. Whether or not a woman is a man's wife or daughter or mother or aunt or niece should play no role in whether or not they're deserving of respect and safety in the world.
So, yes, this tape is horrifying, but our response to it doesn't have to be.
Donald Trump, a man who began his campaign by calling Mexicans rapists, a man who floated the idea of banning Muslims from the country, a man who just this week renewed his call for the execution of five innocent men of color, might be undone by an 11-year-old tape.
It sure looks like that might be the case and that should make us all reflect on how we got here.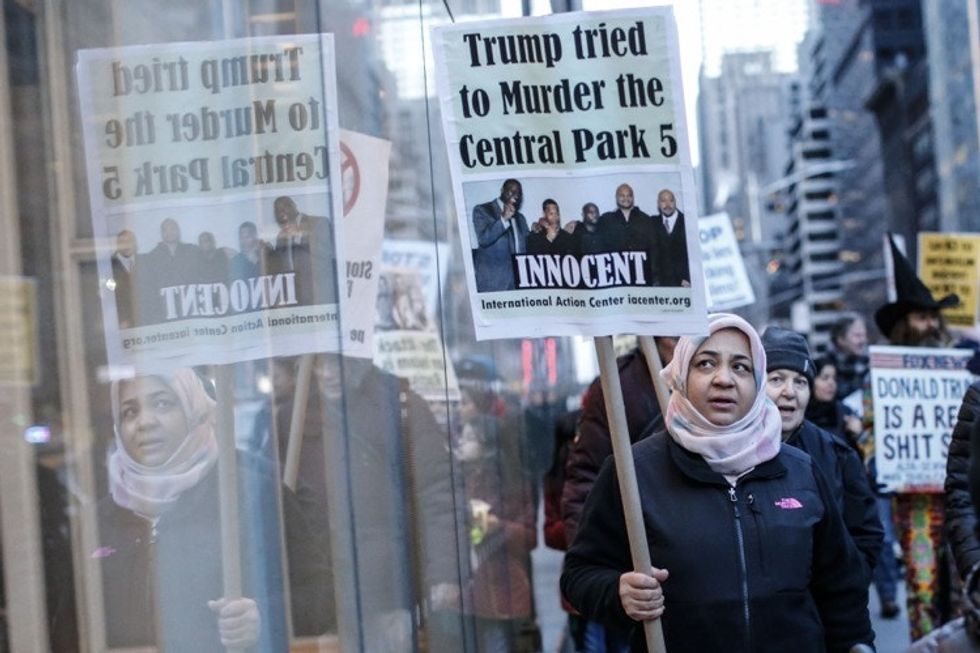 Why is it that when this man was calling for taking health care away from millions so many were silent? Why is it that when he attacked people of color that so many looked the other way? Why is it that when he vowed to rescind LGBTQ rights so many sat unfazed? Why is that when the stories of the women he's allegedly assaulted were reported on earlier in this election cycle, their stories made barely a blip in the news at large?
We have to be better than that, and we can be. It starts by learning, and it ends with action.
Even if your support for a candidate is rooted in the pain of economic turmoil, and even if the thought of a political revolution led by an outsider who can fix things has seemed appealing this far, now is the time to look inward and ask whether this is the man — someone so totally lacking in empathy for others — we want to elect as our president. This can be a great human moment where we come together to reject sexism, misogyny, racism, bigotry, and xenophobia in all its forms, in our a country and in our world.