Pets
Ginger the dog reunited with family 5 years after being stolen
Ginger's family never gave up hope, and it payed off.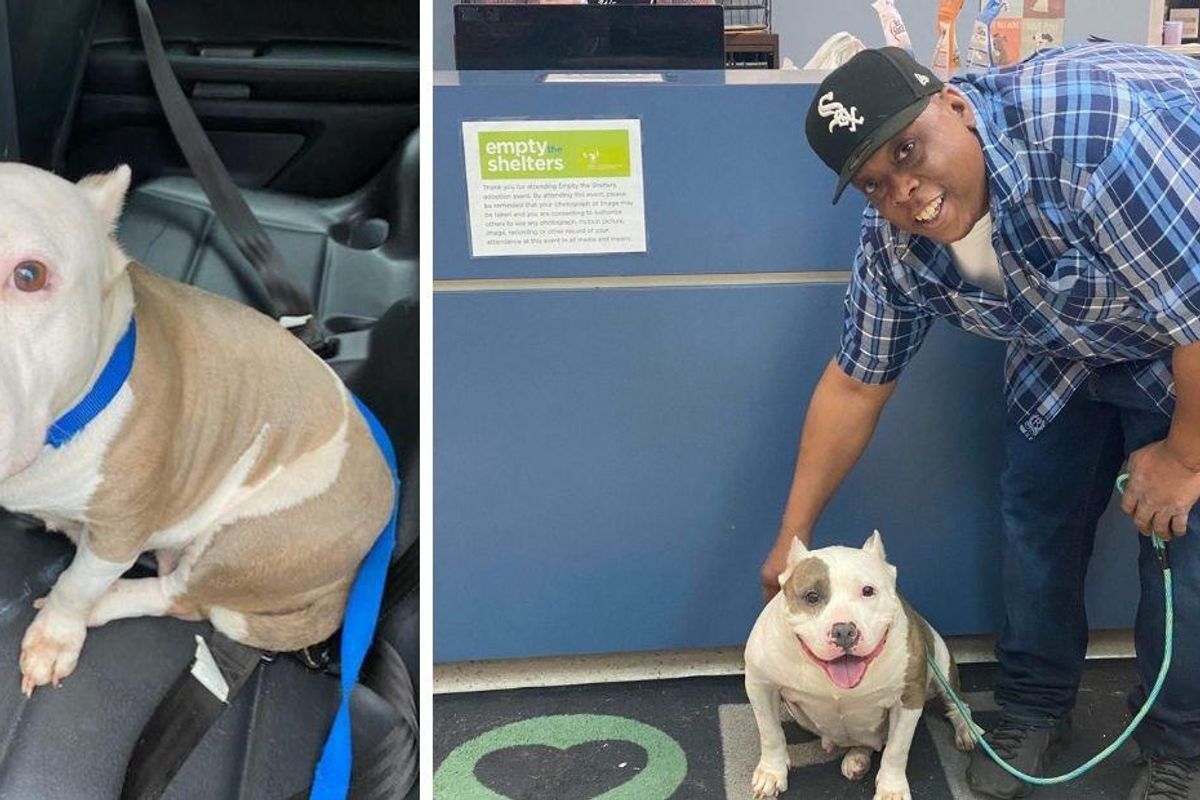 A sweet pup is finally home with her family where she belongs after way too many years away.
Ginger the dog was stolen from her family back in 2017. Her owner, Barney Lattimore of Janesville, Wisconsin, never gave up the hope that his sweet girl was out there somewhere. Whenever he'd see a dog listed on a rescue website or humane society website that even remotely resembled his Ginger, he would inquire about the dog. Unfortunately, it was never her. You'd think that after a while he would stop, but if he had, he likely wouldn't have gotten the sweetest reunion.
---
On May 1, the City of Beloit Police Department posted on Facebook about a dog they had found, asking people to call if they had any information. Lattimore saw the post and reached out, believing that this dog could finally be his long lost Ginger. He learned that the pup had been transferred to the Humane Society of Southern Wisconsin for care while they searched for the animal's owner.
So Barney Lattimore rushed to the Humane Society to see if this was indeed his Ginger. I can only imagine how anxiously excited he must have been at the potential reunion. Five years is a long time, especially for a dog. There is no way to know anything about what had happened to her while she was out of his care. Would she still be the same dog she was when she disappeared? Lattimore didn't care, he just wanted his pet back.
When he arrived at the Humane Society, his prayers were answered. There before him was his baby girl Ginger, after all those years. As soon as they saw each other, it was like no time had passed at all; both of them were just so darn happy to see each other.
The Humane Society of Southern Wisconsin posted about the reunion on its Facebook page.
"Over 5 years ago, Ginger was stolen from her owner, Barney. Ginger's family tried everything they could to get her back. They continuously searched for her and every time they saw a dog that resembled her in the slightest, it would ignite a spark of hope that maybe it was her. Throughout the years, they proceeded to adopt new dogs and even welcomed another child into their home, but they never forgot about Ginger," it wrote.
"Recently, the Beloit Police Department posted on Facebook about a stray female dog, in hopes of reuniting her with her owner. She was eventually brought to HSSW, where we could search as well. After a few days, we received a call from Barney, thinking it was Ginger! When he arrived, staff led Barney to the back of the shelter to make sure it was her. As soon as they saw each other, there was no doubt. The excitement on the family's faces, as well as Ginger's, when they were finally reunited was beyond memorable. Ginger is back with her true family and now has the opportunity to meet her new "pack" members and make up for lost time!"
Lattimore replied to the post, saying "I thank everyone. prayers do get answered she's back home doing well. Thanks again for the love and support. All you people are so amazing and love you all."
Sometimes, never giving up can have a really happy reward. Barney and Ginger are back together, and this is proof that nothing comes between the bond of a dog parent and their pup.