More
Chilling video shows a clever teen eluding a creepy guy following her in a car.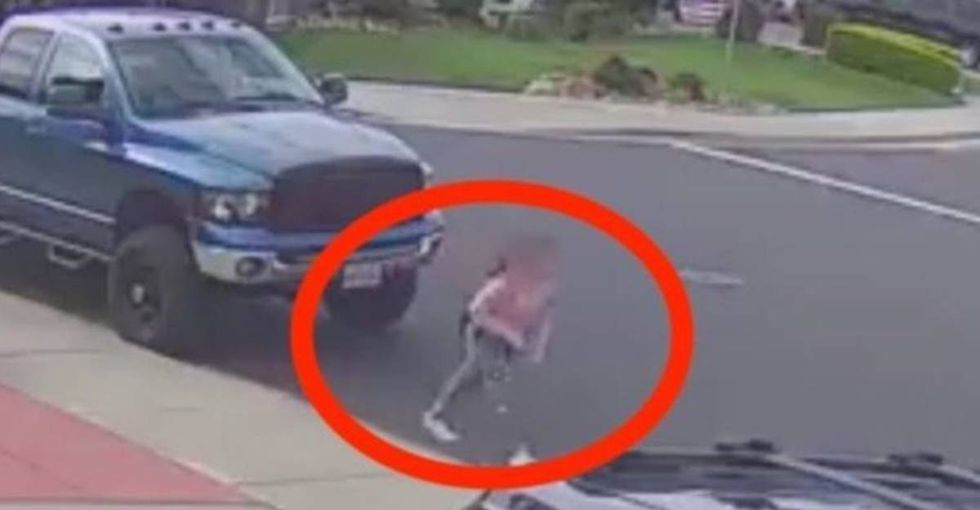 As a parent, it's tough teaching kids about dealing with people they don't know. On one hand, you don't want them to live their lives afraid of strangers, but on the other, they need to know how to identify dangerous people and protect themselves.
Police in the northern California city of Vacaville are praising a teen for eluding a suspicious male motorist.
In security camera footage, the girl can be seen walking down a sidewalk when a car slowly drives up beside her. As the person in the car tries to talk to her, she keeps a large pickup truck between them. When the car turned around and pulled up in the opposite direction, she ran away.
---
Suspicious Circumstance

*Update 4/25/19*Thanks to some tips from our keen-eyed citizens, Vacaville's Vice Unit was able to identify both the vehicle and the driver (a 24 year-old man from Vacaville) from this video. Today the driver was interviewed and Detectives are now following up on the statement he provided.The investigation is ongoing, but based on the evidence and statements we have gathered at this time, an arrest has not been made. With that being said, we will not be releasing the man's identity at this time. We do not believe the driver's intentions in this incident were related to human trafficking. We cannot thank our citizens and followers enough for all their efforts in helping us get to the bottom of this. This is another great example of our community coming together to ensure Vacaville is a safe place for all of us to live. Any information please contact Detective Brian Collins (707) 469-4735. For media inquiries please contact Captain Lydon (707) 449-5236.*Original Post 4/19/19*As we begin spring break in Vacaville we wanted to take a moment to remind parents and youth about some simple safety tips specific to strangers in cars. Please watch out for cars that are following you, never approach strangers sitting in cars and NEVER get into a car with a stranger.Recently a young lady was walking in the residential area near Ulatis Drive and Leisure Town Road when she noticed a man in a dark colored Pontiac following her. The young lady continued to walk while ignoring the vehicle. As she quickened her pace to get away from the man, he pulled further in front of her and stopped his car in the middle of the street. The young lady became scared and hid behind a parked vehicle. The unidentified man drove away briefly, but came back in another attempt to speak to the girl. The young lady continued to use the parked vehicle as a shield and when she saw the man driving away she began running for safety.The man was described as a black male with short, dreadlock hair, approximately 20 years old.While this man's intentions, innocent or not are unknown to us at this time, we hope someone in our community can help us identify him, or he can contact us so we can talk with him about what happened.Any information please contact Detective Brian Collins (707) 469-4735.

Posted by

Vacaville Police Department on Friday, April 19, 2019
"You can imagine as you get in close proximity to the car, anything could happen," Vacaville police spokesman Matt Lydon told NBC Bay Area. "And she distanced herself in the situation and absolutely did the right thing."
Police say there was no evidence that a crime was committed, but they wanted to speak with the driver.
"He attempted to talk to her, but she wasn't sure about what he was trying to communicate to her," Lydon told Fox40 in Sacramento. "Anytime an adult male is trying to get the attention of a teen who doesn't know him, it's concerning."
A few days later, the police were able to identify the man as a 24-year-old from Vacaville. Based on his statements, no charges are being pursued at the time, but the incident still remains open for investigation.
The police have used the incident to remind children and their parents to be aware of their surroundings.
"As we begin spring break in Vacaville we wanted to take a moment to remind parents and youth about some simple safety tips specific to strangers in cars," the Vacaville Police wrote on Facebook. "Please watch out for cars that are following you, never approach strangers sitting in cars and NEVER get into a car with a stranger."