Recommended
Urban Growers Collective converts Chicago city buses into mobile produce stands for city food deserts.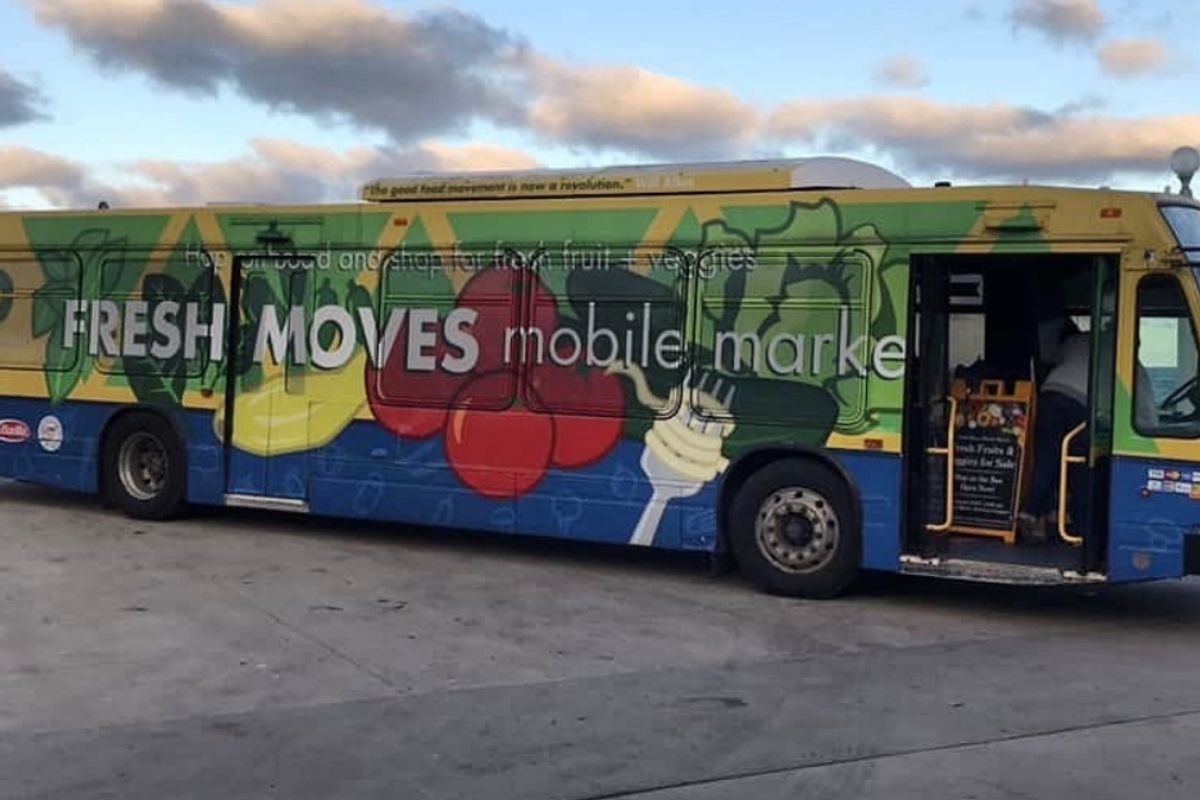 Everyone knows that fresh fruits and vegetables are an important part of a healthy lifestyle. But what do you do if produce isn't available in your neighborhood and you don't have the means to go somewhere else?
Food deserts are a problem in some urban areas. Imagine having a 7-11 as your only grocery store for miles, not having access to a car, and not having public transportation as a viable option. Lack of healthy food options can have long-term impacts on people's health, increasing chronic issues like diabetes and heart disease and leading to greater health disparities between socioeconomic groups.
In Chicago, neighborhoods that are predominantly black are particularly hard hit by food deserts. According to the Chicago Reporter, African Americans make up about a third of Chicago's population, but almost 80 percent of the population of "persistently low or volatile food access areas."
Even as Chicago has attempted to mitigate this issue by putting in more supermarkets, the neighborhoods with the most need are still not gaining adequate access to fresh foods. Most of the new supermarkets are being put into "food oases," where there are already options for buying healthy foods. So food deserts persist.
That's where Fresh Moves Mobile Market comes in. A project of the Urban Growers Collective, Fresh Moves refurbishes old city buses, converts them into mobile produce stands, and brings fresh fruits and vegetables to food desert neighborhoods. The Mayor's Office and the City of Chicago have partnered with the program, and with the support of Barilla US and Chicago Transit Authority (CTA), Fresh Moves served 10,000 Chicagoans more than 17,000 pounds of fresh produce in 2018.
The company behind the mobile market, Urban Growers Collective (UGC), is a non-profit organization that creates educational programs and partnerships to achieve its overarching mission to positively influence food-deprived neighborhoods in Chicago's South and West Side communities. Led by Co-founders Erika Allen and Laurell Sims, the goal is to make nutritional food more accessible and affordable, create economic opportunities, and break systemic patterns.
"Laurell and I work together to embed our passion for social justice and healing into all initiatives at UGC to positively influence the lives of Chicago's oppressed population," says Co-Founder Erika Allen. "We provide the tools needed for personal growth and to combat systemic injustices in food systems," adds Co-Founder Laurell Sims.
Malcolm Evans is the Urban Farms Production Manager for the Urban Growers Collective, and he helped with the re-launch of the Fresh Moves Mobile Market. "We base our locations off of communities that don't have grocery stores nearby and therefore have a shortage of healthy food options for their families in those areas," he told Upworthy. "We try go to community centers and neighborhoods where we can offer food to groups of people at a time. I grew up in these neighborhoods, so I'm very aware of the food access and living conditions and I know where healthy food options are needed."
Evans says that 70% of the produce delivered by Fresh Moves is grown by farms that Urban Growers Collective has throughout the city. In fact, he got his own start at a community garden where he met Erika Allen as a kid. "The community garden was a safe zone where I could hang out, help out on the farm and avoid violence," he says. "I was able to figure myself out more and realized that I wanted to pursue this as a career. I became the great farmer that I am today as a result of my childhood working with Erika."
UGC operates seven urban farms on 11-acres of land predominantly located on Chicago's South Side. Each farm utilizes organic growing methods, intensive growing practices that maximize space, and year-round production strategies. Staff on these farms integrate education, training, leadership development and food distribution, supporting the UGC mission to provide opportunities for people in underserved communities.
Three cheers for this women-led, grassroots initiative that is making a real difference in the lives of thousands.