Most Shared
Can we all agree that slashing $7.1 billion from education is asinine?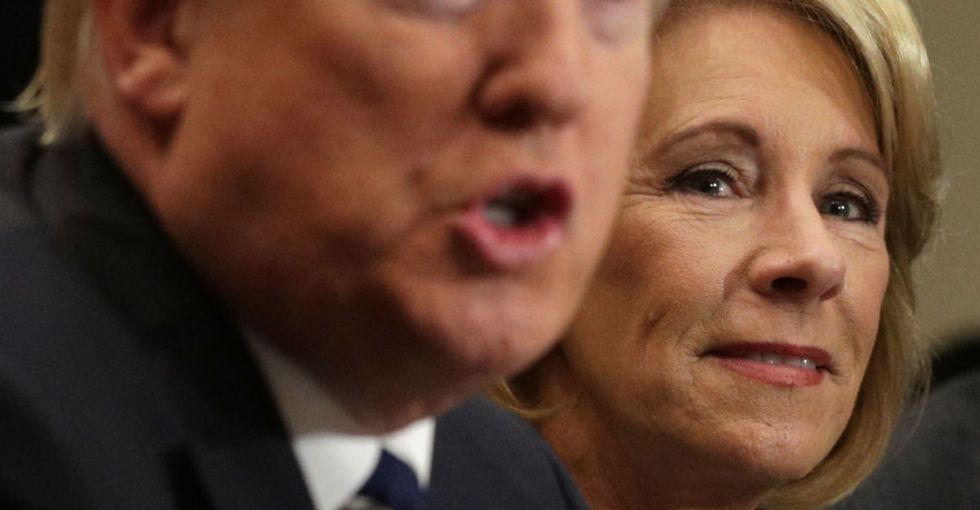 Of all of the hair-brained, short-sighted budget proposal ideas, removing billions of dollars from education takes the cake.
If there's anything that people of all political persuasions should be able to agree on, it's the importance of education.
A well-educated citizenry is the chassis that supports everything we need to keep moving forward—a thriving economy, safer communities, advances in science and technology, strong international standing, and more.
---
And as the top-performing educational systems in the world prove, a well-funded, equitable, government-funded school system is the most reliable engine humans have designed to keep the machine of civilized society running.
However, the 2020 budget proposal coming from the White House includes cutting $7.1 billion from the Department of Education. On the chopping block include summer and after school programs in low-income areas, Public Service Loan Forgiveness programs, and subsidized Stafford loans for higher education. And while those programs would be cut, more funds would go to charter and magnet school initiatives.
Why? Because public education doesn't require money, duh! College graduates can pay soaring tuition rates with their bootstraps, don'tcha know? And nobody needs after school or summer programs, especially not kids in high poverty areas, right? Nah. We just need to make sure that for-profit charter schools get a bigger piece of the taxpayer pie, because government-funded capitalism is totally the way to make sure everyone has equal access to quality education.
Or maybe we don't actually need to know the best way to educate our diverse and growing populace, because guess what— funding for scientific educational research is on the chopping block too!
(Sorry, sometimes sarcasm is the only reasonable response to absurdity.)
Federal fund allocations are complicated. But this part shouldn't be.
I know the arguments about education being funded locally instead of federally. I understand the sorta-nice-on-paper idea of "school choice." But we have models of successful educational systems around the world, and the vast majority of top-performing systems are government funded with a small percentage of parents choosing private education.
Considering how many schools in America struggle and how many teachers have to pay for materials out of their own pockets, I see very few scenarios where cutting money from education could be considered wise. Even if an educational program is ineffective, it makes more sense to funnel that money into expanding and increasing programs that are working rather than cutting funding altogether.
Call me crazy, but I think education should get every last drop of money we can throw at it. I attended public schools and I've taught in public schools. I know what a challenge it to meet the needs of all students. I chose to homeschool my own kids but still vote yes on every single public school funding measure that comes across my path. I've seen how money makes a difference in what schools are able to offer, and I prefer to live in a well-educated society.
It's not like we don't have the money for more books, when we clearly have the money for more bombs.
What really chaps my hide is that this budget proposes cutting $7.1 billion from education while adding $8.6 billion for a border wall and a 5% increase in defense spending (which equates to an extra $30 billion plus). I can get behind the proposed military pay increase of 3.1% because military families make enough sacrifices as it is, but do we really need to increase defense spending by that much?
We are already the most powerful military force on the planet and we spend more on defense than the next seven countries combined. At what point do we decide that the hundreds of billions we already spend on defense and destruction is enough, and start investing more heavily in the education and health of our people?
The vast majority of educational professionals I know believe that our current administration is taking education in the wrong direction, and this budget proposal highlights why. Both the president of the American Federation of Teachers and the president of the National Education Association—the country's largest teacher unions—denounced the budget cuts. AFT president Randi Weingarten said in a statement:
"This budget doesn't fund the future; it does quite the opposite, forfeiting children by yet again cutting the education budget while safeguarding the tax cuts given to the wealthy last year. President Trump and Secretary DeVos have made a choice with this budget—enriching those who are rich and who don't want for anything, on the backs of our children. Even their so-called priorities, career and technical education and child care, aren't funded in a meaningful way. By eliminating the Public Service Loan Forgiveness program, they are sending a message that public service doesn't matter..."
"Rather than increase funding for kids with special needs or for those who live below the poverty line in both rural and urban America, or addressing the issues raised in their own safety report, DeVos once again seeks to divert funding for private purposes in the name of 'choice.' However, if they listened to parents, they would hear that, overwhelmingly, parents want well-funded public schools as their choice. By assaulting public education again, Trump and DeVos are defying the will of parents, educators and the American people who continue to march, rally and even strike to secure the investment our children and their public schools desperately need."
Let's bring this privatized war on public schools disguised as educational reform to an end.
It's time to put actual educational professionals with actual teaching experience in charge of education, provide them with enough funding to make our public education system what it could be, and then get out of their way.