Women of Worth
Meet the woman delivering Baskets of Hope to newborns with Down syndrome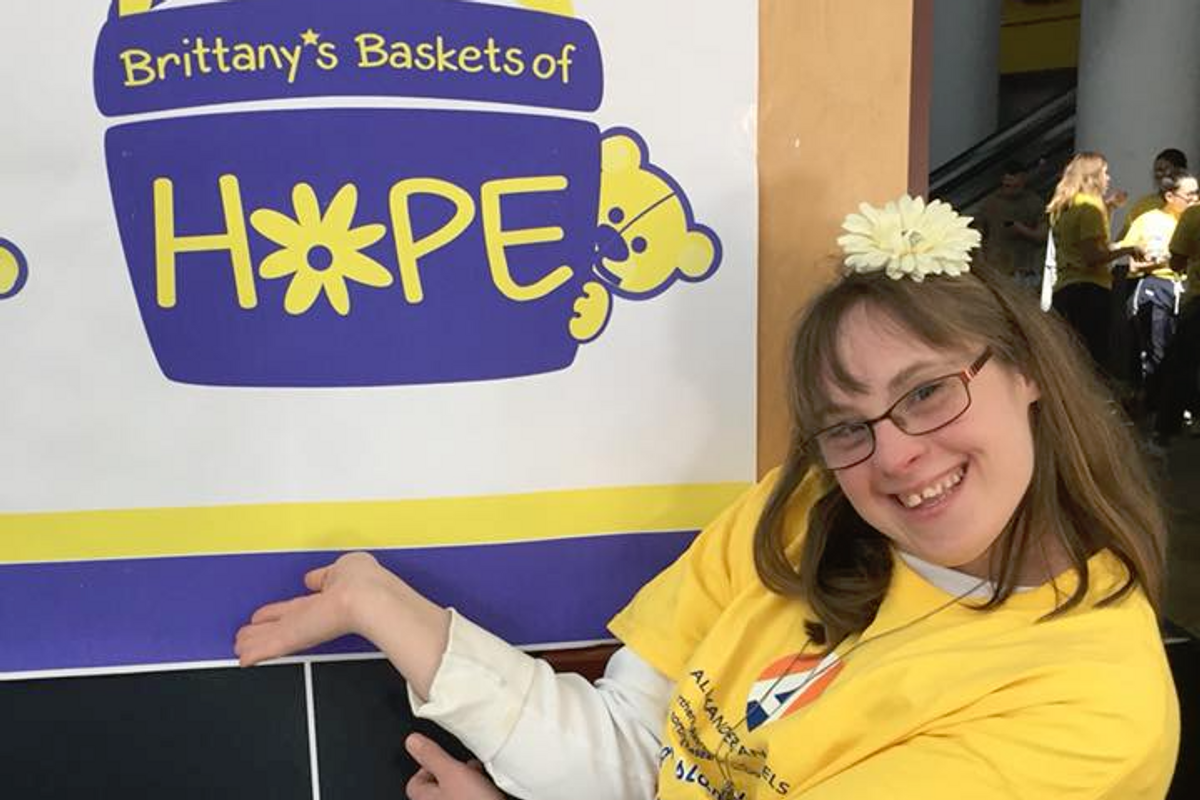 Brittany's Baskets of Hope
True
The arrival of a new baby into the world should always be a joyful occasion.
But all too often, when babies are born with Down syndrome, the first thing that parents hear is "I'm sorry."
Brittany Schiavone wants to change that, which is why she founded her nonprofit, Brittany's Baskets of Hope where she makes and delivers baskets of presents and information to new parents of babies with Down syndrome.
"We're trying to flip the script," says Brittany's mom, Susan Schiavone. "Instead of hearing 'I'm Sorry,' new parents are hearing 'Congratulations!'"
"I give them hope," says Brittany. "I give them hope and joy and happiness for their child."
Brittany first got the idea for giving presents to newborns with Down syndrome after watching a video about people helping families and babies on her break at work. So, she went home and declared to her parents that she wanted to do something similar. She wanted to give families and newborns presents. And she wanted to tell the moms that it's going to be okay.
Before long, this idea transformed from an ambitious idea to a fully operational nonprofit that sends baskets to new parents in all 50 states, thanks in part to Brittany's awesome family that rallied around her to help make her dream a reality.
Each basket is carefully put together to include baby essentials, like pacifiers, socks and bibs, information for the parents (including a book), onesies with "Down Right Perfect" on the front, and hand-knit blankets, hats and booties.
So far, Brittany has made and sent over 950 baskets. Volunteers all over the country help hand-knit gifts or donate money to help her create each of her very special baskets. And Brittany's dedication to her cause is why she was chosen as L'Oréal Paris' 2019 Women of Worth Honorees.
---
The babies born in the Long Island area also get something else with their baskets too: a visit from Brittany.
Brittany and her mom hand-deliver the baskets to local babies and they stay for a little while to visit.
"It is my favorite thing to see the babies and hold the babies and talk to the parents all about it," says Brittany. "I try to give them hope...Down syndrome babies can do anything. Really, really anything."
"It really warms my heart to see Brittany interact with these babies, interact with the families [and] tell her story" Susan says. "She's very upfront and will tell you she has a great life."
"We call her the baby whisperer," she continues. "It's the most fun seeing Brittany holding these tiny infants and sometimes, no matter how fussy or squiggly they are, they kind of recognize the connection with Brittany, we think. She's very good at calming them and making them smile and giggle."
These baskets and visits mean a lot to the new parents.
Melissa and Ryan Lucas were the first parents that Brittany delivered a basket to after their daughter, Maeve, was born with Down syndrome.
"They came and she brought this welcome basket that had a bottle and it had some little clothes for the baby," says Melissa. "There were tears that just rolled down my face because I felt like life was going to be okay."
"Meeting Brittany and having her come to our home and deliver a basket truly felt like someone has our back," says Ryan.
And that's exactly the power of Brittany's Baskets of Hope: it's a way of celebrating these babies and reminding the parents that they're not alone. They're joining a supportive community that has their back.
Brittany is one of 10 incredible women who were chosen to be a L'Oréal Paris Women of Worth Honorees in 2019 because of the amazing work they do every day.
The L'Oréal Paris Women of Worth program was started in 2006 as a way of celebrating women like her who are doing wonderful volunteer or philanthropy work in their communities. Each honoree receives a $10,000 grant for their charitable cause and one honoree, chosen by public vote, receives an additional $25,000. Past honorees have included surgeons doing pro-bono surgeries for people in need, women supporting human trafficking victims, advocates for LGBTQ teens and more.
If you know a woman doing amazing things in her community, go to womenofworth.com to nominate her now. Nominations are open until June 30th.