Family
People are loving this baby's reaction to the creepy demon baby doll her sister picked out for her
No monsters are ever gonna mess with these little girls.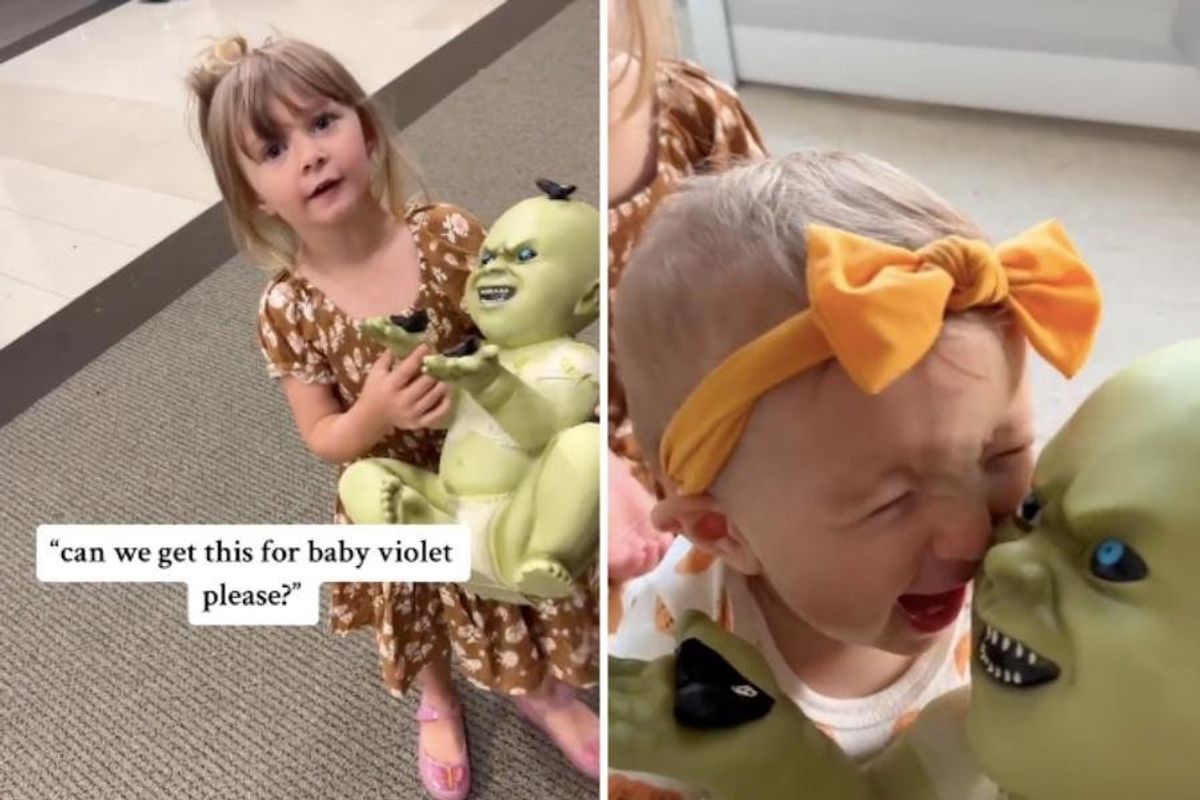 There are few things more comforting than seeing a baby with their comfort object—a blankie, a stuffed animal or a favorite toy. Or, in the case of Baby Violet, a creepy demon doll that looks baby Shrek possessed by Beelzebub.
TikTok creator Brittany Christiana (@brittikitty) shared a video of her older daughter Lily in a Halloween store, holding the demon baby and asking if she could get it for "Baby Violet." Her mom doesn't even hesitate, responding, "Of course!"
Then we get a closer-up look at the creature, and phew, it's really something to behold. Not only is it demonic-looking but it's huge—about the size of Baby Violet herself.
---
If you're wondering if such a gift might be met with fearful tears or at least some slight hesitancy, nope. Watch how Baby Violet reacts when she's handed the demon child:
Adorable, right? People in the comments loved her joyful reaction.
"It's like the Addams Family 😂," wrote one commenter.

"They're definitely gonna have the best spooky costumes growing up," wrote another.

Followers already knew of Lily's love for Halloween, and seeing Violet share her sister's joy was a relief. A big sister who loves horror combined with a little sister who hates it could create some problematic childhood memories.
Some people shared their or their kids' comfort items that others would find unusual (or terrifying).
"When I was like 5 I had this rubber sewer rat from Halloween and I kept it and slept with it til I was 10 and then my mom hid it from me," shared one person.
"My daughter's favorite toy is an old Halloween skeleton she calls "guy." Over time, he has lost his limbs so now guy is just a skull and torso," shared another.
Lily and Violet's love for the demon baby is reminiscent of Creepy Chloe, the Halloween doll that won 3-year-old Briar's heart at the Spirit Halloween store. Briar loved Chloe so much she took her everywhere and even had a photoshoot done with her at Disneyland.
You just never know what kids are going to love or hate. One thing's for sure, though—no scary monster stands a chance against Lily and Violet.