More
Arkansas' racist Capitol Hills statues are being replaced by two incredible icons.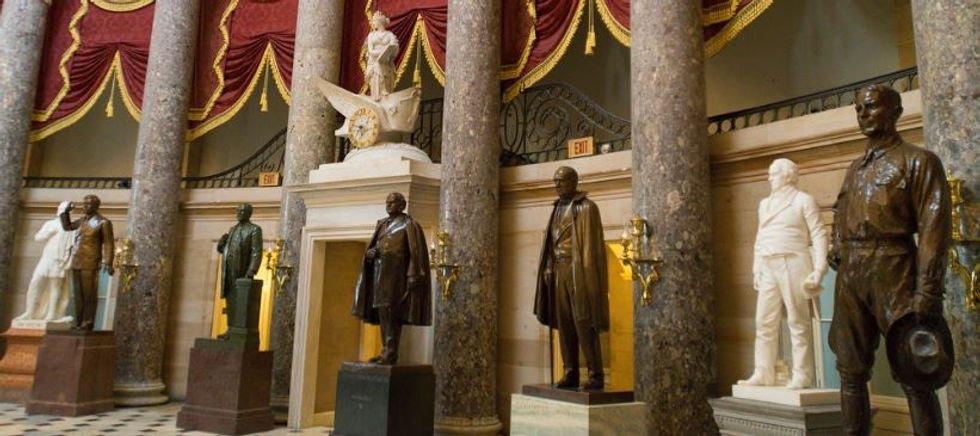 After the Charleston church shooting in June 2015, municipalities throughout the U.S. began removing Confederate statues from state buildings and parks. This accelerated in 2017, after the after the Unite the Right rally in Charlottesville, Virginia.
The state of Arkansas has just realized that it's not 1865 and will replace the two statues of racists representing the state in the Statuary Hall collection on Capitol Hill.
One statue is of Uriah Milton Rose, an attorney who sided with the Confederacy. The other is James P. Clarke, a United States senator (1903-1916) and governor of the state (1895 - 1897), who as a strident white supremacist.
---
Arkansas Republican governor Asa Hutchinson made no mention that racism had anything to do with the removal of the statues. "Most everyone who was involved in the discussion agreed we needed to update the statues with representatives of our more recent history," he said.
However, the state has made two great choices on the two new statues that will represent the state: music icon Johnny Cash and civil rights activist Daisy Lee Gatson Bates.
[rebelmouse-image 19496938 dam="1" original_size="1200x624" caption="via unknown / wikimedia commons and RV1684 / Flickr" expand=1]via unknown / wikimedia commons and RV1684 / Flickr
Bates served as the President of the Arkansas chapter of the National Association for the Advancement of Colored People (NAACP) and organized the Little Rock Nine.
The Little Rock Nine was a group of African-American children who were prevented from entering the recently-desegregated Little Rock Central High School by governor Orval Faubus in 1957.
Bates bravely guided, protected, and advised the nine students until President Eisenhower dispatched the 101st Airborne Division to ensure the children were allowed to attend the school.
Gatson also published the The Arkansas Weekly, one of the few African-American newspapers of that time solely dedicated to the Civil Rights Movement.
Johnny Cash, a.k.a. "The Man in Black," from Kingsland, Arkansas, is one of the biggest selling musical artists of all time. The country outlaw is famous for such hits as "I Walk the Line," "Ring of Fire," and "Folsom Prison Blues."
Cash was also an advocate for Native American rights, pushed president Richard Nixon for prison reform, and protested against the Vietnam and Iraq wars.
When asked in the late '70s why he still wore black he replied: "The old are still neglected, the poor are still poor, the young are still dying before their time, and we're not making any moves to make things right. There's still plenty of darkness to carry off."