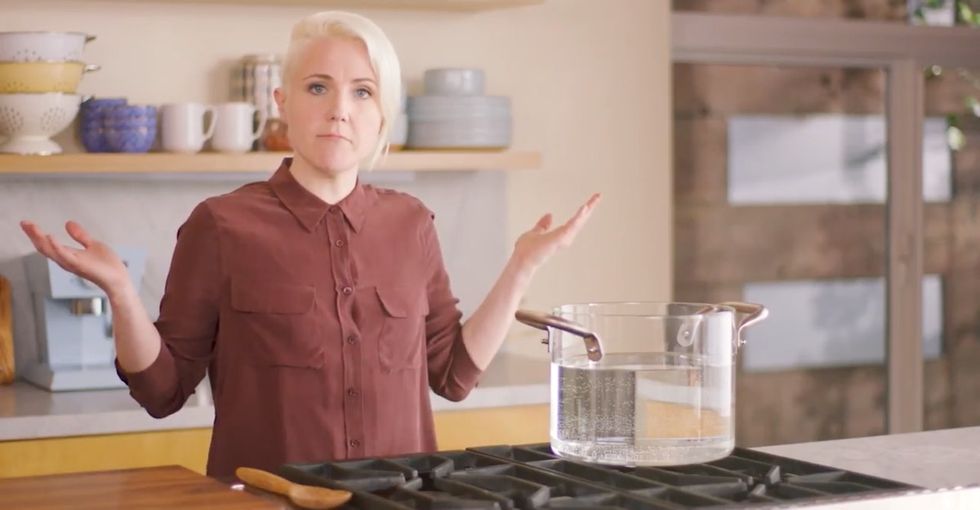 True
Barilla
When Hannah Hart posted her first video on YouTube in 2011, she had no idea what it would turn into.
"[It] was originally just a joke for a friend," Hannah says.
She had just moved from San Francisco to New York and was working as a proofreader. One night, she was chatting with her friend on the other side of the country when her friend shared that she missed Hannah's "drunk kitchen."
---
"I was like, 'Man, I'll send you a video right now,'" she recalls. "So, using Photo Booth on my MacBook, I shot a video, cut it up, and sent it to her, and then a bunch of strangers watched it."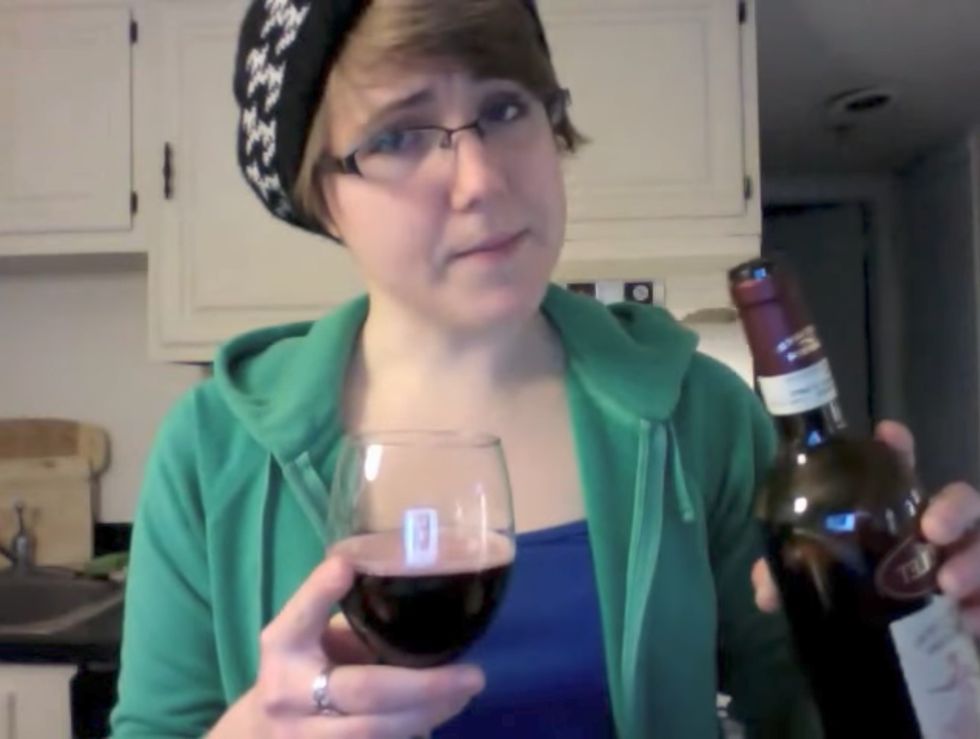 Hart in the first episode of "My Drunk Kitchen." Image via Hannah Hart/YouTube.
The video went viral.
It wasn't long before viewers started clamoring for another episode. So she made another one, and the YouTube series "My Drunk Kitchen" was born.
From there, Hannah's career as an online celebrity took off.
She not only continued making videos for her "My Drunk Kitchen" series, but she started experimenting with other kinds of videos too. She soon left her job, moved to Los Angeles, started collaborating with other YouTube celebrities, and ended up dedicating herself to her passion full-time.
When she went all-in, she discovered that she had a passion for entrepreneurship and that she enjoyed building something in a new medium.
Over the following six years, she created a brand for herself online. She has also written two books — the parody cookbook "My Drunk Kitchen: A Guide to Eating, Drinking, and Going With Your Gut" and "Buffering: Unshared Tales of a Life Fully Loaded" — and is currently the star of "While the Water Boils," a YouTube series she creates in partnership with Barilla.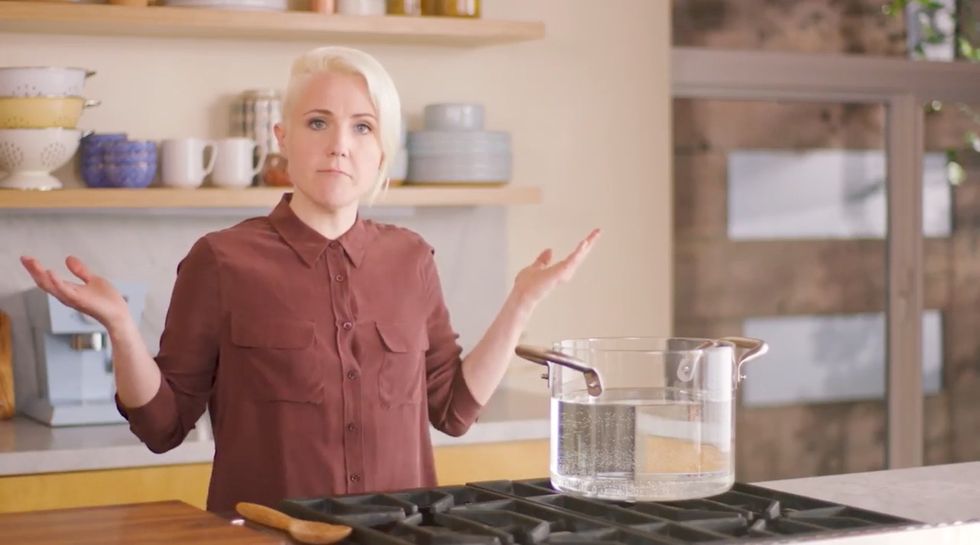 Hannah Hart in "While the Water Boils" season 3 trailer. Image via "While the Water Boils"/YouTube.
Through it all, Hannah says, it was her passion for connecting with people that really drove her to build this career online.
"I was always the person that was talking too much in class, always staying after school to hang out with the teachers and saying, 'So, third grade, what made you decide to get into elementary education?' I just can't help it," she says, laughing. "I find people really fascinating."
"I love getting to know people, I love engaging, and I love hearing what other people's passions are." That's why she loves her work on "While the Water Boils," she adds.
"[It] is a series that allows me to do exactly that: meet fascinating people who otherwise I wouldn't have gotten the chance to kick it with," she explains.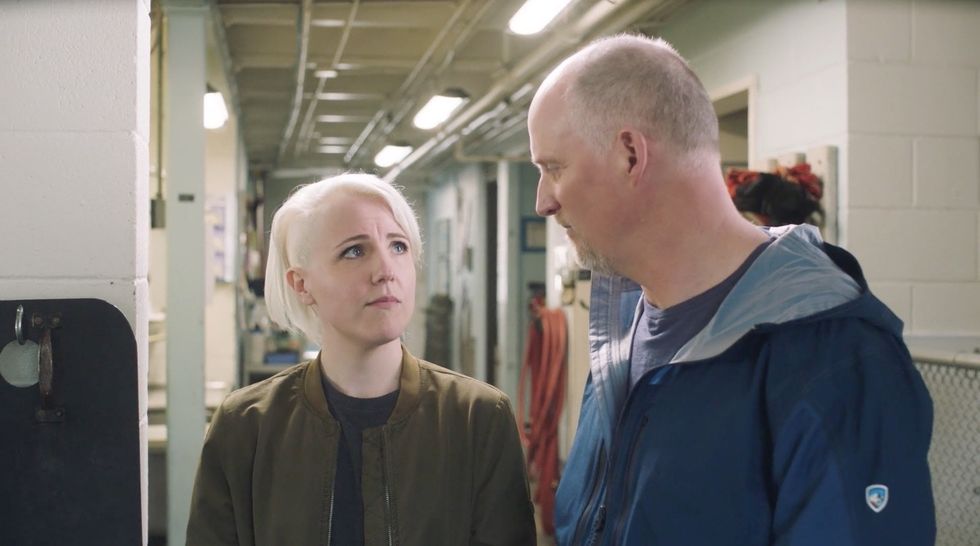 Hannah Hart and Paul Nicklen at a seal rehab in Season 3 of "While the Water Boils." Image via "While the Water Boils"/YouTube.
"While the Water Boils" is now in its third season.
Guests so far on seasons one and two have included such people as Bill Nye, Wanda Sykes, and Theo Rossi. And in season three, she will be interviewing photographer Paul Nicklen, basketball legend Paul Pierce, and actress Grace Byers.
During each episode, Hannah gets the chance to talk with these people about what they are passionate about, whether it be wildlife photography, bowling, or card games. And while they talk, she cooks a special pasta recipe for them.
"I am in no way a cooking expert," Hannah says, "but I am an enthusiast, and there's nothing more engaging than sharing a meal with someone. I love cooking with people. I love the energy that's in a kitchen."
Plus, the show allows Hannah to combine two of her loves: food and talking to new and interesting people about their passions.
"There is nothing more invigorating than hearing someone speak about something that they are passionate about," she continues. "Your passion can be botany, your passion can be whatever. But I love engaging with people who are interested in things, who have something to share, who have something to educate — it's a little like nourishment for the soul, just hearing their experiences and what brought them and led them on this path in life."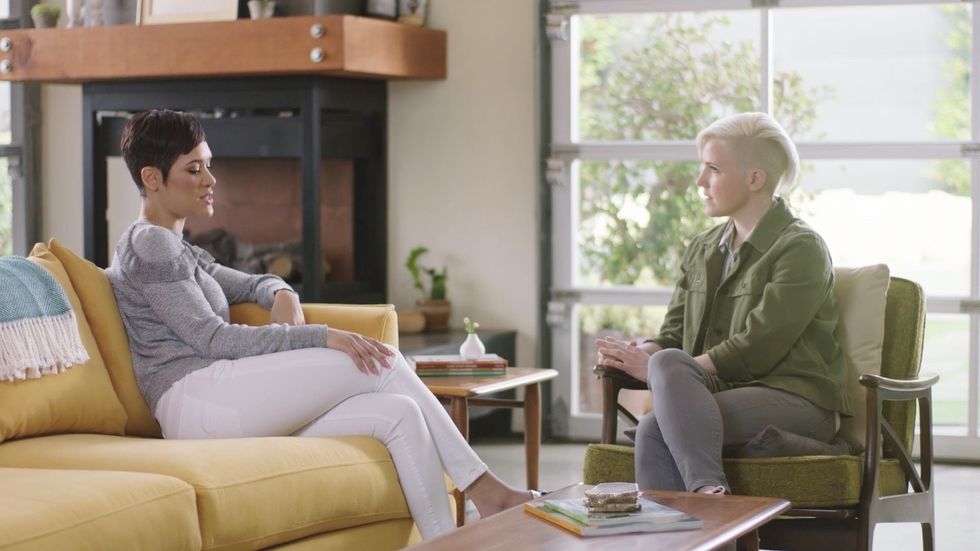 Hannah Hart and Grace Byers talk card games in Season 3 of "While the Water Boils." Image via "While the Water Boils"/YouTube.
Hannah followed her passion six years ago. Now, she wants everyone else to find theirs too.
She's happy to share some advice for when you do, too.
First, try not to get overwhelmed by your decision to go after something. "People get so daunted by massive life changes. ... I think they forget about the incremental steps," she says. "Just remember the importance of baby steps."
Second, don't forget to drink plenty of water, she says with a laugh. "Nobody drinks enough water."
And finally, remember that it's OK to try things alone first — you don't have to tell everyone what you're going to do before you do it.
"I feel like people forget that you can experiment with something privately long before you're ever ready to share it publicly," she says.
"So if opinion is what's hindering you from pursuing your passion, then just keep it close to your chest first," she continues. "Then, when you're ready ... when you've fallen so deeply in love with it that it doesn't matter what anybody thinks, then you can share it with the world."