Heroes
A submarine just took humans deeper into the ocean than ever before. And what did we find there? Trash.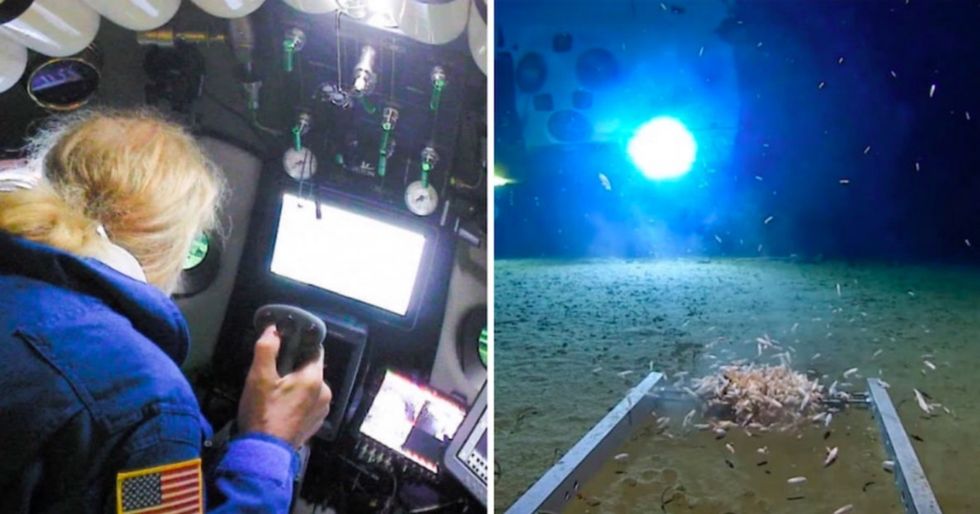 Victor Vescovo isn't your average businessman. Instead of spending his out-of-office time golfing or playing tennis, the 53-year-old retired naval officer enjoys descending to the lowest points in the ocean in his submarine, DSV Limiting Factor, searching for undiscovered species and collecting samples. I mean, who doesn't, right?
During his four-hour May 1st expedition (in which he broke "Titanic" director James Cameron's 2012 record for the deepest solo dive in history) he plunged 6.8 miles down into an oceanic region known as the Mariana Trench.
---
When he was exploring the terrain, however, he noticed something unusual among the shrimp-like amphopods and sea cucumber-looking "sea pigs" — angular metal and plastic objects. One even had writing on it. The ocean floor was littered with garbage. He even found candy wrappers down there, according to CNN.
"It was very disappointing to see obvious human contamination of the deepest point in the ocean," Vescovo told Reuters.
Scientists plan to test the specimens collected on the expedition to see if they contain microplastics, which generally come from either large pieces of plastic that biodegrade or from microbeads, super tiny pieces of manufactured polyethylene plastic.
Vescovo hopes his discovery will raise awareness about dumping in the ocean as well as put some pressure on governments to tighten regulations.
"It's not a big garbage collection pool, even though it's treated as such," Vescovo said about the ocean.
Obviously, plastic in the ocean is a huge problem, and the fact that we're finding pieces of it at the ocean's deepest points means it's getting worse. But there are things you can do to help stop it.
According to the nonprofit Ocean Conservancy, there are five easy ways you can help keep our oceans trash free. They include properly recycling plastics, drinking water in a reusable bottle instead of disposable plastic bottles, volunteering for coastal cleanups, engaging in green boating practices and making sure your cigarette butts end up in an ashtray and not on the street.
We all need to be more mindful about our trash — especially we're near large bodies of water, like oceans. So if you are taking a seaside stroll this summer and notice trash on the shoreline, pick it up and toss in a proper waste receptacle. If you don't, there's a chance pieces of it could end up in someone's seafood dinner, maybe even your own.