All images provided by Prudential Emerging Visionaries
True
A changemaker is anyone who takes creative action to solve an ongoing problem—be it in one's own community or throughout the world.
And when it comes to creating positive change, enthusiasm and a fresh perspective can hold just as much power as years of experience. That's why, every year, Prudential Emerging Visionaries celebrates young people for their innovative solutions to financial and societal challenges in their communities.
This national program awards 25 young leaders (ages 14-18) up to $15,000 to devote to their passion projects. Additionally, winners receive a trip to Prudential's headquarters in Newark, New Jersey, where they receive coaching, skills development, and networking opportunities with mentors to help take their innovative solutions to the next level.
For 18-year-old Sydnie Collins, one of the 2023 winners, this meant being able to take her podcast, "Perfect Timing," to the next level.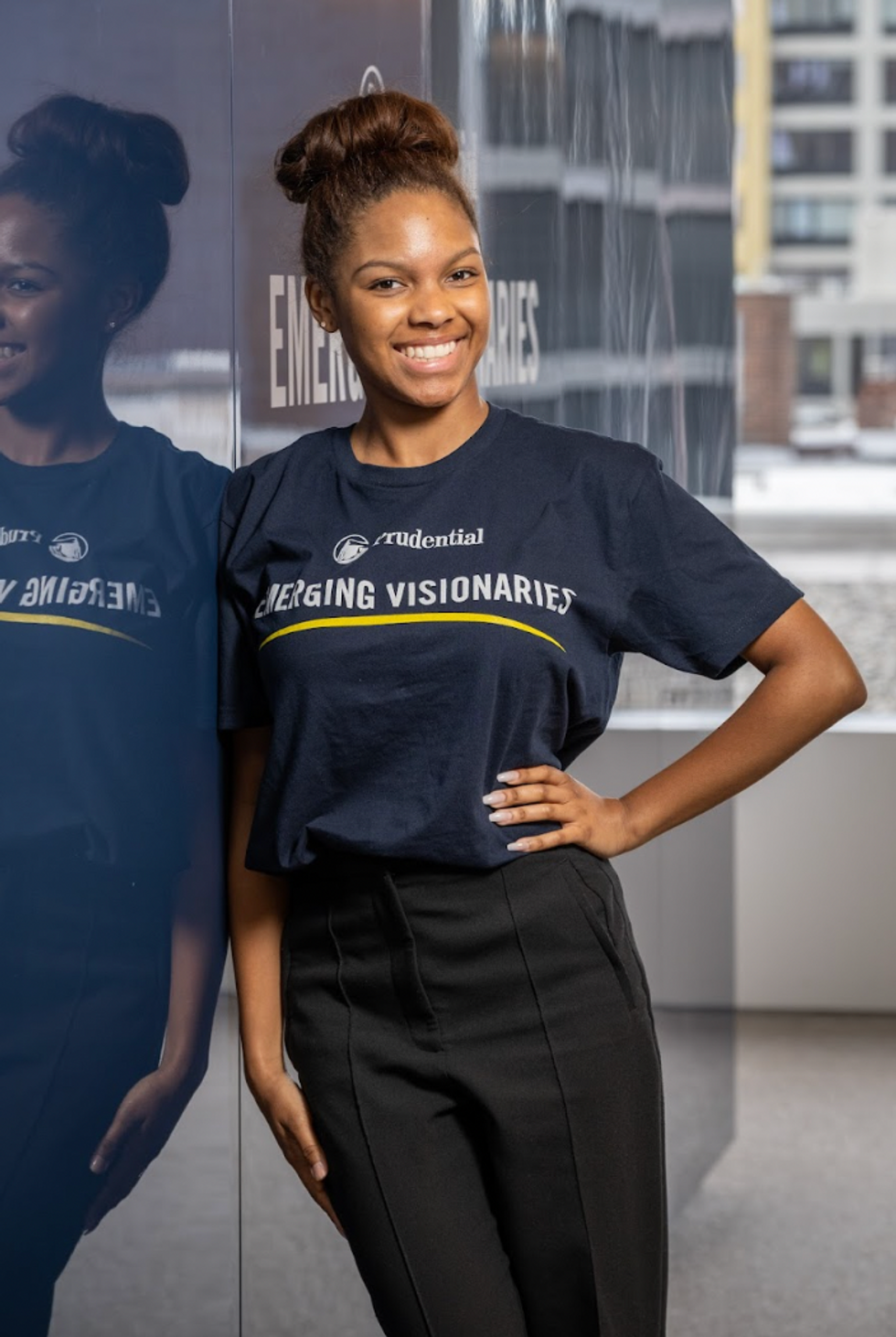 Since 2020, the Maryland-based teen has provided a safe platform that promotes youth positivity by giving young people the space to celebrate their achievements and combat mental health stigmas. The idea came during the height of Covid-19, when Collins recalled social media "becoming a dark space flooded with news," which greatly affected her own anxiety and depression.
Knowing that she couldn't be the only one feeling this way, "Perfect Timing" seemed like a valuable way to give back to her community. Over the course of 109 episodes, Collins has interviewed a wide range of guests—from other young influencers to celebrities, from innovators to nonprofit leaders—all to remind Gen Z that "their dreams are tangible."
That mission statement has since evolved beyond creating inspiring content and has expanded to hosting events and speaking publicly at summits and workshops. One of Collins' favorite moments so far has been raising $7,000 to take 200 underserved girls to see "The Little Mermaid" on its opening weekend, to "let them know they are enough" and that there's an "older sister" in their corner.
Of course, as with most new projects, funding for "Perfect Timing" has come entirely out of Collins' pocket. Thankfully, the funding she earned from being selected as a Prudential Emerging Visionary is going toward upgraded recording equipment, the support of expert producers, and skill-building classes to help her become a better host and public speaker. She'll even be able to lease an office space that allows for a live audience.
Plus, after meeting with the 24 other Prudential Emerging Visionaries and her Prudential employee coach, who is helping her develop specific action steps to connect with her target audience, Collins has more confidence in a "grander path" for her work.
"I learned that my network could extend to multiple spaces beyond my realm of podcasting and journalism when industry leaders are willing to share their expertise, time, and financial support," she told Upworthy. "It only takes one person to change, and two people to expand that change."
Prudential Emerging Visionaries is currently seeking applicants for 2024. Winners may receive up to $15,000 in awards and an all-expenses-paid trip to Prudential's headquarters with a parent or guardian, as well as ongoing coaching and skills development to grow their projects.
If you or someone you know between the ages of 14 -18 not only displays a bold vision for the future but is taking action to bring that vision to life, click
here
to learn more. Applications are due by Nov. 2, 2023.
Family
She didn't want the girl to "ruin" her photos of the trip.
popular
Who was this stranger, and what did they know?
Lake Fontana, A Brooklyn-based TikTokker, received a text message from a stranger in January of 2022, and it completely upended what she knew about her family. But it also taught her an important lesson about the relationships that matter in life.

"About a year ago now, on January 9, I got a text message telling me to get a DNA test from Ancestry, and I think it's fake," she shared on TikTok. "I FaceTime my friend, and I'm like, 'Listen to this.' And she's like, 'I swear my gut is telling me this is real. You need to respond.'"
The mystery person who reached out to Lane also made a burner Facebook account and reached out to her on that platform as well. "You have other family you might not be aware of,'" the mystery person texted her.
To learn the truth, Lane reached out to her mother. She admitted that the man who raised her wasn't her father. It was a man that she knew briefly in college when she was 35. "I almost fell off my f**king chair," Lane explained. "She had an affair with a guy ten years younger than her when she was in college. 'It was a one-time thing, but he even saw her on campus and said, 'Is that mine?' and she denied it."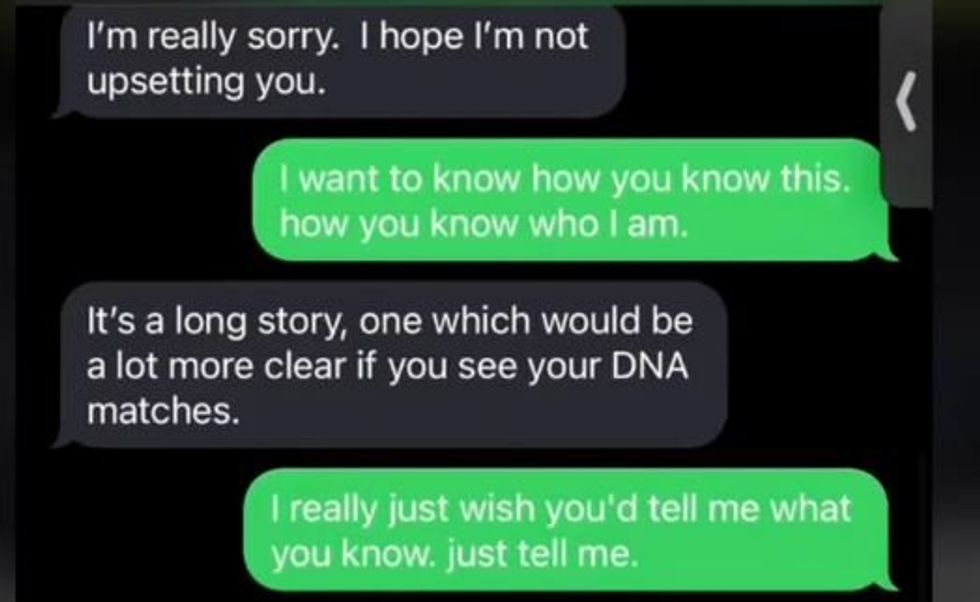 Then Lane received the results from Ancestry and learned the truth: her father was a British man who lives in California. The "mystery person" who reached out to her was his nephew.
Lane's biological father had attempted to get in touch with Lane over the years but was threatened by her mother. "So what did he do? He followed me on social media my entire life. He watched me date my boyfriend, get married, have babies, everything. All from the outside. Not able to know me," she said.
The biological father longed to hear her voice, so he called the salon where she works to ask the hours and then hung up. He wanted to fly out and get his haircut by her, but his wife was against it because, given their resemblance, she might figure things out pretty quickly.
Lane and her biological father finally met and spent 5 days together, but things didn't go as she hoped.
@laneiscool14

Replying to @rykoda #foryoupage #fyp #ancestrydnatestresults #dnaresults #storytime #viral
"Coming from a broken family, there's like this hole inside of me. I guess like was hoping that he was gonna fix me and I really tried to go into it with like an open mind and low expectations," she said in a TikTok video. "I felt like he was not interested in what I had to say. I felt like I was stupid. I felt like he didn't like me," she continued. "I mean, I'm a very warm, talkative, funny, goofy person and he is not like that. So it could just be who he is. He could even be just trying to respect me as an adult. But, um, our interactions left me feeling very confused and very invalidated."
The confusion with meeting her biological father made her relationship with the man who raised her seem even more important.
"Between him and I not a lot changes, like, that's still my dad," she said. "I'm still his daughter. My kids are still his grandkids. You know, like, he Facetimes my son every day. My son's named after him. Like, I have his signature on the back of my neck. That's my dad."
Lane is taking her relationship with the man she calls her "Biodad" in stride. But after all the changes in her life, she's happy to know the truth. "I'm just taking it at my own pace," she said. "I just feel like I have 2 dads now, which is a good thing. The more, the merrier."
Replying to @ashleey.victoria
Joy
Dillon Helbig's 81-page graphic novel— written by "Dillon His Self"—captured the hearts of his local librarians and their patrons.
Get stories worth sharing delivered to your inbox
Pop Culture
The woman paid $25 for a gown designed by the same person that designed gowns for Beyoncé and Jennifer Lopez.
Education
"We want everybody to feel good. That's not the way life is."
Get stories worth sharing delivered to your inbox