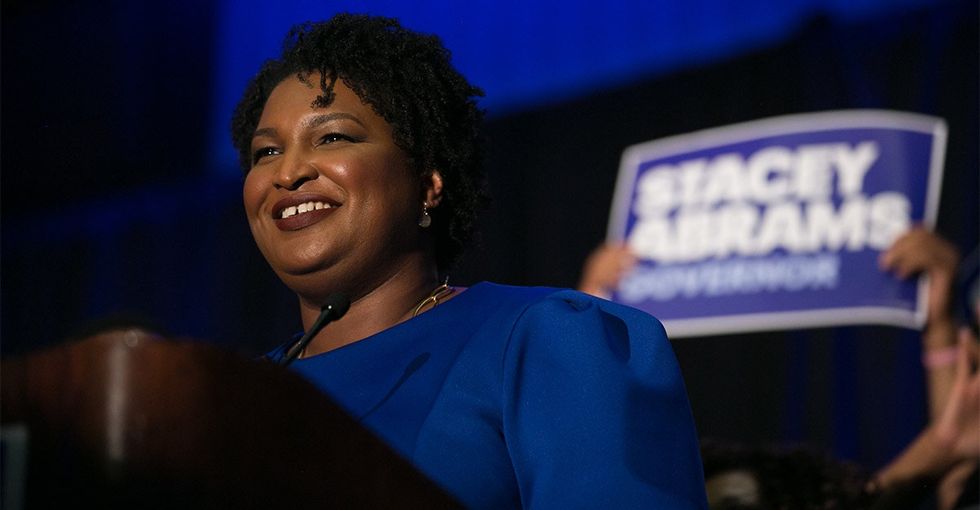 There was some beautiful, historic black girl magic in the sweet state of Georgia on the night of May 22, 2018.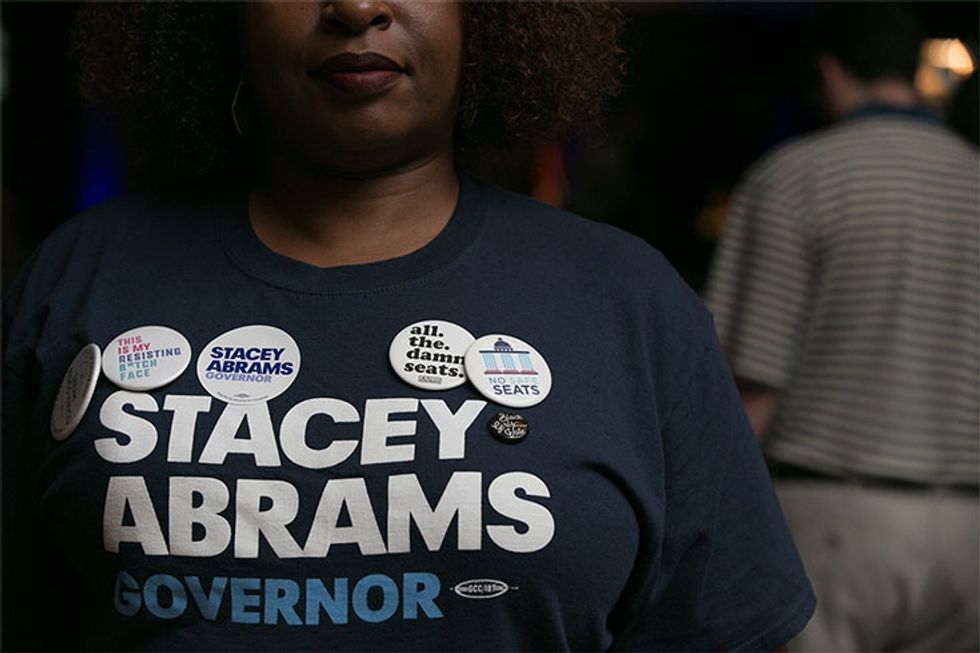 Photo by Jessica McGowan/Getty Images.
---
Stacey Abrams won the Democratic nomination for governor, becoming the first black woman in U.S. history to lead a major party in a gubernatorial race.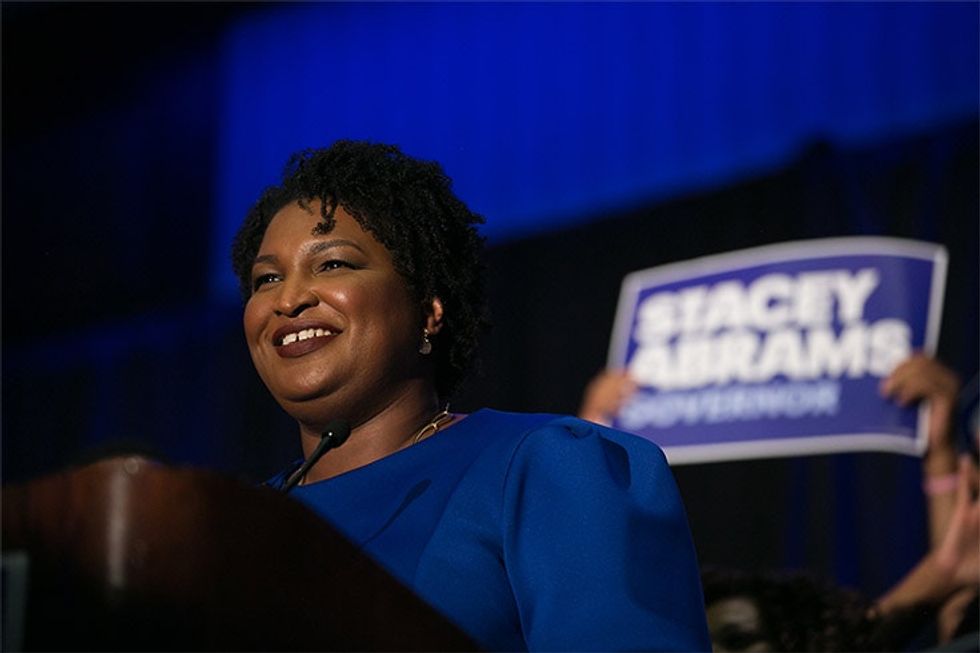 Photo by Jessica McGowan/Getty Images.
Her landmark victory sparked passion, excitement, and downright thrill across the nation. Many were pretty darn stoked.
Congratulations to @StaceyAbrams on her historic win tonight for the Democratic nomination for Georgia governor. Ma… https://t.co/DKwS4Mt9Hq

— Kamala Harris (@Kamala Harris)1527039234.0
Live from victory #TeamAbrams #BlackWomenLead https://t.co/sjRpSt4BWB

— L. Joy Williams (@L. Joy Williams)1527040622.0
Though considered an underdog, Abrams real shot at taking on such an important political role is profound. If she wins, she would be the first black female governor in American history.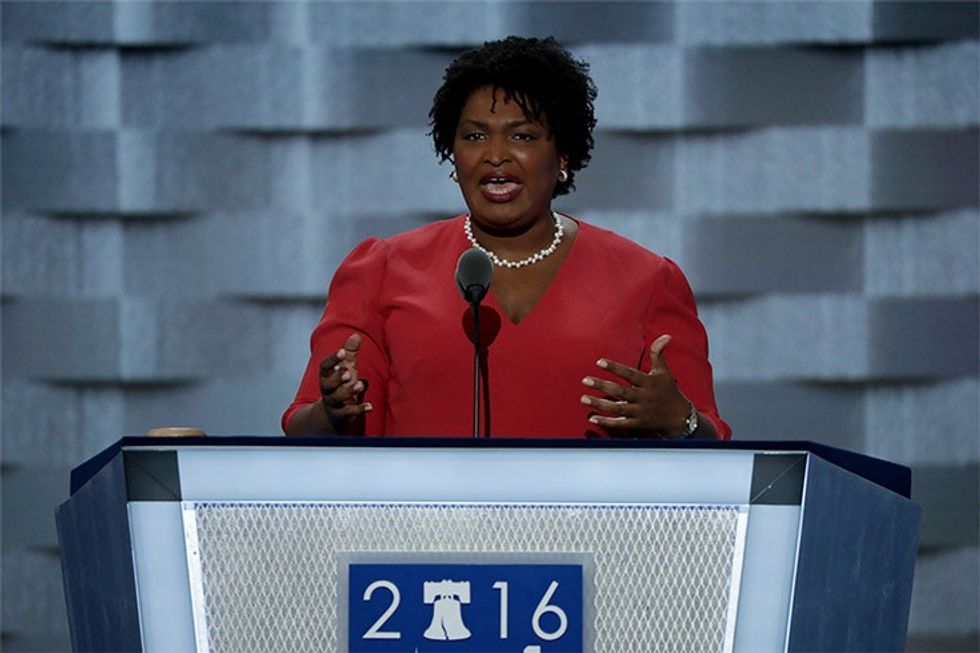 Abrams speaks at the 2016 Democratic National Convention. Photo by Alex Wong/Getty Images.
Historically, black people have been extremely engaged in politics and activism, but few have been able to take leading roles in government.
Currently, of the 535 members of Congress, 51 are black (46 representatives, two delegates, and three senators). Those numbers are even smaller for black women. The vast majority of black women currently in elected office represent majority-minority areas. But, with a win like this, Abrams is making it clear that the glass ceiling no longer exists for women of color.  
"We are writing the next chapter of Georgia's history, where no one is unseen, no one is unheard, and no one is uninspired," Abrams said to supporters at an Atlanta hotel.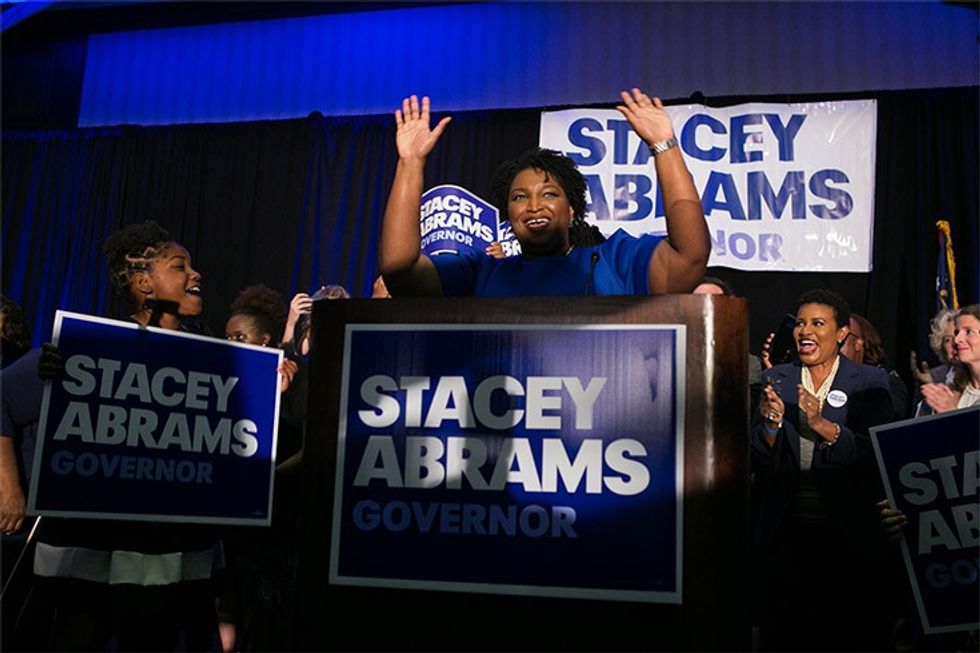 Photo by Jessica McGowan/Getty Images.
Abrams' road to the finish line won't be easy. Georgia is known as being a predominately red state when it comes to major elections. She'll be going up against a Republican nominee, likely the winner of a runoff in July between Lt. Gov. Casey Cagle and Secretary of State Brian Kemp, both heavy hitters in their party.
In spite of all these barriers, Abrams has proven she's up for the challenge, and it's safe to say she got some rad support behind her.
Congratulations, @staceyabrams. It was an honor to run in this historic primary against you. Now it's time to rally… https://t.co/eULl3iOqeM

— Stacey Evans (@Stacey Evans)1527044870.0
Congratulations @staceyabrams! Love you! Now, on to the next hurdle. I know you can clear it and I'm with you all t… https://t.co/9SNobAb2nK

— Wendy Davis (@Wendy Davis)1527041355.0
I am so excited my friend Stacey Abrams won Georgia's Democratic primary to become the nominee for governor - The 1… https://t.co/kJEQcg5yC2

— Cory Booker (@Cory Booker)1527041628.0
So what happens next?
Abrams will continue to prepare to run against a Republican candidate, and voters will make their choice known at the polls on Nov. 6, 2018. It should be an exciting ride to the finish line.