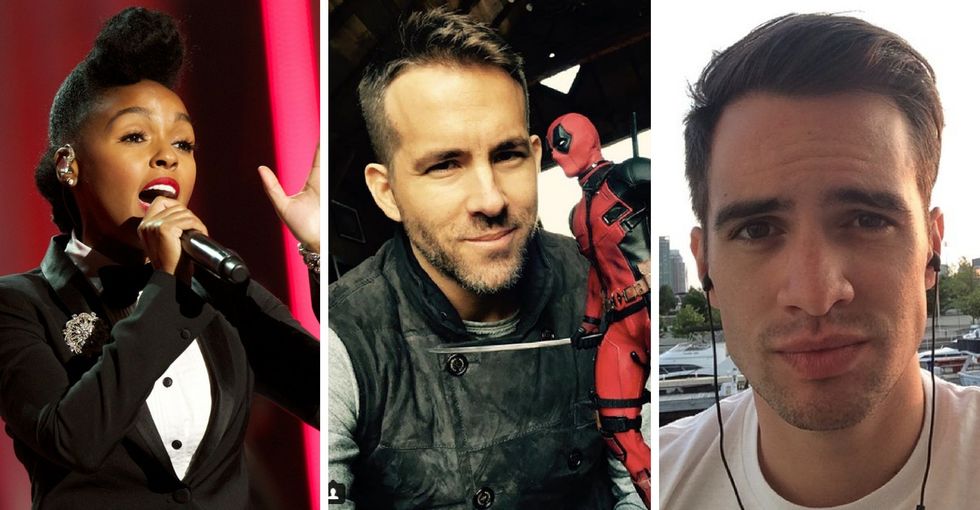 Movie gods, are you listening? I have an urgent request!
You know lovable, sardonic, Twitter parent of the year Ryan Reynolds, right?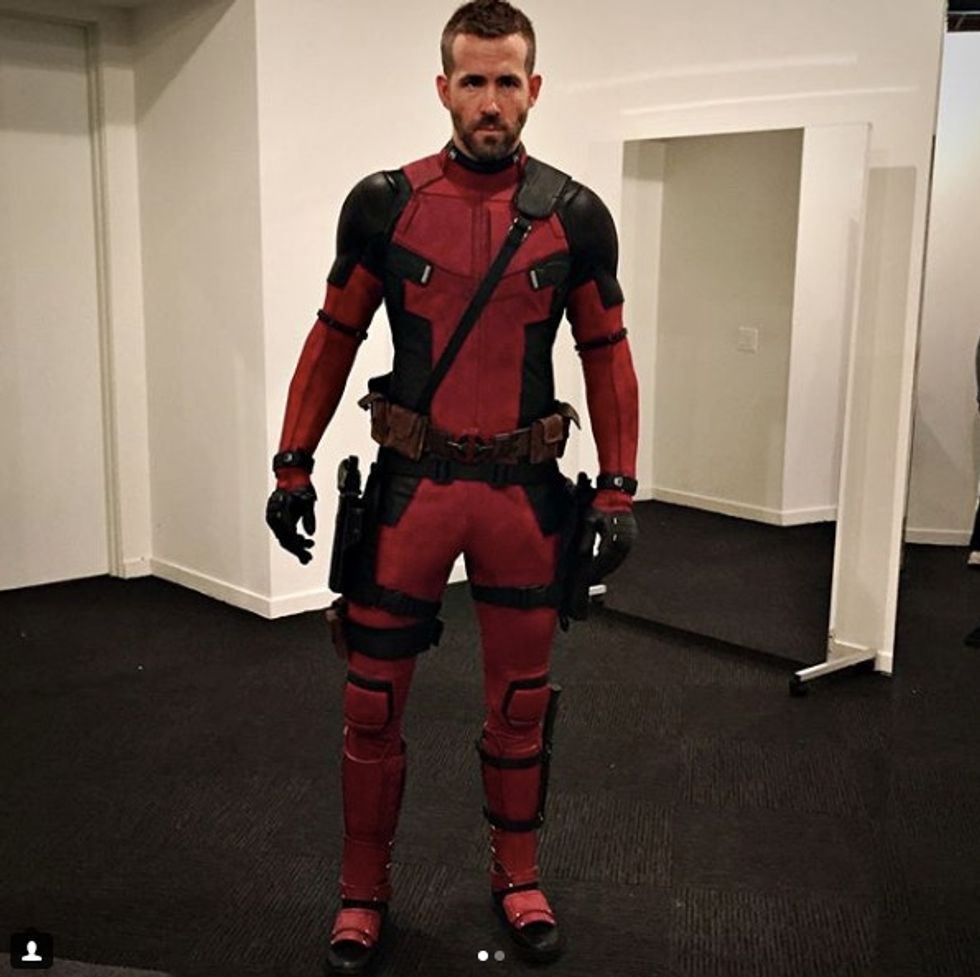 Photo via Ryan Reynolds/Instagram.
---
For those passed out under a rock, he plays Deadpool in "Deadpool." And — since I know Reynolds is waiting on bated breath to hear my opinion on the matter — I found him the perfect love interest for future "Deadpool" films.
*clears throat, pulls out megaphone*
Brendon Urie!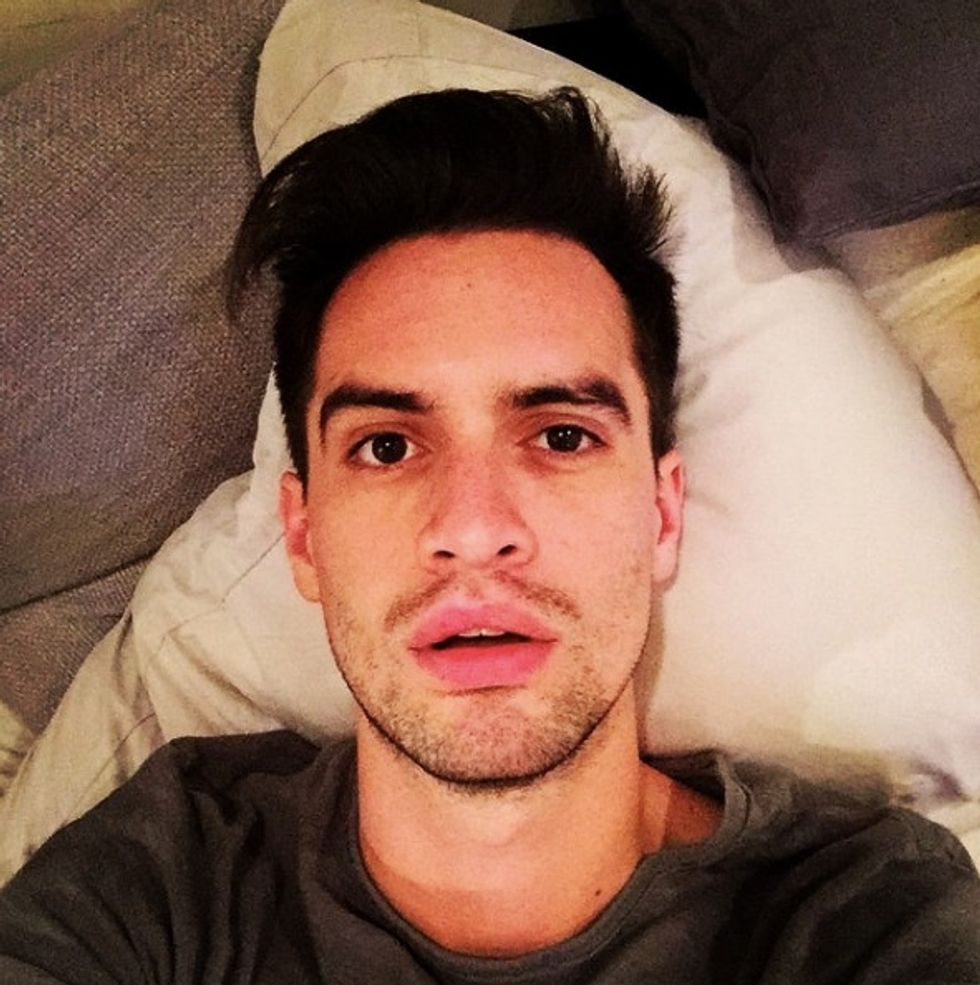 Photo via Brendon Urie/Instagram.
OK, so Urie may not be an A-list actor, per se. But he's the frontman of the pop rock band Panic! At the Disco — and a great choice to play a love interest of Deadpool's at some point.  
To see how I came up with this ingenious pairing, let's take a step back.
I read that Reynolds was asked at Comic-Con 2018 about LGBTQ representation in the "Deadpool" franchise.
It might be easy to assume Deadpool is straight if you've only seen the movies, seeing as the character has only cozied up with women on screen. But in the Marvel universe, Deadpool is pansexual.
Pansexuality falls in the same vein as bisexuality, advocates note, but the identity emphasizes more of an openness to all genders beyond men and women, such as non-binary folks.
Answering a fan's question during a panel, Reynolds said exploring the queer side of his character is "something that [he'd] love to see more of":
"I certainly think that this universe … needs to represent and reflect the world in very real ways. The great thing about 'Deadpool' is that we're allowed to do things that other superhero movies don't necessarily do. It's something that I'd love to see more of, certainly through Wade, certainly through this universe because it's something that we're building out more."
YES.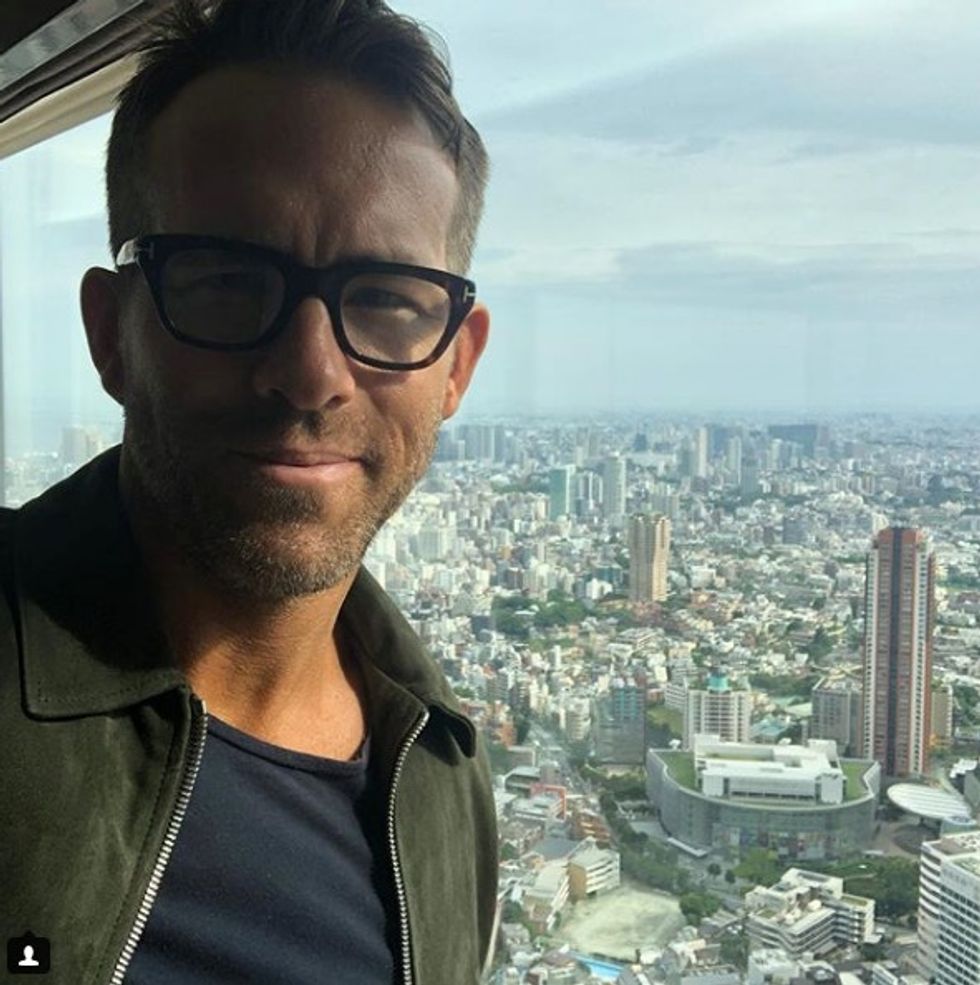 Photo via Ryan Reynolds/Instagram.
OK, hold that thought. Back to Urie.
The musician just came out publicly as pansexual in Paper magazine a few weeks ago.
"I'm married to a woman, and I'm very much in love with her, but I'm not opposed to a man because to me, I like a person," Urie explained. "Yeah, I guess you could qualify me as pansexual because I really don't care. If a person is great, then a person is great. I just like good people, if your heart's in the right place. I'm definitely attracted to men."
YES.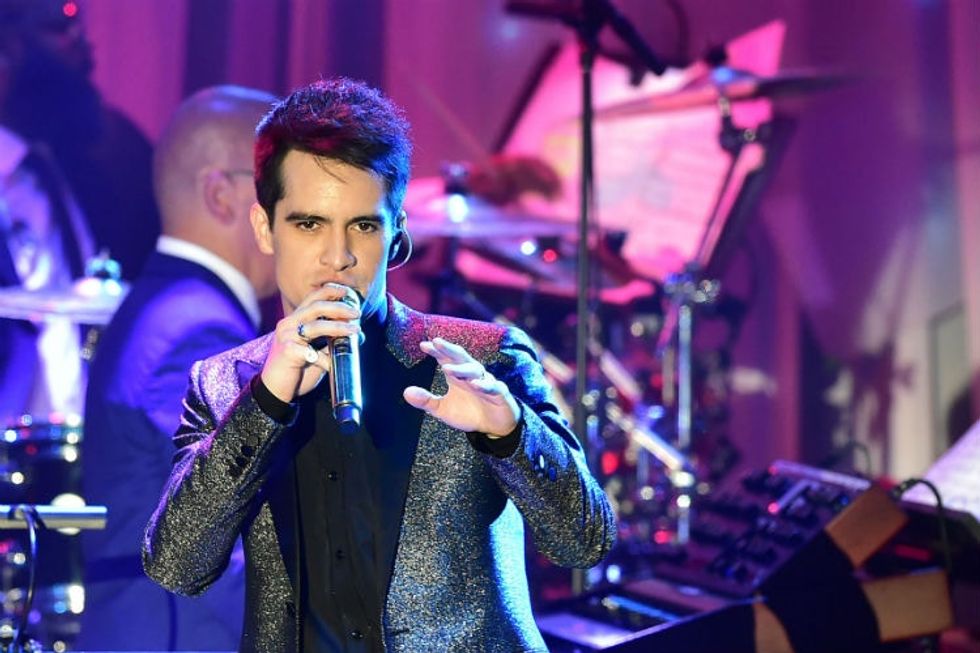 Photo by Frederic J. Brown/AFP/Getty Images.
Do you see where I'm going with this?!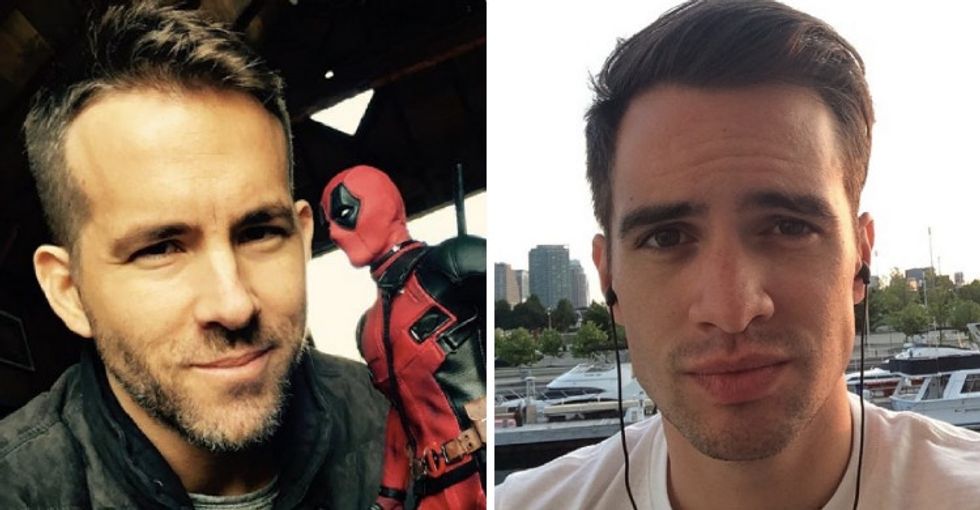 Photo via Ryan Reynolds/Instagram; Photo via Brendon Urie/Instagram.
Also, I realize Urie may be busy on tour, and that's understandable. So I thought of a couple backups, too.
Like Janelle Monae. She came out as pansexual in April.
"Being a queer black woman in America," she said, "Someone who has been in relationships with both men and women ― I consider myself to be a free-ass motherfucker."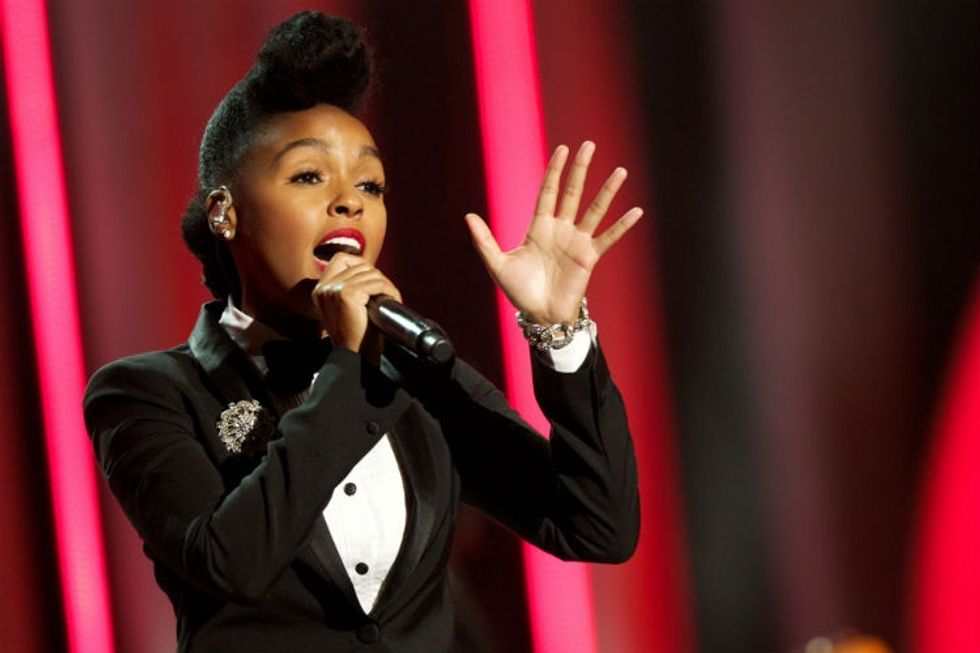 Photo by Ragnar Singsaas/Getty Images.
Or Miley Cyrus. She came out as pansexual in 2015.
"I am literally open to every single thing that is consenting and doesn't involve an animal and everyone is of age," she said. "I don't relate to being boy or girl, and I don't have to have my partner relate to boy or girl."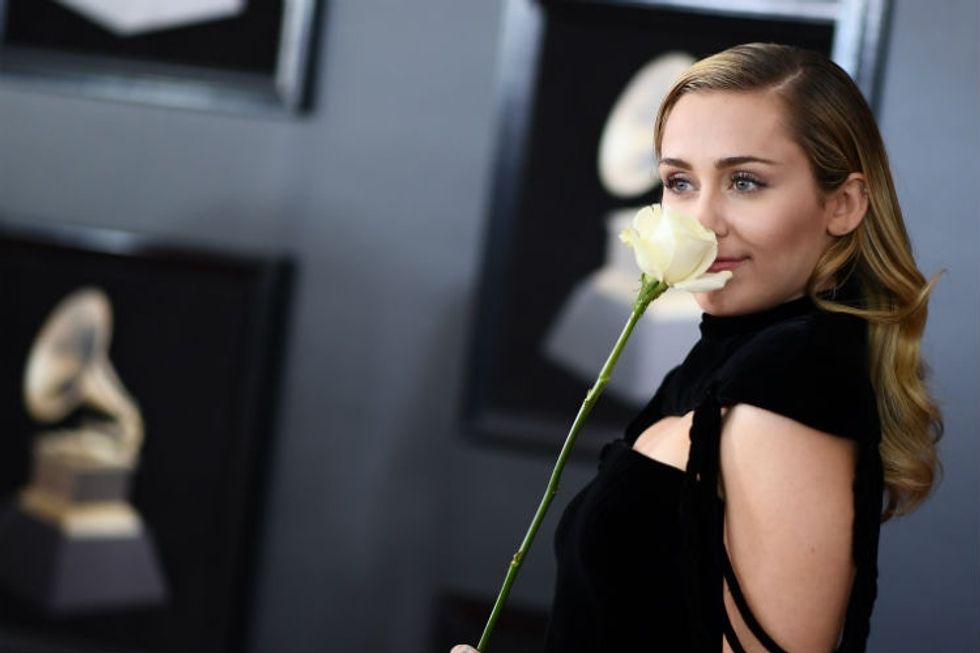 Photo by Jewel Samad/AFP/Getty Images.
See? We have options!
To be clear, pansexual people aren't solely attracted to other pansexual people. Deadpool could fancy a lesbian, or a straight man, or a bisexual non-binary person — anyone who floats his boat.
But it'd be fantastic to have someone who identifies as pansexual be part of a franchise that boasts one of the very few Hollywood stories containing a pansexual character.
Not only do we need more movies with queer characters telling their own stories, but we need those stories to be genuine to the queer experience.
A really easy way to do that is to hire gay actors to play gay roles and lesbian actors to play lesbian roles and transgender actors to play transgender roles (I'm looking at you, Scarlett Johansson).
Yes, yes, I know it's called "acting" for a reason — shouldn't anyone be allowed to play any role? In theory, yes. But it's not that simple.
Hollywood limits the opportunities it gives to openly LGBTQ artists. Even when there are roles for LGBTQ characters, they're often given to straight, cisgender actors. This hinders queer actors and makes for less authentic storytelling.
Who wants that nonsense?
*exhales, puts down megaphone*
So, yes. I really am requesting the movie gods create a "Deadpool" character just so Urie — or Cyrus, or Monae — can bring one fabulously queer romance to life on screen and fulfill my "Deadpool" fantasy.
Is that so much to ask?