Family
Letting kids have playtime is the most productive thing parents can do. Here's why.
Could regular playtime be setting kids up for a better life?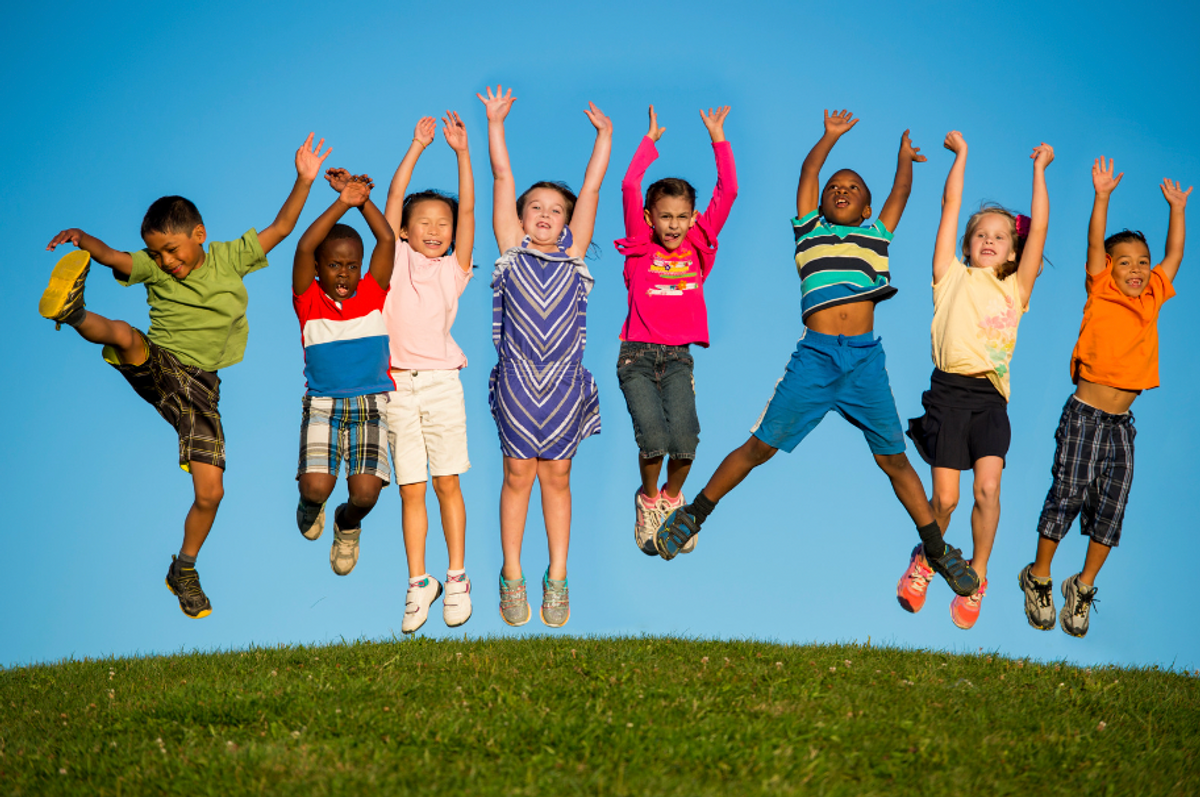 Canva
True
Nike's Made to Play
If you've ever watched kids on a playground running around and laughing, you might think they're just having a great time.

It's hard to imagine that something so fun could help them succeed at the more serious life stuff. But that is, in fact, exactly what playtime is doing.
Research has actually proven time and time again that regular play is integral to kids' success in school, social situations, and, eventually, the careers that they choose to pursue.
---
So the next time you see kids giggling while they hang on jungle gyms or dig around in a sandbox, you might not want to just write it off as silliness — they're actually learning the fundamentals of adult behavior.
Here are 21 reasons you should encourage the kids in your life to play more all year long.
1. Kids aren't made to sit still. They're made to play.
Human kids are born with a natural desire to play, and it helps them learn important skills. That said, today's kids are way less active than their parents and generations were before them. However, if you give the kids in your life the opportunity to play, you're doing your part to help reverse this unhealthy trend.
2. Playing helps kids stay active, and active kids do better in school.
Active kids tend to have increased concentration, go to school more regularly, and are usually better behaved once they get there. In fact, studies suggest that they're noticeably more attentive and less distracted right after an active play session.
So in a way, encouraging play is just as useful as paying extra for a tutor, if not more so.
3. They're also more well-adjusted overall.
Kids who play regularly tend to have healthier eating habits and more confidence than inactive kids because they're running on endorphins that boost mood and improve behavior.
Imagine, just by letting them go hog wild outside once a day, you might have the most well-adjusted kids on the block!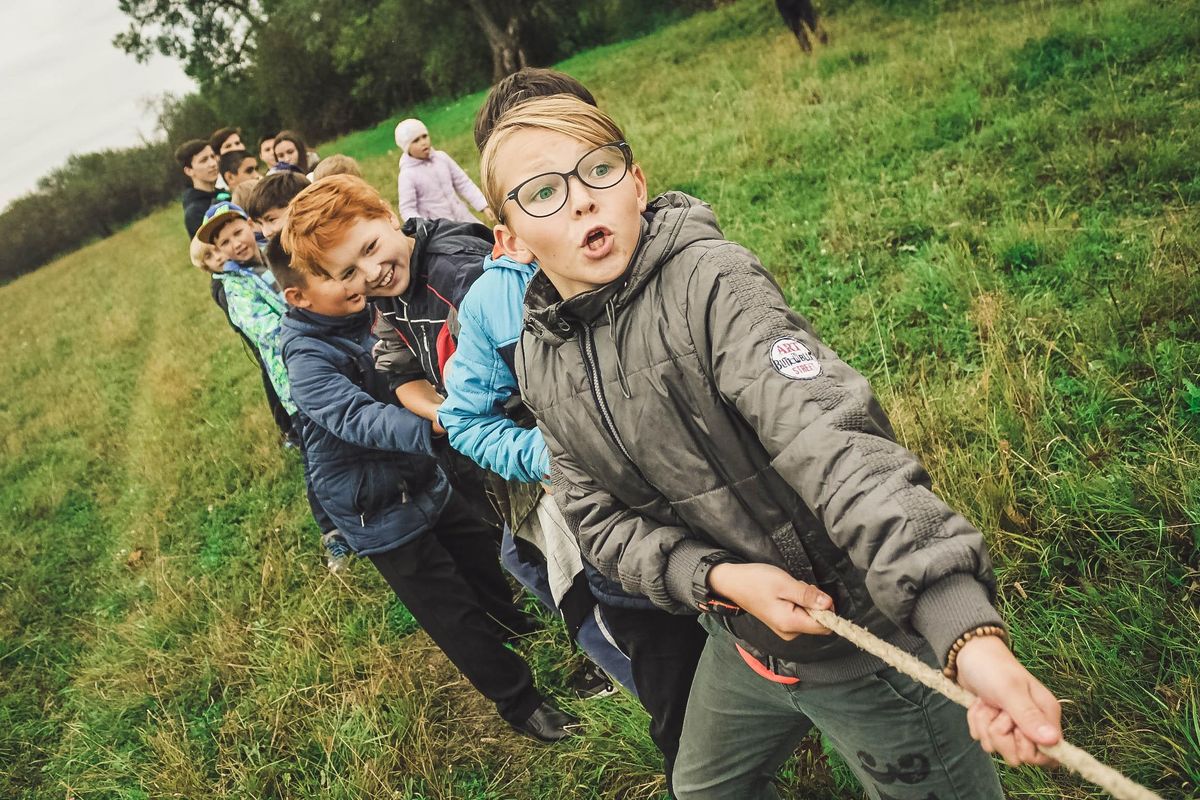 A group of children pulling a rope in a game of tug-o-war.
Photo by
Anna Samoylova
on
Unsplash
4. And play can give them a major mood boost.
Research suggests that being more physically active can improve a kid's self-esteem, mood, and social interactions all at once. If your kid mopes around the house, complaining that they have nothing to do, why not seize the opportunity and send them outside?
5. Play encourages healthy brain development, especially in younger kids.
You know how little kids seem to create fantastical worlds every time they play? All that creative thinking is helping them expand their imaginations in a super productive way. It's like cognitive strength training — not only are they building up their dexterity and physical strength, but by interacting with other kids in this way, they're also establishing emotional strength.
6. And that emotional strength pays off down the line.
Did you know that emotionally intelligent people tend to be more successful? According to analysis by Egon Zehnder International, it's one of the most common attributes of thriving senior executives. This is where that starts.
7. Meanwhile, not playing could actually shorten kids' lives.
According to the World Health Organization, physical inactivity is the fourth-leading risk factor for death worldwide. However, so far, that stat doesn't seem to be scaring people enough to get kids moving. Hopefully this list will encourage some parents to start changing that!
8. The sitting epidemic is very real, especially in our country.
In America alone, physical activity in kids between the ages of 9 and 15 has dropped by 75%. What better reason is there to make use of the longest day of the year?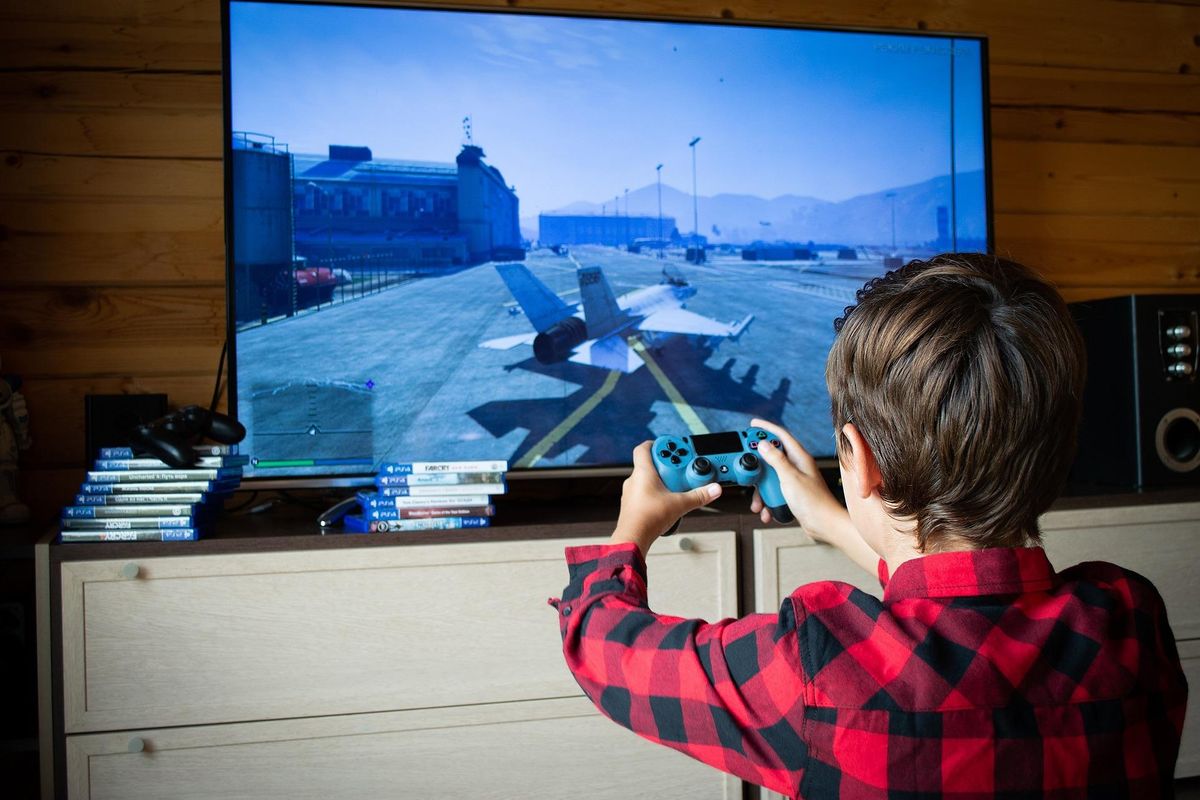 Kids have replaced physical activity with sedentary playing.
Photo from Pixabay
9. But American kids aren't the only ones who are affected by inactivity.
According to the World Health Organization, 80% of 11- to 17-year-olds around the world fail to meet the minimum requirements of physical activity: 60 minutes a day. If the trend continues, your kids could live five years less than you.
10. And kids get a little less active every year.
Children are the most active at age 6, and then they tend to start slowing down. By the time they're 19, many kids are as sedentary as 60-year-olds, according to The Washington Post.
While this sounds scary, a little extra playtime now can reverse this trend.
11. That said, kids who start out active tend to stay active.
It's pretty simple — starting such a habit at a young age is proven to help kids carry that habit with them into adulthood. And if they're active adults, odds are they'll encourage their kids to be active too — and just like that, you've started an extremely healthy chain reaction.
12. Child-driven play is also where kids learn skills they'll need as adults.
One of the biggest questions asked in job interviews is if you work well with others. That's not a skill you acquire in high school or college — it starts much earlier, on the playground. When left to their own devices, children develop the confidence they need to take control and make decisions. They also learn how to share, negotiate, and resolve conflicts in a diplomatic way.
13. Boys are twice as active as girls.
In fact, by the age of 14, girls drop out of team sports twice as often. Reasons for this include everything from a lack of athletic opportunities to social stigmas against sporty girls.
That's why it's so important to get girls moving early — so they'll be more inclined to stay in the game down the road.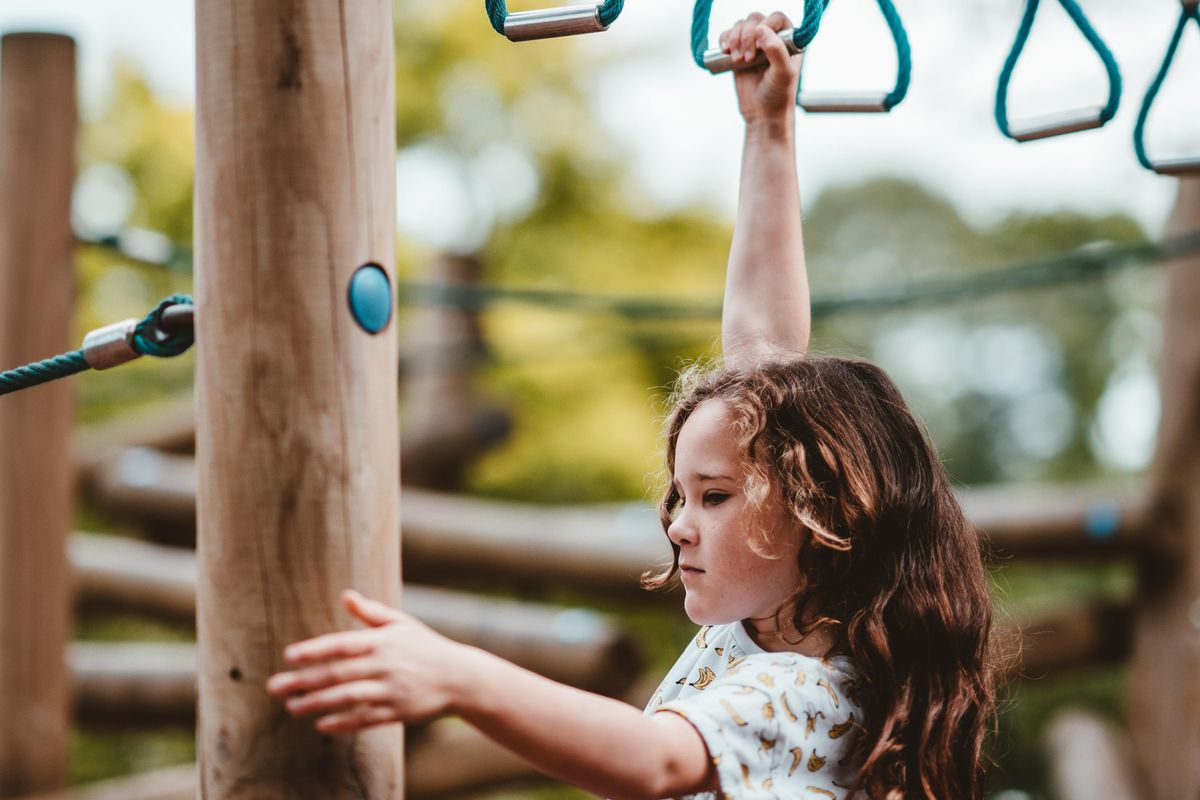 A young girl swings on the monkey bars.
Photo by
Annie Spratt
on
Unsplash
14. But when girls do stay active, it makes a huge difference.
Those who keep playing usually get giant doses of confidence and coping and decision-making skills. Simultaneously, risks of depression, stress, and other dangerous behaviors like eating disorders tend to drop off.
15. Plus, active girls tend to become successful women.
A 2015 study of 400 female C-suite executives found that over half of them played sports at a university level. What's more, Fortune found that over 80% of female Fortune500 executives played a competitive sport at some time in their lives.
Can you see these powerhouses as little tikes on the blacktop during recess? They must've given every boy a run for their money.
16. That's why it's so important for them to have motivators they can look up to.
Research suggests that when girls have positive female role models in their lives, it sets them up for a better future. Unfortunately, in 2017 only 28% of youth coaches were female. If more women can be that role model for their kids, nieces, or kids in their neighborhood, they'll be making a major impact on them.
17. Regardless of gender, though, when it comes to test scores, active kids set the curve.
When regular play is part of a child's life, it can help them stay attentive and put focused energy into their studies. And there are stats to prove it. According to the Centers for Disease Control and Prevention (CDC), students who are regularly active tend to have higher grade point averages and lower high school dropout rates. In fact, active kids have been shown to score up to 40% higher on tests than inactive kids.
18. Regular activity also gives your kid a better chance at a more successful career.
No matter what career path your 8-year-old chooses in the future, playing everyday now could give them the boost they need to land the job of their dreams. In fact, studies suggest physically active kids are 15% more likely to go to college and earn an average of 7-8% more money than an inactive kid.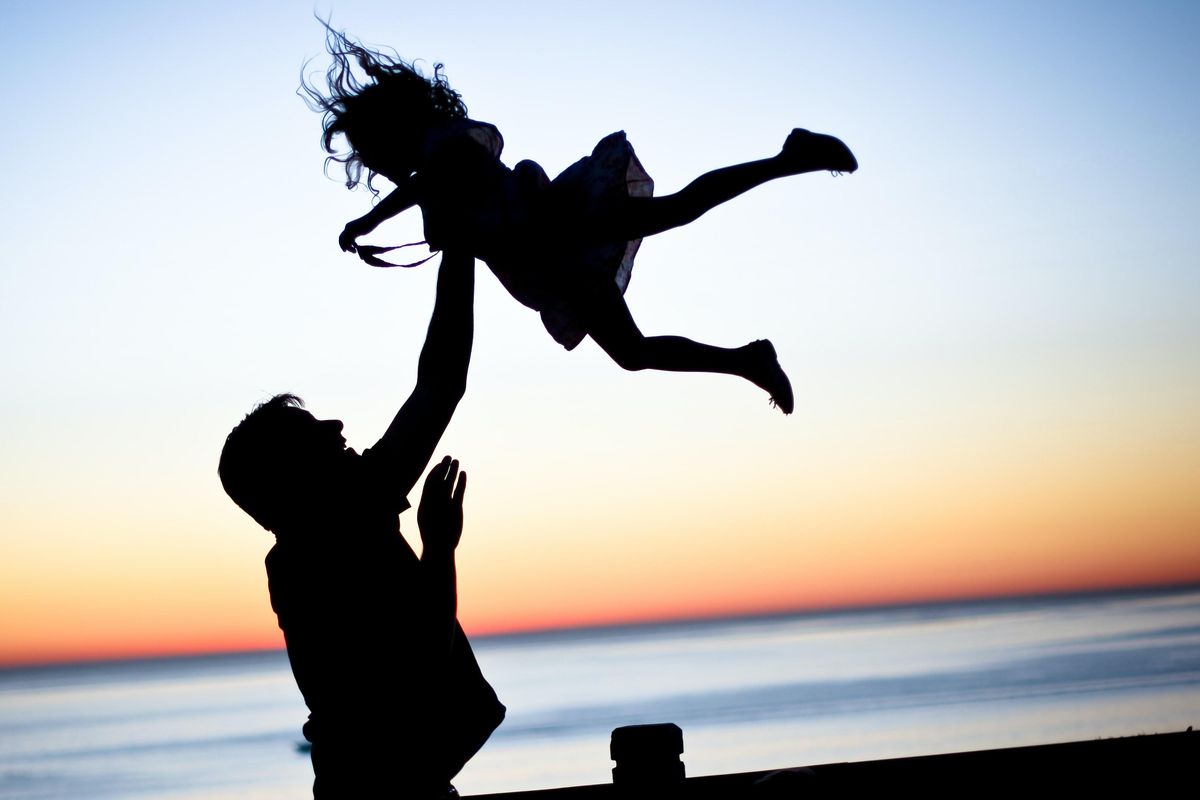 A father at play with his daughter.
Photo by
lauren lulu taylor
on
Unsplash
19. What's more, play is a great way for parents and kids to bond.
Kids learn games from their parents, and vice versa, which always makes for an incredibly adorable good time.
And, since school recess has been cut back, encouraging play is largely up to parents these days. Over the past two decades, schools across the country have cut down recess significantly — in some cases, entirely.
The more parents can motivate their kids to get moving outside of school, the more they'll counteract this unfortunate rollback.
20. But if parents get in the way of kid play too much, it can offset its benefits.
If you dictate how they should play, you might actually hinder all the positive effects playtime can have. Giving up that control might be hard, but it can also be a game changer in kids' development.
21. Play is so important that it is recognized by the United Nations as a fundamental human right.
Because the name suggests it's not productive time spent, it's easy to let playtime become a privilege or reward. But regular active play could be the difference between a happy, healthy, successful adult and one who struggles to get through the day.
If a prestigious, international organization like the U.N. understands that and puts its importance on par with food and shelter, it's time for parents and schools everywhere to pick up the play baton and run with it — and encourage their kids to do the same every day.
This article originally appeared on 06.21.18