Health
Enjoy these doodles about self-doubt and anxiety that are adorable and oh-so-relatable
It doesn't matter who you are or what you do, those worries and fears can strike at any moment.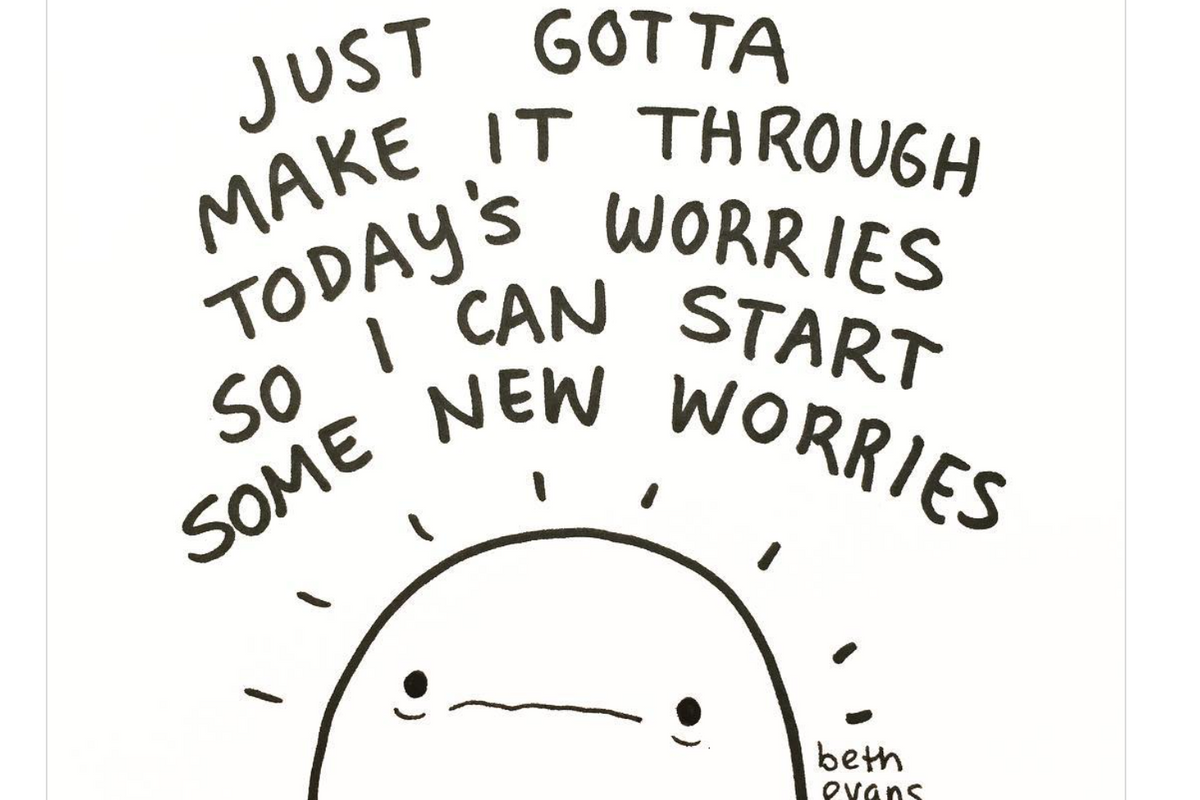 Beth Evans
From awkward phone calls and impostor syndrome, to depression and anxiety, at some point all of us have experienced challenging feelings and self-doubt.
It doesn't matter who you are or what you do, those worries and fears can strike at any moment.
That's why Beth Evans' comics feel so familiar and honest.
---
The 26-year-old from the Chicago area started doodling and drawing in college and now works on her comic full-time. Through uncomplicated line drawings and simple stories, Evans reveals a slice of her daily life, including some of her anxieties, brushes with self-doubt, and small victories. Working on the comic has helped Evans manage some of these thoughts and feelings too.
"Sometimes I'm not always able to express those feelings in my real life," she says. "Sometimes it's easier just to say 'Here's the awful emotion of the day, we're just going to put it down, put it out there. Maybe someone else feels that way so we can feel awful together."
Her work has clearly struck a chord, as she's amassed more than 216,000 followers — including some fans so dedicated that they've gotten tattoos of her work.
Evans is flattered by the gesture, though she's a little nervous too. "I just hope they like it," she says.
Her mindset speaks to the honesty and authenticity of her work — just like the rest of us, Evans experiences feelings of self-doubt. The common feeling just seems to be part and parcel of life as an adult. If we can't make it go away completely, at least we can commiserate together.
Here are 15 more of Evans comics that may have you saying, "It me."
1. When you make plans at night versus when you wake up.
2. You still earn a ribbon, even if you have nothing to show for it.
3. And don't get me started on impromptu small talk.
4. If you can limit the internal screaming to 5%, you're ahead of the curve.
5. This is how it goes down every. single. time.
6. Just in case you needed a reminder.
7. Though compliments can bring their own kind of anxiety.
8. Adulting isn't all it's cracked up to be, kids.
9. And why is saving money so, so hard?
10. You know what's more awkward than feeling all the feelings? Talking about the feelings.
11. But it's good, especially if you need to.
12. Raise your hand if you've played any of these before.
13. Even the love chart is easy to love.
14. It's totally OK not to know, btw.
15. And, finally, don't forget to give yourself a break.
No matter your worries, fears, "weird" thoughts, or wild ideas — remember, you're not alone.
Talk it out, or keep it to yourself. Feel free to laugh, cry, scream, or do something in between. Just remember you are enough, and you are pretty darn great right this second, OK?
And if you enjoy Evans' work, be sure to follow her on Instagram and Twitter.
This article originally appeared on 09.15.17