True
Davina Agudelo was born in Miami, Florida, but she grew up in Medellín, Colombia.

"I am so grateful for my upbringing in Colombia, surrounded by mountains and mango trees, and for my Colombian family," Agudelo says. "Colombia is the place where I learned what's truly essential in life." It's also where she found her passion for the arts.
While she was growing up, Colombia was going through a violent drug war, and Agudelo turned to literature, theater, singing, and creative writing as a refuge. "Journaling became a sacred practice, where I could leave on the page my dreams & longings as well as my joy and sadness," she says. "During those years, poetry came to me naturally. My grandfather was a poet and though I never met him, maybe there is a little bit of his love for poetry within me."
In 1998, when she left her home and everyone she loved and moved to California, the arts continued to be her solace and comfort. She got her bachelor's degree in theater arts before getting certified in journalism at UCLA. It was there she realized the need to create a media platform that highlighted the positive contributions of LatinX in the US.
"I know the power that storytelling and writing our own stories have and how creative writing can aid us in our own transformation."
In 2012, she started Alegría Magazine and it was a great success. Later, she refurbished a van into a mobile bookstore to celebrate Latin American and LatinX indie authors and poets, while also encouraging children's reading and writing in low-income communities across Southern California.

When the pandemic hit in 2020, she decided it was time to do even more to serve people during these difficult times.
"It became clearer to me that the lack of representation in the book publishing industry for BIPOC/LatinX writers & poets had to change," she says. "I want to be an agent of change in the publishing industry and contribute to its transformation."
She created Alegría Publishing to nurture and produce works by indie LatinX storytellers and expanded the mobile bookstore to celebrate BIPOC/LatinX writers and poets, as well as the books published by Alegría publishing. And one day she hopes that she can take the bookstore across the United States and discover even more emerging writers.
Today, Agudelo also mentors indie authors two nights a week through the Alegría Writing Collective for LatinX writers. "They rock my world every class," she says.
"The amount of talent in our community pushes me to keep growing our company so the world can read their work and remember their names."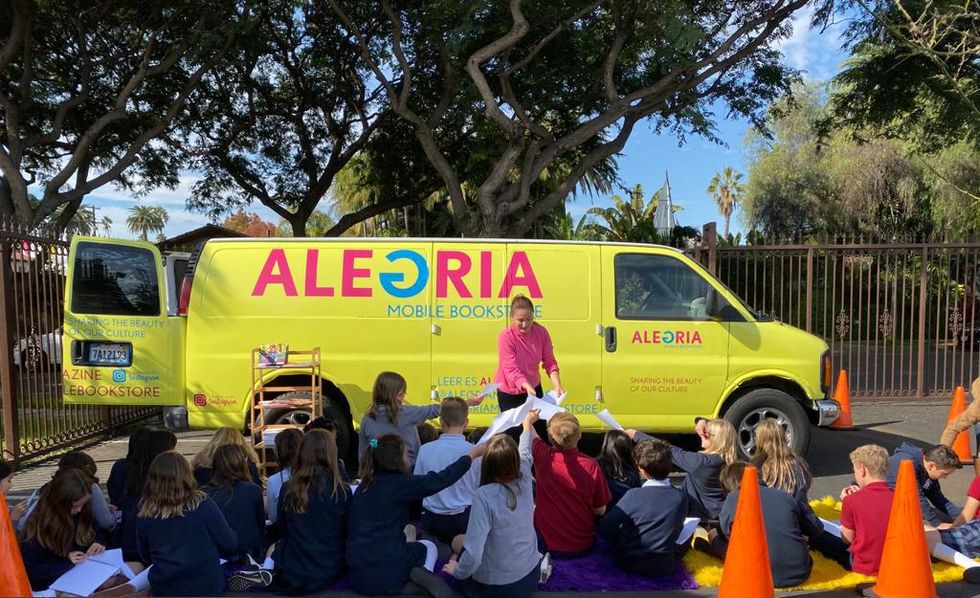 Agudelo has made it her mission to empower women and her community. "My career has been such a blessing filled with magical milestones and I never take these moments for granted," she says. "There is nothing like being able to make a woman's dream of publishing their first book and bring it to life. Watching their reaction, when they look at their book for the first time is priceless."

"As women, we are naturally powerful, we just have to keep reminding each other of our power."
Agudelo is one of Tory Burch's Empowered Women this year. The donation she receives as a nominee is being awarded to The Sims Library of Poetry, which is the first black-owned poetry library in California.
"Hiram Sims, its founder, started lending books to his university students out of this suitcase after mandating that they read one book of poetry a week. As demand grew, his suitcase library was forced to seek a larger home," says Agudelo. "Their mission is to serve, educate, and foster a love for poetry, especially for marginalized people of color in the community of South Los Angeles."
To learn more about Tory Burch and Upworthy's Empowered Women program visit toryburch.com/empoweredwomen. Nominate an inspiring woman in your community today.
This article originally appeared on 07.11.17
Madalyn Parker wanted to take a couple days off work. She didn't have the flu, nor did she have plans to be on a beach somewhere, sipping mojitos under a palm tree.
Parker, a web developer from Michigan, wanted a few days away from work to focus on her mental health.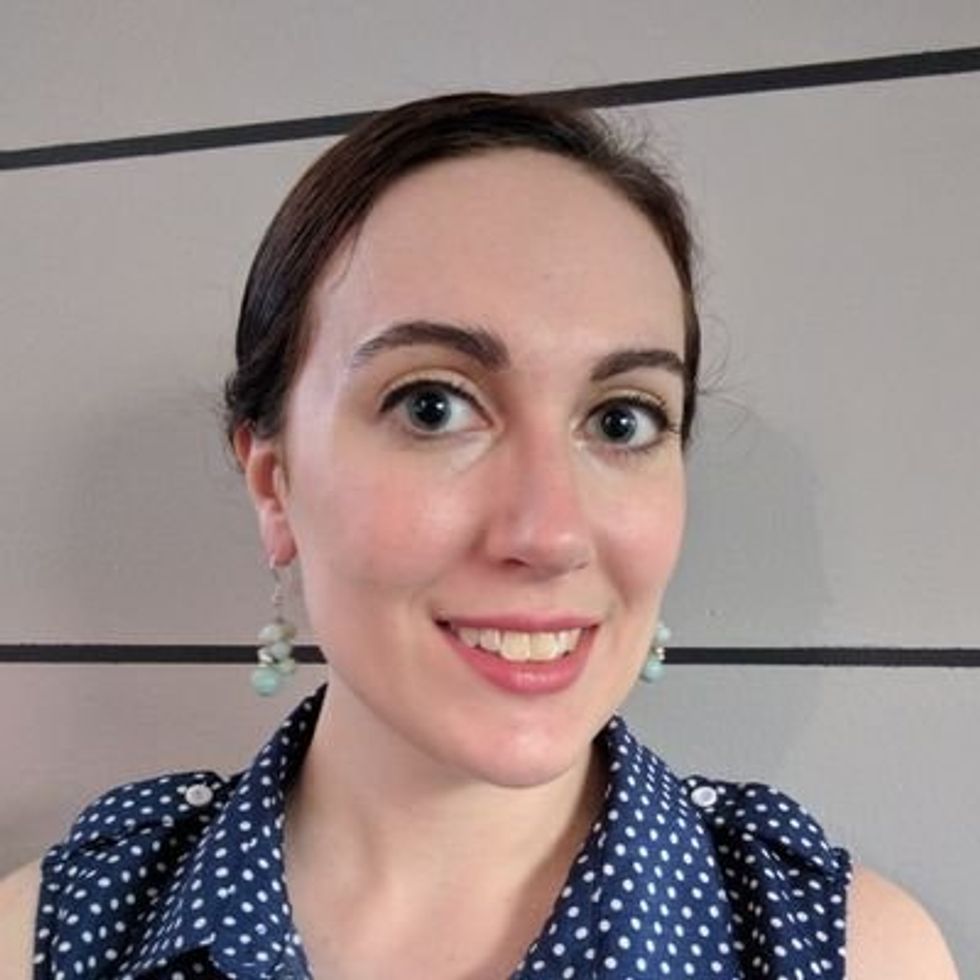 Photo courtesy of Madalyn Parker.
Parker lives with depression. And, she says, staying on top of her mental health is absolutely crucial.
"The bottom line is that mental health is health," she says over email. "My depression stops me from being productive at my job the same way a broken hand would slow me down since I wouldn't be able to type very well."
She sent an email to her colleagues, telling them the honest reason why she was taking the time off.
"Hopefully," she wrote to them, "I'll be back next week refreshed and back to 100%."
Soon after the message was sent, the CEO of Parker's company wrote back:
"Hey Madalyn,

I just wanted to personally thank you for sending emails like this. Every time you do, I use it as a reminder of the importance of using sick days for mental health — I can't believe this is not standard practice at all organizations. You are an example to us all, and help cut through the stigma so we can all bring our whole selves to work."
Moved by her CEO's response, Parker posted the email exchange to Twitter.
When the CEO responds to your out of the office email about taking sick leave for mental health and reaffirms your… https://t.co/KLfhpXNBfB

— madalyn (@madalyn)1498854569.0
The tweet, published on June 30, 2017, has since gone viral, amassing 45,000 likes and 16,000 retweets.
"It's nice to see some warm, fuzzy feelings pass around the internet for once," Parker says of the response to her tweet. "I've been absolutely blown away by the magnitude though. I didn't expect so much attention!"
Even more impressive than the tweet's reach, however, were the heartfelt responses it got.
"Thanks for giving me hope that I can find a job as I am," wrote one person, who opened up about living with panic attacks. "That is bloody incredible," chimed in another. "What a fantastic CEO you have."
Some users, however, questioned why there needs to be a difference between vacation time and sick days; after all, one asked, aren't vacations intended to improve our mental well-being?
That ignores an important distinction, Parker said — both in how we perceive sick days and vacation days and in how that time away from work is actually being spent.
"I took an entire month off to do partial hospitalization last summer and that was sick leave," she wrote back. "I still felt like I could use vacation time because I didn't use it and it's a separate concept."
Many users were astounded that a CEO would be that understanding of an employee's mental health needs.
They were even more surprised that the CEO thanked her for sharing her personal experience with caring for her mental health.
After all, there's still a great amount of stigma associated with mental illness in the workplace, which keeps many of us from speaking up to our colleagues when we need help or need a break to focus on ourselves. We fear being seen as "weak" or less committed to our work. We might even fear losing our job.
Ben Congleton, the CEO of Parker's company, Olark, even joined the conversation himself.
In a blog post on Medium, Congleton wrote about the need for more business leaders to prioritize paid sick leave, fight to curb the stigma surrounding mental illness in the workplace, and see their employees as people first.
"It's 2017. We are in a knowledge economy. Our jobs require us to execute at peak mental performance," Congleton wrote. "When an athlete is injured, they sit on the bench and recover. Let's get rid of the idea that somehow the brain is different."
Get stories worth sharing delivered to your inbox