Planet
The ocean is the heart of our planet. It needs our help to be healthy.
Ocean Wise
True
The ocean covers over 71% of the Earth's surface and serves as our planet's heart. Ocean currents circulate vital heat, moisture, and nutrients around the globe to influence and regulate our climate, similar to the human circulatory system. Cool, right?
Our ocean systems provide us with everything from fresh oxygen to fresh food. We need it to survive and thrive—and when the ocean struggles to function healthfully, the whole world is affected.
Pollution, overfishing, and climate change are the three biggest challenges preventing the ocean from doing its job, and it needs our help now more than ever. Humans created the problem; now humans are responsible for solving it.
#BeOceanWise is a global rallying cry to do what you can for the ocean, because we need the ocean and the ocean needs us. If you're wondering how—or if—you can make a difference, the answer is a resounding YES. There are a myriad of ways you can help, even if you don't live near a body of water. For example, you can focus on reducing the amount of plastic you purchase for yourself or your family.
Another easy way to help clean up our oceans is to be aware of what's known as the "dirty dozen." Every year, scientists release an updated list of the most-found litter scattered along shorelines. The biggest culprit? Single-use beverage and food items such as foam cups, straws, bottle caps, and cigarette butts. If you can't cut single-use plastic out of your life completely, we understand. Just make sure to correctly recycle plastic when you are finished using it. A staggering 3 million tons of plastic ends up in our oceans annually. Imagine the difference we could make if everyone recycled!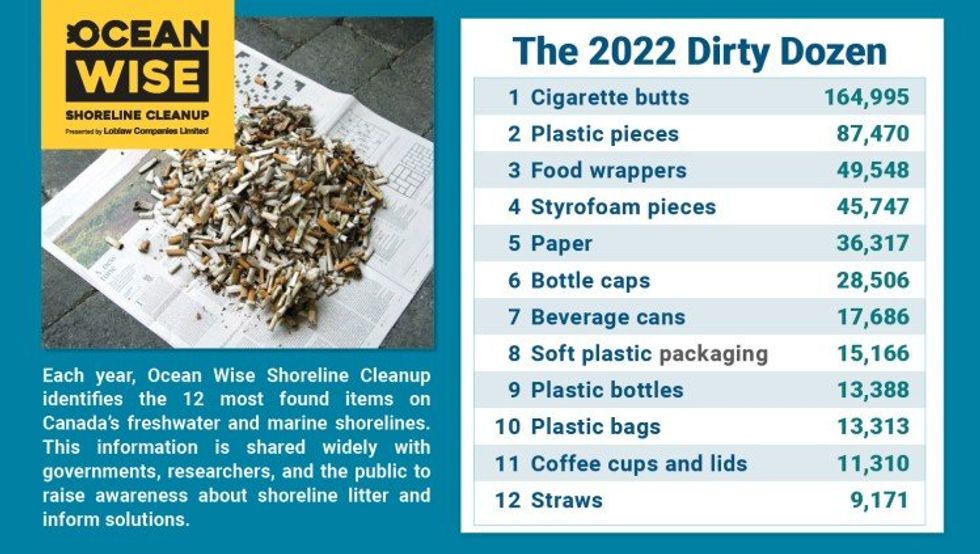 The 2022 "Dirty Dozen" ListOcean Wise
If you live near a shoreline, help clean it up! Organize or join an effort to take action and make a positive impact in your community alongside your friends, family, or colleagues. You can also tag @oceanwise on social if you spot a beach that needs some love. The location will be added to Ocean Wise's system so you can submit data on the litter found during future Shoreline Cleanups. This data helps Ocean Wise work with businesses and governments to stop plastic pollution at its source. In Canada, Ocean Wise data helped inform a federal ban on unnecessary single-use plastics. Small but important actions like these greatly help reduce the litter that ends up in our ocean.
Ocean Wise, a conservation organization on a mission to restore and protect our oceans, is focused on empowering and educating everyone from individuals to governments on how to protect our waters. They are making conservation happen through five big initiatives: monitoring and protecting whales, fighting climate change and restoring biodiversity, innovating for a plastic-free ocean, protecting and restoring fish stocks, and finally, educating and empowering youth. The non-profit believes that in order to rebuild a resilient and vibrant ocean within the next ten years, everyone needs to take action.
Become an Ocean Wise ally and share your knowledge with others. The more people who know how badly the ocean needs our help, the better! Now is a great time to commit to being a part of something bigger and get our oceans healthy again.

Pets
A quick trip to the vet confirmed the cats' and family's suspicions.
You know that feeling you get when you walk into a classroom and see someone else's stuff on your desk?

OK, sure, there are no assigned seats, but you've been sitting at the same desk since the first day and everyone knows it.
So why does the guy who sits next to you put his phone, his book, his charger, his lunch, and his laptop in the space that's rightfully yours? It's annoying.
All you want to do was walk in, sit down, get out your notebook and (try to) pay attention. But now? Now you've got to talk to a stranger about moving their stuff and there goes your day, already bogged down with petty annoyances.
Sound familiar? It should.
We've all got so much to do these days that interacting with people we see every day — not our friends, but our classmates, fellow commuters, co-workers, the people in line for coffee with us every day — can feel like a burden.
So, when these people do something we perceive as annoying, like putting their stuff on our desks, we don't have the time or the energy to assume their intentions or think about the lives they're leading.
But if we stepped out of ourselves for a second, we might just realize that we're all much more connected than we think, that our preconceived notions of others are usually just that — preconceived. And, often, inaccurate.
That's why this Twitter story about a guy who learned an important life lesson from a classmate he was frustrated with is going viral.
It's the perfect example of that "don't judge a book by its cover" adage we should have all learned in preschool but sometimes forget. And it starts the exact same way as this post — with a college student groaning on the inside as he sees someone's stuff on his desk.
If not for this one day running late, McFall may have never realized what his classmate was trying to do. And he may have continued to think of him as annoying, maybe telling others about "the weird guy who was always trying to take up my space"... when all the guy was really trying to do was be kind.
We all misinterpret the actions of others sometimes. It's easy to do that!
But if there's one thing this story reminds us, it's that it's important to stop and remember that while you're living your life, other people are living theirs, so assuming best intentions can do us a great favor.
That's why we should step outside of our bubbles and engage with the world on a regular basis.
You could make a new friend. You might brighten someone's day.
But most importantly, getting out of your own head, checking your own biases, and giving others the benefit of the doubt will make you a more compassionate person.
You don't have to engage with everyone you meet, but the next time someone smiles and offers you a high-five?
Maybe just take them up on it.
This article was originally published on April 16, 2018.
Get stories worth sharing delivered to your inbox
Education
This book has saved me thousands of dollars and changed my entire perspective on "frugality."
Joy
"Don't fall into the trap of thinking everyone else your age has something that you don't."
With countless unique events at your fingertips, Vivid Seats is the ultimate playground for event enthusiasts.
The lights dim, the crowd erupts into cheers, and your heart is racing with pure, unadulterated excitement. Remember that magical night under a canopy of twinkling stars, with your favorite band playing live, where the electrifying energy in the air made you feel truly alive? Those moments of joy, laughter, and perhaps a shared glance with a fellow fan turn into cherished memories, etched in your mind forever.
Now, imagine stepping into a vibrant world where such moments aren't just once-in-a-lifetime experiences but a regular joy. This is where Vivid Seats steps in, a gateway to not just witness but truly live these awe-inspiring moments. With a remarkable array of events and a seamless journey from choosing an event to stepping into the venue, Vivid Seats promises not just tickets but keys to unforgettable experiences, opening doors to a world where every fan finds their heart's desire. Vivid Seats crafts memories that are as vivid as life itself!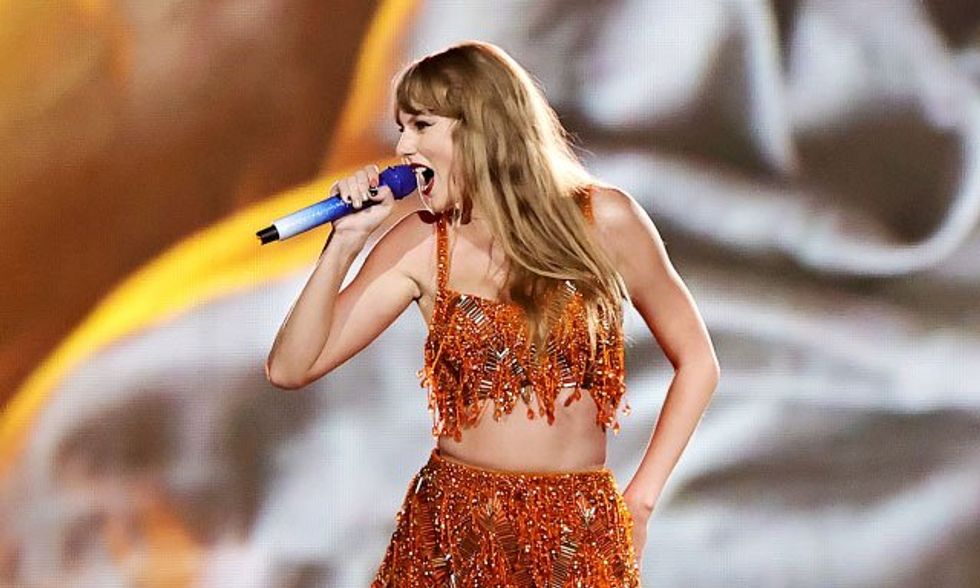 Imagine having a golden ticket that unlocks a world where the music of your favorite band resonates and NFL action unfolds right before your eyes. At Vivid Seats, we turn this dream into reality, offering access to over a million unique events. It's not just a ticket; it's your passport to unforgettable experiences!
Navigating this vast array of events is a breeze with Vivid Seats. Our platform is designed with you in mind, making it easy to find and book the events you love. With a user-friendly interface and exciting features, we ensure your journey from choosing to attending an event is as smooth and enjoyable as possible.

Diving into the whirlwind of live events is now a breeze with Vivid Seats by your side. They have a rock-solid 100% buyer guarantee. It promises you valid and authentic tickets every time, wiping away those nagging worries about online ticket purchases. And the transactions are 100% safe, keeping your precious information secured. It doesn't end there! In case you stumble upon any hitches, there's a friendly team ready to assist you and ensure your journey is a smooth one.
But Vivid Seats is not just a ticket provider; it's your go-to source for the latest buzz in the entertainment sphere. Whether you're into foot-tapping Latin beats, thrilling touchdowns, or sensational pop concerts, the Vivid Seats blog is your treasure trove of information. It keeps you in the loop with the freshest updates on tour dates, NFL schedules, and much more, ensuring you're always ahead in planning your next vivacious outing.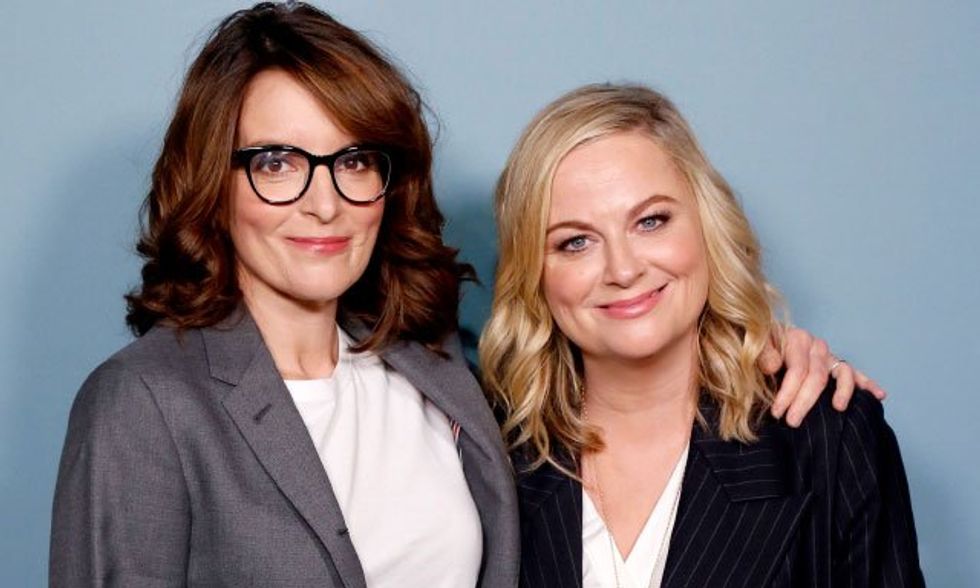 Stepping up in the game of offering exceptional experiences, Vivid Seats has got your back with their top-notch customer service. Imagine having a friend who's always there to help you score the best seats, any day, anytime! With extended business hours, you can reach out and expect a helpful hand to assist you, be it a ticket reissuing dilemma or other concerns. They are your friendly guide to the world of live events, always ready to lend a helping hand.
And don't sweat those last-minute ticket hunts; Vivid Seats has mastered the art of delivering happiness right on time. Even if the clock is ticking, they maneuver skillfully to ensure your tickets reach you before the event kicks off. No more nail-biting moments, only the joyful anticipation of a great time ahead. Vivid Seats is your trusted ally in crafting unforgettable moments, sprinkled with ease and convenience!

There is no thrill like an amazing live event! That's why Vivid Seats devised a fantastic rewards program where every ticket you buy gets you a step closer to even more spectacular experiences.
With each ticket you snag, you're not just securing a seat but also collecting stamps that take you closer to delightful rewards. It's as simple as "Collect, Redeem, Repeat!" Just grab any ticket to any event you fancy, and lo and behold, stamps will start piling up in your account automatically, paving the way to exciting Reward Credits. These credits are your golden ticket to even more exhilarating events, easily redeemable through the Vivid Seats app.
But hold on, the fun doesn't stop there! You see, the more you dive into these live experiences, the higher you climb up the loyalty ladder. Starting as a 'Fan', where birthday treats await, you could escalate to a 'Rising Star' with two years of reward credit validity. Pump up the game to be a 'Super Fan' and see your credits last for three glorious years. And for the true aficionados, the 'Icon' level unfolds with a splendid four-year span to use your credits and enjoy surprise upgrades.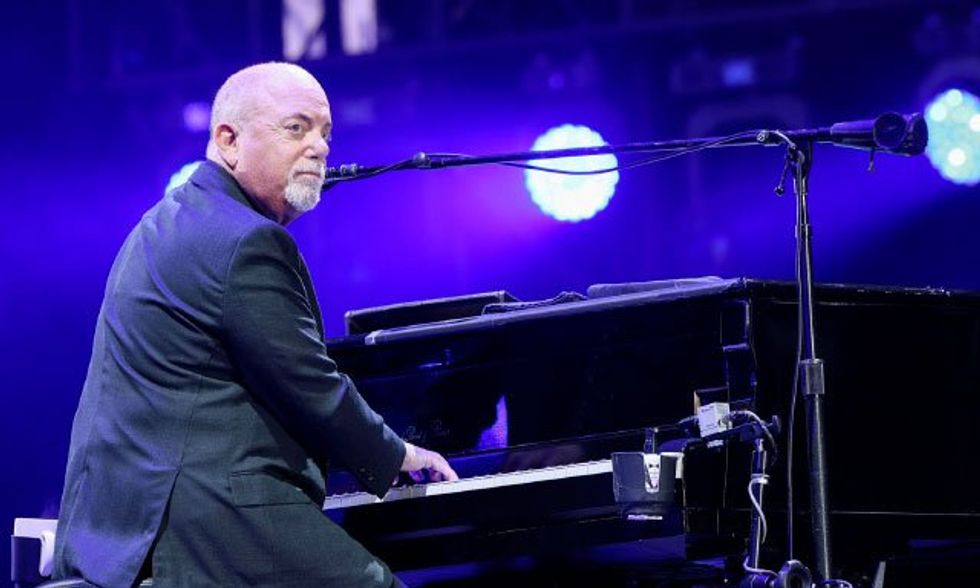 Have you ever wanted to be part of a club where excitement never ends? Well, guess what? You're invited to join a vibrant family of over 15 million delighted fans, just like you, at Vivid Seats. With Vivid Seats, you don't just attend events; you create lasting memories.
With Vivid Seats, you get to be part of a thriving community where every live event becomes a canvas of colorful and shared experiences. You don't just watch from afar; you dive in!

Ready to step into a world brimming with thrilling events? Click here to visit the Vivid Seats website now and start your adventure. Your journey to vibrant and memorable experiences begins with a simple click. Let's get this party started!
Get stories worth sharing delivered to your inbox