via FIRST
True
There's no shortage of companies, governments and organizations around the world searching for talented workers with a deep knowledge of science, technology, engineering and math (STEM). The demand is providing a clear pathway to rewarding, world-changing and well-paying STEM careers for many young people.

However, some students are missing these incredible opportunities because they haven't envisioned themselves in STEM or encountered any mentors to show them a pathway for success.
FIRST is a global nonprofit that provides robotics-based programs and mentorship from adult volunteers such as educators and STEM professionals to students ages 4 to 18. FIRST is a mission-based robotics community that aims to get kids excited about STEM and allows them to build these talents, along with critical life skills such as communication and leadership, through team-based robotics competitions.
FIRST has a proven impact in guiding young people into STEM careers, all while having fun and making useful connections.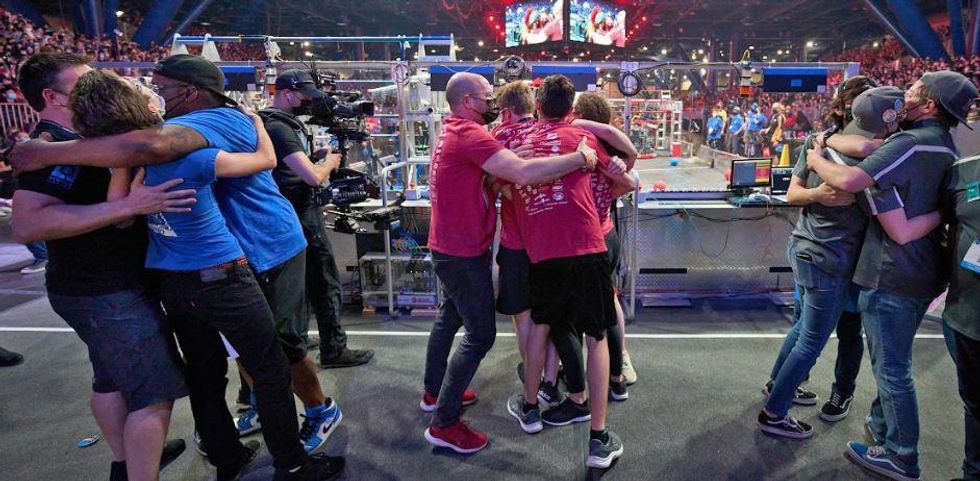 FIRST Championshipvia FIRST
Nearly 700,000 students and 320,000 adult mentors, coaches, judges and volunteers participate in the nonprofit community year over year, and the transformational power of FIRST programs was featured in the 2022 Disney+ documentary "More Than Robots." Students develop problem-solving skills and learn confidence, cooperation, empathy and resilience—skills that will serve them well in their future careers.
Fazlul "Fuzz" Zubair, systems engineering department manager at Raytheon Technologies, an American multinational aerospace and defense conglomerate, mentors FIRST Team 4201, The Vitruvian Bots, in Los Angeles.
Zubair has hired 15 Raytheon Technologies employees from his FIRST team, creating a FIRST-to-work pipeline. Better yet, many of the new employees then give back to FIRST by mentoring their own teams. Zubair's dedication to mentorship has created a cycle of positivity that continues to grow.
"Here, at FIRST, it's a sport where everyone can go pro. They can come out of this program, and they can get a good-paying job and contribute positively to society and solve the tough problems that we have," Zubair told Upworthy.
"Raytheon Technologies understands this, so it supports students in the program and its employees who mentor. Through FIRST, we've created a pipeline of people who already know how to collaborate with engineers and when they come into our companies, they have a head start," Zubair continued.
Wireless communications innovator Qualcomm Incorporated is another multinational company that supports FIRST. It has been hiring FIRST students because of their advanced skill sets since 2006.
"They're working on robots and learning things like coding and critical thinking, but they also have 21st-century skills like teamwork and the ability to collaborate with students that come from diverse backgrounds. Those are all things that are important in the workplace," Natalie Dusi, corporate social responsibility manager at Qualcomm Incorporated, told Upworthy.
As employees, FIRST students join the workforce with experience and vital collaboration skills. "They roll up their sleeves and start innovating right away. When FIRST students come into Qualcomm Incorporated, they are confident," she added.
Zubair says that FIRST students are valuable, in part because they understand that failure is part of learning and innovation.
"Learning through failure is something that's really hard to teach," he said. "You must go through that process. I like to tell my students all the time, 'I'd rather you fail on this robot than a billion-dollar satellite. Learn now, fail often, fail early.'"
For FIRST CEO Chris Moore, the opportunity to gain confidence in STEM is an important and deeply personal issue. When he was in middle school, a teacher dissuaded him from pursuing a career in technology and he believes it had lasting, negative effects on his career. "Even now, as someone with decades of experience leading youth-serving organizations, this STEM inferiority complex has stuck with me, and at times I still doubt my own STEM competency," he told Upworthy. "The reality is, STEM is achievable and rewarding for everyone, no matter their gender, age, race, economic standing orientation nor any other factor."
Statistics point to a high demand for STEM workers and a short supply, especially in the United States and especially among women, underserved, and underrepresented groups. FIRST provides young people from any background with the skills they need to succeed in their STEM studies and future careers. Notably, FIRST reached more than 20,300 youth in underserved communities during its 2019 season.
FIRST students are twice as likely to express interest in a STEM career than their peers.
FIRST understands the value of inspiring all students and does so by providing innovation grants to teams from underserved communities and developing strategic alliances with the Society of Hispanic Professional Engineers, National Society of Black Engineers and Girls, Inc., and other like-minded organizations.
One of the lasting impacts FIRST has on students is an understanding that no matter who they are or where they come from, they can solve the world's most pressing issues.
The theme for the 2022 – 2023 season is energy. Students will explore the essential role that energy plays in keeping the world moving forward, the possibilities that different energy sources unlock, and how we can all realize a brighter future through innovative ideas in energy generation, efficiency, and use.
Cooperation, empathy, and resilience are skills that last a lifetime and it's never too early for a child to enjoy their benefits. Learn more about FIRST programs in your area and how you can become involved!
Go to firstinspires.org to learn more.
Identity
"Victoria was made up by a dude."
Pop Culture
Google is one of the most powerful tools humanity possesses and most of us have no idea how to use it.
Do you ever just stop and marvel at how much the internet has changed human existence? At no other time in history has the average person had access to so much knowledge. Yes, we use it for dumb things too, but anyone with an internet connection can learn anything they set their mind to, from languages to auto mechanics to music to rocket science. It's mind-blowing.
This unlimited access to information is amazing, but it can also be overwhelming. If I Google "rocket science," I get 190 million results in 0.7 seconds. If I actually had an interest in learning about rocket science—which I don't—I wouldn't even know where to begin.
I could narrow down those results with more specific search terms, of course. But that would barely be scratching the surface of Google's search abilities. As Chris Hladczuk wrote on Twitter, "If you use it right, Google is the most powerful tool in the world. But the truth is most people suck at it."
It's true. Many of us have no idea how to actually utilize Google effectively to find the information we want or need. I use Google all the time and thought I was pretty good at it, but after reading Hladczuk's thread of tips and researching more, I realized there are so many ways I could up my Google game to save myself some time and effort.
Here are 13 tips and tricks for better Googling that we can all use:
1. Make use of the one-click filters that Google already set up.
Google makes it easy to narrow down search results with pre-set filter categories that show up at the top of your search results. This may seem like a no-brainer, but it's easy to gloss over them if you don't know they're there. If you just want news stories or just want images for your search topic, you'd click "News" or "Images" at the top of the search results page.
To further filter, click "Tools" on the right. Depending on what other filters you're using you can sort by date (in News), type of document (in Books), duration or quality (in Videos), and so on. Just utilizing these built-in filtering tools will greatly enhance your Google search experience with very little effort.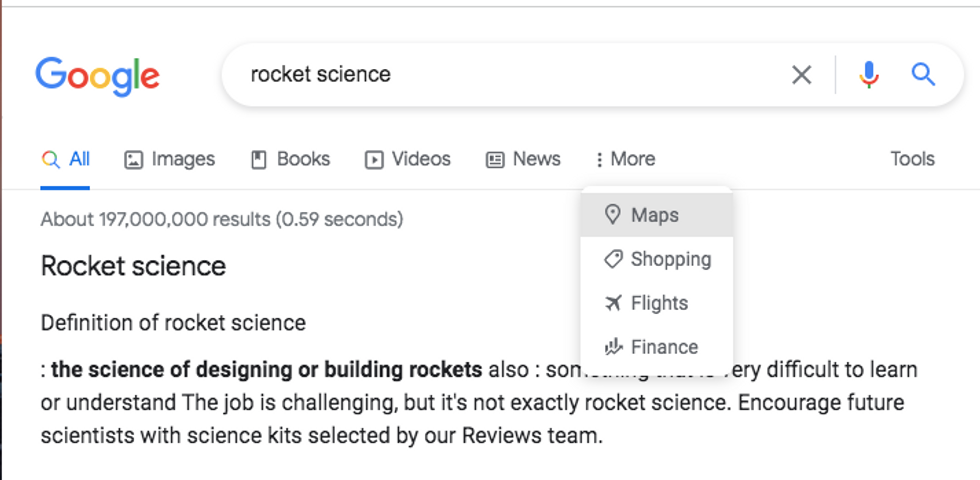 Google's preset filters help you narrow down search results with one click.
Screenshot via Google.com
2. Use the minus sign (-) to eliminate words you don't want in your results.
Let's say you want to research George Bush's presidency but you want the first Bush, not George W. Bush. You could Google "George H.W. Bush," but that's not generally what he was referred to prior to his son running for president.
Using the hyphen, or minus sign, before a word or phrase you don't want included in results will eliminate that word or phrase from the search. So Googling "George Bush -W." tells Google to pull up results for George Bush, but without "W." Voila! All senior Bush results.
3. Quotations marks (" ") give you exact phrase results.
Googling multiple words at once can give you a mixed bag of results. The search will include all of the words, but not necessarily in order. If you are looking for an exact phrase, let Google know that by putting it in quotation marks.
4. Use a colon (:) to search a specific website.
Let's say you wanted to see all of Upworthy's articles about dogs. Type in "dogs:upworthy.com" and Google will give you all of our pupworthy content. (Generally speaking, you should put in the .com or .org or whatever the extension is on the URL, but "dogs:upworthy" works, too.)
5. Looking for a specific file type? Tell Google with (filetype:).
Do you swear you saw a printable PDF of dad jokes, but can't remember where you found it? A search for "dad jokes" gives you a gazillion results you'd have to wade through to find a PDF. But you can search just for PDFs by typing "bad dad jokes filetype:PDF" into your Google search bar.
6. Search for similar or synonymous terms with a tilde (~).
Say you wanted to find a Spanish teacher in your area. Searching "local Spanish ~teacher" would also bring up search results for Spanish tutors, instructors and so on. (Google does some of this intuitively, but there may be instances when results are too honed in on one word.)
7. Do a fill-in-the-blank search with an asterisk (*).
Want to know what percentage of Americans have been vaccinated for COVID-19? Want to know how many gorillas are left in the wild? A search for "* percent of Americans vaccinated for COVID" and "* gorillas left in the wild" will bring those exact numbers right to the top of your results.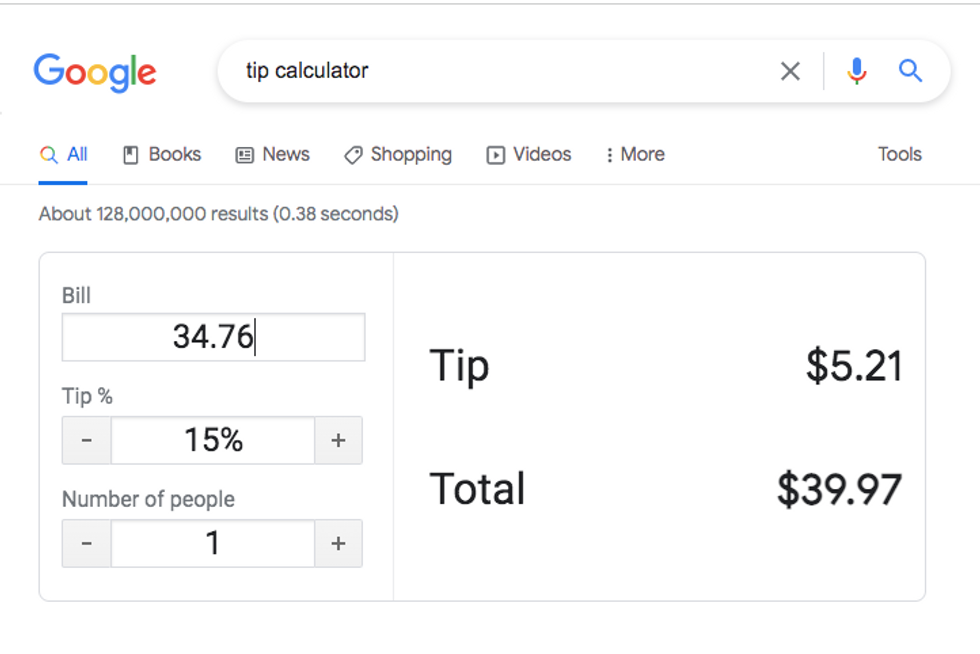 Pull up a tip calculator with one click.
Screenshot via Google.com
8. Calculate a tip or set a timer in a jiffy.
Searching for "tip calculator" brings up a simple, handy tip calculator without having to click through to any website. Nifty.
And you can set a timer by typing "timer" and however many minutes you want into the search bar. The timer starts automatically and will beep when finished. (Just don't close that browser window.) You can also pull up a stopwatch with a simple "stopwatch" search.
9. Track a package without having to go to the carrier's website.
All you have to do is copy and paste any tracking number into the Google search bar. No need to go to USPS or UPS or FedEx websites first. Just straight to Google.
10. Track a flight without having to go to the airline's website.
Just like the tracking number, simply enter your flight number (e.g., DL 275) into the Google search bar. Easy peasy.
11. Do quick definition checks and look up time and weather in different places.
Sometimes Google is more intuitive to use than we might assume. Want to look up what "obfuscation" means? No need to search for an online dictionary. Just type "define obfuscation" into the search bar. (You don't even have to spell it right, as long as you're close.) Wondering what the weather's like where grandma lives? Search "weather Orlando" to get current conditions. Need to know if it's too late to contact that friend overseas? Search "time Barcelona" to get the current local time.
12. Search for free-to-use images with Creative Commons licenses across multiple websites at once.
Finding photos that are free to use, either with or without attribution requirements, can be tedious. But it's easy to find Creative Commons License photos on Google if you know what to click.
Type in your search term for whatever images you want (say "snuggly kittens"), then click Images, then Tools, then Usage Rights, then Creative Commons Licenses.
(Quick reference: Images > Tools > Usage Rights > Creative Commons Licenses)
When you click on an image, you can click "License details" and it will tell you which Creative Commons license applies to the photo so you know how to attribute it.
13. Reverse search images to see where they came from or where else they've been shared.
If you want to try to track down where an image originated, you can search using an image itself, either using the image URL or uploading it to images.google.com. Just click on the camera icon and either paste the URL or upload the image, and the search results will show you all the places the image lives on the internet.
Bonus: Just for fun, try typing "askew" into the Google search bar.
The folks behind the scenes at Google have a silly sense of humor, so you never quite know what you're going to get when you use it. You can also put "play pacman" into the search and actually play a mini Pac-Man game. Who knew?
Google is an incredibly useful tool in far more ways than most of us use it, and hopefully these tips will help you utilize it to its full potential. Happy searching and three cheers for digital literacy!
Get stories worth sharing delivered to your inbox
Get stories worth sharing delivered to your inbox