Pop Culture
Viral clip shows Vivienne Westwood accurately predicting the future of fashion 25 years ago
The icon and activist passed away on Dec 29 at the age of 81.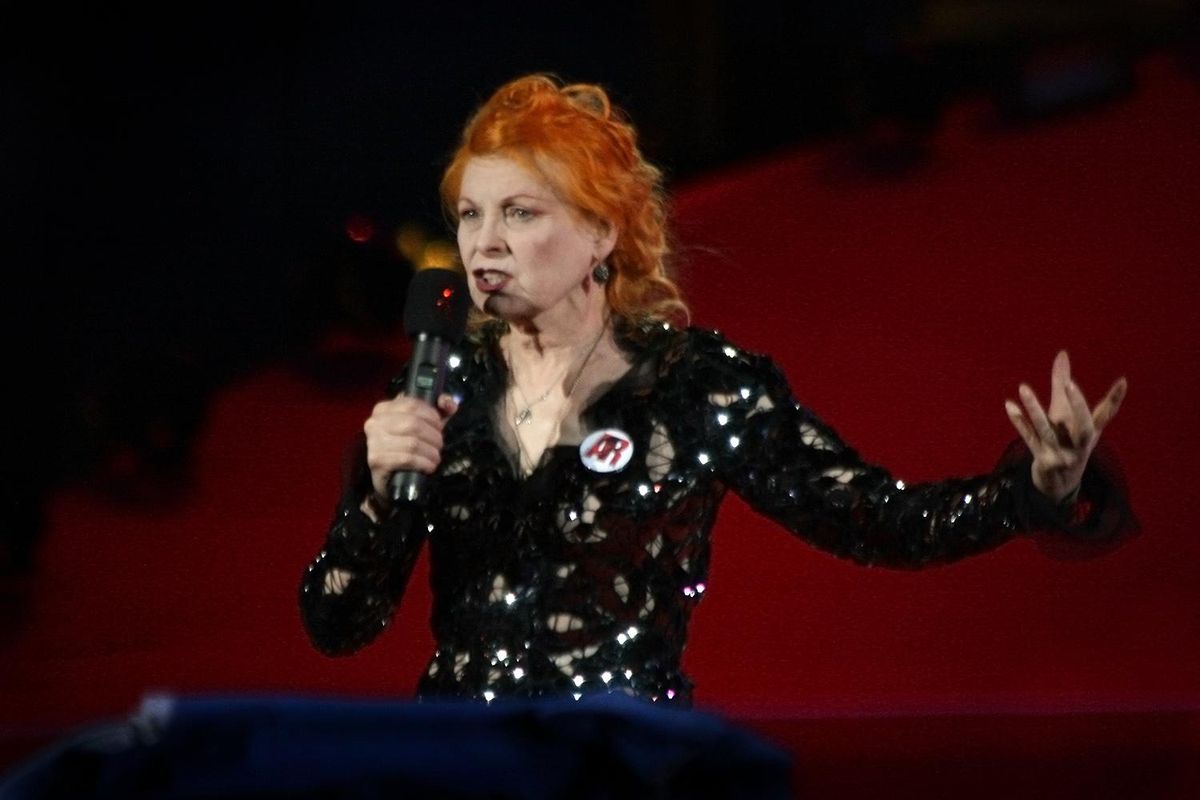 The late style icon Vivienne Westwood was ahead of her time in so many ways. Her career was made up of one groundbreaking feat after another—bringing us punk fashion, mohawks, towering pumps and, last but certainly not least, boob T-shirts.
In a resurfaced interview, we see just how forward thinking Westwood really was, after she predicted the future of fashion around 25 years before it actually happened.
The video clip, posted to Twitter by magazine contributor Bri Malandro, shows a younger Westwood explaining how "pressure from the mass market" would be the biggest challenge in the industry.
She follows with a statement that's more than a little eerily accurate.
---
"There's a process whereby technology … the machinery's been developed so much that they can more or less stamp these things out and they'd never want those machines to stop. Because they want forever and ever to be making money," she explained.
Vivienne Westwood predicting the future of fashion about 25 years ago pic.twitter.com/CJ1N7rsMJ8

— BRI (@BriMalandro) December 30, 2022
This need to mass produce and continuously profit would be why more plain and "conforming" clothes would be marketed by various platforms.
"Everybody collaborates in this," she told the interviewer. "Magazines then get these ordinary jeans or an ordinary white shirt or an ordinary little tube dress with two spaghetti straps and then it's all photographed as if somehow it's 'lifestyle.'"
She added: "You see it all the time on a cover, constantly on the same beautiful women who presumably you feel that if you wear this clothing, this minimal, puritan, awful stuff then you're going to look like that."
Today, we have a term for this business model: fast fashion.
Sure, fast fashion companies sell a whole lot more than white T-shirts and jeans, but the essence of Westwood's prophecy remains true. Fast fashion companies like Shein, Forever 21 and H&M mass produce an overwhelming amount of new (and cheap) styles coming in week after week. These companies now offer 52 "micro-seasons" rather than the standard summer, spring, fall and winter collections. That's kind of bonkers.
This need for constant output results in, as we know, horrendous working conditions, not to mention it wreaks havoc on the environment. However, the products offer instant gratification at a fraction of the cost. Plus the internet and social media have joined in as "collaborators" to incentivize consumers. So it's the exact money-making machine Westwood foretold—and business is booming.
Westwood would be the first to say that purchasing and wearing clothing was a vital expression of joy. However, as she famously once said, fashion, "like everything that gives pleasure, it is worth doing well." Her suggestion? "Buy less. Choose well. Make it last." Coming from one of the biggest names in fashion history, it seems like substantial advice.
Westwood died on Dec 29, "peacefully and surrounded by her family," at the age of 81. Her eccentric, bold and controversial clothing choices were, at their core, a form of activism, as she used the runway to voice her opinion on various social topics such as environmental issues, human rights and climate change. She continued creating and working for a better world until the day she died. May we all live so courageously.