True
We're redefining what normal means in these uncertain times, and although this is different for all of us, love continues to transform us for the better.
Love is what united Marie-Claire and David Archbold, who met while taking a photography class. "We went into the darkroom to see what developed," they joke—and after a decade of marriage, they know firsthand the deep commitment and connection romantic love requires.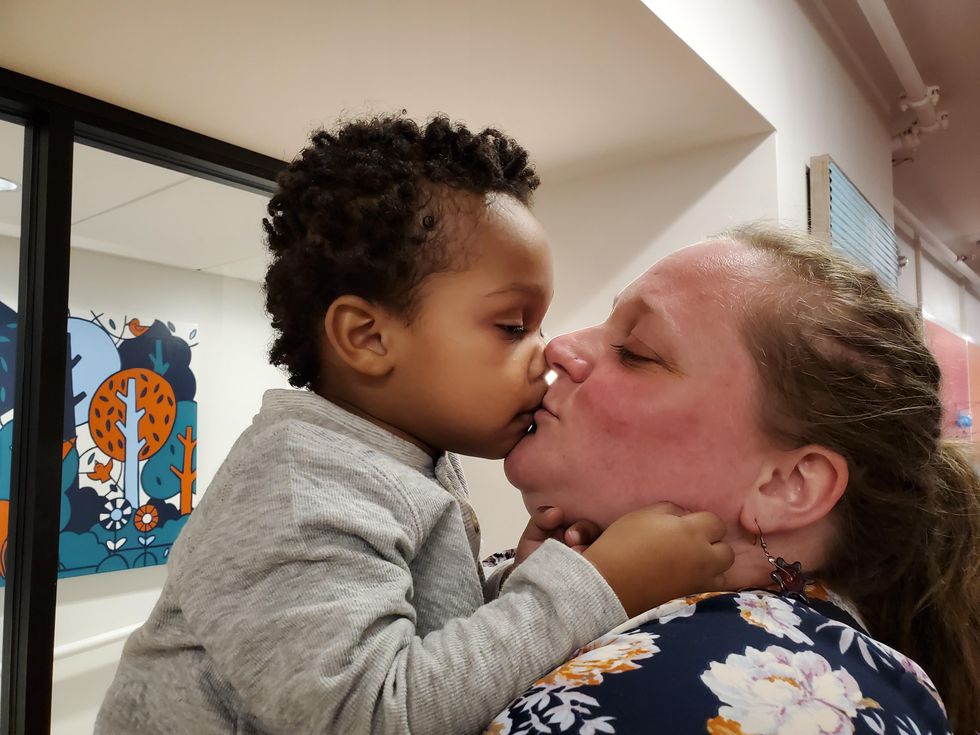 All photos courtesy of Marie-Claire and David Archbold
However, their relationship became even sweeter when they adopted James: a little boy with a huge heart.

In the United States alone, there are roughly 122,000 children awaiting adoption according to the latest report from the U.S Department of Health and Human Services. While the goal is always for a child to be parented by and stay with their biological family, that is not always a possibility. This is where adoption offers hope—not only does it create new families, it gives birth parents an avenue through which to see their child flourish when they are not able to parent. For the right families, it's a beautiful thing.
The Archbolds knew early on that adoption was an option for them. David has three daughters from a previous marriage, but knowing their family was not yet complete, the couple embarked on a two-year journey to find their match. When the adoption agency called and told them about James, they were elated. From the moment they met him, the Archbolds knew he was meant to be part of their family. David locked eyes with the brown-eyed baby and they stared at each other in quiet wonder for such a long time that the whole room fell silent. "He still looks at me like that," said David.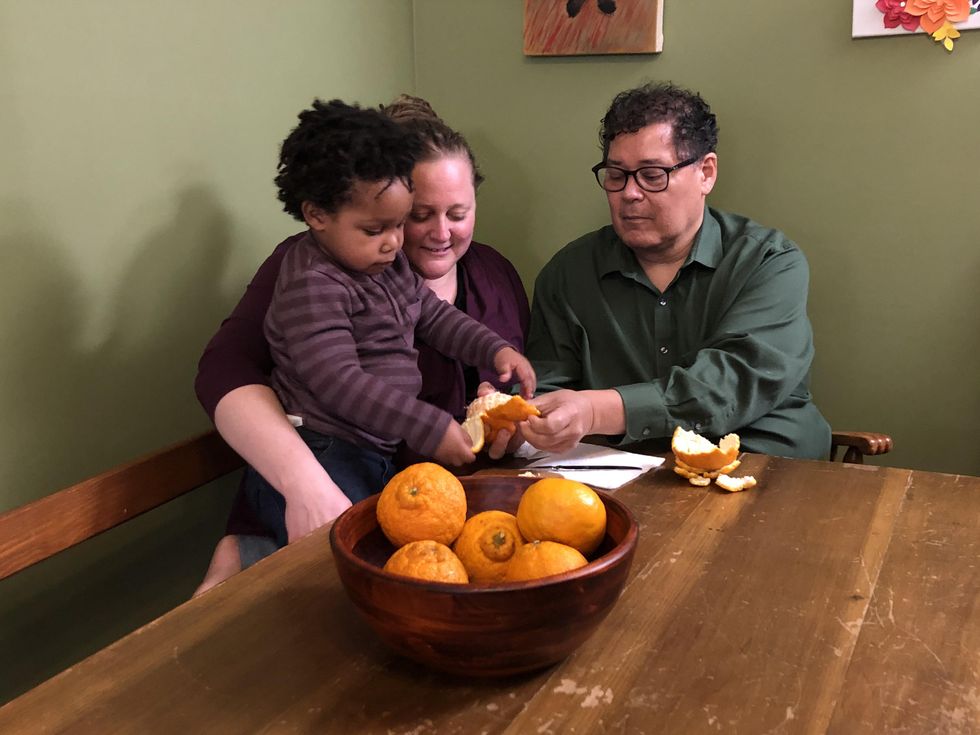 The connection was mutual and instantaneous—love at first sight. The Archbolds knew that James was meant to be a part of their family. However, they faced significant challenges requiring an even deeper level of commitment due to James' medical condition.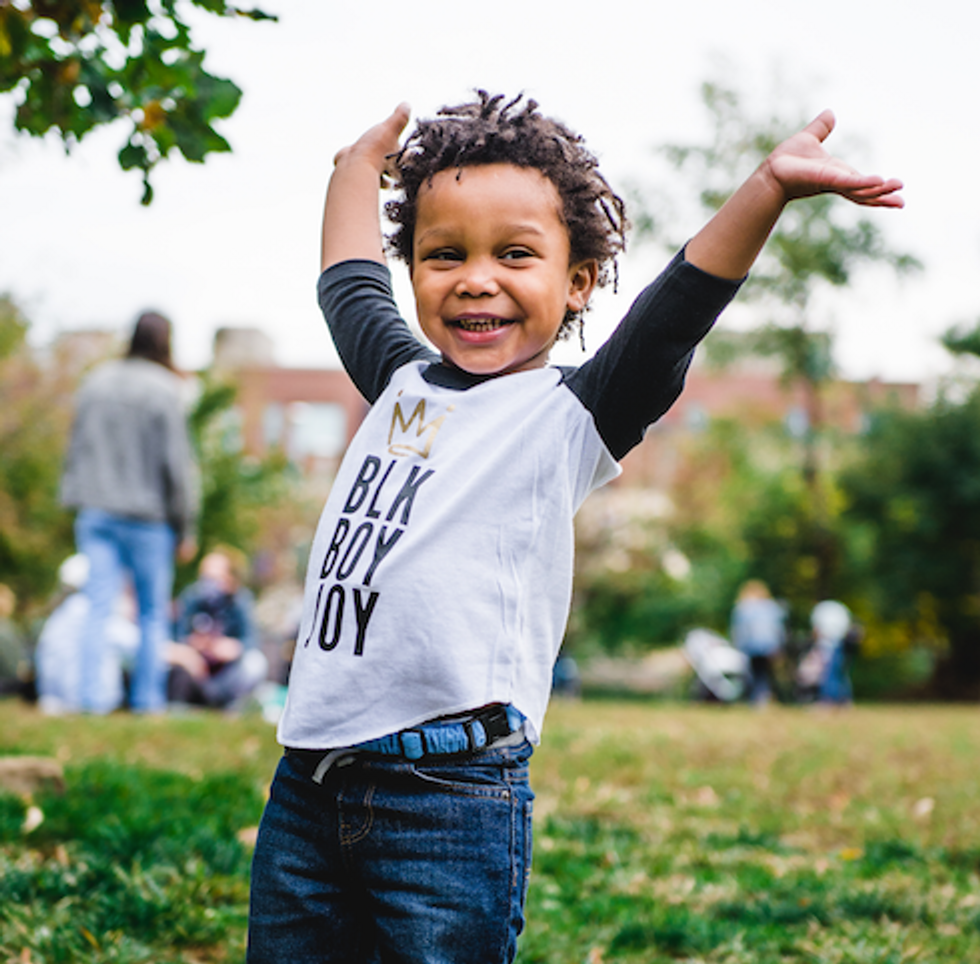 James was born with congenital hyperinsulinism, a rare condition that causes his body to overproduce insulin, and within 2 months of his birth, he had to have surgery to remove 90% of his pancreas. There was a steep learning curve for the Archbolds, but they were already in love, and knew they were committed to the ongoing care that'd be required of bringing James into their lives. After lots of research and encouragement from James' medical team, they finally brought their son home.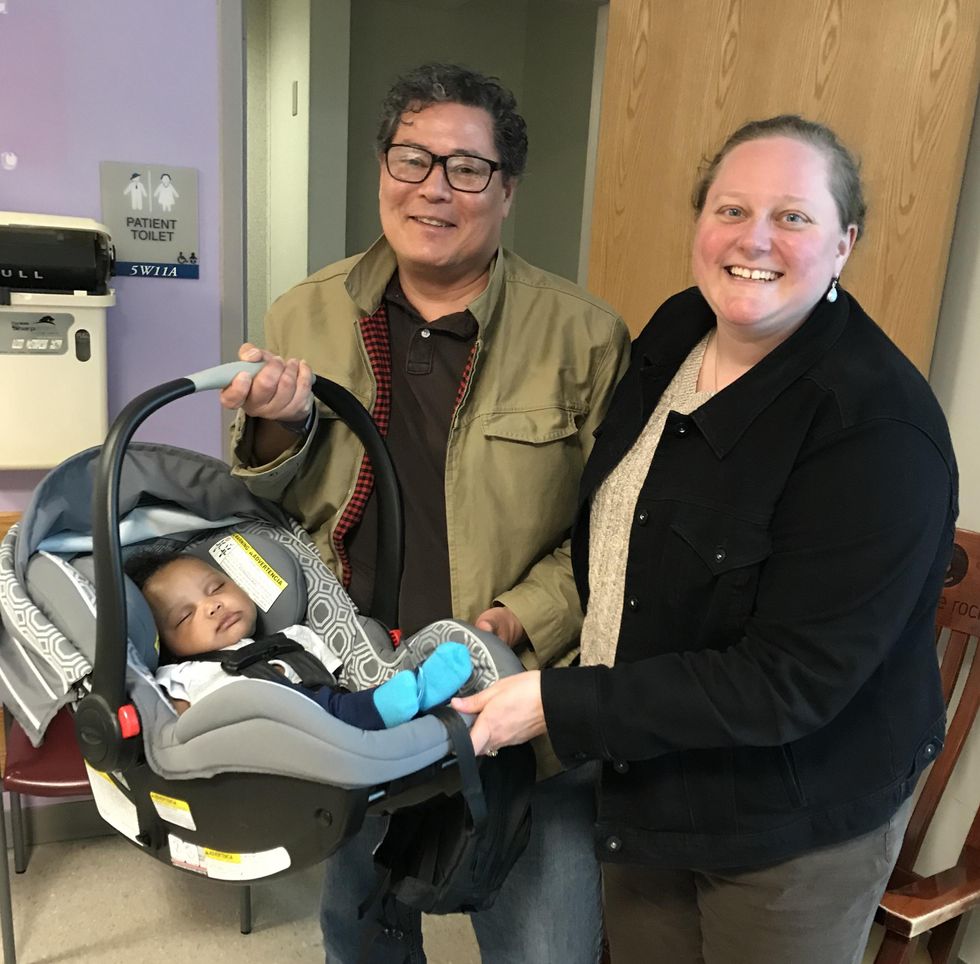 Today, three-year-old James is thriving, filled with infectious joy that bubbles over and touches every person who comes in contact with him. "Part of love is when people recognize that they need to be with each other," said his adoptive grandfather. And because the Archbolds opted for an open adoption, there are even more people to love and support James as he grows.

This sweet story is brought to you by Sumo Citrus®. This oversized mandarin is celebrated for its incredible taste and distinct looks. Sumo Citrus is super-sweet, enormous, easy-to-peel, seedless, and juicy without the mess. Fans of the fruit are obsessive, stocking up from January to April when Sumo Citrus is in stores. To learn more, visit sumocitrus.com and @sumocitrus.
Tory Burch
True
This March marks one year since the start of the pandemic… and it's been an incredibly difficult year: Over 500,000 people have died and hundreds of thousands have lost their jobs. But the pandemic's economic downturn has been disproportionately affecting women because they are more likely to work in hard-hit industries, such as hospitality or entertainment, and many of them have been forced to leave their jobs due to the lack of childcare.

But throughout all that hardship, women have, over and over again, found ways to help one another and solve problems.
"Around the world, women have stepped up and found ways to help where it is needed most," says Tory Burch, an entrepreneur who started her own business in 2004.
Burch knows a thing or two about empowering women: After seeing the many obstacles that women in business face — even before the pandemic — she created the Tory Burch Foundation in 2009 to empower women entrepreneurs.
And now, for International Women's Day, her company is launching a global campaign with Upworthy to celebrate the women around the world who give back and create real change in their communities.
"I hope the creativity and resilience of these women, and the amazing ways they have found to have real impact, will inspire and energize others as much as they have me," Burch says.
This year's Empowered Women certainly are inspiring: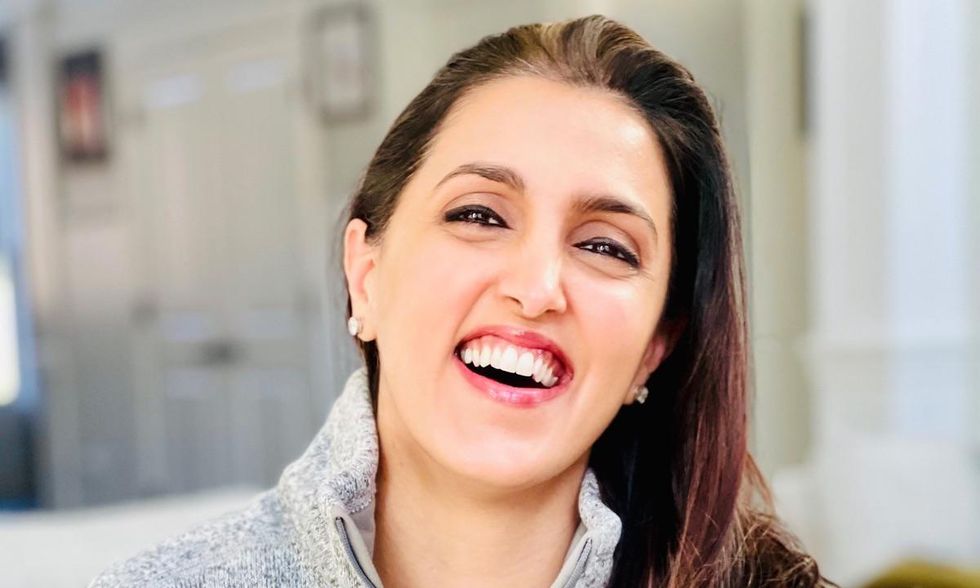 Shalini SamtaniCourtesy of Shalini Samtani
Take, for example, Shalini Samtani. When her daughter was diagnosed with a rare immune disorder, she spent a lot of time in the hospital, which caused her to quickly realize that there wasn't a single company in the toy industry servicing the physical or emotional needs of the 3 million hospitalized children across America every year. She was determined to change that — so she created The Spread the Joy Foundation to deliver free play kits to pediatric patients all around the country.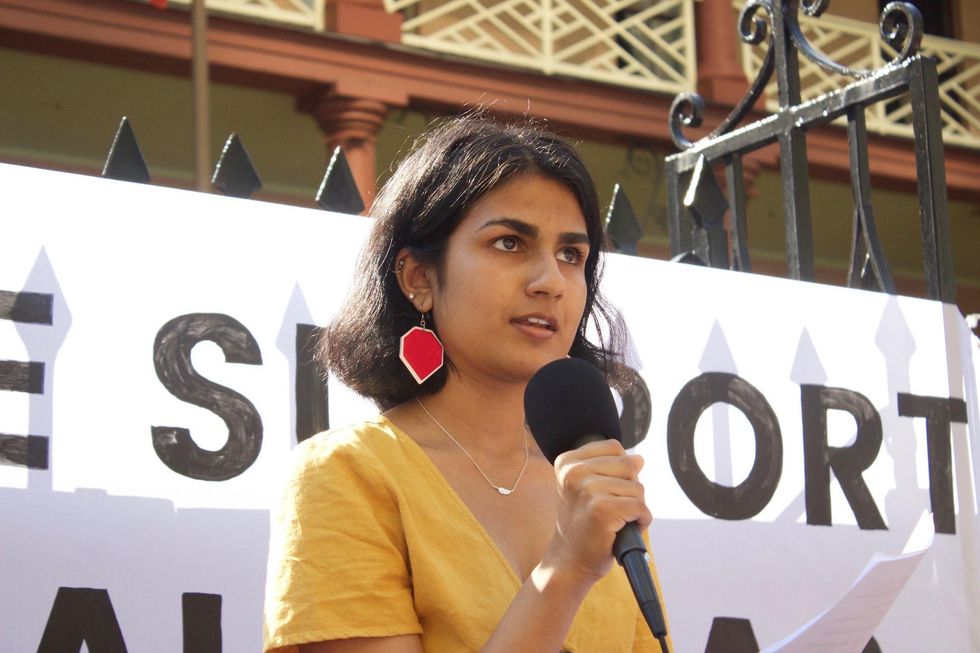 Varsha YajmanCourtesy of Varsha Yajman
Varsha Yajman is another one of this year's nominees. She is just 18 years old, and yet she has been diligently fighting to build awareness and action for climate justice for the last seven years by leading school strikes, working as a paralegal with Equity Generations Lawyers, and speaking to CEOs from Siemen's and several big Australian banks at AGMs.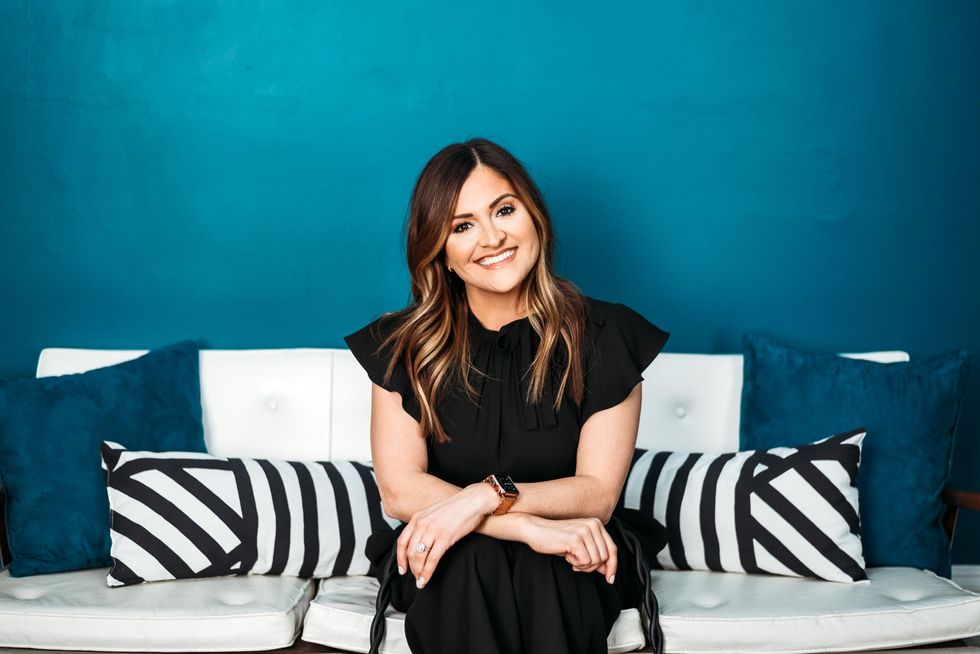 Caitlin MurphyCourtesy of Caitlin Murphy
Caitlin Murphy, meanwhile, stepped up in a big way during the pandemic by pivoting her business — Global Gateway Logistics — to secure and transport over 2 million masks to hospitals and senior care facilities across the country. She also created the Gateway for Good program, which purchased and donated 10,000 KN95 masks for local small businesses, charities, cancer patients and their families, immunocompromised, and churches in the area.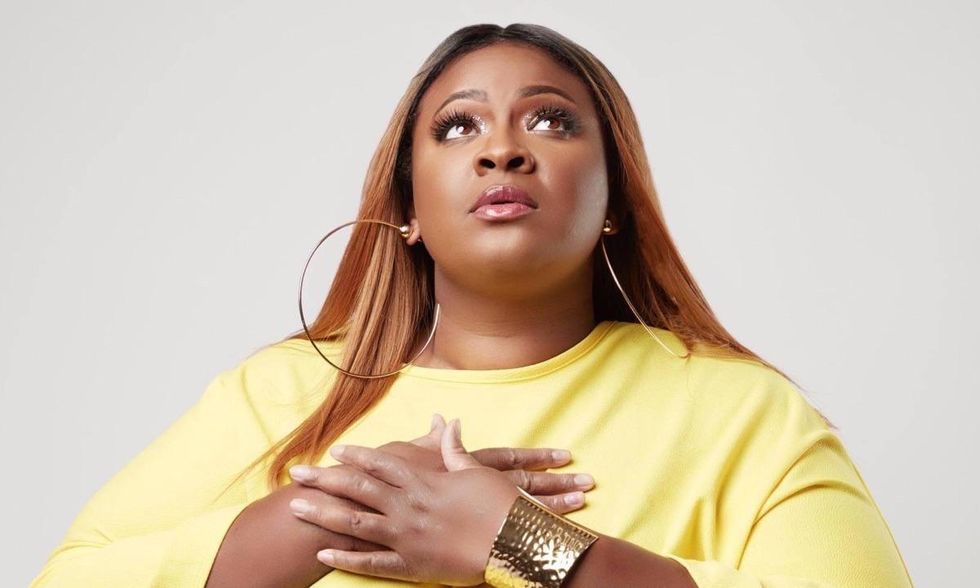 Simone GordonCourtesy of Simone Gordon
Simone Gordon, a domestic violence survivor and single mom, wanted to pay it forward after she received help getting essentials and tuition assistance — so she created the Instagram account @TheBlackFairyGodMotherOfficial and nonprofit to provide direct assistance to families in need. During the pandemic alone, they have raised over $50,000 for families and they have provided emergency assistance — in the form of groceries — for numerous women and families of color.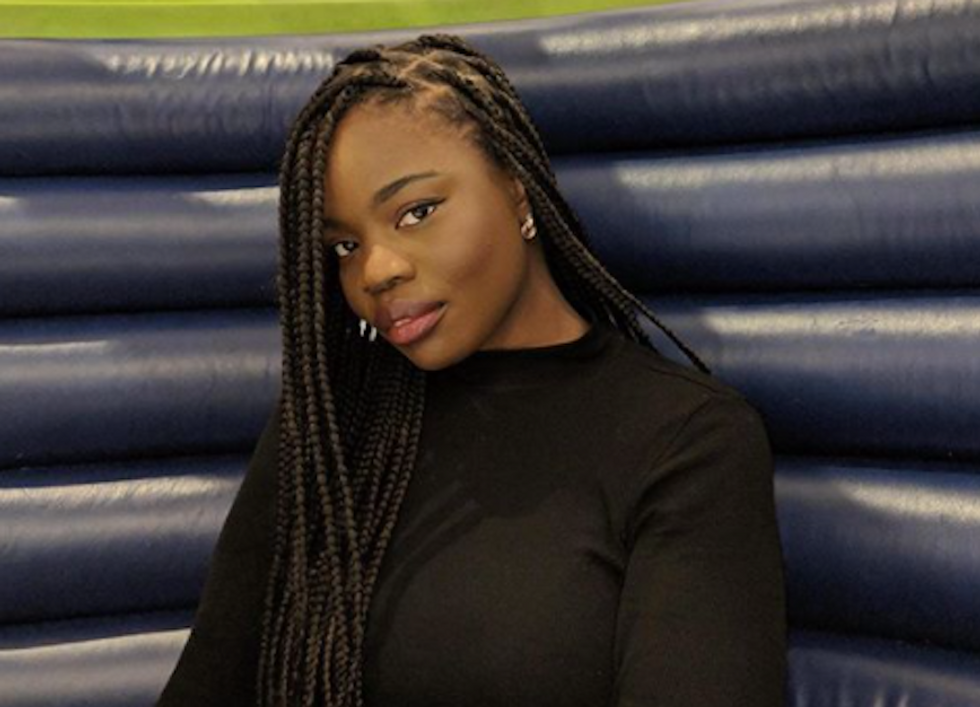 Victoria SanusiCourtesy of Victoria Sanusi
Victoria Sanusi started Black Gals Livin' with her friend Jas and the podcast has been an incredibly powerful way of destigmatizing mental health for numerous listeners. The podcast quickly surpassed a million listens, was featured on Michaela Coel's "I May Destroy You," won podcast of the year at the Brown Sugar Awards, and was named one of Elle Magazine's best podcasts of 2020.

And Upworthy and the Tory Burch are just getting started. They are still searching the globe for more extraordinary women who are making an impact in their communities.
Do you know one? If you do, nominate her now. If she's selected, she could receive $5,000 to give to a nonprofit of her choice through the Tory Burch Foundation. Submissions are being accepted on a rolling basis — and one Empowered woman will be selected each month starting in April.
Nominate her now at www.toryburch.com/empoweredwomen.
From Your Site Articles
Related Articles Around the Web
popular
Woody Guthrie sang about this little-known piece of history.
True
AFL Labor Mini Series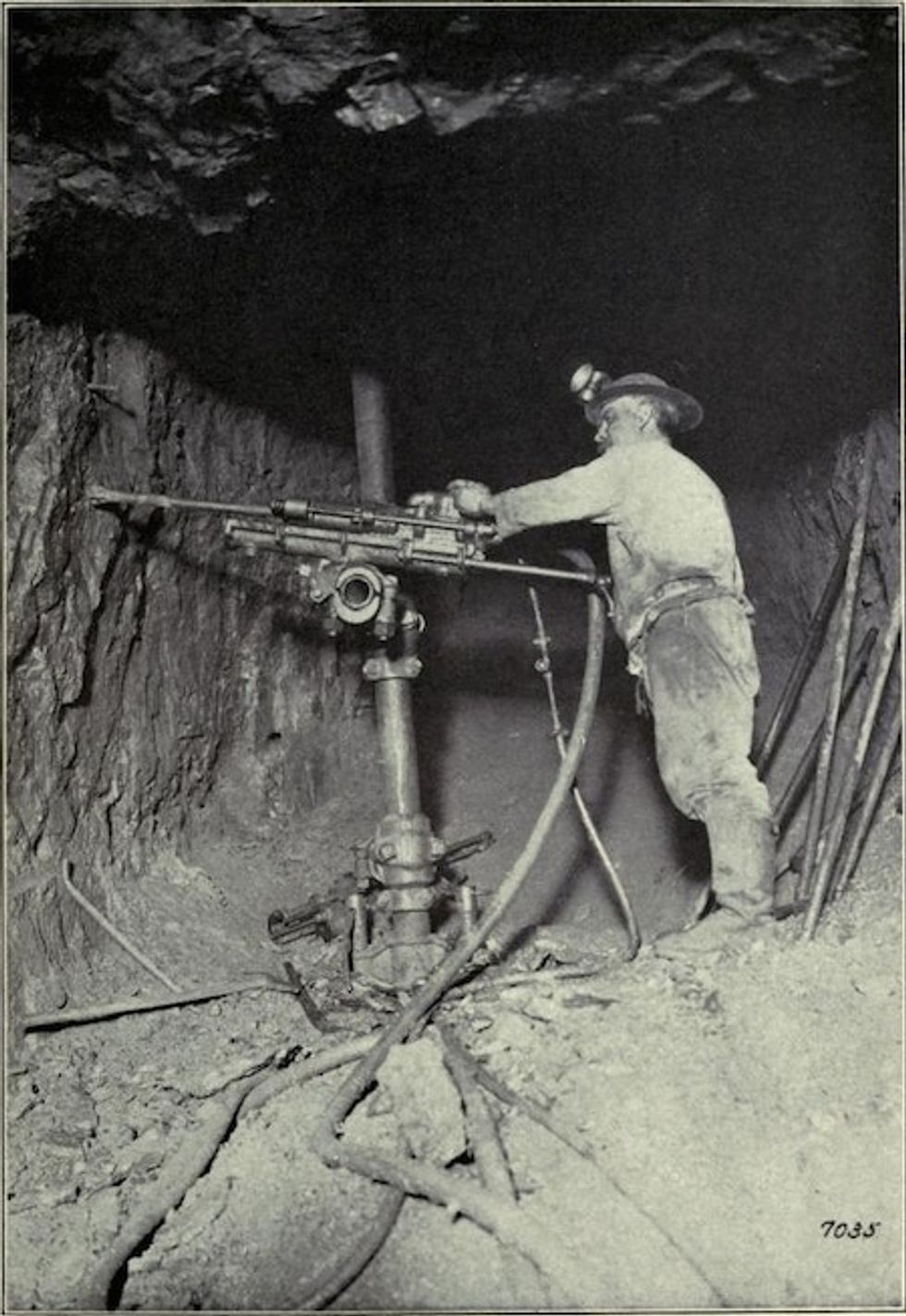 A one-man drill operation
In July 1913, over 7,000 miners struck the C&H Copper Mining Company in Calumet, Michigan. It was largely the usual issues of people who worked for a big company during a time when capitalists ran roughshod over their workers — a time when monopolies were a way of life. Strikers' demands included pay raises, an end to child labor, and safer conditions including an end to one-man drill operations, as well as support beams in the mines (which mine owners didn't want because support beams were costly but miners killed in cave-ins "do not cost us anything.")
<center><img type="lazy-image" data-runner-src="https://assets.rebelmouse.io/eyJhbGciOiJIUzI1NiIsInR5cCI6IkpXVCJ9.eyJpbWFnZSI6Imh0dHBzOi8vYXNzZXRzLnJibC5tcy8xOTQ5MjUzMy9vcmlnaW4uanBnIiwiZXhwaXJlc19hdCI6MTYxOTMyMzk1Mn0.i8_dT1r2gx844nzYmxxdAyodsVuPfuP40Zj9qcZdByk/img.jpg?width=980" id="b0317" class="rm-shortcode" data-rm-shortcode-id="2175297821daa6208ae99df0cf28e01b" data-rm-shortcode-name="rebelmouse-image"><p> <em>Italian Hall, Calumet</em></p></center><p> Six months without work left many miner families with little food for the holidays and no money for presents, so the Ladies' Auxiliary of the Western Federation of Miners held a Christmas party for the kids. 500 children and 200 adults showed up that day, Christmas Eve 1913. It was held on the second floor of Calumet's Italian Hall; the only way in and out was a very steep stairway.</p><p> As darkness fell and people began to go home to their family celebrations, some of the children gathered around the stage as presents were passed out — for many, it would be the only gift they'd receive this year. In the middle of this festive celebration, someone — possibly more than one person — opened the door at the bottom of the staircase and yelled, "FIRE!"</p><p> Chaos ensued. As everybody headed down the stairs to the exit, the door was blocked from the outside, and children and adults were trampled, then suffocated, by the throng of bodies trying to escape the "fire" — which didn't actually exist.</p><center><img type="lazy-image" data-runner-src="https://assets.rebelmouse.io/eyJhbGciOiJIUzI1NiIsInR5cCI6IkpXVCJ9.eyJpbWFnZSI6Imh0dHBzOi8vYXNzZXRzLnJibC5tcy8xOTQ5MjUzNC9vcmlnaW4uanBnIiwiZXhwaXJlc19hdCI6MTYxOTQ0NzIzMX0.nMm5l5QXnREICGy3UM7JkQcjtFaSkKOtVsDuyV_b4qo/img.jpg?width=980" id="51853" class="rm-shortcode" data-rm-shortcode-id="b92daf54f97203734a462a4bd8b55bd2" data-rm-shortcode-name="rebelmouse-image"><p> <em>Some of the children who died that day</em></p></center><p> In all, 73 people, including 59 children, died, most of them Finnish immigrants. The youngest was Rafael Lesar, 2.5 years old. The oldest was Kate Pitteri, 66 years old. Some families lost all of their children, like Frank and Josepa Klarich, who buried their three daughters, Kristina (11), Maria (9), and Katarina (7). Their little crosses are lined up in a row over their graves in a cemetery west of Calumet.</p><center><img type="lazy-image" data-runner-src="https://assets.rebelmouse.io/eyJhbGciOiJIUzI1NiIsInR5cCI6IkpXVCJ9.eyJpbWFnZSI6Imh0dHBzOi8vYXNzZXRzLnJibC5tcy8xOTQ5MjUzNS9vcmlnaW4uanBnIiwiZXhwaXJlc19hdCI6MTYxODAxMjYyNH0.SI3UrU1gb4qPsm3i06ThJ3jqeq7WskcX05mjkVJdbQI/img.jpg?width=980" id="e73bc" class="rm-shortcode" data-rm-shortcode-id="33ef744998d1282ecf1bd8d78101c1ce" data-rm-shortcode-name="rebelmouse-image"></center><p> The culprits who yelled into the hall that day to start the tragedy were never identified, but it's widely suspected that it was allies of mine management or the owners who did so to disrupt the miners' party. Nobody was ever prosecuted or even arrested for causing the massacre. It is always thus: Those with money and power control the narrative, silence the truth, and thwart justice.</p><center><img type="lazy-image" data-runner-src="https://assets.rebelmouse.io/eyJhbGciOiJIUzI1NiIsInR5cCI6IkpXVCJ9.eyJpbWFnZSI6Imh0dHBzOi8vYXNzZXRzLnJibC5tcy8xOTQ5MjUzNi9vcmlnaW4uanBnIiwiZXhwaXJlc19hdCI6MTY0ODc3MDU5Mn0.AcJVvBr_b7E8D07NmmrNiksVgAqev4AwDn-DWkaq1i4/img.jpg?width=980" id="467ba" class="rm-shortcode" data-rm-shortcode-id="c11495bd6ce8ad710755285028e183b7" data-rm-shortcode-name="rebelmouse-image"></center><center><em>The funeral procession</em></center><p> Italian Hall was demolished in the 1980s, but especially during the holiday season, the people of Calumet still talk of that night, 100 years ago, when so many innocents perished.</p><center><img type="lazy-image" data-runner-src="https://assets.rebelmouse.io/eyJhbGciOiJIUzI1NiIsInR5cCI6IkpXVCJ9.eyJpbWFnZSI6Imh0dHBzOi8vYXNzZXRzLnJibC5tcy8xOTQ5MjUzNy9vcmlnaW4uanBnIiwiZXhwaXJlc19hdCI6MTY2NTIzMTQzOX0.v6KpX1DN8qS2rpfTVngcSirEqqOanU133D0TnkLtlsI/img.jpg?width=980" id="17fd8" class="rm-shortcode" data-rm-shortcode-id="0da6b4f84be2d42076e91006a57fb46a" data-rm-shortcode-name="rebelmouse-image"><p> <em>What's left of Italian Hall — the archway</em></p></center><p> Partly because a lot of miners left Calumet behind after this tragedy, the strike didn't accomplish what the miners wanted. However, it's considered a turning point for union strength in Michigan's Copper Country.</p><p> In 1941, Woody Guthrie got an idea for a song about the tragedy, which he called "1913 Massacre." Ella Reeve "Mother" Bloor's eyewitness account in her 1940 book, "We Are Many," inspired him. Mother Bloor was a labor organizer who was active in the Western Federation of Miners, the union that represented the people who were on strike in Calumet.</p><span style="display:block;position:relative;padding-top:56.25%;" class="rm-shortcode" data-rm-shortcode-id="ef2d4b5a691131d331cc643e0f779446"><iframe type="lazy-iframe" data-runner-src="https://www.youtube.com/embed/oz7oguguIZE?rel=0" width="100%" height="auto" frameborder="0" scrolling="no" style="position:absolute;top:0;left:0;width:100%;height:100%;"></iframe></span><p> <strong> </strong></p><center><strong>"1913 Massacre"</strong><p> <strong>Words and music by Woody Guthrie</strong></p><p> Take a trip with me in 1913, <br> To Calumet, Michigan, in the copper country. <br> I will take you to a place called Italian Hall, <br> Where the miners are having their big Christmas ball.<br><br><br></p><p> I will take you in a door and up a high stairs, <br> Singing and dancing is heard everywhere, <br> I will let you shake hands with the people you see, <br> And watch the kids dance around the big Christmas tree.<br><br><br></p><p> You ask about work and you ask about pay, <br> They'll tell you they make less than a dollar a day, <br> Working the copper claims, risking their lives, <br> So it's fun to spend Christmas with children and wives.<br><br><br></p><p> There's talking and laughing and songs in the air, <br> And the spirit of Christmas is there everywhere, <br> Before you know it you're friends with us all, <br> And you're dancing around and around in the hall.<br><br><br></p><p> Well a little girl sits down by the Christmas tree lights, <br> To play the piano so you gotta keep quiet, <br> To hear all this fun you would not realize, <br> That the copper boss' thug men are milling outside.<br><br><br></p><p> The copper boss' thugs stuck their heads in the door, <br> One of them yelled and he screamed, "there's a fire," <br> A lady she hollered, "there's no such a thing. <br> Keep on with your party, there's no such thing."<br><br><br></p><p> A few people rushed and it was only a few, <br> "It's just the thugs and the scabs fooling you," <br> A man grabbed his daughter and carried her down, <br> But the thugs held the door and he could not get out.<br><br><br></p><p> And then others followed, a hundred or more, <br> But most everybody remained on the floor, <br> The gun thugs they laughed at their murderous joke, <br> While the children were smothered on the stairs by the door.<br><br><br></p><p> Such a terrible sight I never did see, <br> We carried our children back up to their tree, <br> The scabs outside still laughed at their spree, <br> And the children that died there were seventy-three.<br><br><br></p><p> The piano played a slow funeral tune, <br> And the town was lit up by a cold Christmas moon, <br> The parents they cried and the miners they moaned, <br> "See what your greed for money has done."<br><br><br></p></center>
Get stories worth sharing delivered to your inbox
Get stories worth sharing delivered to your inbox