Culture
Tom Brady showed up at the White House and made some pointed election jokes with Joe Biden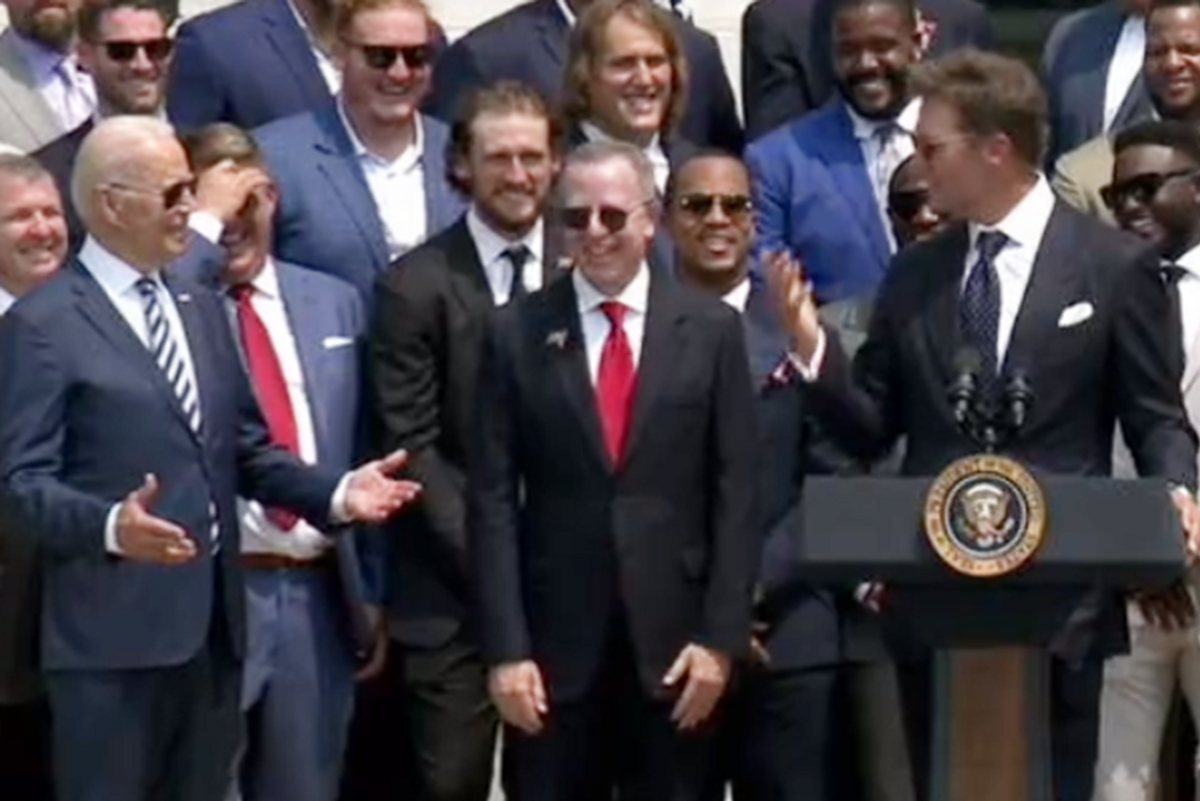 via The White House
The Tampa Bay Buccaneers were honored by President Joe Biden in a ceremony on the White House lawn Tuesday. The event celebrated their Super Bowl win over the Kansas City Chiefs in February.

In his short speech, quarterback Tom Brady found common ground with president Biden. Brady, 43, was the oldest quarterback to win the Super Bowl, and Biden, 78, is the oldest to ever win the presidency.
---
"Personally, it's nice for me to be back here," Brady said. "We had a game in Chicago where I forgot what down it was. I lost track of one down in 21 years of playing, and they started calling me 'Sleepy Tom.' Why would they do that to me?"
Biden, who was often referred to as "Sleepy Joe" by Donald Trump during the 2020 election, responded with a smile, saying, "I don't know!"
Brady also noted that the Bucs were such underdogs midway through the season that few people thought they could or did win the title. He jokingly compared that to a large number of Republicans who can't bring themselves to accept Biden's victory.

"It didn't look great there at one point. We were 7-5, struggling a little bit, as the President alluded to. But we found a rhythm, we got on a roll," Brady said. "Not a lot of people think that we could have won. In fact, I think, about 40 percent of the people still don't think we won."
"I understand that," Biden responded.
"Do you understand that, Mr. President?" Brady replied.
"I understand that," Biden jokingly confirmed.
Coach Bruce Arians (68) and Brady's victory made them the oldest coach-quarterback combo to ever win the Super Bowl.

"Well I'll tell you right now, you won't hear any jokes about that from me," Biden said. "As far as I'm concerned, there's nothing wrong with being the oldest guy to make it to the mountaintop. That's how I look at it."
Brady is a seven-time Super Bowl champion but this is the first visit he's made the trip to the White House to celebrate since 2005 when George W. Bush was president. He turned down Barack Obama's invitation in 2015 and Trump's in 2017.
The Patriots chose as a team not to attend the White House event after winning in 2019.
Brady's relationship with former president Trump has been the source of controversy for years. He's been friends with Trump since 2001 but distanced himself after he became a polarizing political figure.

"He had a way of connecting with people, and still does. But the whole political aspect came, and I got brought into a lot of those things because it was so polarizing around the election time," he told Howard Stern last year. "It was uncomfortable to me. You can't undo things — not that I would undo a friendship — but the political support is totally different than the support of a friend."
The Buccaneers' ceremony and the Los Angeles Dodgers' recent visit to the White House mark a return to normalcy when it comes to athletes visiting the president. The events were contentious in the Trump era and many athletes and teams refused to attend.