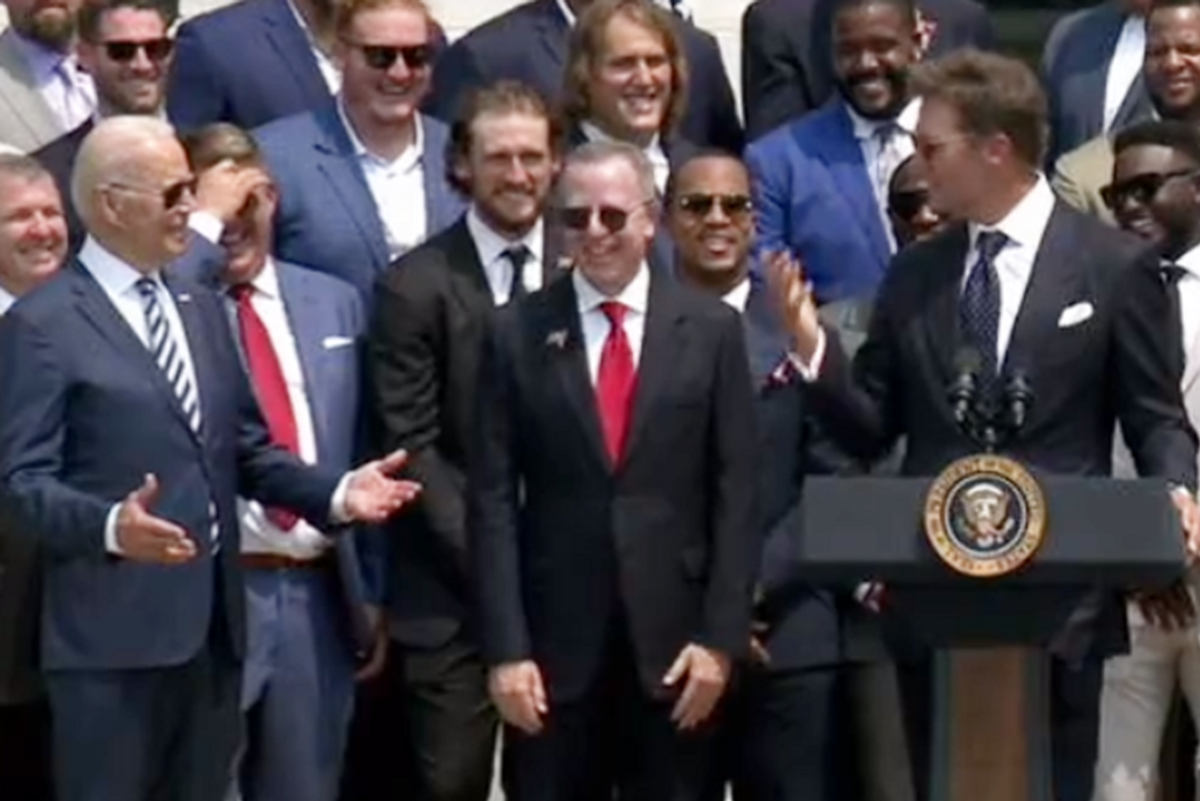 via The White House
The Tampa Bay Buccaneers were honored by President Joe Biden in a ceremony on the White House lawn Tuesday. The event celebrated their Super Bowl win over the Kansas City Chiefs in February.

In his short speech, quarterback Tom Brady found common ground with president Biden. Brady, 43, was the oldest quarterback to win the Super Bowl, and Biden, 78, is the oldest to ever win the presidency.
---
"Personally, it's nice for me to be back here," Brady said. "We had a game in Chicago where I forgot what down it was. I lost track of one down in 21 years of playing, and they started calling me 'Sleepy Tom.' Why would they do that to me?"
Biden, who was often referred to as "Sleepy Joe" by Donald Trump during the 2020 election, responded with a smile, saying, "I don't know!"
Brady also noted that the Bucs were such underdogs midway through the season that few people thought they could or did win the title. He jokingly compared that to a large number of Republicans who can't bring themselves to accept Biden's victory.

"It didn't look great there at one point. We were 7-5, struggling a little bit, as the President alluded to. But we found a rhythm, we got on a roll," Brady said. "Not a lot of people think that we could have won. In fact, I think, about 40 percent of the people still don't think we won."
"I understand that," Biden responded.
"Do you understand that, Mr. President?" Brady replied.
"I understand that," Biden jokingly confirmed.
NEW: Tom Brady at the White House on the Bucs' Super Bowl run: "Not a lot of people think that we could have won.… https://t.co/nViv2SAKfU

— Yahoo News (@Yahoo News) 1626796765.0