Science
'Recycle artist' to build 10 giant trolls across the US this summer in global art project
Danish rapper-turned-artist Thomas Dambo spent the last nine years building 100 enormously endearing trolls around the world, each with its own unique name, story and Earth-loving message.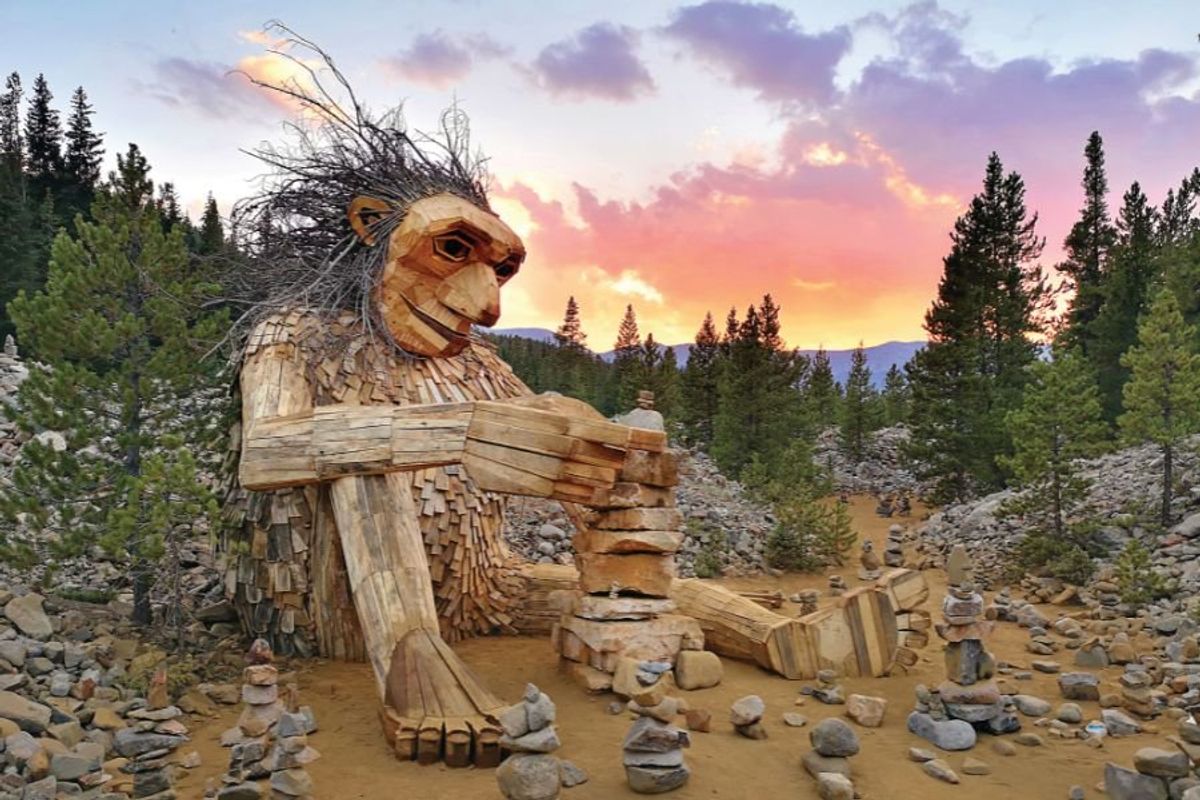 Courtesy of Thomas Dambo
When we think of a "troll" in the internet age, we usually picture some sad sap wasting his one wild and precious life making inflammatory statements and luring people into inane arguments online.
But out in the physical world, some very different kinds of trolls are luring people away from their computers and out into nature. These benevolent trolls tower over humans with their enormous size and have an important message to share.
Also, they look really freaking cool.
---
Danish "recycle artist" Thomas Dambo has spent the past nine years building dozens of giant trolls all around the world. Each one is made entirely of recycled materials, and each is unique, with its own delightful name and origin story. Hector the Protector, who lives on the water's edge in Puerto Rico, came first in 2014. When Hector was first built, he was holding a rock to throw at anyone who threatened to hurt the island. After being damaged in Hurricane Maria, Hector "learned from his violent ways" and was rebuilt holding a lantern instead of a rock to guide sailors coming in during a storm.
Now there are at least 100 different trolls residing on nearly every continent.
Dambo has even created an entire elaborate folklore involving these trolls. For instance, legend has it that a global gathering of trolls that happens every 211 years, and in the last gathering, the trolls became angry with the humans who have stopped listening to nature and have been harming the Earth. They ultimately decided the best course of action was to eat the humans to save the planet.
But a group of six young trolls believed the humans were just young and ignorant, and because they "only live around eighty circles of light," they can't grasp the big picture. These young trolls decided to form a gang to save the humans and help them learn instead of destroying them.
Perusing Thomas Dambo's website makes it clear that these trolls are not just cool art sculptures, but living parts of an ongoing story that involves all of us, both in a literary sense and a literal one. The lore puts a fun and fantastical spin on the very real issue of humans being out of touch and so often in conflict with nature.
Take a look and listen to this brief tale about seven trolls and the magical tower they built to help the humans see more clearly.
And this magical world just keeps expanding. In the summer of 2023, he's bringing his troll installations to the U.S. with his "Way of the Bird King" tour. Dambo and a group of 22 builders will be traveling from coast to coast creating 10 new trolls out of more than 1,000 discarded wooden pallets.
"It's always been a dream for me to go on this coast-to-coast road trip, especially when I was a rapper touring around Denmark in a big bus," says Dambo. "So in some way, this feels like my big American breakthrough. My hope is that these sculptures not only showcase the beauty of repurposed materials, but also inspire people to reconnect with nature, spark their imagination, and foster a greater sense of environmental responsibility."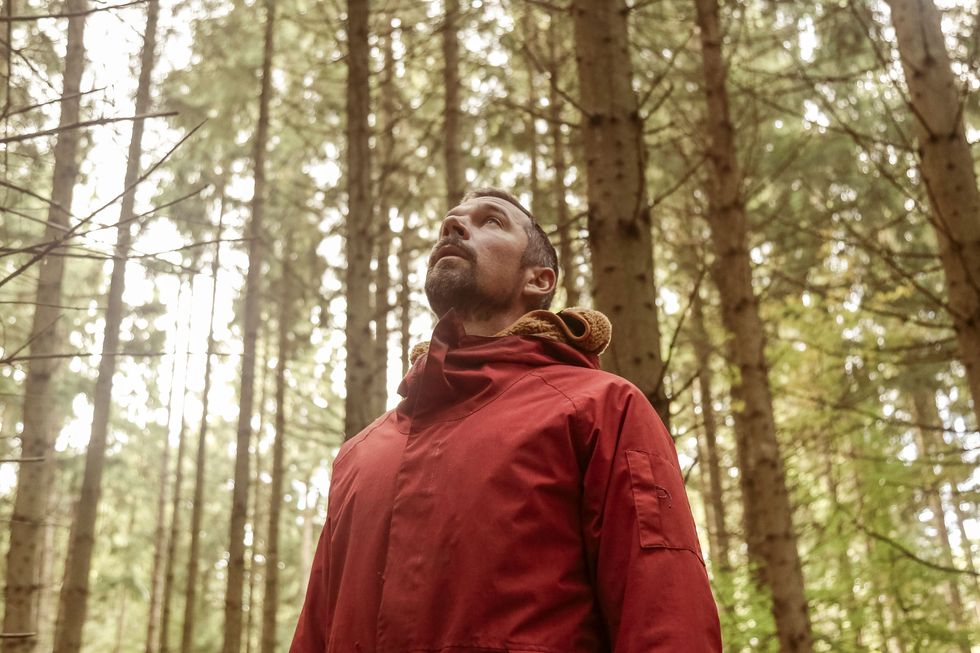 Artist Thomas Dambo of Denmark
Courtesy of Thomas Dambo
The first four trolls to be created on the tour will be:
6/28 Hainesport, New Jersey — a female troll named Big Rusty
7/5 South Londonderry, Vermont — a male troll named Lost Finn
7/21 Germfask, Michigan — a male troll named Benny Beardfisher
8/4 Cripple Creek, Colorado — a female troll named Rita Rockplanter
After that, Dambo and his team will head to the Pacific Northwest, where six more trolls will make their homes. Exact dates are still to be announced, but these trolls will be built in that region: Ole Ole, Pia Peacekeeper, Iduns Flute, Jacob Two Trees, Oscar the Bird King and FiFi Feet Splinter.
If they are anything like the trolls that currently live in Denmark, China, France, South Korea, Australia, Chile, Ireland and other places (including a handful of locations in the U.S.—you can find them all on the Troll Map here), they will surely draw people's attention. (But hopefully not too much attention. Poor Isak Heartstone, a troll in Breckenridge, Colorado, that was built as part of an arts festival, had to be destroyed and rebuilt in another location because too many tourists wanted a troll selfie with him, which caused complaints from locals.)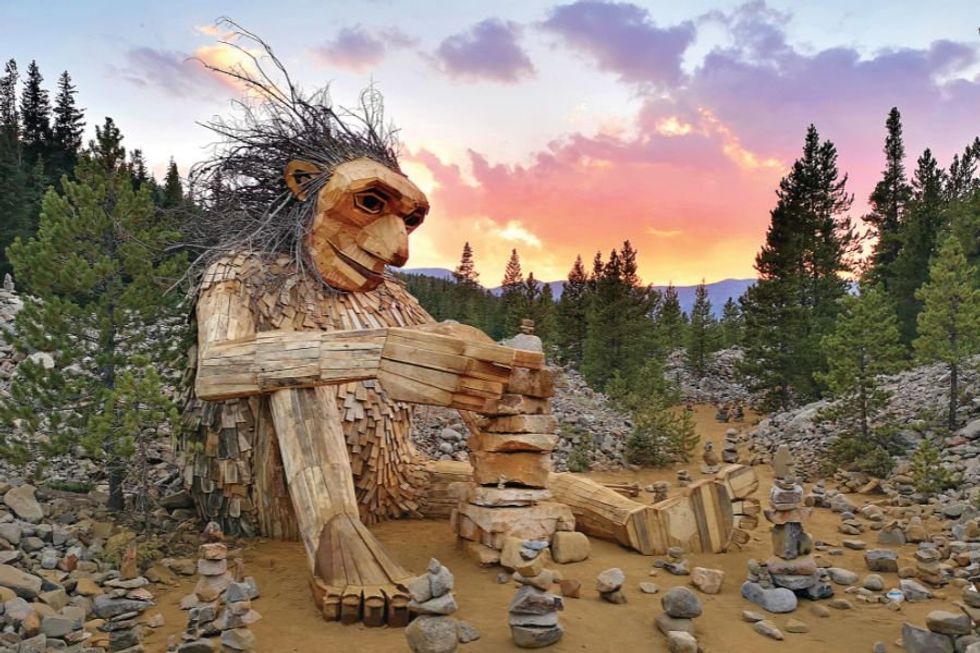 Isak Heartstone 1.0, a troll in Breckenridge, Colorado, that had to be rebuilt in a different area due to too many tourists.
Thomas Dambo
Check out a few other trolls from Dambo's ongoing "Trail of a Thousand Trolls" project.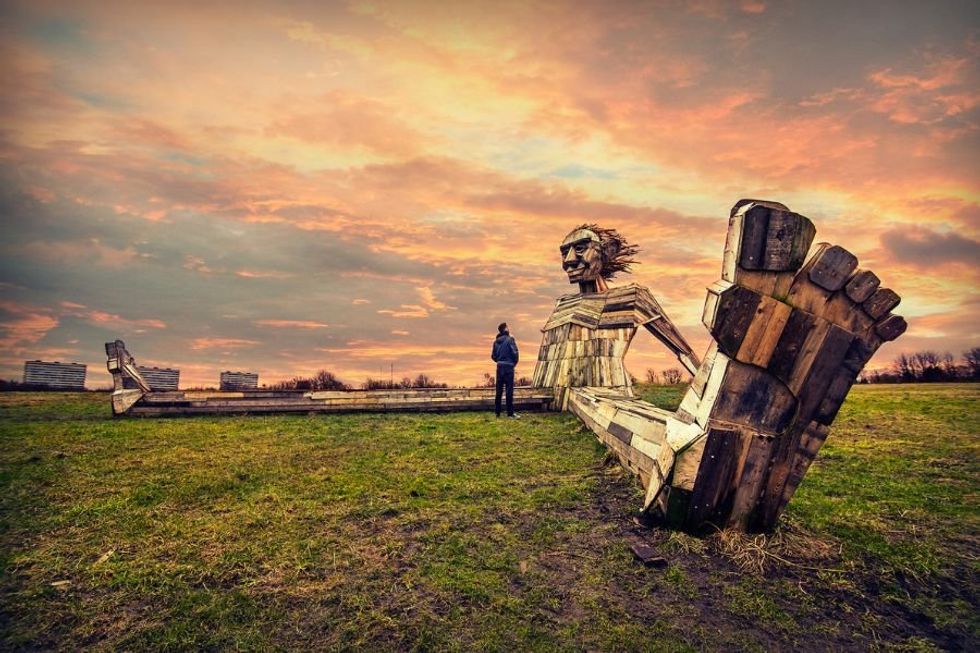 Troll Ben Chiller in Denmark
Courtesy of Thomas Dambo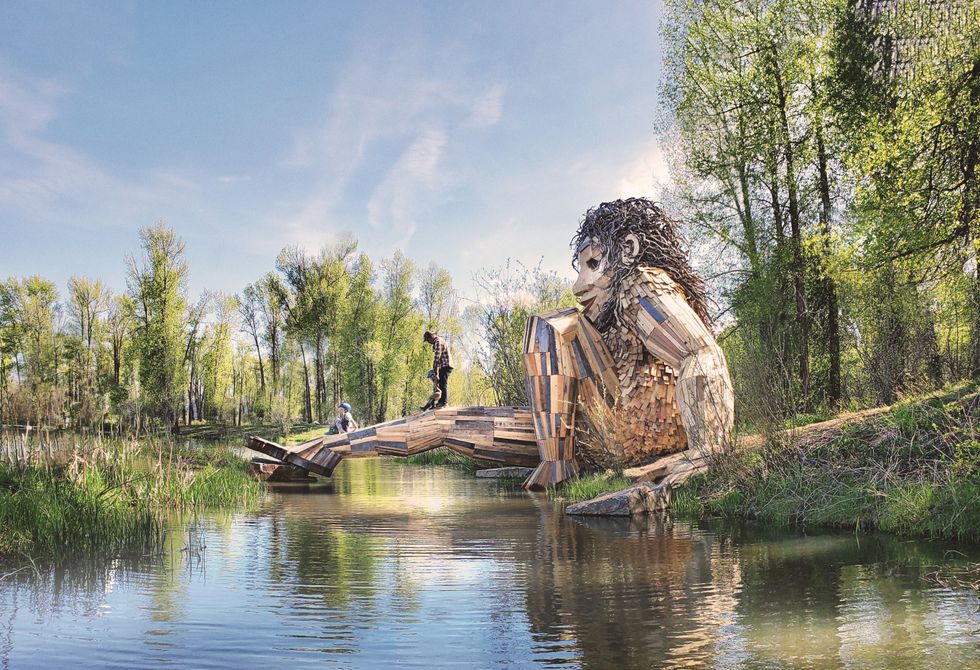 Troll MamaMimi in Jackson Hole, Wyoming
Courtesy of Thomas Dambo
Some of Dambo's trolls interact with the human world: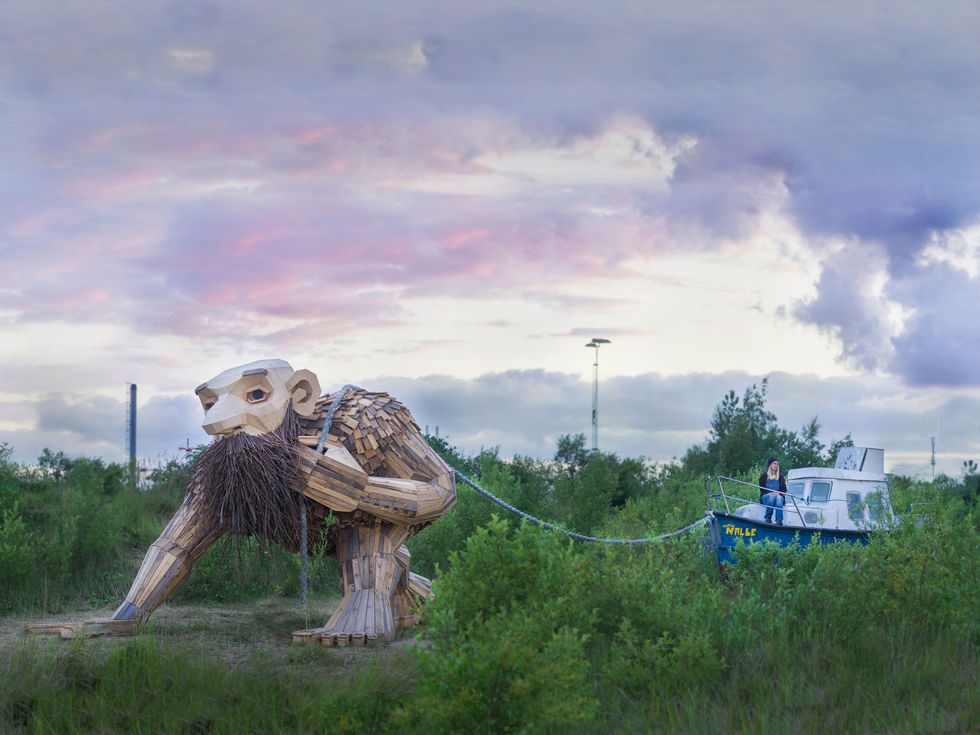 Troll Kaptajn Nalle in Copenhagen, Denmark
Courtesy of Thomas Dambo
It takes a team of people to bring the trolls to life.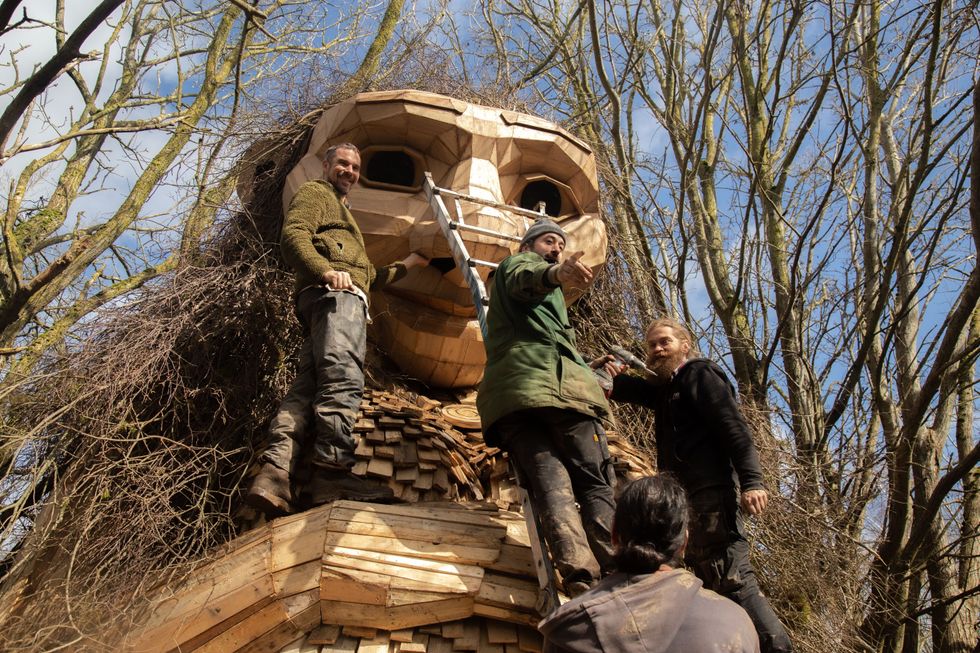 Troll ManeMor being built in Denmark in 2023
Courtesy of Thomas Dambo
What a wonderful, whimsical way to bring attention to how humans and nature interact.
You can find more about Thomas Dambo and his magical world of Earth-loving trolls on his website, Instagram, Facebook and YouTube.