More
This Mormon valedictorian came out to 10,000 people in a stirring graduation speech.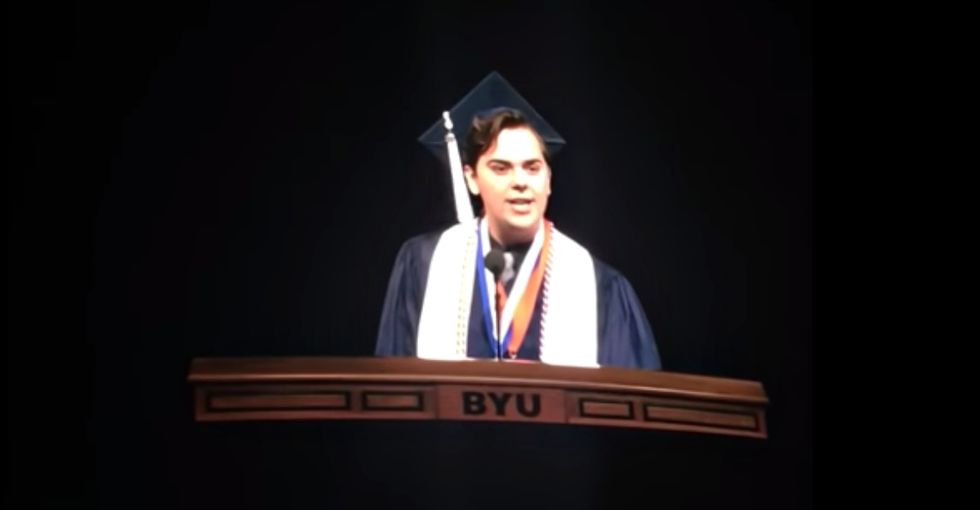 On Friday, April 25th, Matthew Easton gave a commencement speech at Brigham Young University to 10,000 people that included a rather unexpected declaration: he came out as gay.  
"I stand before my family, friends and graduating class today to say that I am proud to be a gay son of God," he said. His words were immediately met with deafening cheers from people in the audience, including his sister, who momentarily dropped the phone she was using to record his speech in her excitement.
"Four years ago, it would have been impossible for me to imagine that I would come out to my entire college," he continued in the speech. "It is a phenomenal feeling. And it is a victory for me in and of itself."
---
"I am not broken. I am loved and important to the plan of our great creator. Each of us are."
His announcement comes at a significant moment at BYU when students are taking a stand against the university's strict and archaic "honor code" which declares homosexual intimacy and relationships forbidden.  
However Easton, like the activists fighting against the honor code, made it clear that his declaration is by no means a break from the Church of Latter-Day Saints, in fact, quite the opposite. It's more about reclaiming his faith as the person he's always been rather than keeping his inner truth hidden because previous generations of Mormons are having a hard time embracing differences.
"My generation, and even more so the generation after me, we're changing the way we talk about our identity and who we are," Easton told the Washington Post. "It's okay to be different, or not fit the norm. When I started at BYU, I didn't think that. I thought that I had to be what everyone before me was. I do feel from my own experience that this is changing, or maybe I'm changing. I hope that our country, my faith, my community will follow in a similar fashion."
But Easton's speech was much more than a personal declaration. He's paving the way for other LGBT people who might be at odds with their religion to stand up and embrace who they are.
Representation in the public spotlight matters. In fact, another gay man who's been getting a lot of media attention lately is part of what inspired Easton in the first place.
Pete Buttigieg, the mayor of South Bend, Indiana and presidential candidate who's been making waves in the democrat pool, has spoken numerous times about the intersection of his faith and his sexuality. He's also stood in support of younger Christians who are speaking out against the more traditional, often bigoted teachings of their church, and thus protesting having Vice President Mike Pence speak at their graduation ceremonies.
"That's the thing I wish the Mike Pences of the world would understand: That if you have a problem with who I am, your quarrel is not with me," Buttigieg said earlier this month in his speech at the LGBTQ Victory Fund. "Your quarrel, sir, is with my creator."
Easton was thrilled with the overwhelmingly positive response his speech has garnered, not just within BYU, but around the world. He's still got a long way to go in terms of his personal journey, but coming out publicly was a big step forward.
"To have a group that I had for so long thought would hate me or ostracize me actually celebrate and accept me, it was awesome."
Watch Eaton's whole speech here: