More
This dad singing 'Ave Maria' at a Disney resort is magic. Just watch his daughter's face.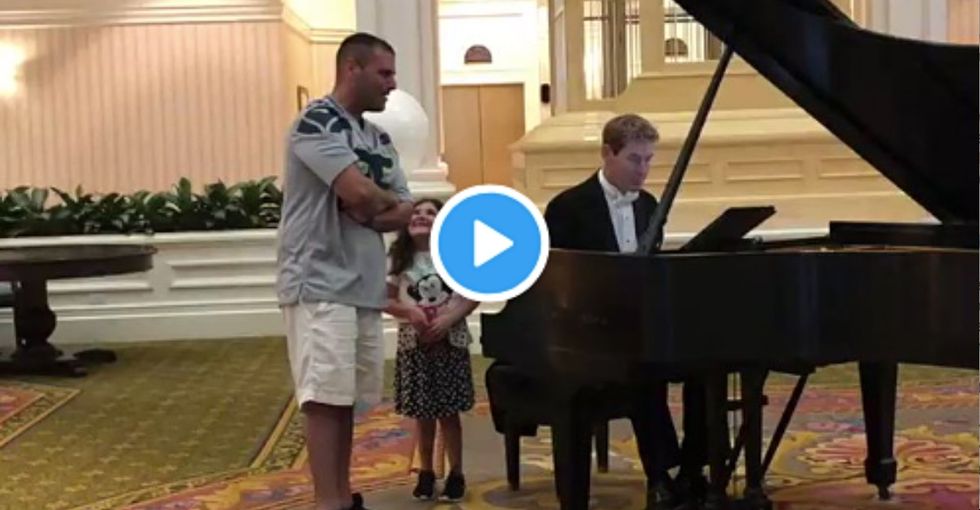 Visitors at Disney World's Grand Floridian resort didn't expect an opera performance from a guy in a football jersey, but that's what they got.
Justin Gigliello surprised Disney park goers with an impromptu rendition of "Ave Maria" during his family's recent trip to Walt Disney World. His daughter asked the pianist in the lobby of the Grand Floridian resort if he'd play while her dad sang, and the result was, well, magical.
According to his Twitter bio , Gigliello is a voice and piano instructor, so it's no surprise that his vocals were on point. But the visual of this dude in a football jersey and shorts singing a classic opera song while a pianist in a tuxedo accompanies him is quite the sight.
---
But the best part of the whole scene is his daughter's look of pure adoration as he crooned.
This is a little girl who clearly loves her daddy.
The fact that Gigliello's daughter asked the pianist to back up her dad was pretty darn cute. But watching her watch him sing will make even the hardest of hearts melt.
Some kids look up to their dads as their ultimate heroes, and that sure appears to be the case here. Clearly Gigliello is doing something right as a parent to have earned such unadulterated joy and pride from his young daughter. Look at the way she beams up at him throughout his performance.
Not only did passersby get treated to an impressive opera performance, they also got to witness an incredibly sweet moment between father and daughter. Talk about Disney magic.
Giglello's performance has been shared thousands of times because come on, who couldn't love this?
Even if you're not into opera, you have to give the guy props for the solid vocals, especially considering the fact that he probably didn't even get a chance to warm up. And if you have any inkling of feeling in your soul, you can't help but be touched by his daughter gazing up at her daddy with the most precious and proud smile you'll ever see.
This is viral internet gold right here. This is the antidote to all the garbage that flows through our feeds each day. These are the kinds of moments that remind us that human beings are actually quite awesome.
Thanks for sharing, Justin Gigliello. Keep on sharing your voice and doing whatever you're doing to keep that look on your daughter's face.
Hi all, I just wanted to share this video for a Disney experience! We just went to disney world last week and my… https://t.co/WOhwLSiVAD

— Justin Gigliello (@Justin Gigliello) 1553436845.0