True
Making new friends as an adult is challenging. While people crave meaningful IRL connections, it can be hard to know where to find them. But thanks to one Facebook Group, meeting your new best friends is easier than ever.
Founded in 2018, NYC Brunch Squad brings together hundreds of people who come as strangers and leave as friends through its in-person events.
"Witnessing the transformative impact our community has on the lives of our members is truly remarkable. We provide the essential support and connections needed to thrive amid the city's chaos," shares Liza Rubin, the group's founder.
Despite its name, the group doesn't just do brunch. They also have book clubs, seasonal parties, and picnics, among other activities.
NYC Brunch Squad curates up to 10 monthly events tailored to the specific interests of its members. Liza handles all the details, taking into account different budgets and event sizes – all people have to do is show up.
"We have members who met at our events and became friends and went on to embark on international journeys to celebrate birthdays together. We have had members get married with bridesmaids by their sides who were women they first connected with at our events. We've had members decide to live together and become roommates," Liza says.
Members also bond over their passion for giving back to their community. The group has hosted many impact-driven events, including a "Picnic with Purpose" to create self-care packages for homeless shelters and recently participated in the #SquadSpreadsJoy challenge. Each day, the 100 members participating receive random acts of kindness to complete. They can also share their stories on the group page to earn extra points. The member with the most points at the end wins a free seat at the group's Friendsgiving event.

If you want to meet the group in person, NYC Brunch Squad, along with many other locally-based New York groups, is participating in the upcoming Facebook IRL event on December 2. This pop-up experience in New York City's West Village will provide a space to discover new hobbies, find new friends, and connect with others around the things they love.
Learn more about the event and sign up to attend here.
Not in the New York area but still want to get involved? As a result of NYC Brunch Squad's popularity, the group is expanding across the country.
"With a robust community established in NYC, we're now excited to announce our expansion with pop-up events in the works in 15 additional cities. What's more, we're launching a travel club, extending our mission to foster connections beyond the city limits and to help people build life-changing friendships in new and exciting places," Liza says.
If you're ready to make new meaningful connections, join NYC Brunch Squad! You might just meet your new best friends.
Education
Van Gogh saw something it took scientists another 100 years to see.
Van Gough never got to enjoy his own historic success as an artist (even though we've been able to imagine what that moment might have looked like). But it turns out that those of us who have appreciated his work have been missing out on some critical details for more than 100 years.
I'm not easily impressed, OK?
I know Van Gogh was a genius. If the point of this were "Van Gogh was a mad genius," I would not be sharing this with you.
But I found this and I thought, "Oh, what a vaguely interesting thing." And then I got to the part about the Hubble Space Telescope, and, let me tell you: Mind. Blown.

We've got the set up here, but you have to watch the video for the full effect. It's all the way at the bottom.
Get this: Van Gogh was a pretty cool artist (duh), but as it turns out...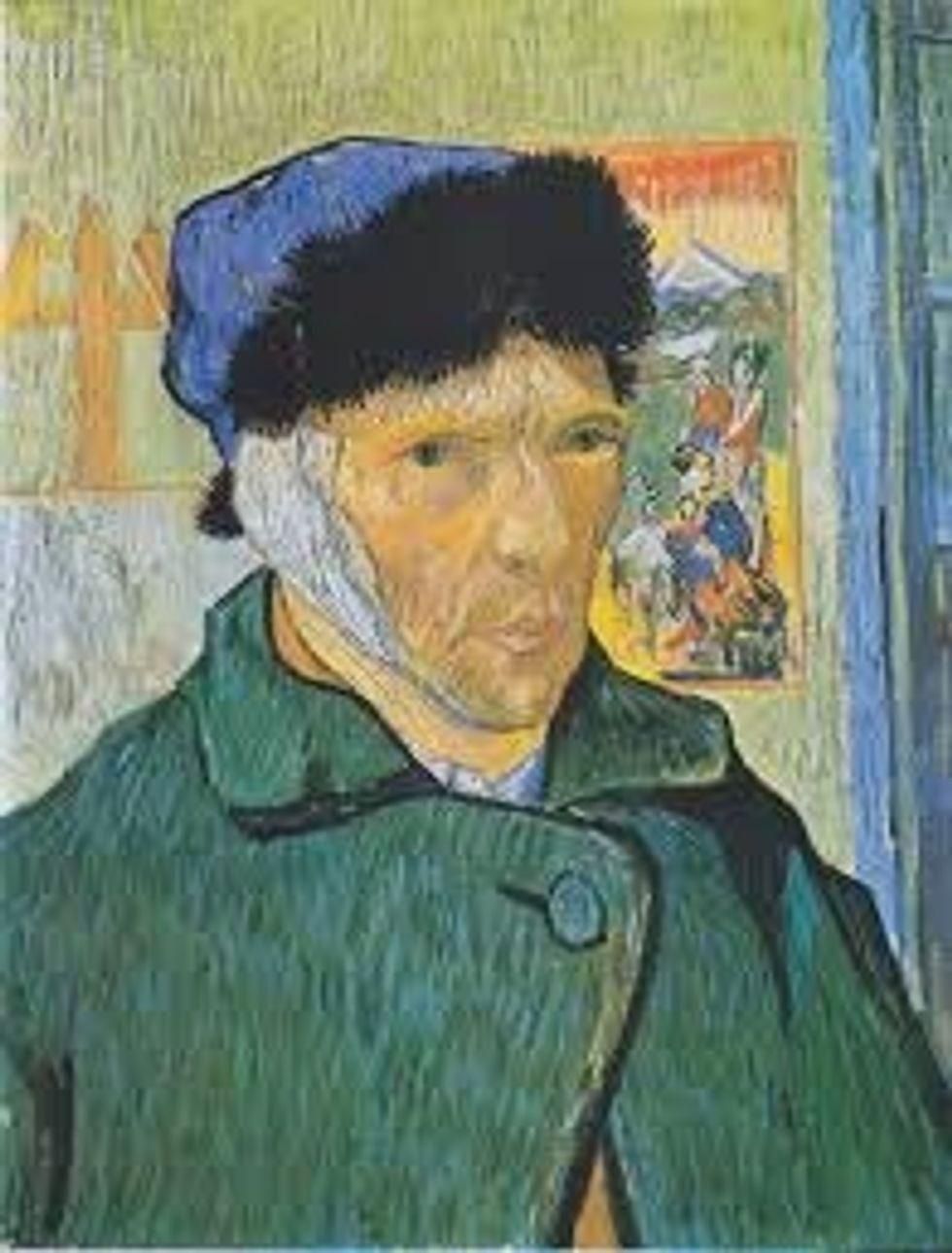 What's the truth behind when you take off an ear?
...he was also A SCIENTIST!*
*Pretty much.

Here's the story.
While Van Gogh was in an asylum in France, after he mutilated his ear during a psychotic episode*...
(*Or, and I'd like to thank the entire Internet for pointing this out, there's a theory that his friend Paul Gauguin actually cut off his ear, in a drunken sword fight, in the dark. The more you know!)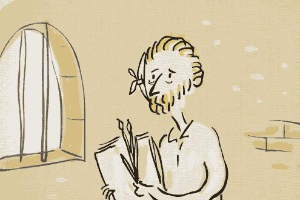 Animated a thinking one-eared Van Gogh.
All Van Gogh GIFs via TED-Ed.
...he was able to capture one of science's most elusive concepts:
~~~TURBULENCE~~~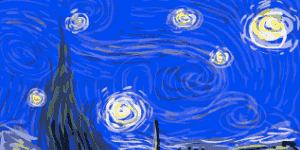 Animated "Starry Night."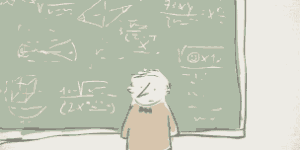 Turbulence expressed through art.
Although it's hard to understand with math (like, REALLY HARD), it turns out that art makes it easy to depict how it LOOKS.
So what is turbulence?
Turbulence, or turbulent flow, is a concept of fluid dynamics where fluid movements are "self-similar" when there's an energy cascade — so basically, big eddies make smaller eddies, and those make even smaller ones ... and so on and so forth.
It looks like this: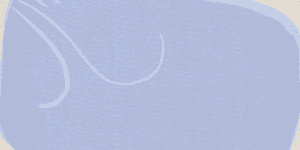 Pictures explain science.
See? It's easier to look at pictures to understand it.
Thing is, scientists are pretty much *just* starting to figure this stuff out.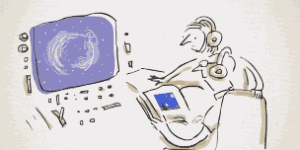 Animation of referencing art to science.
Then you've got Van Gogh, 100 years earlier, in his asylum, with a mutilated ear, who totally nailed it!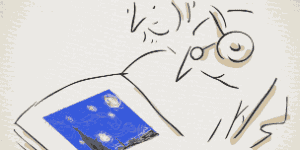 Science studying Van Gogh.
The folks who noticed Van Gogh's ability to capture turbulence checked to see whether other artists did the same. Most impressionists achieved " luminance" with their art (which is the sort-of *pulsing* you see when you look at their paintings that really shows what light looks like).
But did other artists depict turbulence the way Van Gogh did?
NOPE.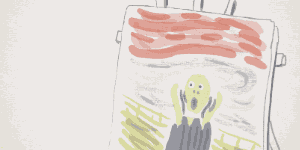 Animated "The Scream."
Not even "The Scream" could hold a candle to Van Gogh!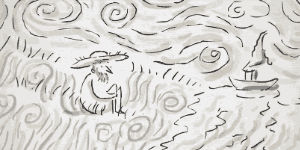 Capturing concepts of nature.
Even in his darkest time, Van Gogh was able to capture — eerily accurately — one of nature's most complex and confusing concepts ... 100 years before scientists had the technology to observe actual star turbulence and realize its similarity to fluid turbulence mathematics as well as Van Gogh's swirling sky. Cool, huh?
Watch the video below to learn even more:
This article originally appeared on November 14, 2014
Family
For parents with young kids looking to have a little less travel stress this holiday season—this one's for you.
Get stories worth sharing delivered to your inbox
Pets
This nonsensical conversation has the puppy ready for tacos...now!
Family
Young Gavrill seems to intuitively understand music, and the best part is that he does it with such joy.
Family
Was it right to lose a friendship over it?
Get stories worth sharing delivered to your inbox