Photo courtesy of Macy's
True
Seven year-old Pastor knows that simple joys make life worthwhile. He loves visits from Santa. And he loves a good hamburger.
However, unlike most kids his age, Pastor is bravely battling leukemia. After a year of doctors' visits and painful cancer treatments, Pastor and his family needed a break. That's when Macy's and Make-A-Wish® stepped in to help lighten up Pastor's year.
Make-A-Wish is a nonprofit that helps fulfill the wishes of children with critical illnesses. While some children wish for celebrity meetups or trips abroad, Pastor's wish was specific and sweet: he wanted to meet Santa for a hamburger near his home in Sacramento.
To make it happen, Pastor's local Make-A-Wish chapter reached out to its longtime partner Macy's to arrange Santa's journey from the North Pole to California.
Pastor arrived at the store in a white stretch limousine and was welcomed by smiling elves surrounded by hundreds of red and white balloons. Inside, Santa greeted Pastor from a silver throne inside a winter wonderland packed with oversized candy canes, golden gift boxes, and evergreens decked out in Christmas lights. Together they picked out ornaments from the Macy's holiday display, then left the store together to visit Santa's reindeer. After their big day, the pair feasted on burgers and hot chocolate with family and friends.
"When we heard about Pastor's sweet wish to meet Santa, we quickly thought of our partners at Macy's and what a wonderful tie-in to the annual Macy's Believe letter-writing campaign," said Michele Sanders, Vice President of Strategic Communications for Make-A-Wish. "Pastor, his entire family, and all involved were in awe of the 'winter wonderland' created just for him and Santa."

"When Pastor turned to us with amazement and said, 'You made my wish come true!', we knew the magic that was created by the combined efforts of Macy's and Make-A-Wish was truly amazing," said Lorie Hennessey, chapter Vice President of Mission Delivery, the division in charge of wish fulfillment.
Make-A-Wish couldn't spread joy to children, families, and communities without the generous support of individuals and corporate partners like Macy's. Giving can start with something as simple as a letter to Santa: If you write a letter online at Macy's or drop one off at a big red letterbox in-store, Macy's will donate $1 to Make-A-Wish, up to $1 million in total.
Besides sending letters to Santa, there are even more ways to support Make-A-Wish at Macy's during the season of giving. For every purchase of the $4 Believe Bracelet, Macy's will donate $2 to Make-A-Wish from now through December 31. Customers can also donate online through the end of 2021 to help spread hope and happiness to children with life-changing illnesses.
Since 2003, Macy's has donated over $137 million to Make-A-Wish. These donations have helped Make-A-Wish fulfill the dreams of more than 16,000 young people just like Pastor.
In my humble opinion, the Mardis Gras king cake is by far the coolest holiday dessert. It's got a little bit of everything: a fun design, bold colors, a rich history (more on that later).
Made with yeasty cinnamon flavored dough—and heaps of symbolism—this regal pastry-cake hybrid is usually oval shaped to resemble a crown, along with tri-colored icing in gold, purple, and green to represent power, justice, and faith.
And let's not forget the piece de resistance: that miniature plastic baby, destined to be found by one lucky individual. Lucky in the sense that finding it means they now have the honor of providing the cake for next year.
However, there wasn't always a baby hiding in the dough. Like most traditions, this one has evolved and adapted over time. And of course, it began with pagans.
Many historians believe that the King's Cake has much older origins, beginning with the Roman winter festival Saturnalia.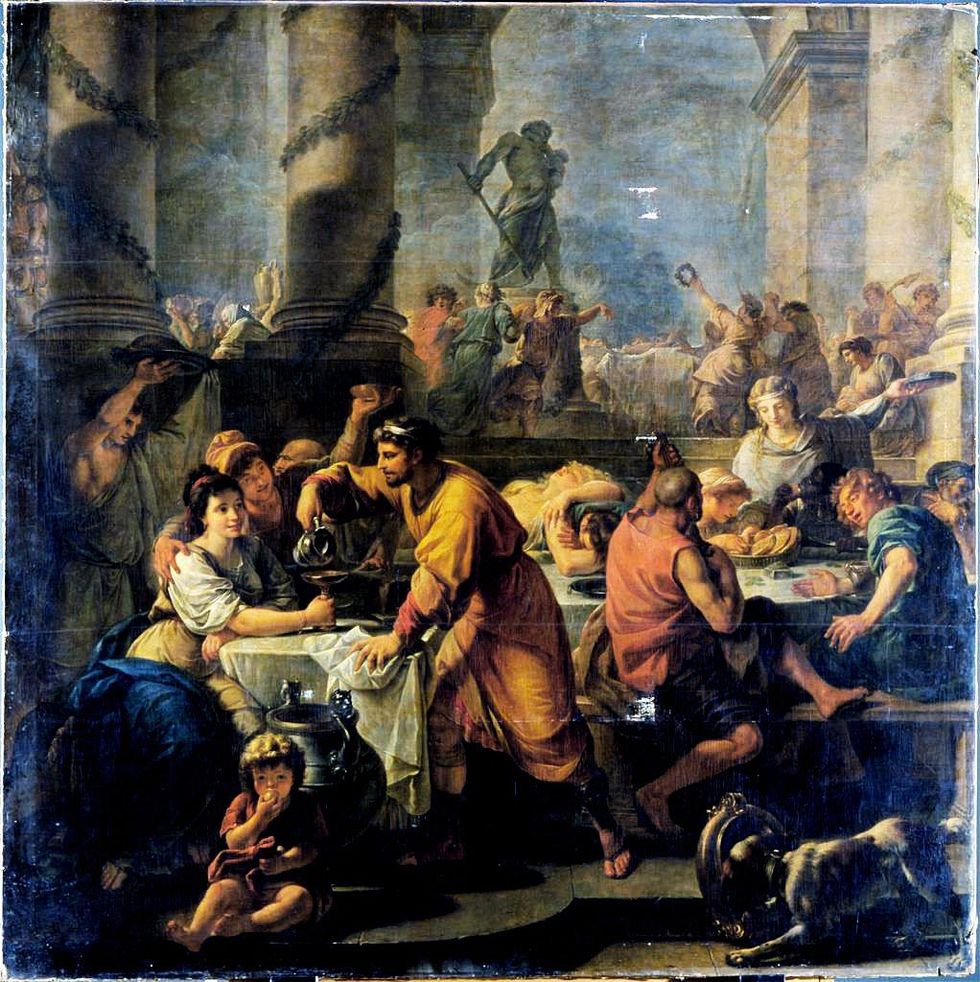 File:Saturnalia by Antoine Callet.jpg - Wikimedia Commons
commons.wikimedia.org
During this winter solstice celebration, Saturn–the Roman god of agriculture–would be honored by using the gains of the season's harvest to make ceremonial cakes. And instead of a miniature baby, one singular fava bean would be placed inside. And whosoever should find the bean would be named "king of the day".
Which is a bit odd, considering in ancient tradition they were regarded as omens of death. But other sources note that favas were considered magic and even used for voting. Certainly makes that infamous Hannibal line take on a whole new context…
In addition to baking, the festival would involve a raucous good time of booze, dancing, gambling, and other, ahem,
adult
group activities.
Fast forward to the rise of Christianity, the ritual adopted a more religious context in France.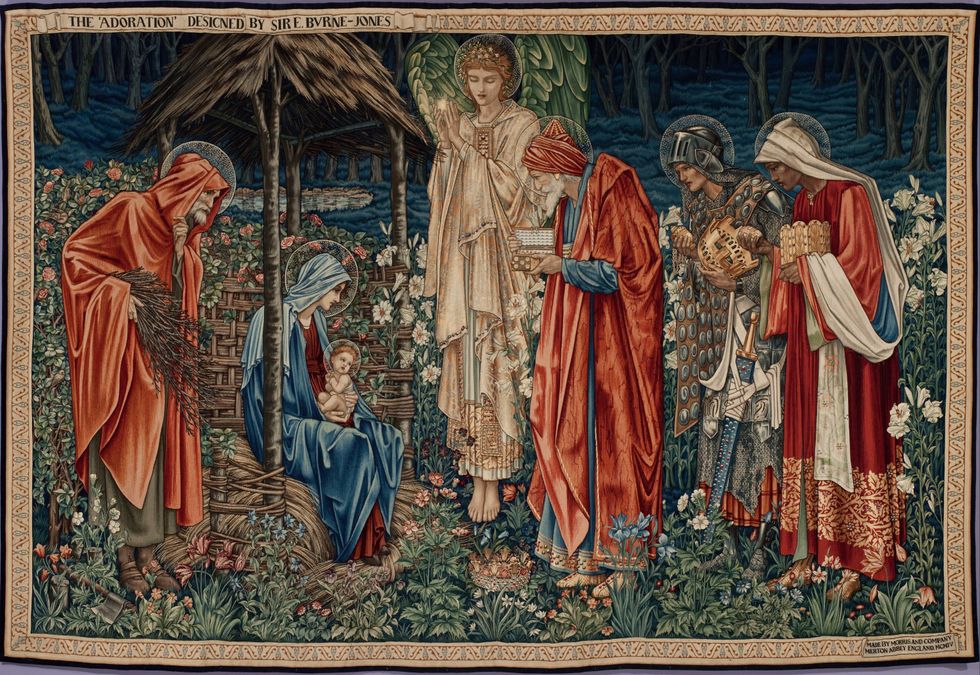 File:Edward Burne-Jones - The Adoration of the Magi - Google Art ...
commons.wikimedia.org
In Roman Catholic tradition, The Epiphany denotes the day when the three kings first saw the baby Jesus. The King's Cake came to represent this day, even taking on the name of Epiphany Cake.
So it stands to reason that if this sweet treat became associated with the celebration of baby Jesus, then of course the plastic baby was originally intended for such representation, right?
Wrong.
The baby wouldn't make its appearance until the mid-1900s, and it was thanks to a clever salesman in New Orleans.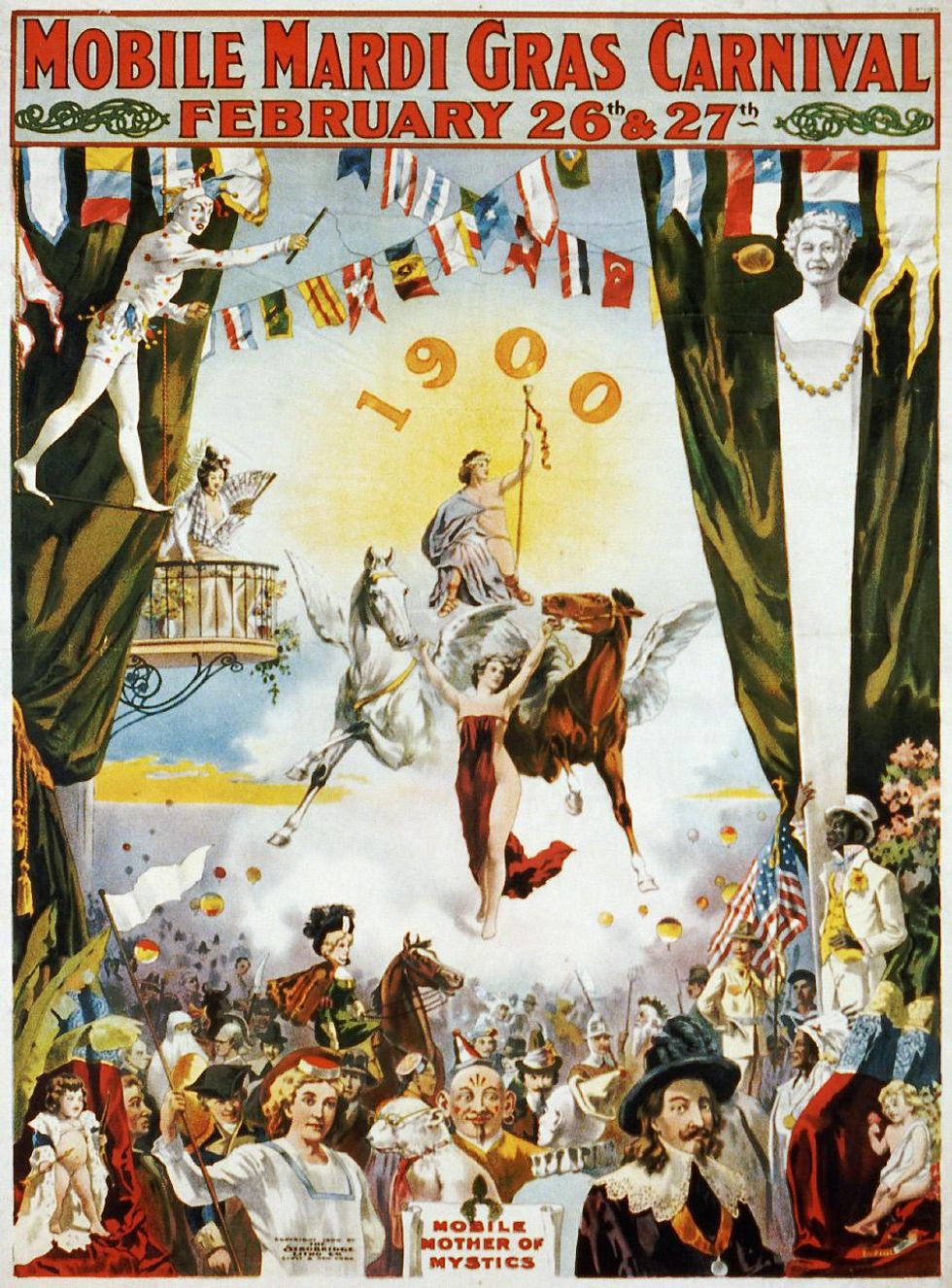 File:Mobile Mardi Gras Carnival, 1900.jpg - Wikimedia Commons
commons.wikimedia.org
By then, the king cake had already been a prominent Mardi Gras item.
Owner of one of the 20th century's most famous bakeries, Donald Entringer of McKenzie's was approached by a salesman carrying a surplus of tiny porcelain dolls from France, according to food expert Poppy Tooker in an interview with NPR.
"He had a big overrun on them, and so he said to Entringer, 'How about using these in a king cake,'" Tooker told NPR.
Though a simple case of supply-and-demand isn't terribly exciting, the way this simple concept has advanced to become the dish's golden standard is pretty remarkable.
Plus, the fact that this Louisiana tradition is steeped in history of bawdy hedonism and sacred spiritualism, all with a healthy dose of capitalizing on the combo…I mean if that's not New Orleans in a nutshell, I don't know what is.
It's not just beans and babies either
Pecans, jeweled rings, gold coins, and small charms have also been used. Some bakeries have even made their own customized trinkets. Others have started avoiding placing them inside altogether, attempting to thwart potential lawsuits. Baking with plastic is a tad more frowned upon these days.
Though most of us are familiar with the NOLA style of the King's Cake, other countries have their own versions.
There's the French galette des rois, which is less colorful but oh-so-flaky, topped with a golden paper crown.
Also there's Spanish rosca de reyes, flavored with lots of orange and topped with dried fruit.
There's even a Greek version, vasilopita, that's very similar to coffee cake. Not that you couldn't have any of these cakes for breakfast, but there's an excuse baked right into this one.
No matter what style you try, or whether or not you find that plastic baby, the King's cake–along with its festive history and captivating lore–are definitely worth celebrating.
From Your Site Articles
Related Articles Around the Web
Get stories worth sharing delivered to your inbox
Get stories worth sharing delivered to your inbox