A breastfeeding mother's experience at Vienna's Schoenbrunn Zoo is touching people's hearts—but not without a fair amount of controversy.
Gemma Copeland shared her story on Facebook, which was then picked up by the Facebook page Boobie Babies. Photos show the mom breastfeeding her baby next to the window of the zoo's orangutan habitat, with a female orangutan sitting close to the glass, gazing at them.
"Today I got feeding support from the most unlikely of places, the most surreal moment of my life that had me in tears," Copeland wrote.


"I visited Schoenbrunn zoo in Vienna whilst on a mini-break with my partner and son. We nipped in to see the orangutans at the end of our day who were happily playing in the enclosure, so I went to the window for a closer look and sat down by the window so my lb could see the orangutan who was roughly 5/6ft away. She then got up, carried a piece of cloth to the window and sat down with me. She looked directly into my eyes then placed her hand up as if to touch my son. I was in awe of this beautiful creature already."
"My son wanted feeding and as it was quiet I fed him whilst I sat there. The way the orangutan reacted took my breath away she kept looking at me, then my son then back again," she continued. "She sat with me for approximately half an hour, kept stroking the glass and lay down next to me as if to support and protect me.
I had to share this because my mind was blown. We may be a species apart but breastfeeding connected us today in a once in a lifetime moment that will stay with me forever. I'm also incredibly lucky that my partner caught all of this on video 💕"
The Facebook page added a story about a gorilla being taught to breastfeed by women from La Leche League, an organization dedicated to supporting breastfeeders:
"Did you know that women from La Leche League once taught a mother gorilla to breastfeed? The Mamma gorilla had been born and raised in captivity and didn't know what to do with her firstborn, and her baby sadly died. When she next became pregnant, breastfeeding women volunteered to sit beside the gorilla's enclosure and breastfeed their babies, showing the gorilla what to do. When the gorilla gave birth, a volunteer came over and breastfed her baby, showing Mamma gorilla what to do, step by step. Mamma gorilla watched, and then copied, and went on to successfully feed her baby
"

The story has been shared more than 37,000 times, with many commenters stating how beautiful and moving it was. Others, while appreciating the beauty of the animal encounter, expressed sadness at seeing such a creature in captivity. As with practically every post about animals in zoos, debate broke out over whether or not zoos are helpful or harmful to the animals they house.
And like most debates, people's opinions fall along a broad spectrum. Some feel that zoos are the best way for people to learn about animals first-hand, which leads them to care more about protecting them in the wild. Some acknowledge that captivity isn't ideal, but that many animals die individually or go extinct as species without the work they do. Some feel that it's always wrong to keep an animal in captivity, no matter what. Even animal experts don't agree on this front.
And not all zoos are created equal. Many zoos have moved more toward a rehabilitation and conservation model, and there's no question that many animals who have been raised in captivity would not survive if they were suddenly released into the wild. There's also the issue of whether trying to limit natural breeding in captivity falls under the ethical treatment of animals, as breeding is a natural animal instinct. And what about the animals that have gone extinct in the wild and can only be found in zoos? There are a million questions with a million unclear answers when it comes to zoos.
However there is one thing most can agree on. Whether or not you think zoos are helpful or harmful, necessary or not, they largely exist today because of human activity mucking with nature. The same nature that compels this creature to connect with a human mother, despite her unnatural surroundings. The same nature that humans are destroying to get palm oil for our cookies and soaps, leading orangutans to the brink of extinction. The same nature that we are all responsible for protecting.
Whether we find this story sweet or sad or something in between, the reality for orangutans in the wild is worth our attention. Visit www.theorangutanproject.org/ to learn more about how to help.
Pop Culture
The new Crunch bar recipe tastes 'like chocolate lies!'
It's spooky season and with that generally comes more candy than anyone could comfortably eat in one sitting. There are some candies that people think should never leave the factory—more than 25,000 people responded to a question on Reddit, "What is the worst candy?" And let me be the first to tell you that people had some big feelings.
Candy is something that most people enjoy, but preferences vary widely. Some people love black licorice and think it's the best-tasting candy out there, while others would gag at the smell of it. So, it makes sense that a list of candy that people hate is bound to be subjective based on people's differing tastes. But there are some candies that rise to the top of the throw it in the trash and light it on fire list, so stick around to find out what candy to avoid this year, in no particular order.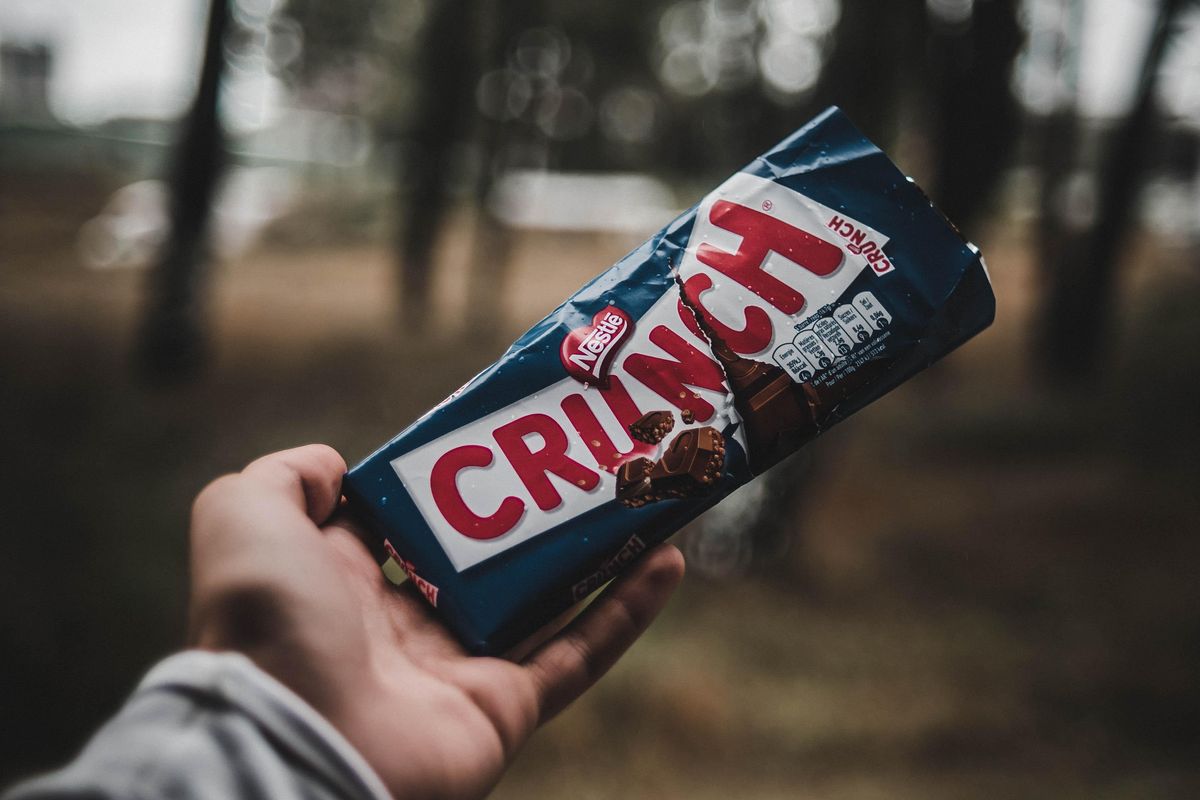 Photo by
Thibault Penin
on
Unsplash
1. Crunch bars are no longer a favorite
Yeah, Crunch is the candy bar from your childhood that used to cut your tongue or roof of your mouth because you insisted on sucking the chocolate off of the rice crispy bits. It seems that the formula was changed a few years ago for no good reason, according to the people on Reddit. One person described the change as a "crime against humanity," while another who excitedly bought one after years of being unable to find them described the candy as "chocolate lies."
2. Wax lips and vampire teeth
The collective jury seems to be out on if you're actually supposed to eat those things, but I distinctly remember being told they were gum and they kind of tasted like maybe they could be—if you didn't know what gum tasted like. Whether you were supposed to eat them or not, chewing on them tastes, well, like wax.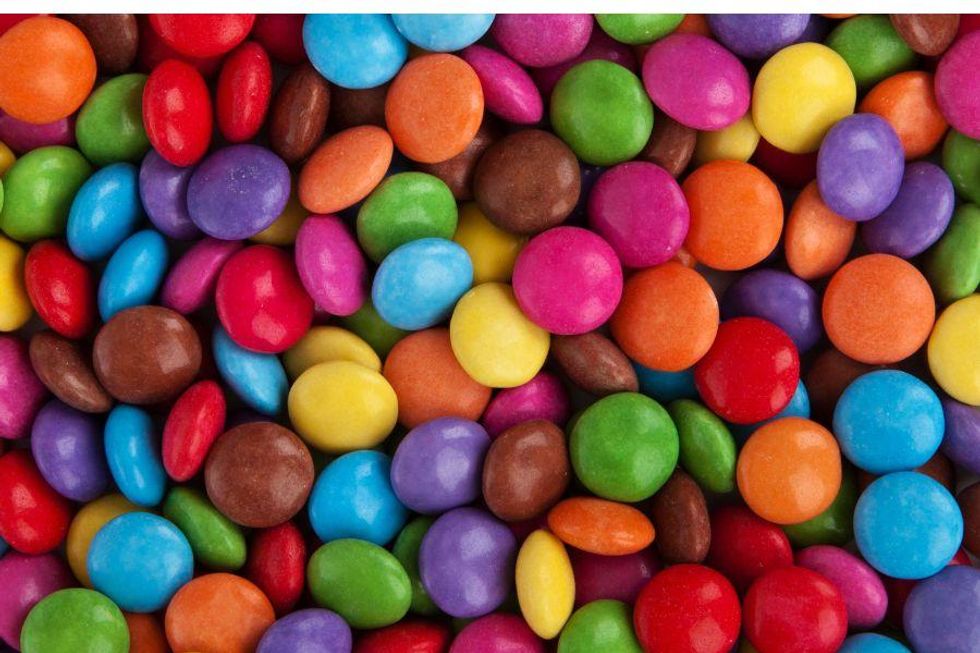 3. Any object with fake M&Ms inside
I'm not sure you see so much of this around Halloween, but you definitely see it around Christmas. Clear plastic candy cane tubes filled with fake M&Ms that one person said "taste like chocolate lentils" and ended the statement with expletives. It's safe to say that they have some strong feelings.
4. Whatever those orange and black wrapped candies are
No one knows what they're called but the hatred was unifying. Is it peanut butter flavored or flavored like molasses? There was some disagreement there, but the consensus was that nobody liked them and they should immediately be thrown into the sun. If you buy those candies to give out to your trick or treaters, just know that you'll have a bunch of 8-year-olds figuring out how to string together swear words just to cuss you out in their heads.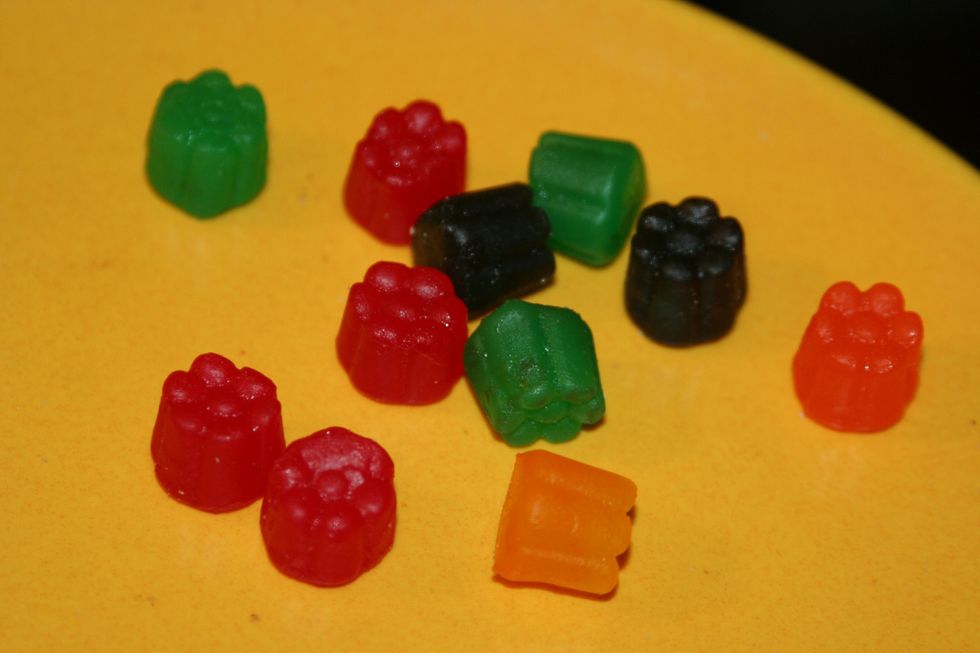 5. Jujubes are not for actual teeth
According to one commenter, Jujubes are the generic much harder and less tasty version of Dots, and I can see that. Someone else had a theory about them being invented by dentists to drum up more business, but seriously, those things could yank out a tooth while anyone tried to chew them. They're brutal but if you're looking to make your jaw line look like it was getting in reps at the gym, then these are the candies for you.
6. The actual devil in candy form, Good & Plenty
Oh, there are plenty, and I mean plenty, but they certainly aren't good. The thought of those purple and white coated candies makes some people want to rip out their taste buds. A few Reddit users came up with other names for the candy nightmares are made of. One person said they should be called "bad and too much," while another user preferred the name "awful and abundant." Someone else describes the taste as "NyQuil flavored chews" and that's a pretty accurate description.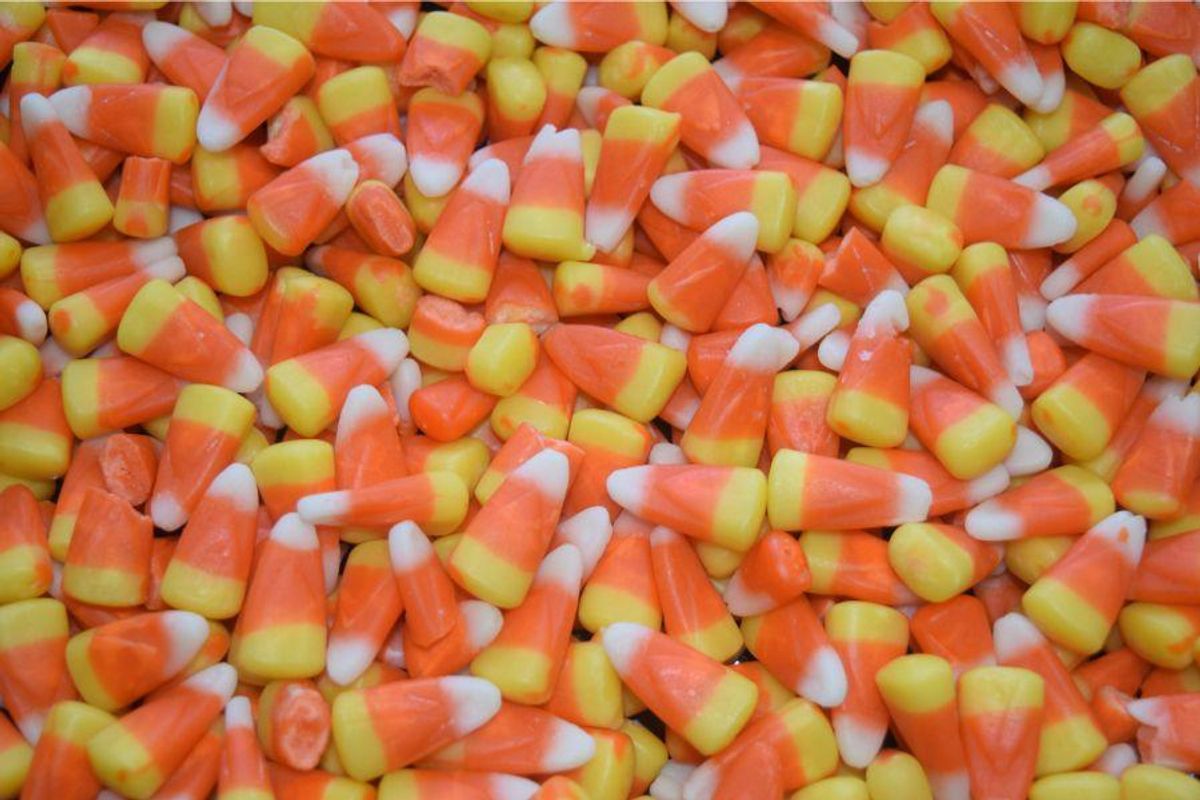 7. The corn that everyone loves to hate, Candy Corn
You knew it was coming. Candy Corn is probably the most controversial holiday candy next to Peeps. People either love or hate them, there is no in between. But the gathered thoughts of commenters under this particular entry is that Candy Corn deserves its own special place at the bottom of a burning trash pile. Poor Candy Corn, I love you, maybe that's enough to soothe the sting from the collective distain.
8. This oldie, teaching kids bad habits, Candy Cigarettes
Yes, they still make these and they're still just as chalky and gross as ever. Who thought "I know what will be a great candy— cigarettes!" and had enough eyes on it to approve the product for advertisement and consumption by children. One of the commenters joked that they were still struggling with their candy cigarette habit and had to turn to candy patches to help with their addiction.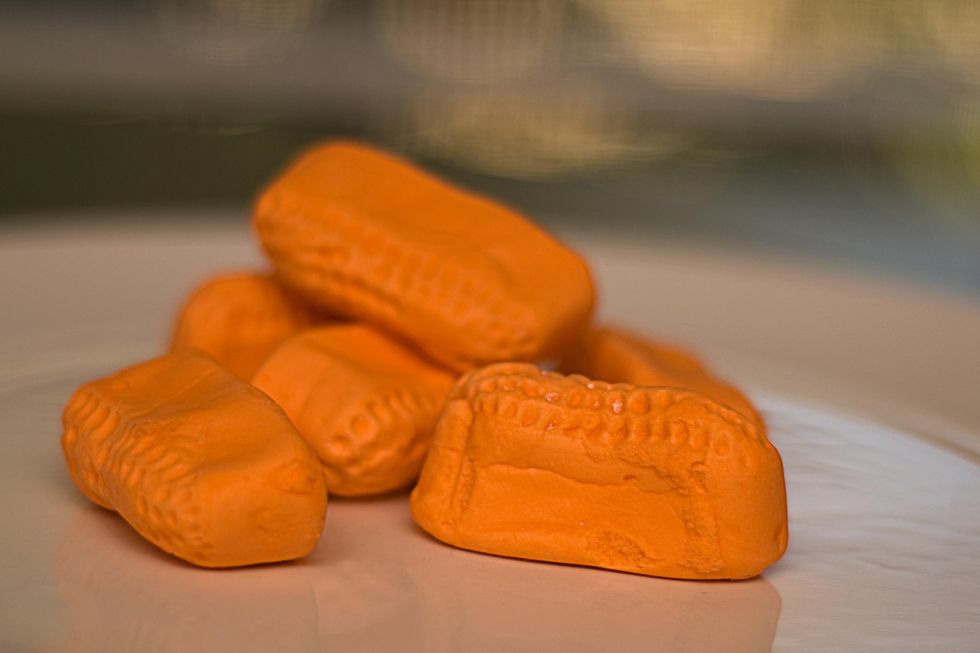 9. While not a Halloween candy per se, Circus Peanuts kept popping up
What is it about these orange peanuts that gets people in a tizzy? One person actually described them as "biting into foam" and now I feel like I need to try some again to accurately assess if this is in fact true. The comments under Circus Peanuts were just filled with one-word reactions like "gross" and "nasty" so it seems pretty safe to assume not many people are fans of these orange foamy peanuts.
10. Dots and the stupid paper they come on
Dots are cute in theory but when you try to eat those little suckers you get a mouth full of paper that rips off along with the candy. There really isn't any separating the candy from the paper no matter how carefully you try. The only sure method of getting paper-free candy is to pull the candy off and lick the stuck-on paper until it dissolves. Eh, I guess you're still getting the paper that way, just in a less offensive way.
Of course, there may be things on this list that you absolutely love. I'm just the messenger. Take it up with the thousands of people who think you're wrong. Just kidding … taste is subjective. Enjoy whatever candy you want this Halloween and remember to pass out the good stuff for the trick or treaters.
Family
"Sometimes I just feel really angry and I don't know why."
This story originally appeared on 1.05.19


It started with a simple, sincere question from a mother of an 11-year-old boy.
An anonymous mother posted a question to Quora, a website where people can ask questions and other people can answer them. This mother wrote:
How do I tell my wonderful 11 year old son, (in a way that won't tear him down), that the way he has started talking to me (disrespectfully) makes me not want to be around him (I've already told him the bad attitude is unacceptable)?
It's a familiar scenario for those of us who have raised kids into the teen years. Our sweet, snuggly little kids turn into moody middle schoolers seemingly overnight, and sometimes we're left reeling trying to figure out how to handle their sensitive-yet-insensitive selves.
Jo Eberhardt, a fantasy writer and mother of two from Australia, penned a reply that is so spot on that it keeps repeatedly popping up on social media. When you nail it, you nail it—and this mother nails it.
"Ah, puberty," she wrote, "It changes our sweet, wonderful little boys into sweet, eye-rolling, angsty, accidentally disrespectful, but still wonderful young proto-men." Yup.
Eberhardt then described a discussion she had with her 11 1/2 -year-old son when he started going through this stage—a conversation they had in the car, which is usually the best place to have potentially uncomfortable discussions with kids.
She told her son that she'd messed up in the way she'd talked to him about puberty, then explained exactly what was happening in his brain.
"I've spent all this time talking to you about the way puberty changes your body," Eberhardt told her son, "and what to expect as you go through the changes, but I completely forgot to talk to you about what's going on in your brain right now. Puberty is the time when your brain grows and changes more than at any other time in your life — well, except for when you're a baby, perhaps. So I really let you down by not preparing you for that. I'm so sorry."
Her son accepted her apology, then asked why is his brain was changing.
"That's the amazing thing," she told him. "Did you know that your brain grew and developed so quickly when you were little that by the time you were about five or six, your brain was almost as big and powerful as an adult's brain?"
"But here's the thing," she continued, "Even though your brain was super powerful, the instructions were for a child's brain. And all the information about building an adult's brain was a bit… let's say fuzzy. So your brain did the best it could, but it didn't really know what kind of person you were going to be back then, or what shape brain you were going to need."
"Now we come to puberty," she went on. "See, puberty is amazing. Not only is your body being transformed from a child's body to an adult's body, your brain has to be completely rewritten from a child's brain to an adult's brain."
"That sounds hard," her son responded.
"Yeah, it is," Eberhardt replied. "That's why I wish I'd warned you first. See, it takes a lot of energy to completely rewrite a brain. That's one of the reasons you get tired quicker at the moment — and that, of course, manifests in you being crankier and less patient than normal."
Eberhardt paused, then added, "That must be really frustrating for you."
Her son looked over at her, wiping his eyes. "It is," he responded. Sometimes I just feel really angry and I don't know why."
It's amazing what happens when we explain to kids the physiological reasons for what they're going through.
Eberhardt continued, "The other thing is that one of the first parts of your brain that gets super-sized to be like an adult is the amygdala. That's the part that controls your emotions and your survival instincts. You know how we've talked about fight/flight/freeze before, and how sometimes our brains think that being asked to speak in public is the same level of threat as being attacked by a sabre tooth tiger?"

Her son laughed. "Yes. So you have to tell your brain that there's no sabre tooth tiger to help you calm down."
"That's right," Eberhardt replied. "Well, that's what the amygdala looks after: sabre tooth tiger warnings and big emotions. So, the thing with puberty is that all of a sudden you've got an adult-sized amygdala hitting all your emotion buttons and your sabre-tooth tiger buttons. That must be really hard for you to manage."
Her son nodded and said, "Sometimes I don't know why I say the things I do. They just come out, and then I feel bad."
This is the moment where what a parent says can make or break a kid's spirit. But Eberhardt handled it with empathy and expertise.
"I know, Sweetheart," she said before explaining:
"See, the last part of your brain that gets rewritten is right at the front of your head. It's called the frontal cortex. And that's the part of your brain that's good at decision making and understanding consequences. So you've got this powerful adult amygdala hitting you with massive emotions, but you've still got a fuzzy child frontal cortex that can't make decisions or understand consequences as quickly as the amygdala wants you to. It pretty much sucks."
"So it's not my fault?" her son asked.
"No, it's puberty's fault your brain works the way it does," Eberhardt answered. "But that doesn't mean it's not your responsibility to recognise what's going on and change your actions. It's not easy, but it's not impossible, either. Your feelings are your feelings, and they're always okay. But you get to choose your actions. You get to choose what you do with your feelings. And, when you make a mistake, you get to choose to apologise for that mistake and make amends."
Eberhardt said she then paused for dramatic effect. "That's how you prove that you're becoming an adult."
It's also remarkable what happens when we empathize and communicate with our kids instead of simply chastising them.
Her son responded with a perfectly understandable and relatable, "Puberty sucks."
"Puberty absolutely sucks," Eberhardt responded. "I'm not in your head, but I can only imagine that it's a mess of confusion and chaos, and you don't know from one minute to the next how you feel about things."
Her son looked at her in surprise. "Yes! Exactly!"
"If it's confusing for you living inside there," Eberhardt continued, "imagine how confusing it is for me, when I only see your actions."
"That must be really confusing," her son agreed.
She nodded. "Do you know what that means?"
"What?"
"It means sometimes I'm going to make mistakes. Sometimes I'm going to get upset at things you do because I don't understand what's going on in your head. Sometimes I'm going to forget that you're halfway to being a man, and accidentally treat you like a child. Sometimes I'm going to expect more from you than you're able to give. This is my first time parenting someone through puberty, and I'm going to make mistakes. So can I ask you a favour?"
"What is it?"
"Can you just keep telling me what's going on in your head? The more we talk, the easier it will be for both of us to get through this puberty thing unscathed. Yeah?"
"Yeah," her son said.
When we let our kids know that we're going through these various phases together, it's easier to work with them instead of against them.
Eberhardt said they "had a cuddle" before they got out of the car. She also said this conversation didn't magically make her son always speak respectfully or make her remember that he's not a little boy anymore. However, it did open up lines of communication and gave them a shared language to use.
For example, she wrote, "He knows what I mean when I say, 'Sweetheart, I'm not a sabre tooth tiger.'"
Ebehardt wrapped up her excellent answer by saying that she and her son are "muddling through this crazy puberty thing" together, and that she's "completely confident that he'll come out the other end a sweet, wonderful young man."
It's always so helpful to see examples of good parenting in action. Ms. Eberhardt's response is something all parents can tuck away for the appropriate time. It's also a great reminder that our tweens aren't trying to try us—they're just trying to get used to their new and improved brains.




Get stories worth sharing delivered to your inbox
Get stories worth sharing delivered to your inbox